I can't believe we're at our last week in this fun stitch along! This week we are doing the Singing in the Rain Stitch Along Houses and Finish!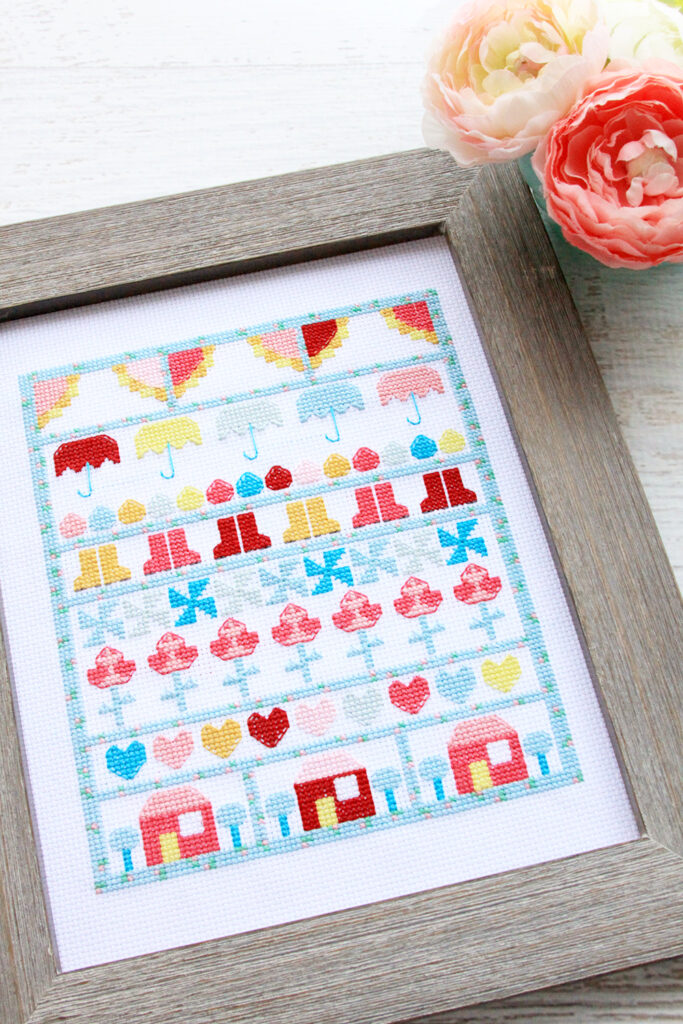 This has been such a fun project for the summer! I have loved stitching these rows each week – it's been a nice way to slow down in the evenings. And this week we are stitching up those sweet little houses in our last row!
I kept my houses all in shades of pink to match the Singing in the Rain Quilt, but feel free to change up your colors and customize them if you'd like! You could also add a little row of French Knots along the base of the window for some extra flowers if you want. That'd be so sweet!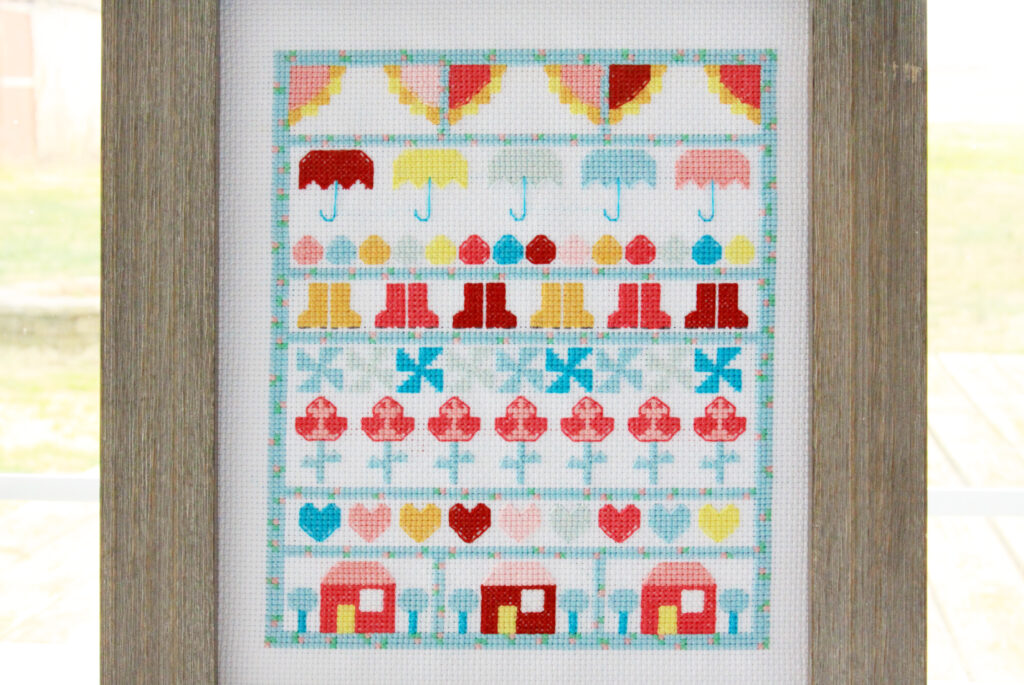 Finishing Tips:
To finish my piece, I used a needlework backing board. It's super simple to use. It is nice sturdy cardboard that has one side that is sticky. After pressing your piece, you carefully lay the fabric on the sticky side of the board, making sure that the stitching is straight and the design is centered. I usually press down lightly on the corners then check it in the frame to make sure it looks even. That way you can readjust if you need to. Once you have it aligned correctly, you can press down with your hands over the entire piece to stick it to the board.
Once your piece is on the backing board, you can trim the extra fabric around the edges, but leave about 1″ all the way around. Bring this fabric around to the back of the backing board and glue or tape down. Then you can pop your cute new piece in a frame!
Singing in the Rain Stitch Along Houses and Finish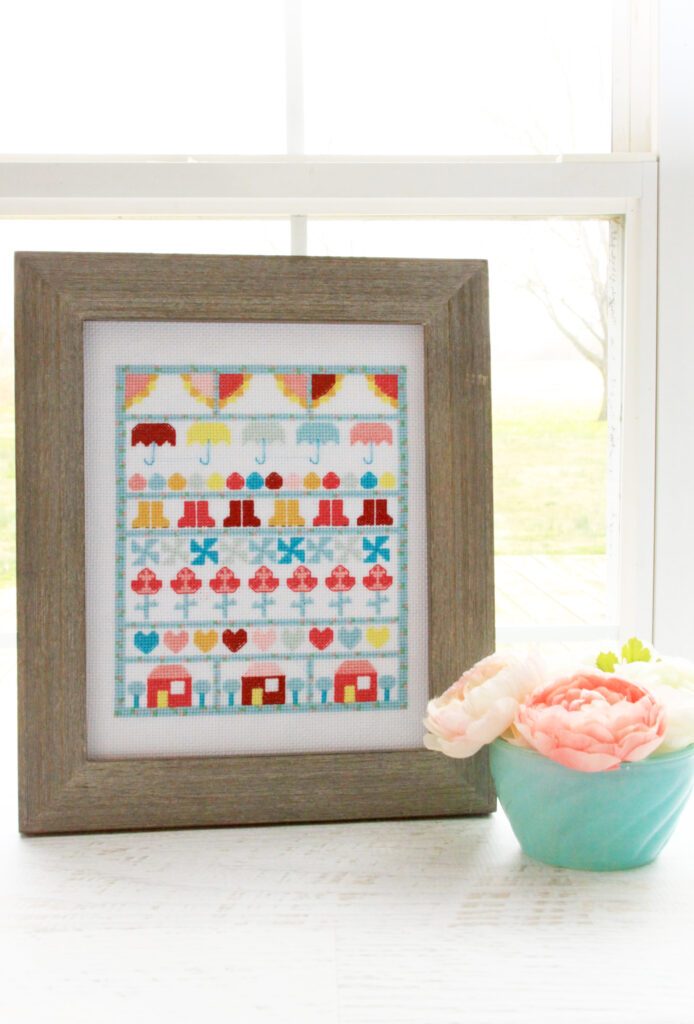 This frame is a favorite barnwood frame that I've had for a while, and I don't remember where it came from. Sorry! You can find something similar at most craft stores though. I love how the rustic wood looks against the bright Aurifil threads. I don't leave the glass in my frames when I frame stitching – I love to see the look and texture of the stitching.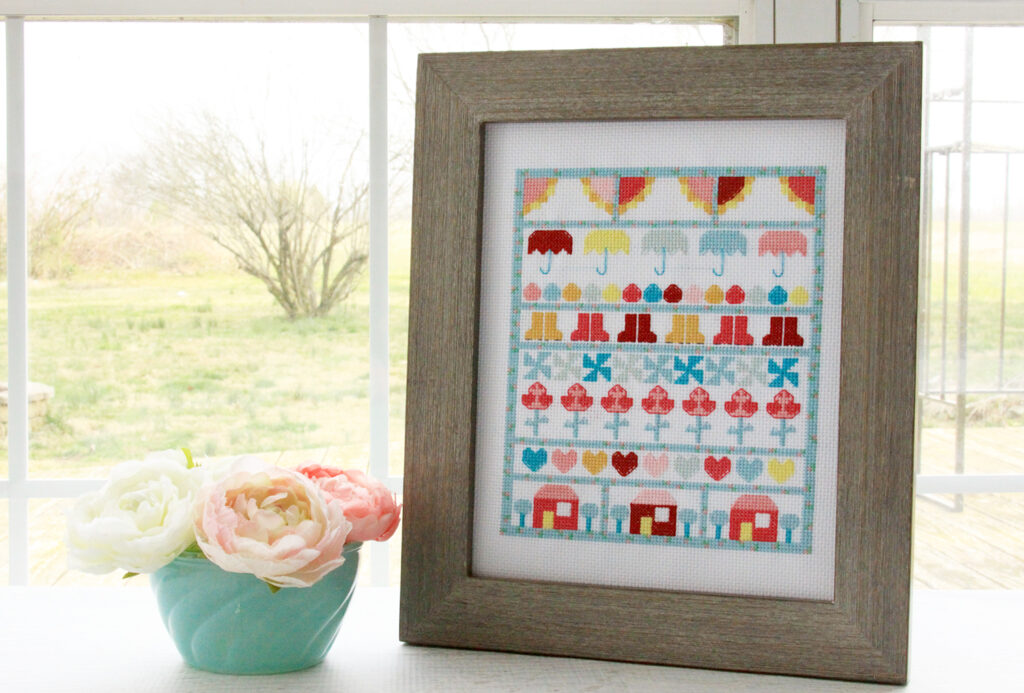 Even though the stitch along has come to a close, that doesn't mean you can't stitch up one of these! You can find the paper and PDF versions of the pattern in my shop. You can also find an Aurifil Thread Set to use at Fat Quarter Shop! These won't last much longer so don't wait to pick one up. I bought an extra set because I just love these colors and use them in lots of projects!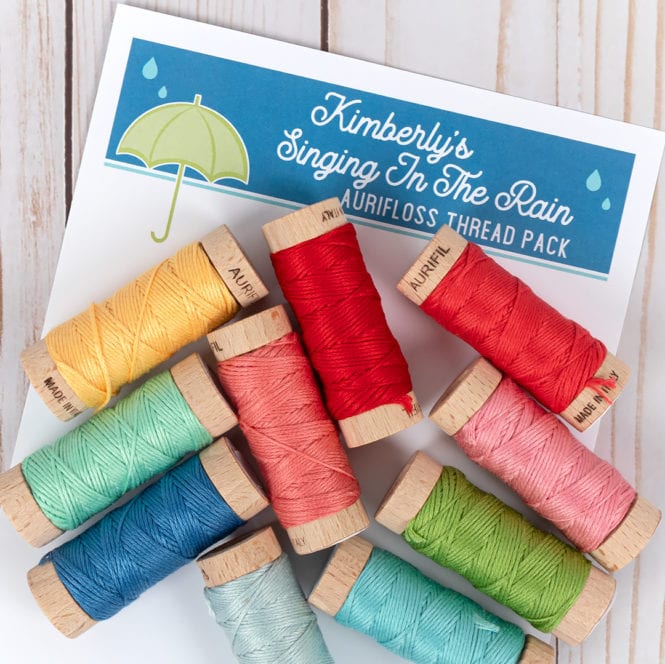 I hope you have had fun stitching this up too! You can find all my previous weeks here:
Now I think it's time to dive into some Fall and Christmas stitching! Yay!