Oh my goodness, I had so much fun joining in with this quilt along! Today I'm showing off my Christmastime Mystery Quilt Finish!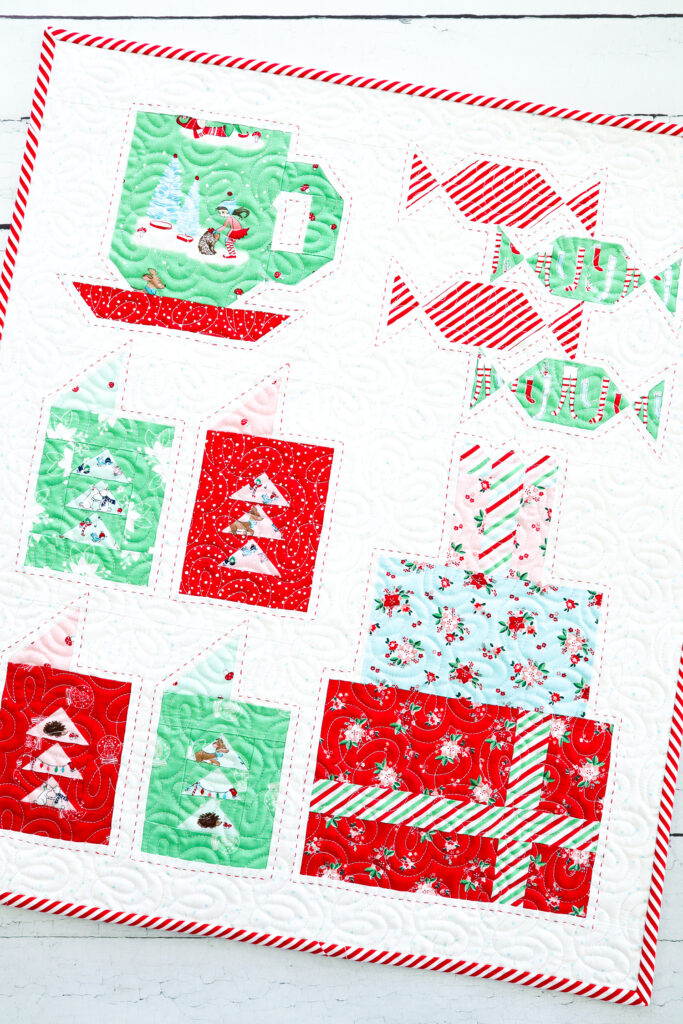 This mystery quilt along is hosted by Fat Quarter Shop. Over the last four weeks, they have been releasing a block a week, and today is the release and final reveal of the finished quilt. I am so happy with how it turned out!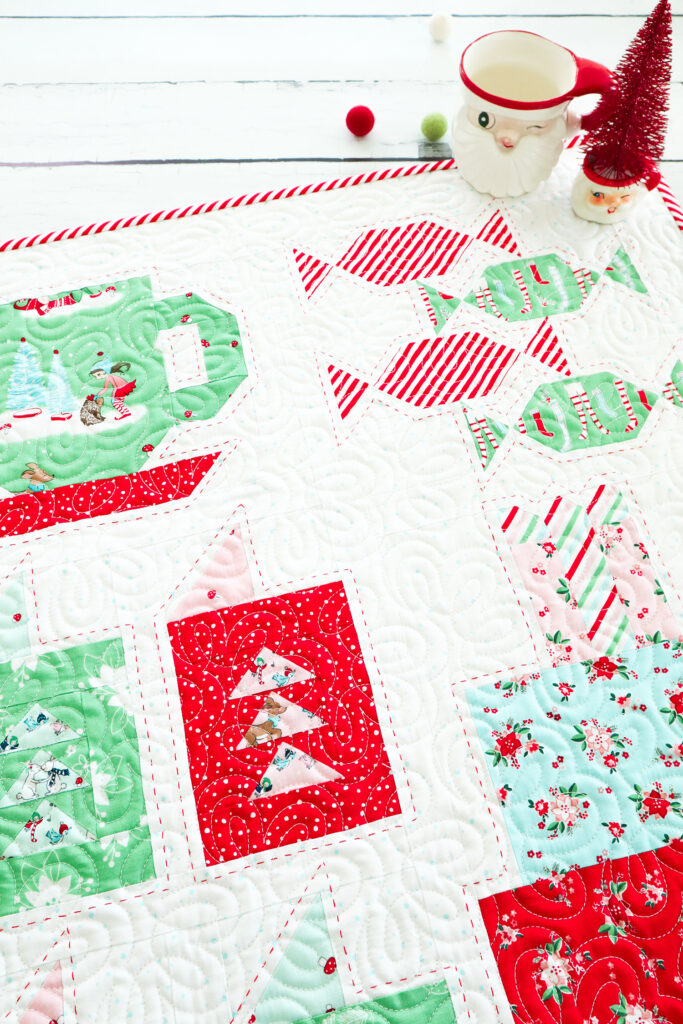 Christmastime Mystery Quilt Finish
For my version of the quilt, I used Tasha Noel's Christmas collection, Pixie Noel 2, and a white background. These prints are so fun, and I had a blast fussy cutting the blocks. After I assembled the quilt, I added detail stitching with my Baby Lock Sashiko machine around each block. I decided to do the stitching after assembling the quilt top so that it would be easier to outline each block. Some of the outlines overlapped into the sashing, so it worked great to have it all assembled. I used a red Aurifil thread so the outlines would really stand out.
Some of the details were pretty small, like the inside of the mug, but there was still room to do the stitching.
I quilted the mini on my Baby Lock Regalia with a Knit 1 Purl 2 design. I thought the little loops looked really sweet with the blocks. And I had no problem with the machine quilting over the sashiko stitching. It worked like a dream!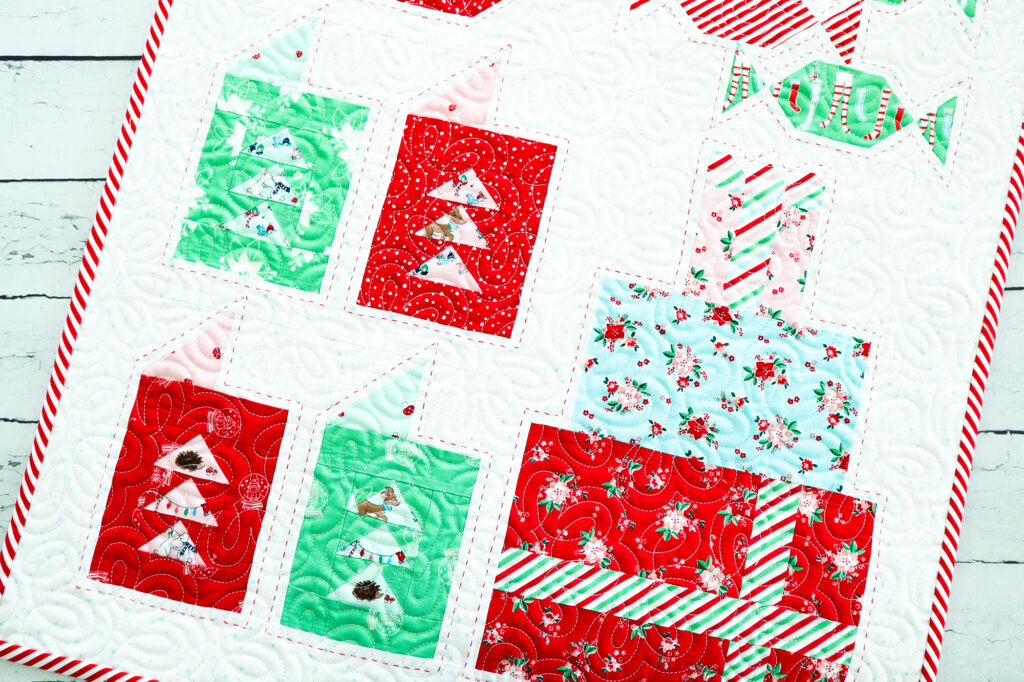 For the back, instead of doing the pieced backing in the instructions, I used one of the prints from Pixie Noel 2. I loved the design in the prints and wanted to show it off!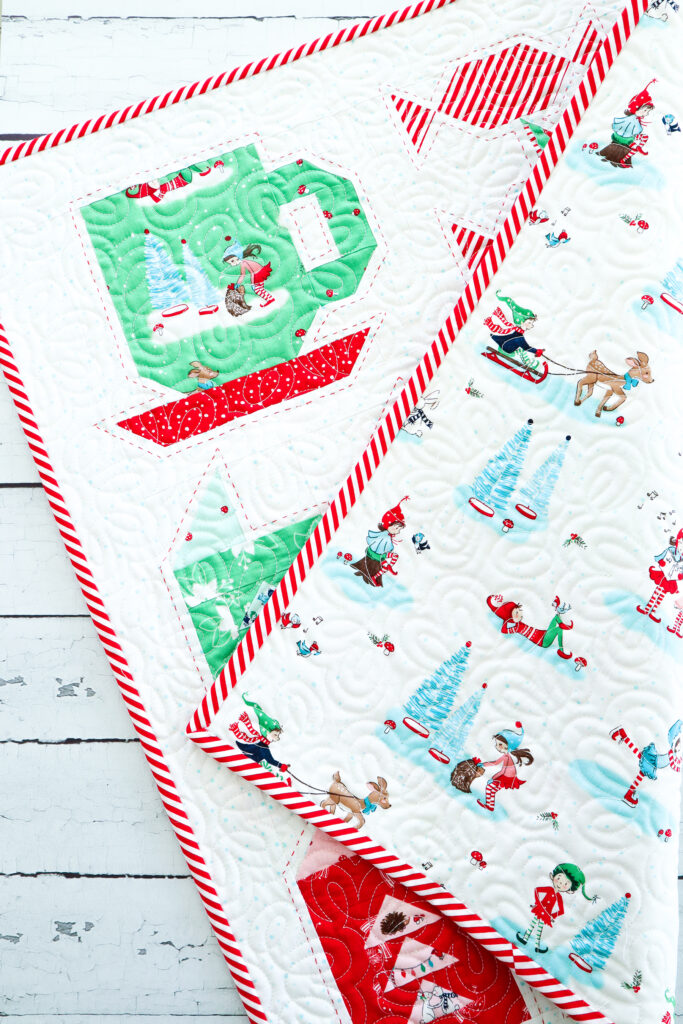 I can't wait to put this up for the holidays!! I am thinking I need some matching pillows. What do you think?!
You can see my other blocks here:
This mystery quilt along is a free pattern from Fat Quarter Shop! You can find the kit for the fabrics Fat Quarter used for their version of the quilt here. There is also a free stitch along if you want to join in with cross stitch.
Click here for the free Christmastime Patterns
There is a free cross stitch along as well! I love the design, it's so sweet. You can also download all the patterns to save for later! I'd love to know what you think of my Christmastime Mystery Quilt Finish!