We are excited to have a special guest for this week's Pinterest Feature Friday – Sarah from Craft Quickies!
Sarah is awesome and super talented so after you have fun checking out her feature, make sure and head over and check out her blog. You'll love her!
Hello! This is Sarah from Craft Quickies and Bombshell Bling Jewelry, and I have a public apology to make: I want to apologize for all of my Pinning.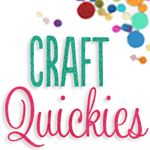 Not my Pinning in general, necessarily, although I do have a lot of Pins. In fact, I have 68 boards and 5,348 Pins. I may have a problem. My sister sure seems to think so!
Back to the topic at hand: apologizing for flooding the Pinterest home pages of my followers for the past two days. It has been a bit, well, insane. You see, I have a stomach bug that has knocked me flat for five days straight now, so there has been a lot of sprawling myself out on the couch while my children play in my general vicinity, unable to accomplish anything of substance. Oh, except that I can still browse Pinterest on my phone. And since I am helping my dad plan a remodel of his house, as well as preparing for two kid birthday parties and two upcoming holidays, I have plenty to search for and Pin!
Finding the fabulous Pinner that I am going to feature today didn't help a BIT either. I tried really hard not to re-pin every single item that she had Pinned. I swear. But…..well…..it's all just so fabulous. Here, I'll prove it.
Meet Christine Ralston, the brilliant creative talent behind the blog The Crafty Woman. Seriously, this girl has some MAD artistic skills. Check out her blog after you check out her Pins. You will NOT be sorry!
Christine has some awesome boards that show her seriously rocking style. These fabulous winter coats from her Baby It's Cold Outside board are speaking to my soul right now as I look out the window at the Colorado snow falling heavily.
And anyone who reads my blog knows that I have a weakness for all things kid related, so this Play Time! board definitely jumped out at me.
With Easter right around thisboard really caught my eye, and I love that it's called Peter Cotton Tail! Much more original than my….errr…."Easter." Lame-o. I may have to rename that. Aren't all of these colorfully decorated eggs just divine?!
Now here's a board that really caught my eye: My Henna. Apparently Christine is an amazing henna artist! I mean, COME ON! That dragon! That octopus! That gorgeous little girl! (Ok, so she didn't draw the little girl, but she did contribute 50% of her DNA and draw the beautiful flower design on her arm!) What a unique talent!
Last but not least, check out this board: From the Blog: the Crafty Woman. If you look at no other board from this post you should look at this one. It features all of her original blog tutorials and recipes and WOWZER. I am simply blown away by her talent. BLOWN. AWAY. I did repin almost every one of these pins, and I will not apologize for that. So much talent!
Let's take a closer look at a few of the Pins from her From the Blog: the Crafty Woman board. You will see why I'm making such a fool of myself gushing about Christine. My sisters would tease me and say I have a friend crush on her, except that I don't know her personally, much to my chagrin, so I guess what I have is a *blog crush* on her. I am not ashamed. Do you hear me, sisters?! Not ashamed.
Let's start with the Playroom Library. She built those shelves! Oh, and she is the original creator of those fabulously fun Dr. Seuss Printables!
Or how about a recipe for homemade Sweet Potato Gnocchi with Gouda Cheese Sauce? Umm….yes, please.
On to crafts: Giant Felt Fortune Cookie Tutorial! So fun! Remove the heart and it's a year-round goodie.
Or sewing and knockoffs! A knockoff of a fun, 80s-vibe Nordstrom party dress for her oldest daughter. What a fun mom!
Have you noticed the beautiful photography? Then check out this Christmas Photography Tutorial. (MAN she has cute kids!)
Thanks for letting me share my favorite new Pinner with you today! I hope you explore her boards and her blog, and I hope that you take the time to stop by my boards and my blog as well. Have a lovely weekend everyone!
~.~.~.~.~.~.~.~.~.~.~.~.~.~.~.~.~
Fantastic feature, Sarah!
You showcased Christine so well. I know I'm excited to go check all of her boards!

Christine you have some wonderful Pinterest boards and some amazing pins!
Be sure to grab a featured button.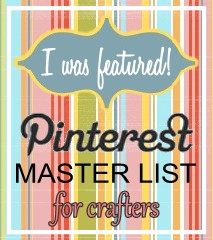 Have you joined the Pinterest Master List yet?
We would love to have you! And, who knows, maybe you will be our next feature!