Today is a big day! I'm so excited to show off a new fabric collection coming out this fall with Riley Blake Designs. My new Afternoon Tea Fabrics are Coming Soon!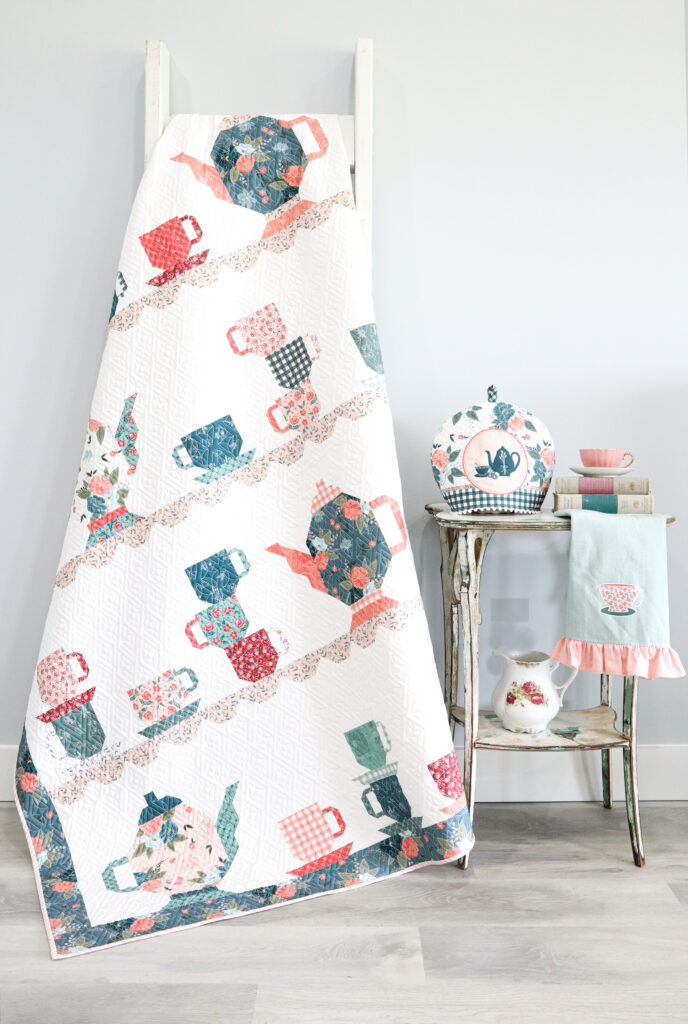 It's always time for Tea! One of my very favorite things is sitting with some embroidery and a good cup of tea! This collection celebrates all things tea with fun tea labels, big florals, tea leaves, and more!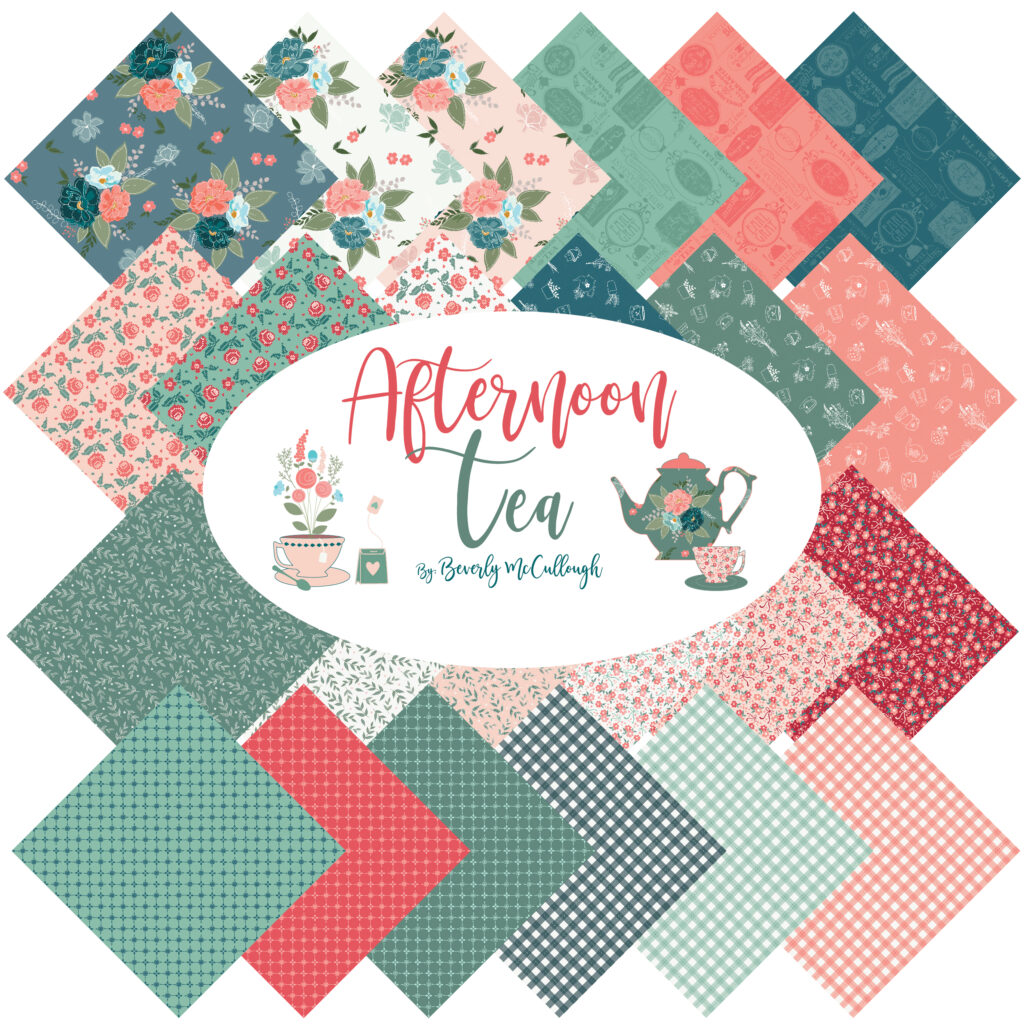 The fabrics have big florals, a print with all sorts of tea levels, cross stitch flowers, tea leaves, and more. It was so fun to design all the different elements in the fabrics. I also went with pretty shades of peach, green, and dark navy, and I love how they blend together.
There are new Wide Backs coming out for the collection as well that will look great on the back of all your Afternoon tea quilts – or any quilt you'd like! They have larger versions of the florals from the collection, plus they have fun tea recipes on them!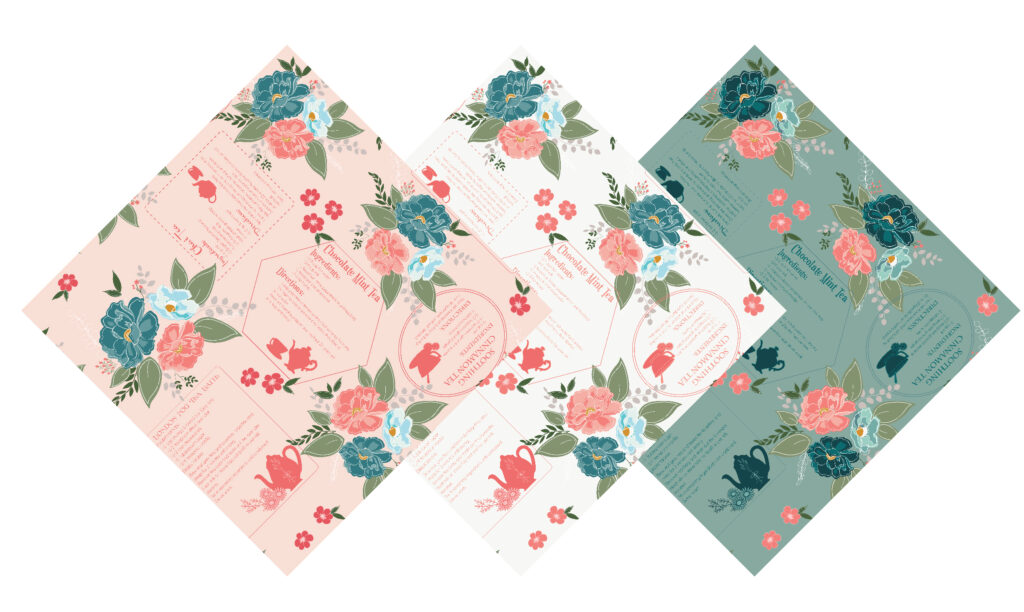 I also designed an Afternoon Tea panel with all sorts of sweet tea projects. There is a tea cozy, a mug rug, coasters, a tea wallet, and even cute little coasters!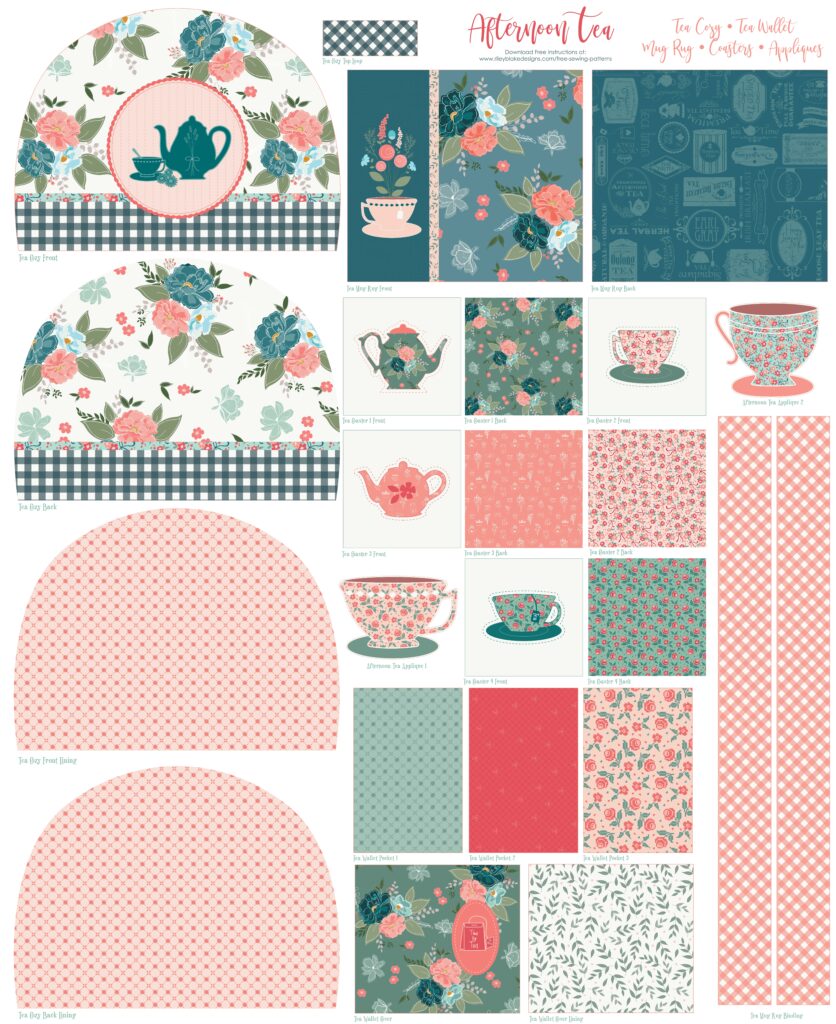 Let me show you a few of the projects! The tea cozy is a bright floral with a teapot accent. The panel includes a tea cozy lining as well.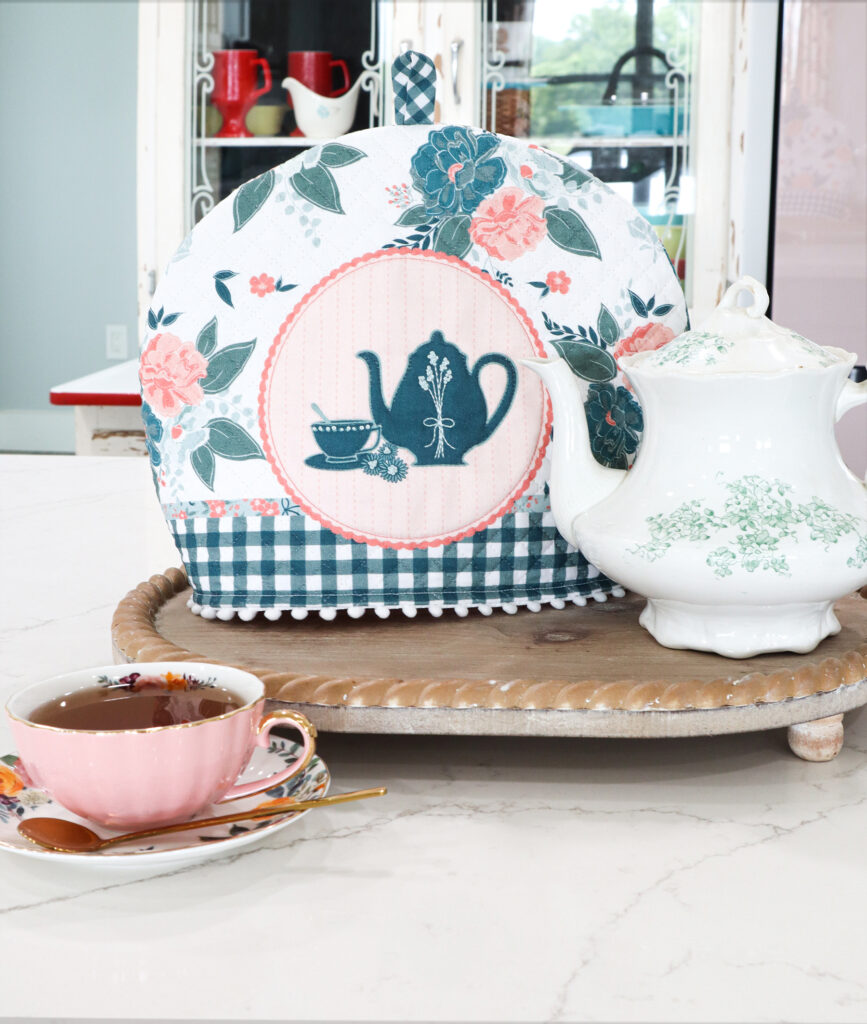 I added some pom pom trim to the bottom edge of the tea cozy, and I stitched out some of the details on the teapot. You can add whatever details to your project that you'd like!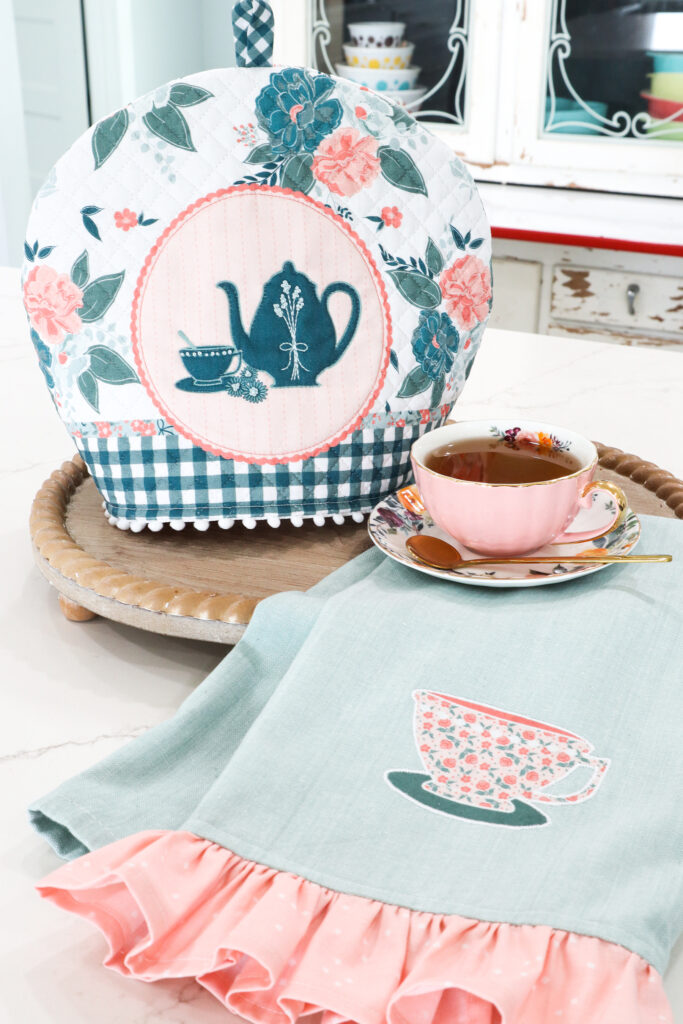 There are two little tea cup appliques on the panel. I added them to some purchased dishtowels; then, I stitched a little ruffle from some blossom fabric to the bottom edge. You can use the appliques on towels, bags, or whatever you'd like!
There are cute little coasters on the panel with different teacups and teapots on the front and matching florals for the back of the coasters. There is a printed outline on the coasters, but I stitched it out with embroidery floss. It adds some sweet texture to the coasters.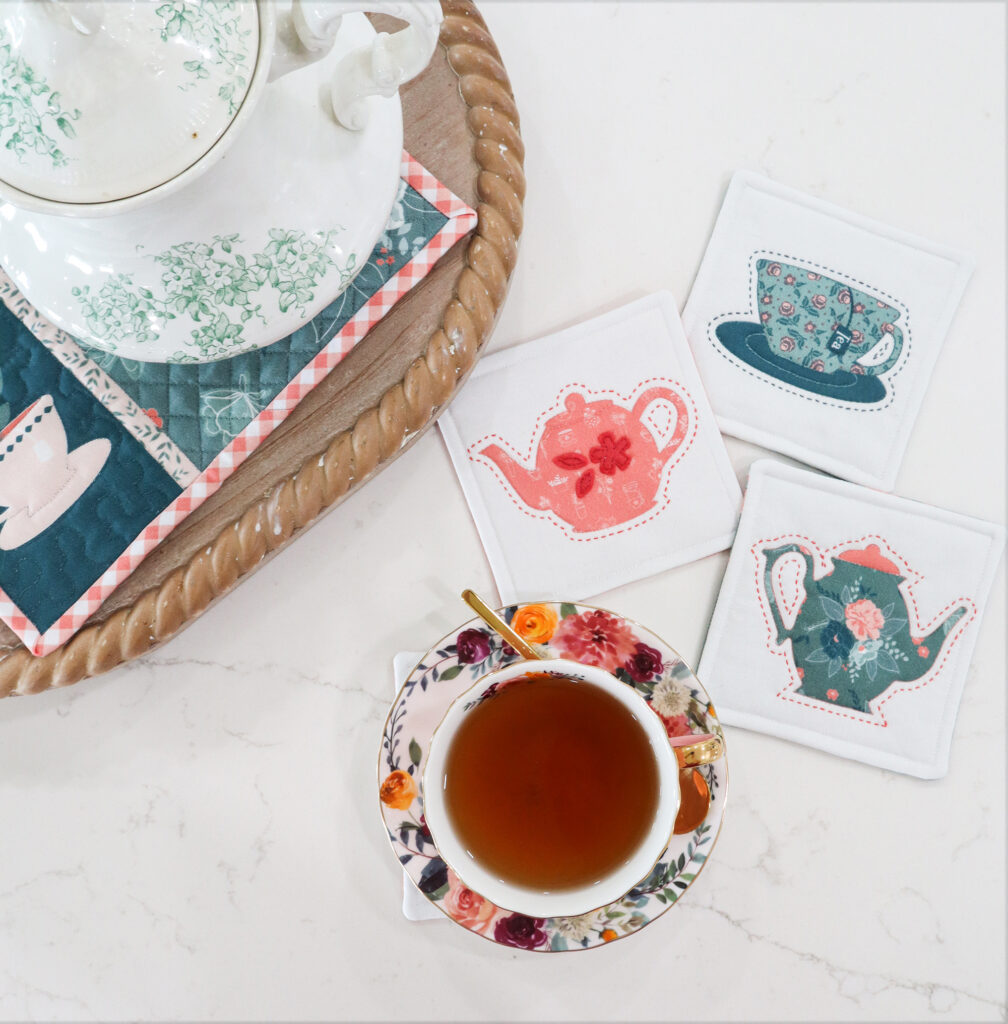 There is a mug rug on the panel, with a little teacup full of flowers on the front side and a back piece printed with the label print from the collection. The panel even includes the binding for the mug rug! You can quilt the mug as you like, or leave it unquilted or stitch out the flowers on the mug rug.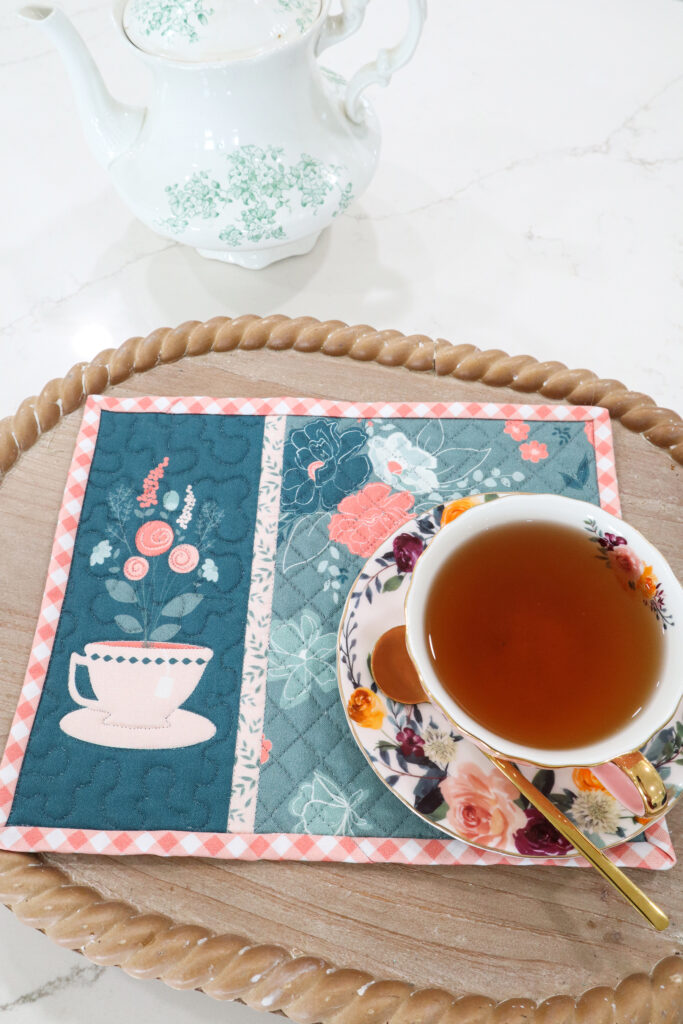 And lastly, there is a tea wallet on the panel! A tea wallet is a little fabric case that holds tea bags – so you can have tea on the go!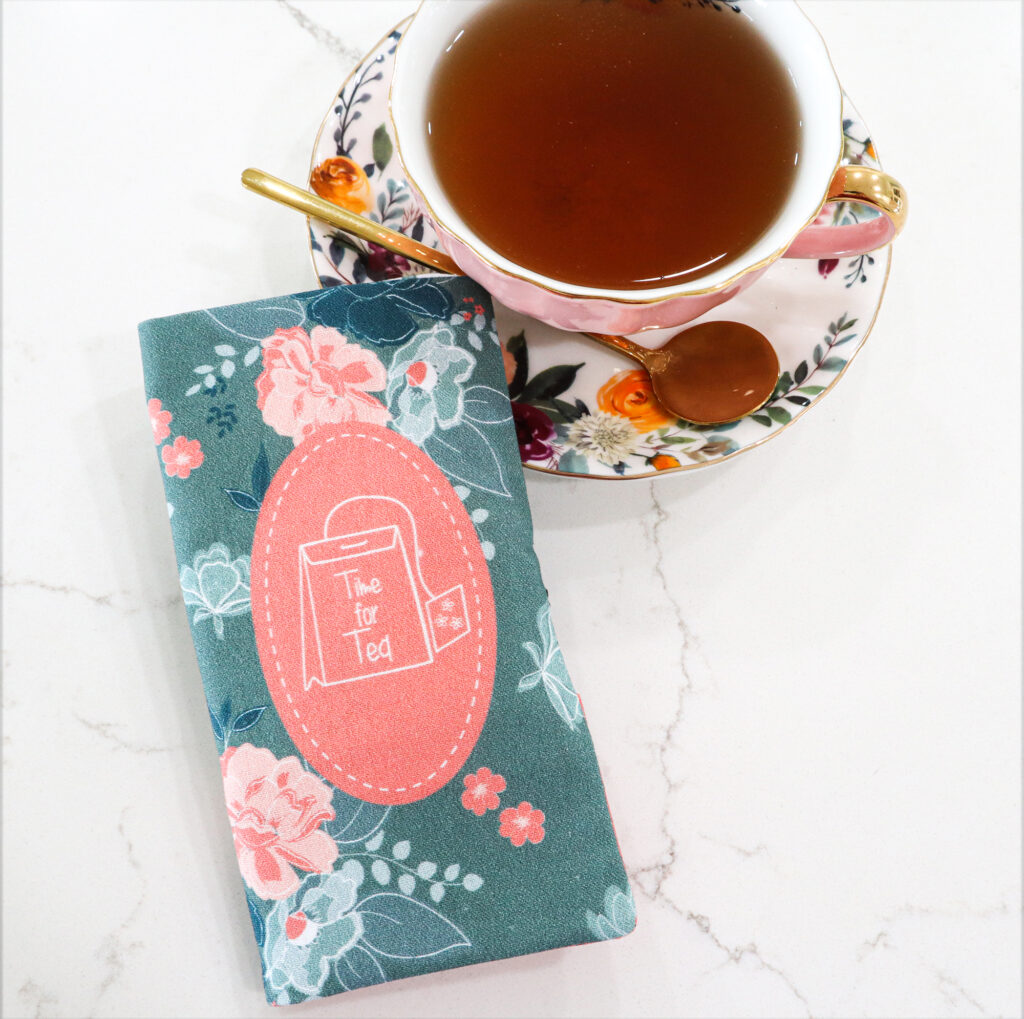 The tea wallet holds at least four tea bags but you can fill it up even more if you want it really full.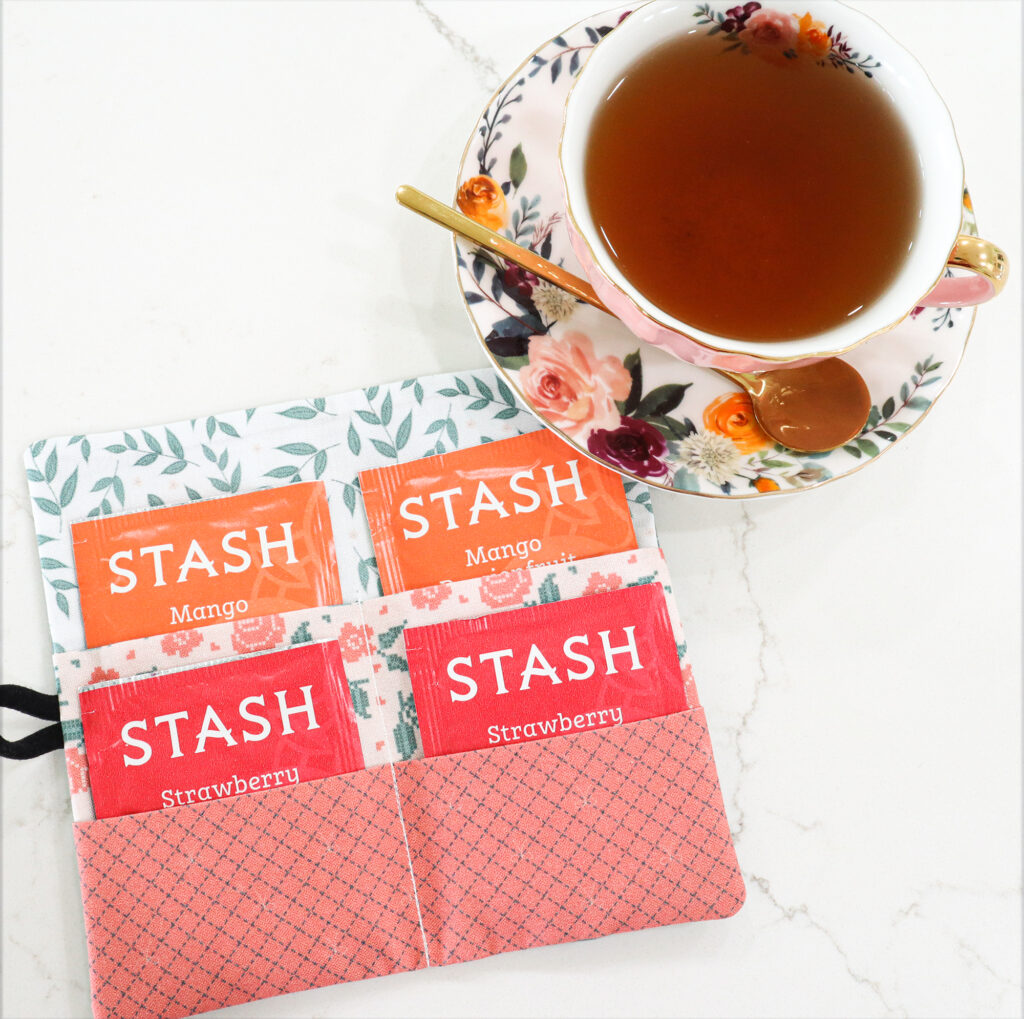 I can't wait for you to see the fabrics and the panel!
Afternoon Tea Fabrics Coming Soon
I also designed quilt patterns for the collection!
The first up is called Tea Party and has a mix of teapots and teacups stacked up on shelves! It's such a fun quilt to sew up and we're doing a sew along with the quilt that kicks off in January 2024. There will also be kits for this pattern!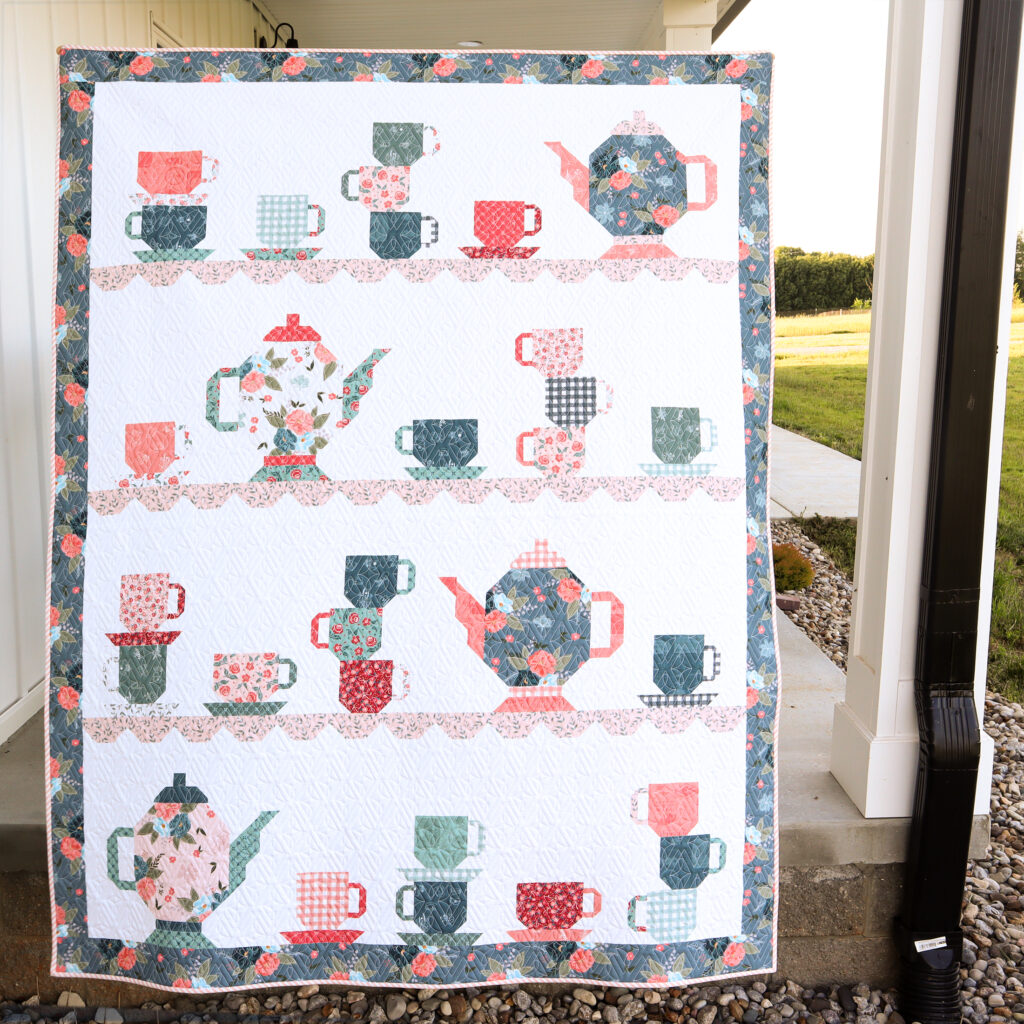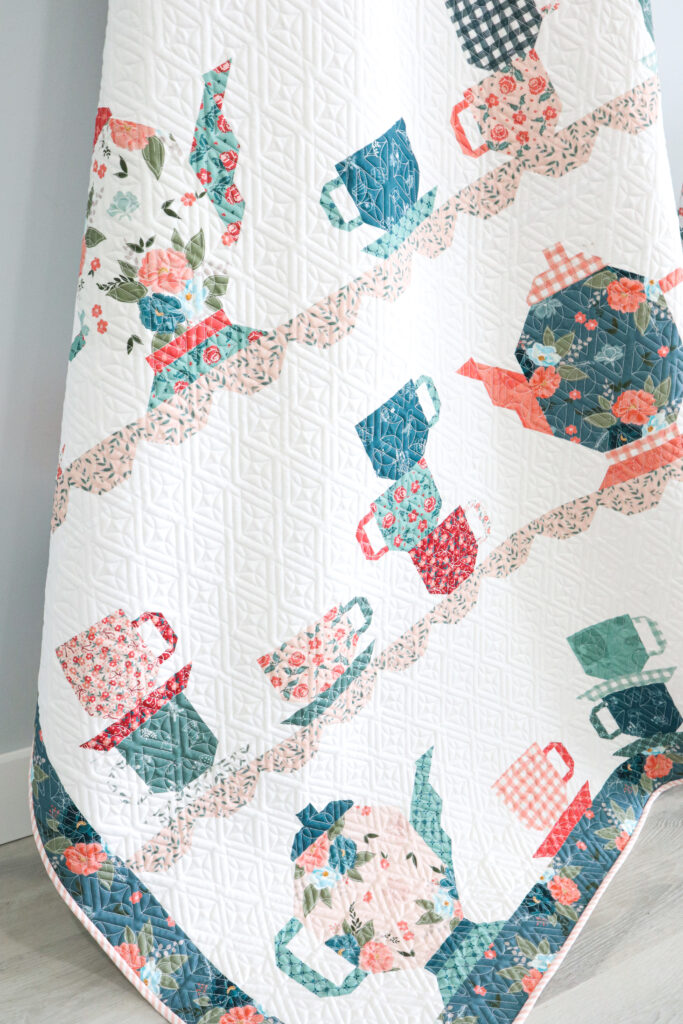 I've also got a new template coming out – an Orange peel template with Riley Blake Designs. It's perfect to use when you're making this sweet Orange Pekoe Quilt!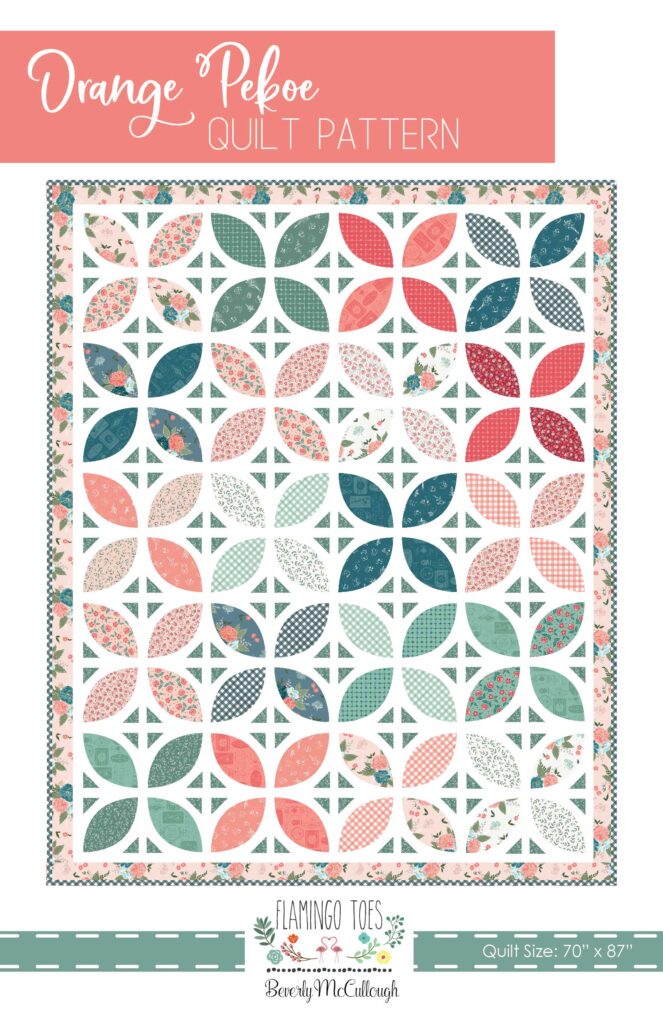 The third pattern is called Tea Cakes. It's a scrappy quilt that is precut-friendly and so fun to sew!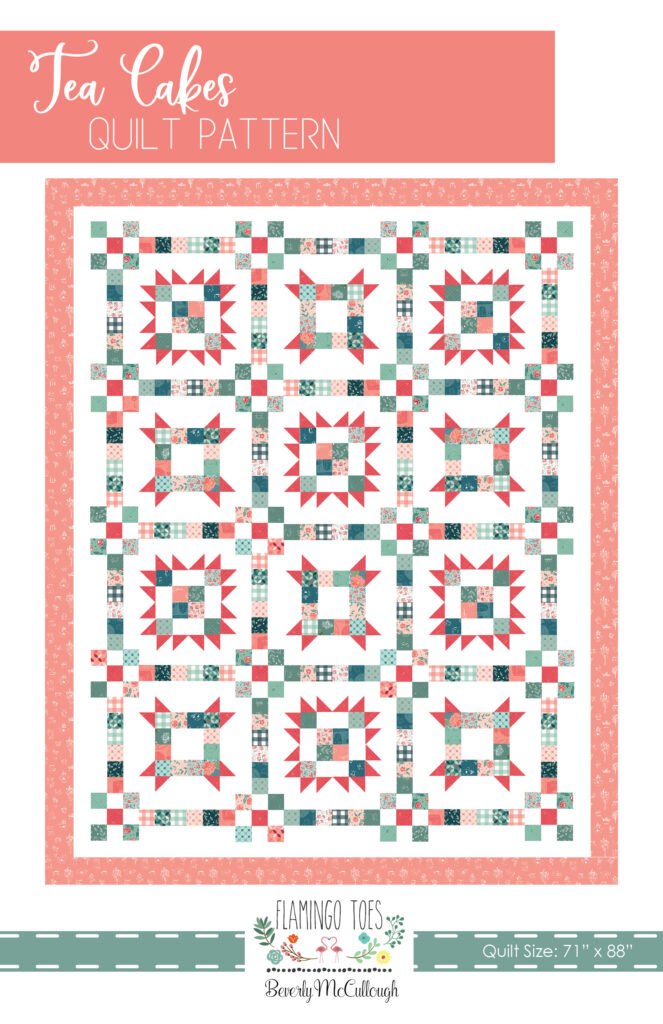 I'll be sharing a video all about the collection at Riley Blake Designs' virtual quilt market today! I'll be live at 2 pm CT, and you can find the video in the RBD Virtual Market Facebook Group. Come let me know what you think of the collection and projects!