Hi all!
Michele here with our first Pinterest Feature Friday of 2013!
If you're not familiar with our party you can check out all of the details here.
We'd love to have you join us! We're 1,600 strong and growing!
Today I'm featuring Jamiee who is one half of the duo from Craft, Interrupted!
Jamiee has 36 boards and 1857 pins.
Let's start by taking a quick look at a few of her boards!
I know that Christmas is behind us, but Jamiee's Winter/Christmas board has a lot of great cold weather decorating ideas. I don't know about you, but its still quite chilly outside where I live and I love to decorate with snowflakes and snowmen until March!
This Typography & Printables board has, you guessed it, loads of great typography ideas and fun printables!
And with Valentine's Day quickly approaching, I had to share Jamiee's Valentine's Day board.
There are 107 fun ideas just waiting for you to explore!
Ready to look at some pins?
This adorable stand was made for a birthday party(directions included!),but what fun would it be to play with all the time!

Pinned by Jamiee from Girl.Inspired.
Spring will be here before you know it so its time to start thinking about what to hang on the front door.
This ruffled burlap wreath would be perfect!

Pinned by Jamiee from Top This Top That.
This mercury glass and bottle brush tree mantel display is simply stunning.

Pinned by Jamiee from Curly Willow DIY.
I *love* this faux chalkboard gift wrap idea using black Kraft paper!

Pinned by Jamiee from Nashville Wraps.
I love this gorgeous bag. And the bow? It can double as a scarf. So cute!

Pinned by Jamiee from V and Co.
I'm pretty sure I need this print hanging in my kitchen over the Keurig.
It speaks for itself!

Pinned by Jamiee from Hairbrained Schemes.
And last but not least, how adorable is this headboard?
There is a great headboard round up to be found here!

Pinned by Jamiee from Rags to Riches by Dori.
Thanks so much for linking up to the Pinterest party, Jamiee!
Be sure to grab a featured button.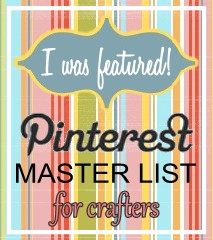 Have you joined the Pinterest Master List yet?
Who knows, maybe you'll be our next feature!