Hi – It's my turn for Pinterest Feature Friday!
And this week since we're so close to the 4th – we thought it would be fun to do a special 4th of July edition!
Today's special Pinterest Feature are two girls you probably already know and love – I sure do – it's the Lolly Jane girls!!
Oh my goodness – if you haven't visited Lolly Jane, you need to go! There style is adorable and they are soooo talented.
Kelli and Kristi share a Pinterest account – they have 87 boards and 2440 pins – but our focus today is on their 4th of July board!
Let's check out some of their fun pins!
I LOVE Poke Cakes – this Patriotic version by Kristyn at Lil' Luna looks so yummy and cute!!
This Rustic Patriotic Bunting from Sew Sweet Cottage is fabulous!! I totally want to make it this weekend.
Here's a sweet Patriotic Printable from HMH Designs for quick and cute decorating!
How cute are these American Pie cupcakes over at Tasty Kitchen??
The girls have a darling State Printable that they created – I love the shading they used!
How fun is this Patriotic Cake and Bunting?? I want to make a cake just so I can do this cute bunting.
These cute Star Medallions would be great decorations – and super simple too!
Thank you Kelli and Kristi for finding so many fun Patriotic Pins!!
Be sure to grab a featured button: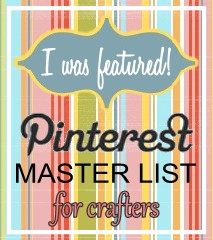 Have you joined the Pinterest Master List yet?
We would love to have you! And, who knows, maybe you will be our next feature!