If you have ever even accidentally ended up at Flamingo Toes there is a good chance that you've come across a vintage fabric project. Or a project that I wished I used vintage fabric on but restrained myself. One of those two things.
Because seriously, it is just too yummy. All those gorgeous colors, pretty details and sweet embroidery. I mean how can you resist it? I obviously can't. It just makes my heart go pitter patter.
Well in the spirit of all things Vintage I've rounded up 30 Fabulous Vintage Linen Projects!
These are a fun mix of vintage fabrics, handkerchiefs, tablecloths – anything made from yummy vintage fabric! Have a blast looking through them all!
From Flamingo Toes:
Colorful Vintage Handkerchief Apron
Vintage Fabric Wrapped Ampersand
Vintage Style Happy Place Sign
Spring Vintage Linen Table Runner
Around the Web:
Vintage Dishtowels from Tablecloths
Vintage Sheet Ruffle Quilt (no tutorial but so pretty right??)
Vintage Plate and Handkerchief Gallery Wall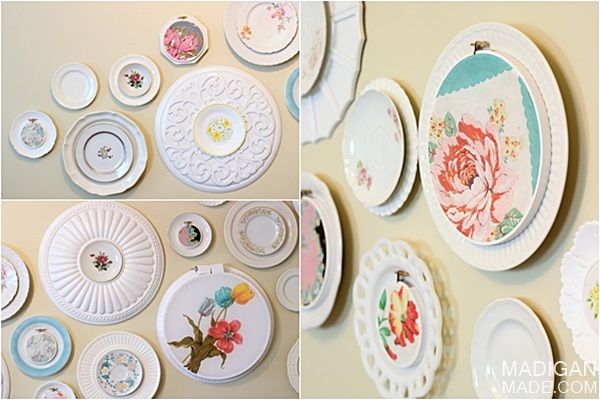 Vintage Handkerchief Burp Cloths
Vintage Handkerchief Tissue Holder
Vintage Fabric Wrapped Hangers
Bow Garland – a favorite of mine, I've made a bunch of these!
Vintage Sheet Mod-Podged Dresser
Vintage Sheet Cocktail Napkins
Aren't they all so great? What are you going to try first?