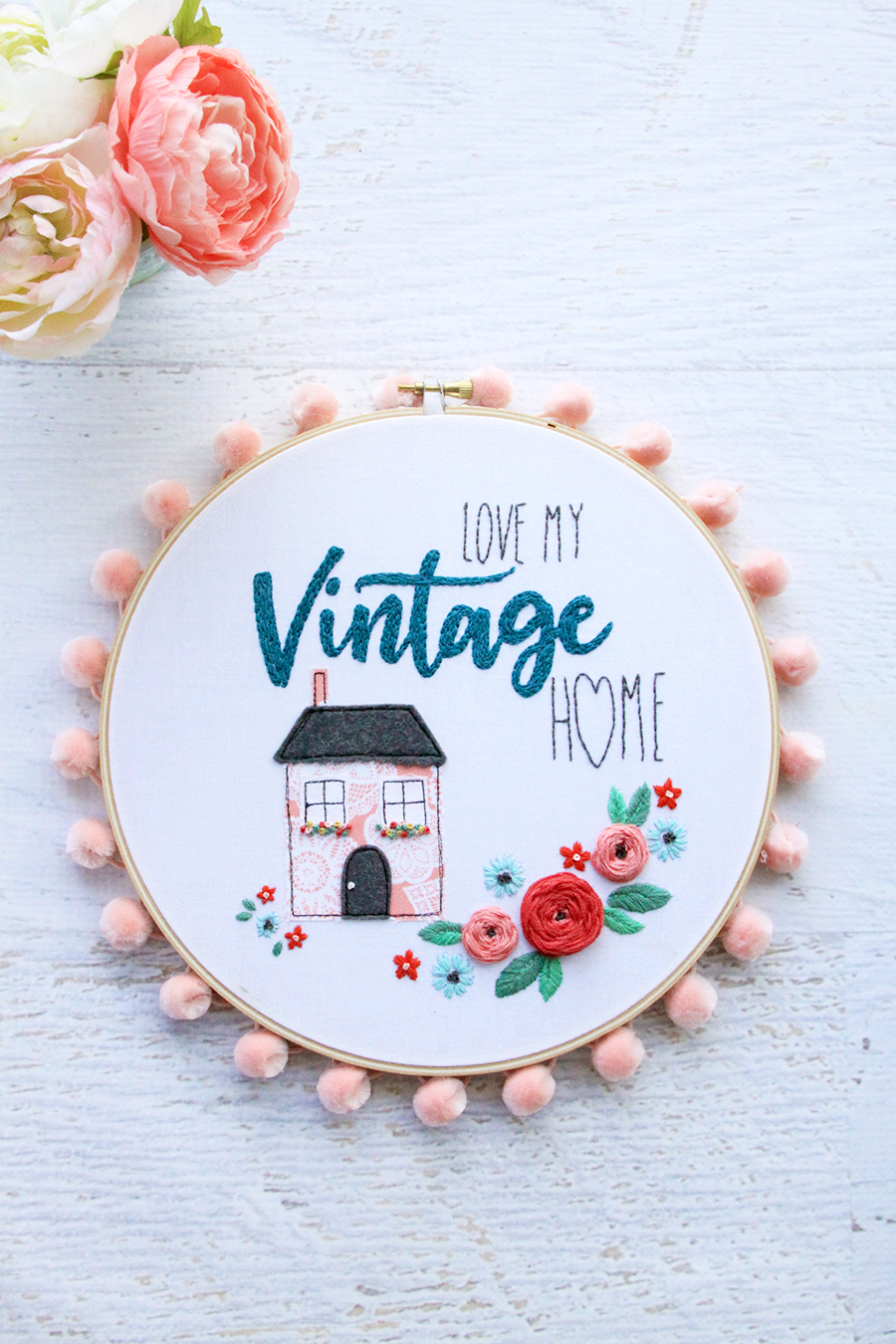 I'm so excited to start sharing Vintage Keepsakes projects! And I felt like this Love My Vintage Home Embroidery Hoop Pattern was a great place to start! It's kind of a great summary of Vintage Keepsakes – I love collecting vintage things and filling my home with them!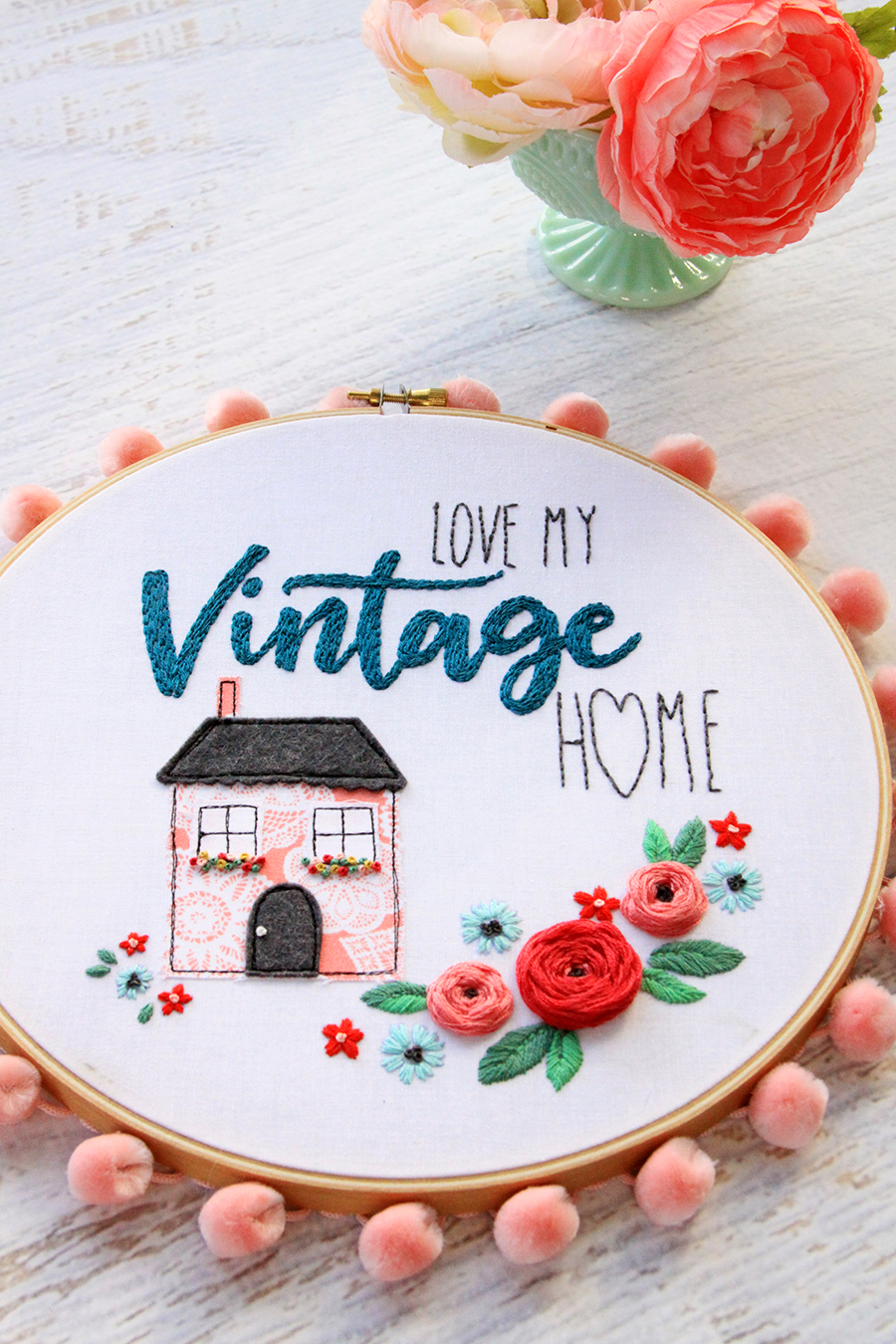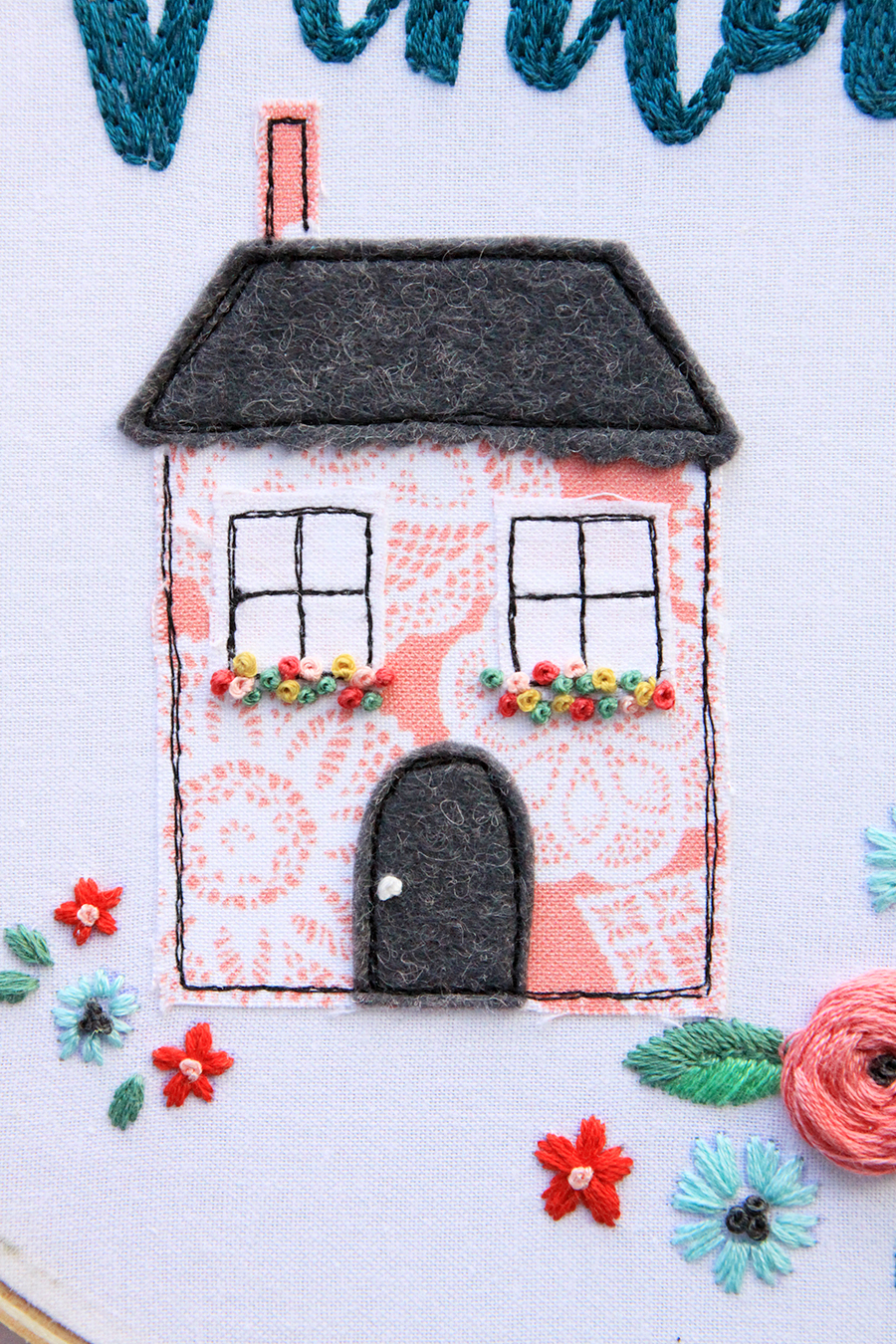 The hoop is a fun mix of fabric, felt and embroidery. The combos give it such great texture with all the little flowers and embroidery stitches!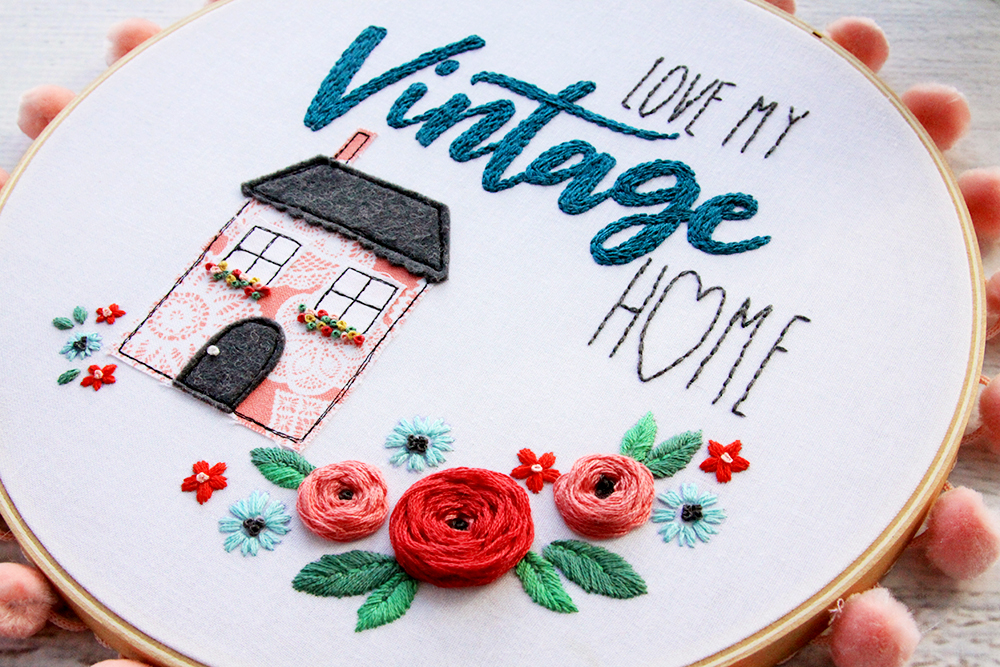 It would be easy to change up colors too! I think it would look sweet with a little gray home and pastel flowers if you have more of a farmhouse style – or you could make it to match your favorite Pyrex pattern! :) (pink daisies for me – what about you?)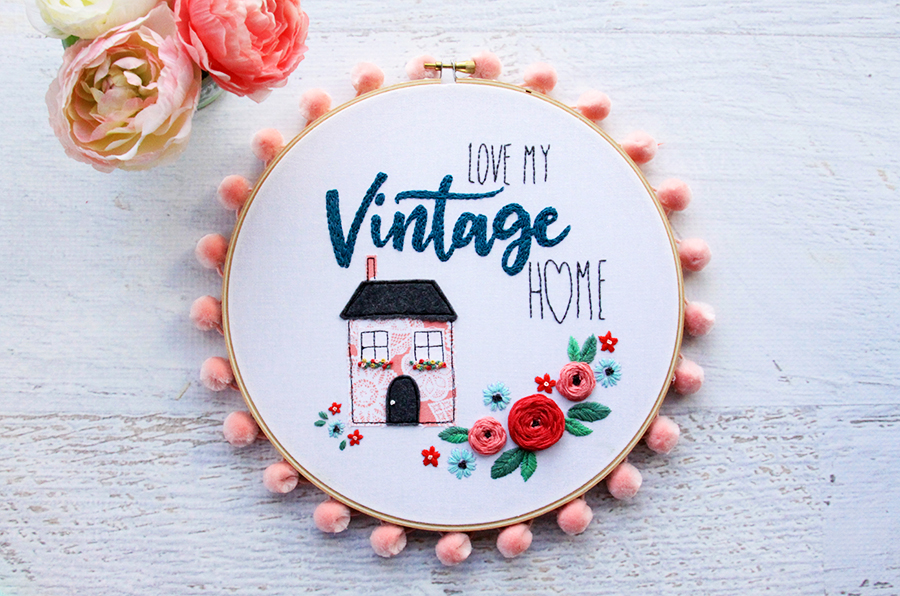 Love My Vintage Home Embroidery Hoop Pattern
Materials:
12″ x 12″ piece of background fabric – I used Riley Blake Solid White
5″ x 5″ piece of fabric for house – I used Vintage Keepsakes pink doily
5″ x 5″ piece of gray wool felt – for roof and door
Embroidery floss – Dark Teal, Red, Dark Pink, Medium Pink, Aqua, Light Green, Dark Green, White, Dark Gray
HeatnBond Soft Stretch
Aurifil Black 50wt thread
10″ embroidery hoop
Pink Pom pom trim – 1 yard
glue
Instructions:
Trace the pattern for the embroidery (lettering and flowers) onto the background fabric.
Using the pattern, cut out fabric pieces slightly larger than each pattern piece. The house and chimney should be fabric, the roof and door should be wool felt. (Polyester felt will melt to your iron so i don't recommend it.) Iron fusible webbing to the wrong side of each piece. Cut out the pieces using the pattern.
Iron the pieces in place on the background fabric using the pattern as a layout guide.
Sew around each of the pieces using the black Aurifil thread, two or three times to give the thread a sketchy/outlined look.
Place the fabric in the embroidery hoop, tighten and begin stitching!
Embroider the design with the following stitches and three strands of embroidery floss:

Love My, Home – Backstitch
Vintage – Outline the letters with backstitch, then fill with a layered backstitch.
Leaves – Satin Stitch
Large Flowers – Wagon Wheel Roses
Small Flowers (around edge of hoop, not on house) – Satin Stitch
Tiny Flowers under windows – French Knots
Door knob – Large French Knot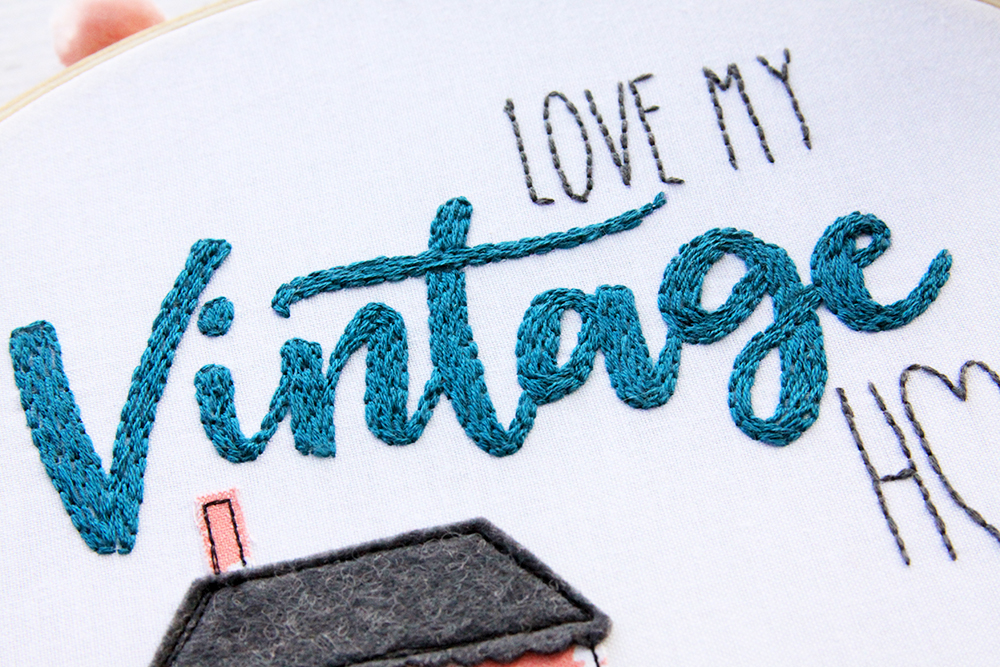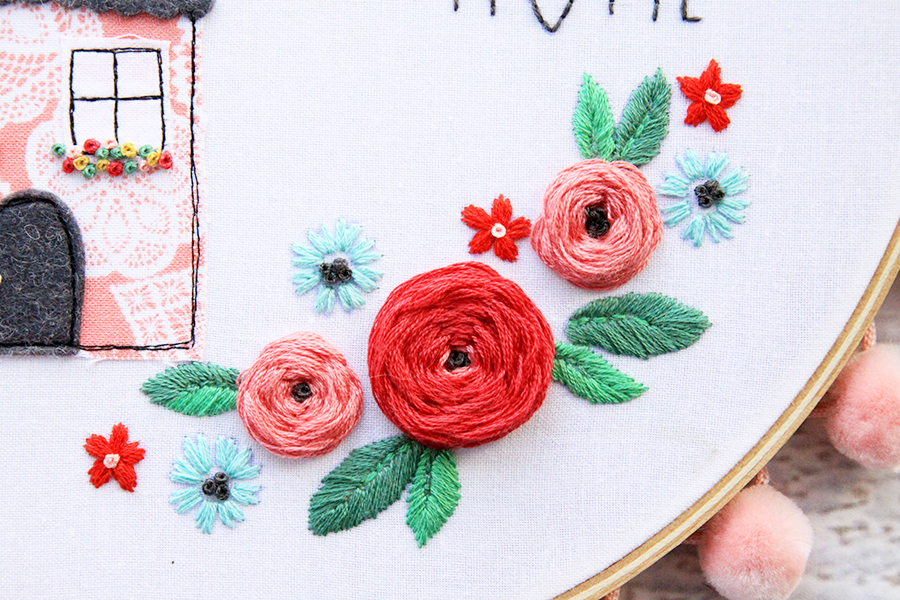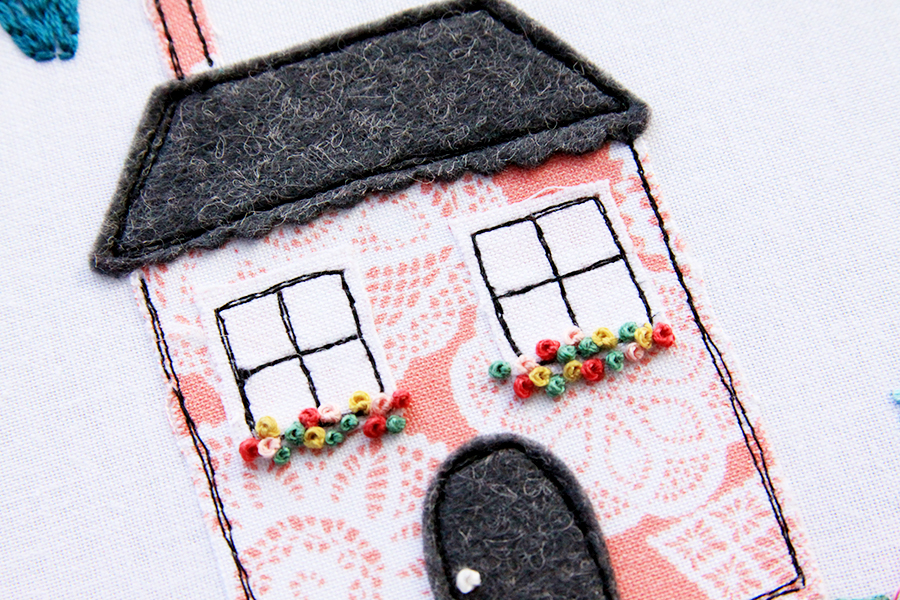 Finish your hoop by trimming the fabric to within 1/2″ of the outside edge and glue the fabric to the inside of the inner wood hoop. Add your pom pom trim around the edge to finish it off. Or you could use the pattern another way! Wouldn't it look darling as the center of a throw pillow?! You could add a little patchwork border around the edge too!