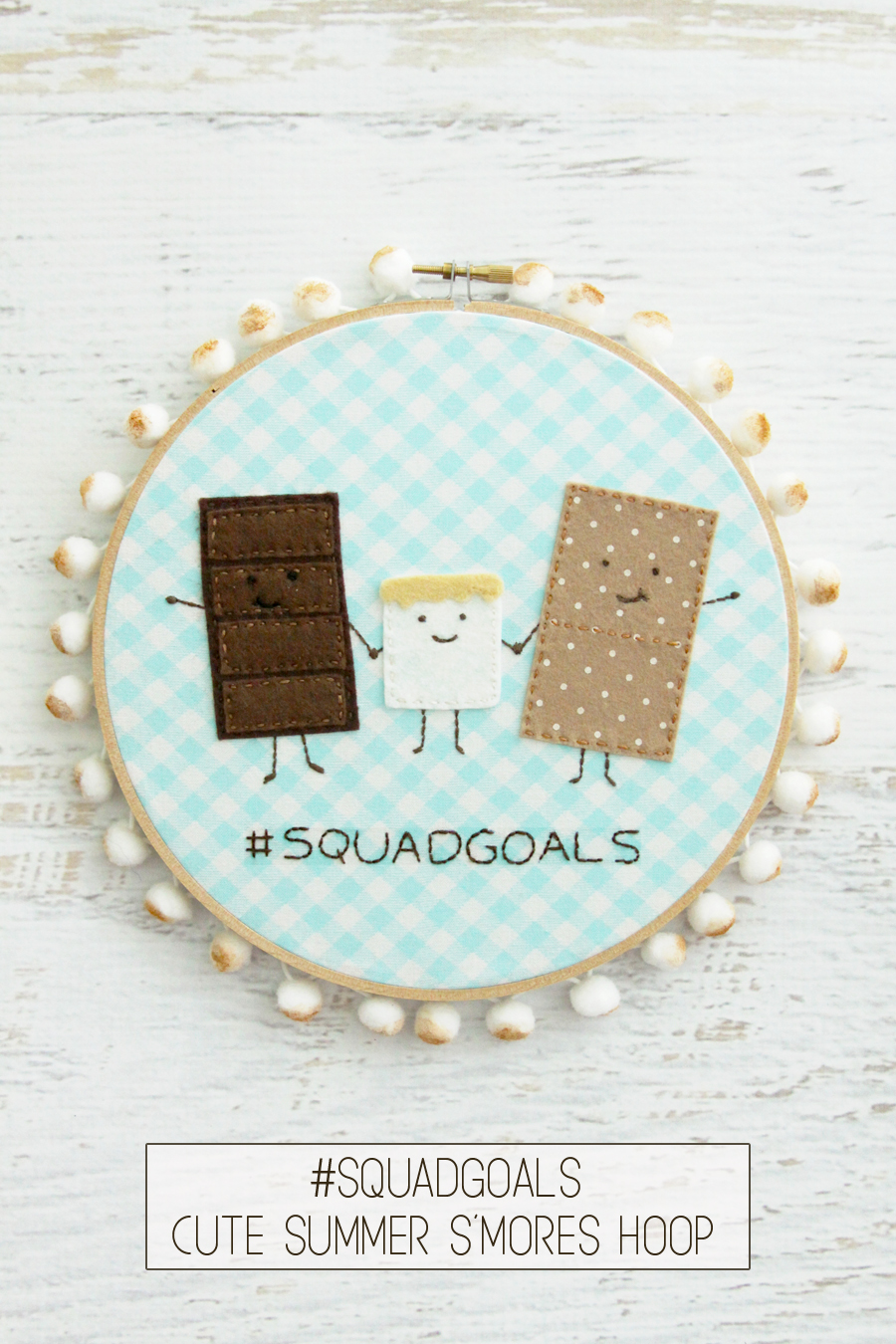 I adore s'mores – they are just everything that is summer all rolled into something gooey and yummy and messy. But we don't make them very often so I just had to create something I can leave up year round! For me that means a hoop art projet and I had a blast stitching up this cute summer s'mores hoop!
So fun right? It's the perfect hoop for showing off your favorite summer treat – and it would make a great gift for friends too!
It even has some little "toasted" pom poms around the edge!
Cute Summer S'mores Embroidery Hoop Art
So let's get started – here's what you'll need:
Materials: (contains affiliate links)
Transfer the pattern to the fabric for the lettering and the hands and feet. Stitch everything with a back stitch.
Cut pieces of fusible webbing slightly larger than the s'mores pieces and iron them to the felt pieces. Cut out the pattern shapes for the chocolate, marshmallow and graham cracker. I added a bit of light tan felt to the top of my marshmallow for a toasted look.
Remove the paper backing and iron the felt pieces in place according to the pattern. If you are not using a good wool or wool felt blend, you'll need to use a pressing cloth or the felt will melt and could fuse to the iron. Not the kind of s'more we want to make. :)
Stitch around all the shapes with a small running stitch. Stitch across the center of the graham cracker to make the little perforated break line. Add the chocolate bar pieces to the background of the chocolate and stitch in place. Stitch the faces with little French knots for the eyes and back stitches for the mouths.
To create the "toasted" pom pom trim, brush a bit of tan paint on the top of the pom poms. I used my finger, it was easiest to get a toasted look that way. Top them off with a little rust craft paint to add some darker color.
Finish the back of your embroidery hoop and glue on the pom pom trim. Now you can show off your cute S'mores hoop!
If you make one and share it on social media, make sure you tag me and include #flamingotoes so we can all see it!
Also – if you haven't joined the Flamingo Toes Stitch and Share Facebook group, we'd love to have you join in the fun! We share all sorts of cute projects, support and encourage each other, and I share sneak peeks and coupon codes too!