I'm so excited about today's new embroidery pattern! This "With You I am Home Free Embroidery Pattern" is so fun to stitch up and a great way to show off how much you love someone!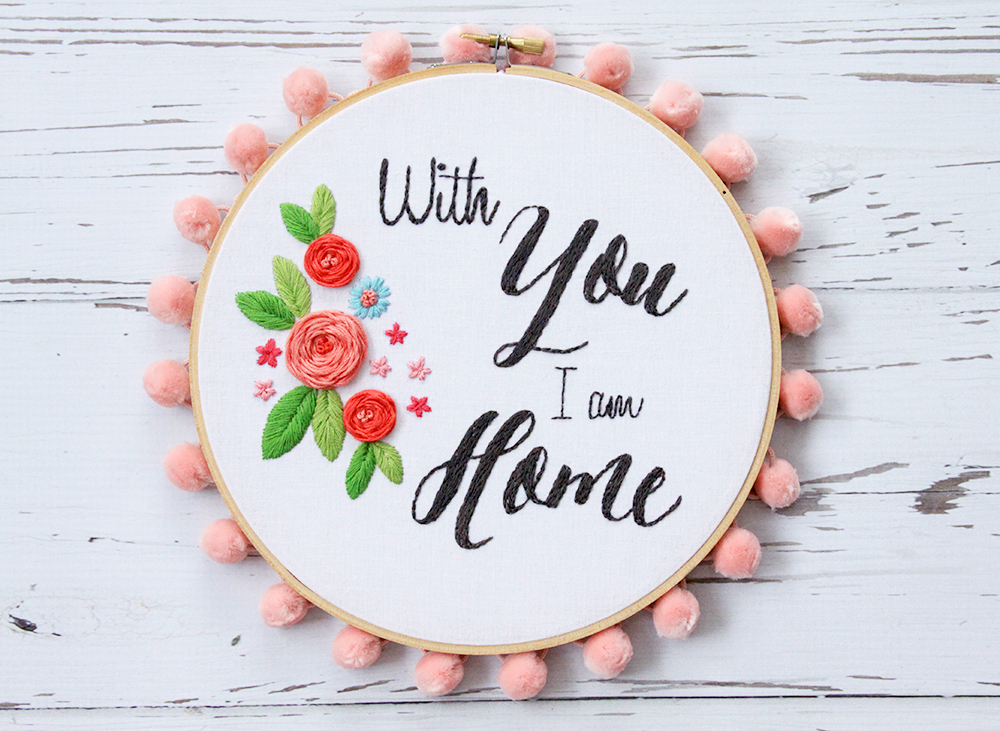 When I was working on writing up the instructions for this cute pattern I realized how many "home" embroidery patterns I have. I think I could put together a gallery wall just with those designs! It shouldn't have surprised me – there's really no place I'd rather be.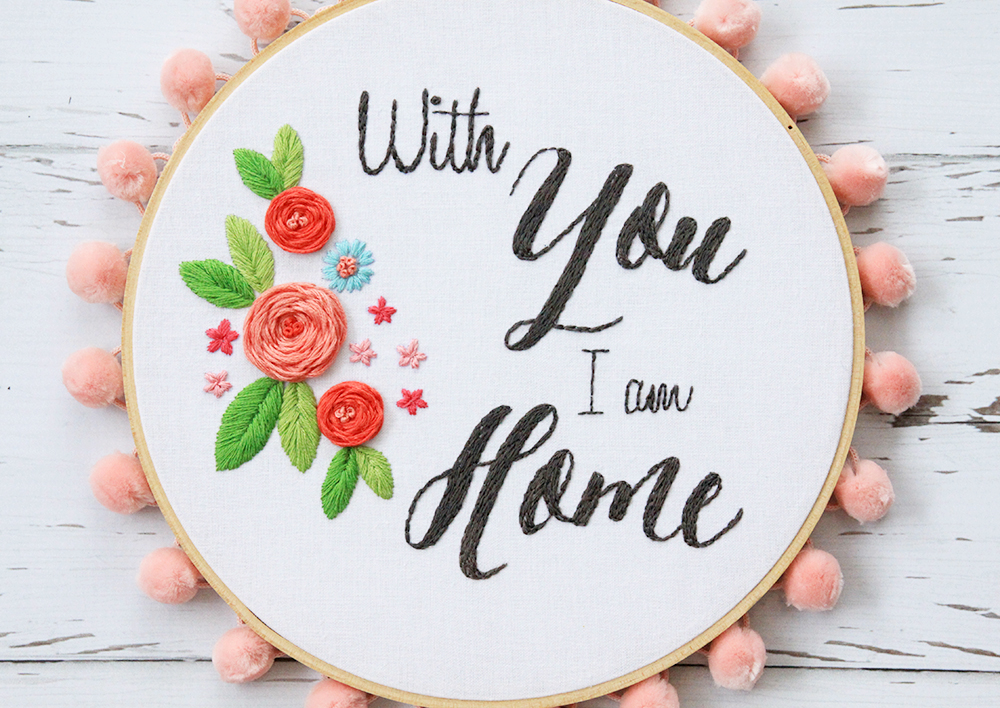 It is so fun to stitch up too! I just love these showy woven wheel roses. And they are so easy to make!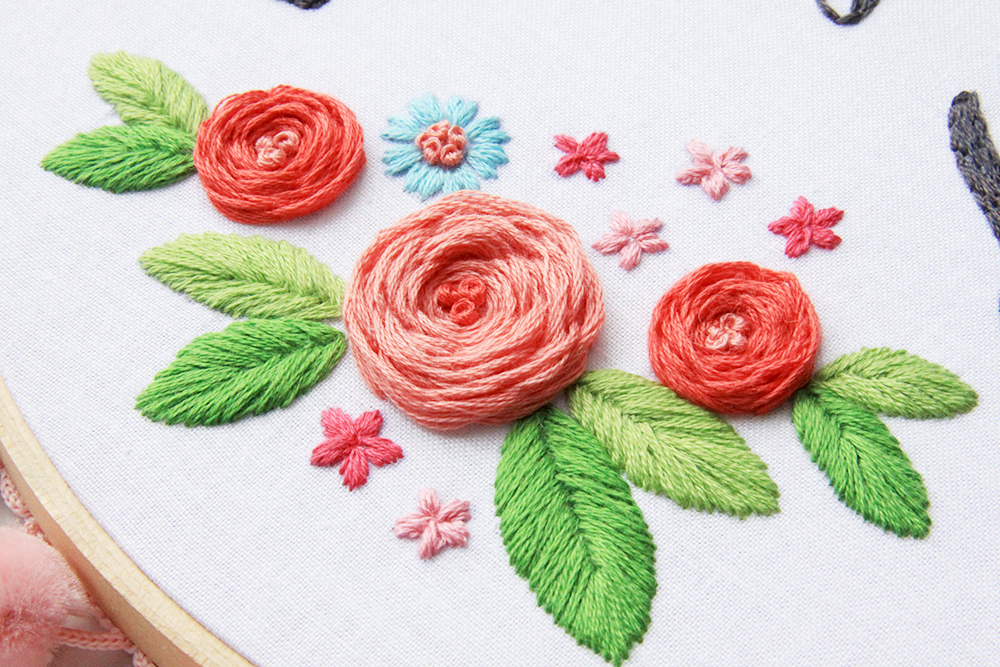 With You I Am Home – Free Embroidery Pattern
Materials:
8″ embroidery hoop
10″ fabric for background – I used Riley White Solid
Aurifil Embroidery Floss

2435 (large woven rose, french knots in small roses, french knots in aqua flower)
5002 (smaller woven roses, french knots in large rose)
2630 (all lettering)
2423 (small daisies)
2530 (small daisies
1114 (dark green leaves)
2882 (dark green leaves)
2805 (aqua flower)

Glue for finishing back
Transfer pen or other material for transferring pattern
Optional – pom pom trim for edge
With Your I Am Home Embroidery Pattern
Instructions:
Transfer pattern onto fabric. If you're using a lightweight cotton, consider adding interfacing or another layer of fabric behind the main one to reinforce the fabric and prevent pulling.
All embroidery is done with three strands of Aurifloss.
Embroider the pattern with the following stitches:

Back Stitch – all lettering is stitched with a back stitch. For script letters outline the letter, then fill in the open spaces with layers of back stitching. The thin lines in the script letters are stitched with two rows of back stitching to give the letters a thicker look.
Satin Stitch – Leaves, aqua flower, small daisies. To give the leaves a thicker appearance, stitch a layer of satin stitching, then stitch a second layer on top of that so the you have a nice "puffed" leaf
Woven Wheel Roses – large flowers in design (circles on pattern)
French Knots – centers of woven wheel roses and center of aqua flower

Once you are finished stitching, finish your hoop as desired.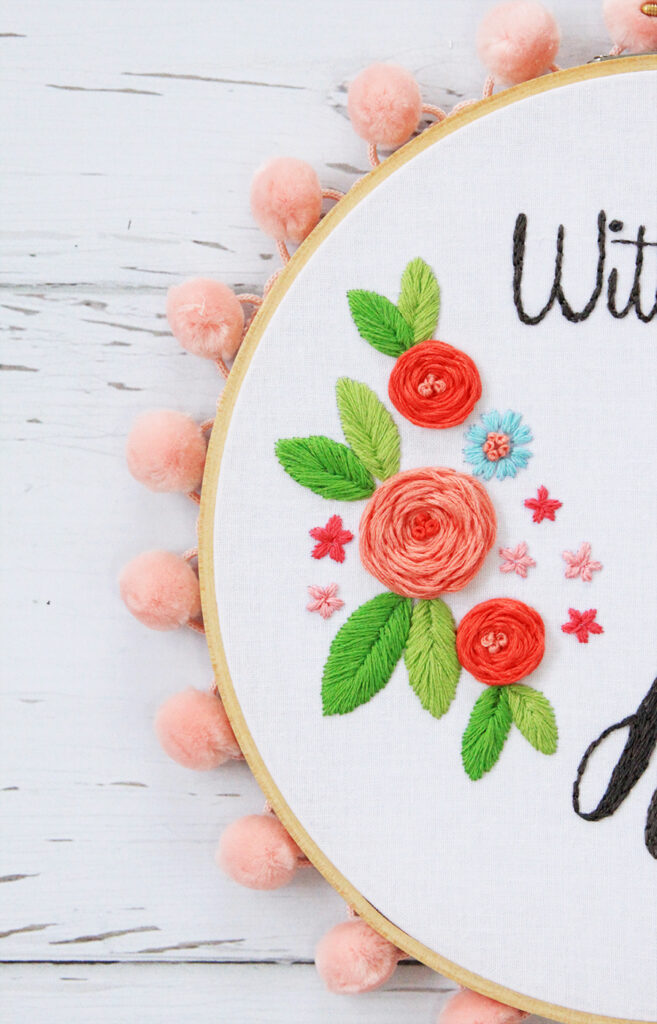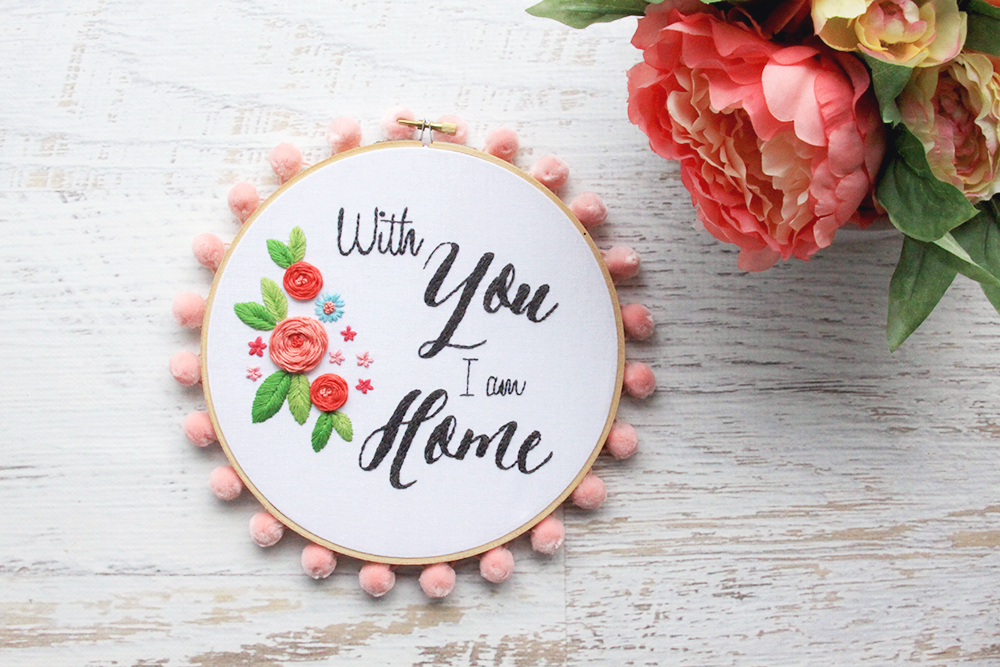 I hope you love it! If you stitch up a version of this I'd love to see it! You can tag me on Instagram or Facebook and use the hashtag #flamingotoesembroidery!