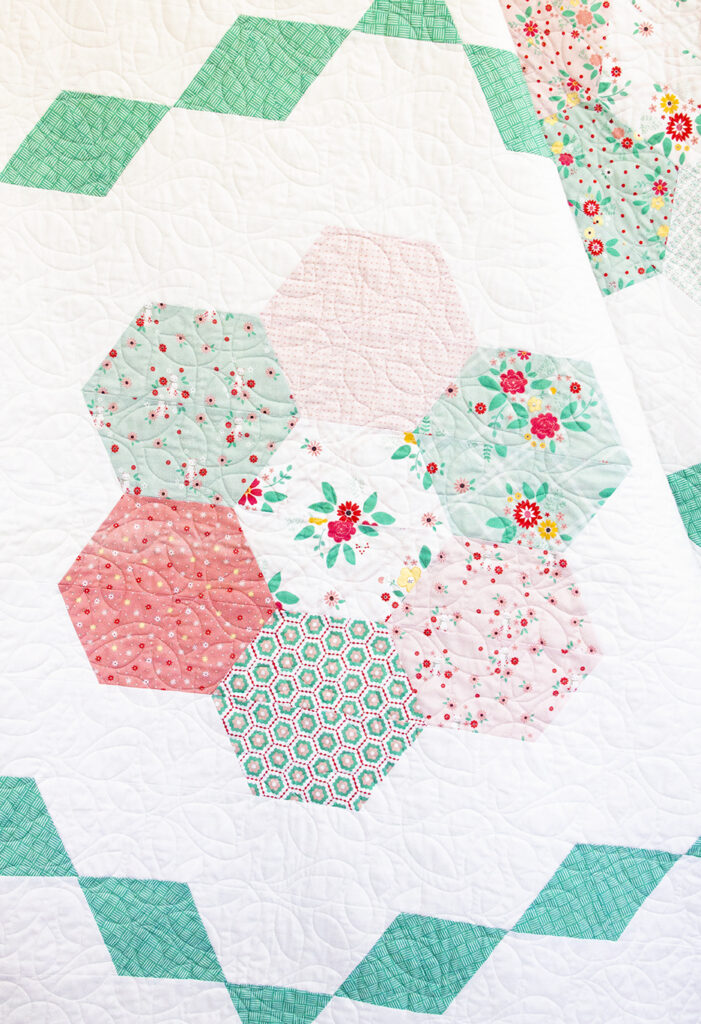 I'm so excited to be releasing THREE new Quilt Patterns and TWO new needle minders today!!
The Rose Lane fabric release is just a few weeks away and to get you all set I'm releasing the quilt patterns and needle minders now – so you're all ready to start sewing when the fabric arrives.
Let's start with the New Quilt Patterns!
Right now the PDF version of the pattern are in the shop and the Paper patterns are available as preorders. You can purchase today so you use the discount and the paper patterns will ship around 8/30. The PDF's are available immediately. :)
Vintage Garden Quilt Pattern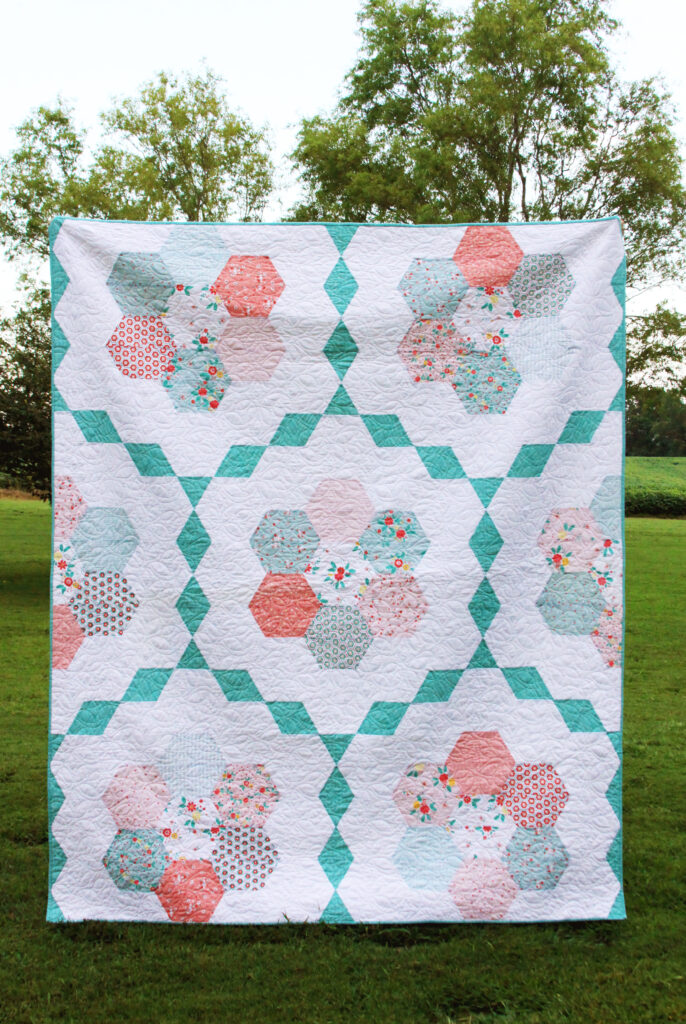 The Vintage Garden quilt pattern is a fun quilt that is an oversized version of a Grandmother's Flower Garden quilt! I just adore that vintage quilt pattern but I never seem to find the time to sew together hundreds (or thousands) of tiny hexagons. ;) So I've made a super easy fat-quarter friendly version for you that uses my half hexagon and triangle patterns and there are NO Y SEAMS! Yay! And in other good news – I will be releasing acrylic templates for this pattern in December!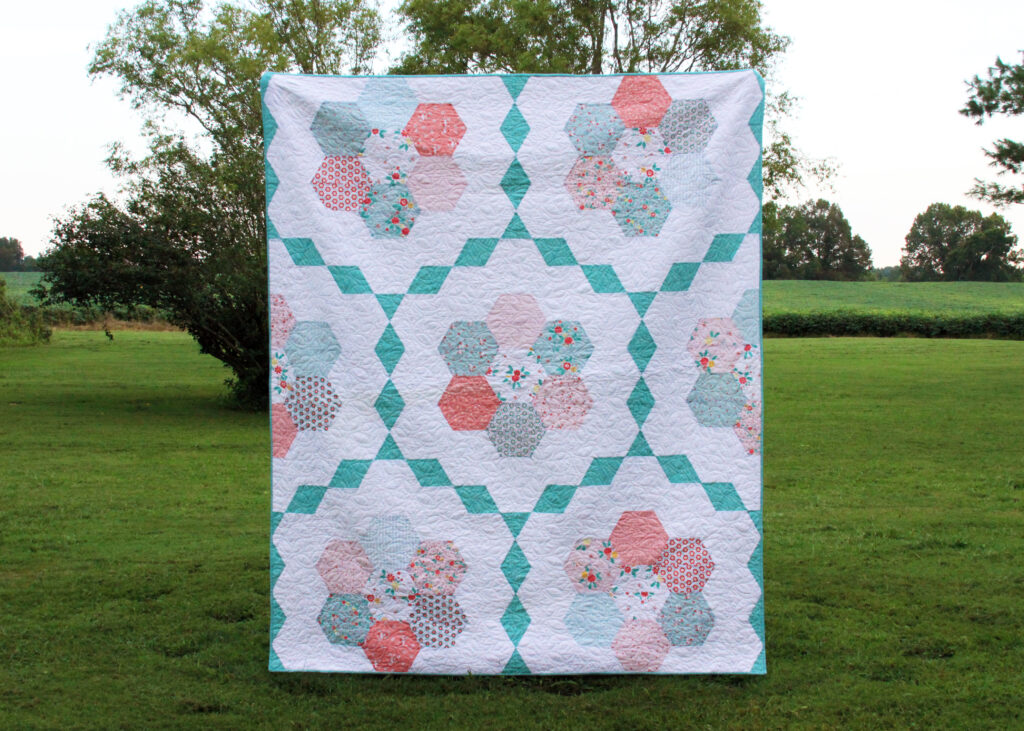 It's such a fun showy quilt!!
Click here for the PDF Vintage Garden Quilt Pattern
Click here for the PAPER Vintage Garden Quilt Pattern (PREORDER)
Daisy's Garden Quilt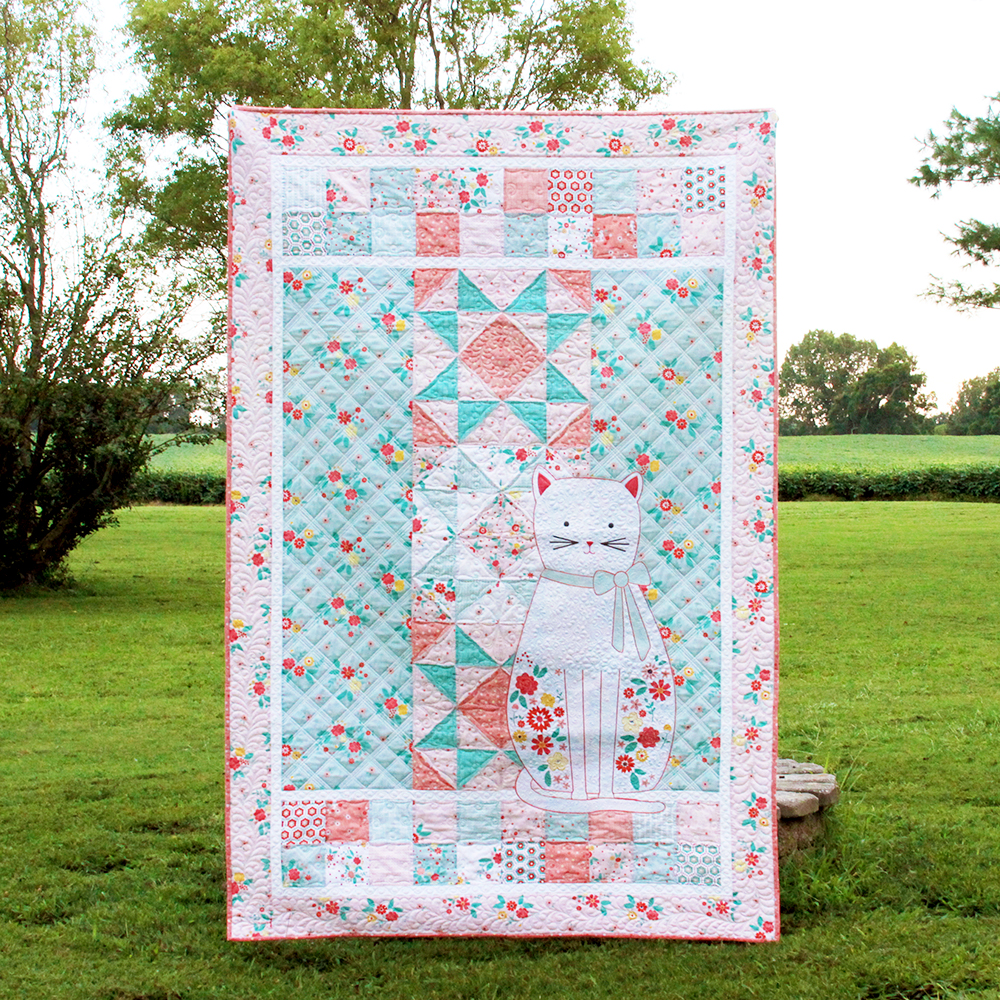 I'm so excited about this Daisy's Garden Quilt pattern! The quilt itself is a cozy and fun patchwork style and it's the perfect background for Daisy the Cat – the sweet floral kitty that is available on the Rose Lane Fabric Panel! The panel includes the floral cat applique as well as three embroidery patterns and three mini quilt/pillow panels!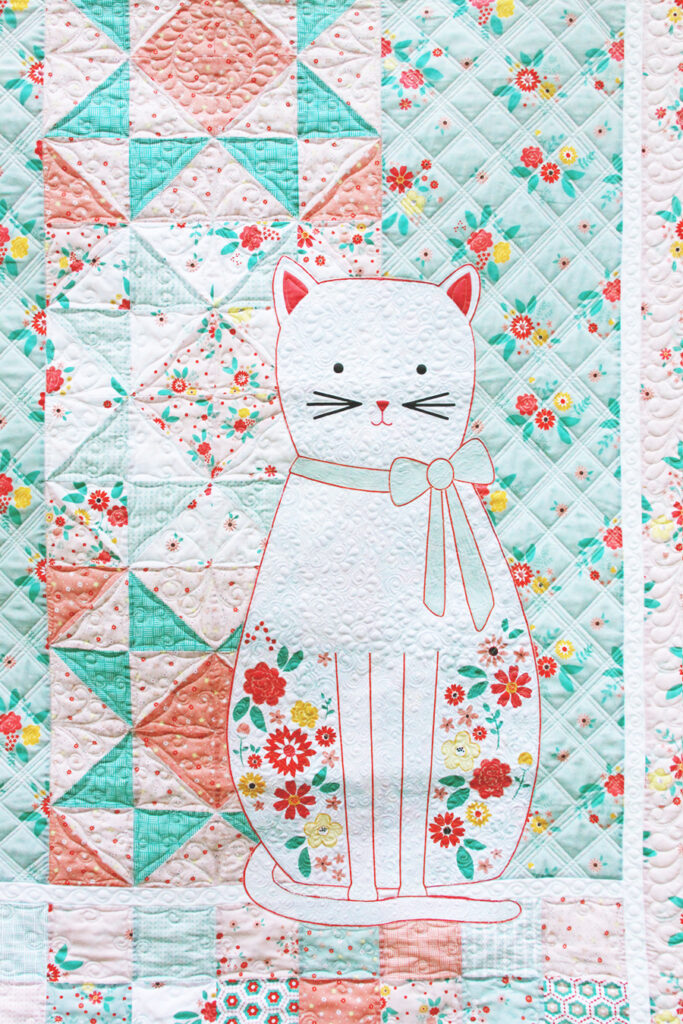 Isn't it sweet? I just love her little flowers and how fun she looks with the colorful pieced background of the quilt!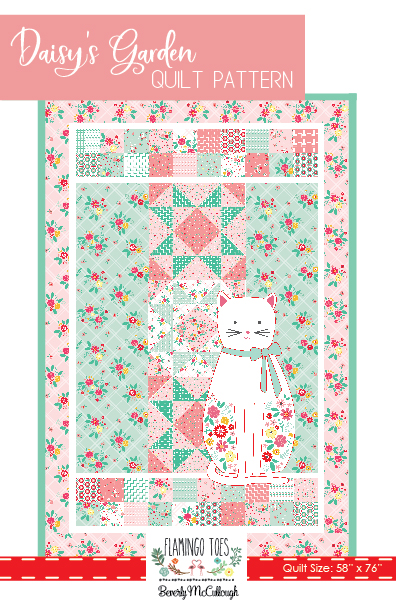 Click here for the PDF Daisy's Garden Quilt Pattern
Click here for the PAPER Daisy's Garden Quilt Pattern (PREORDER)
Windows to the Garden Quilt Pattern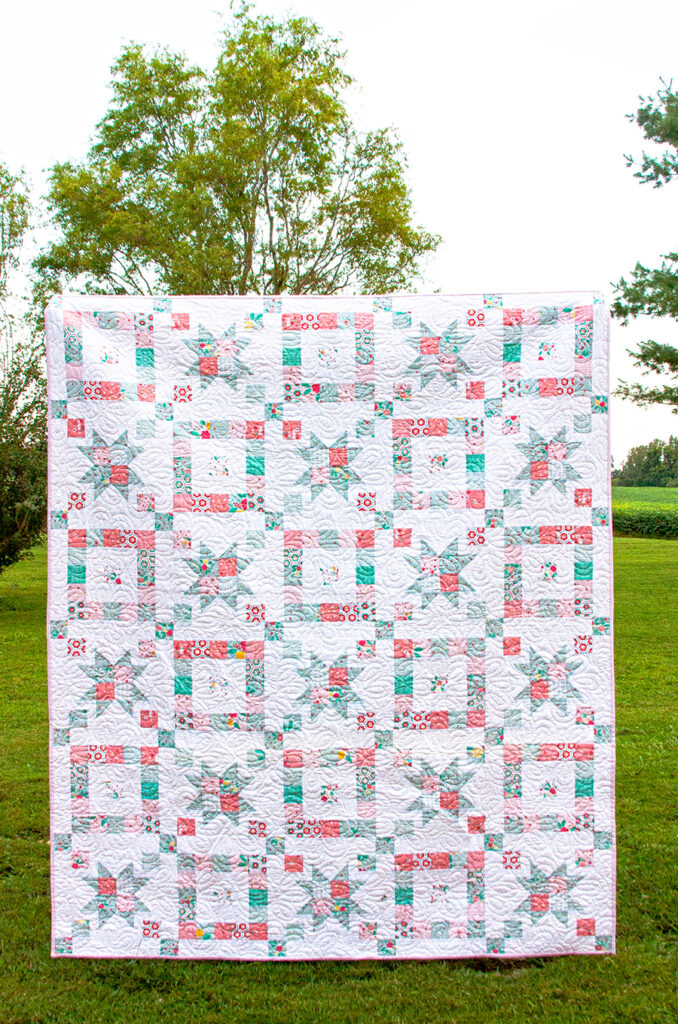 This Windows to the Garden quilt pattern is precut friendly and perfect for 2 1/2″ strip rolie polies (jelly rolls)!! It has such a fun scrappy look and I have some quick ways to sew the blocks together so you can show off your new quilt really quickly!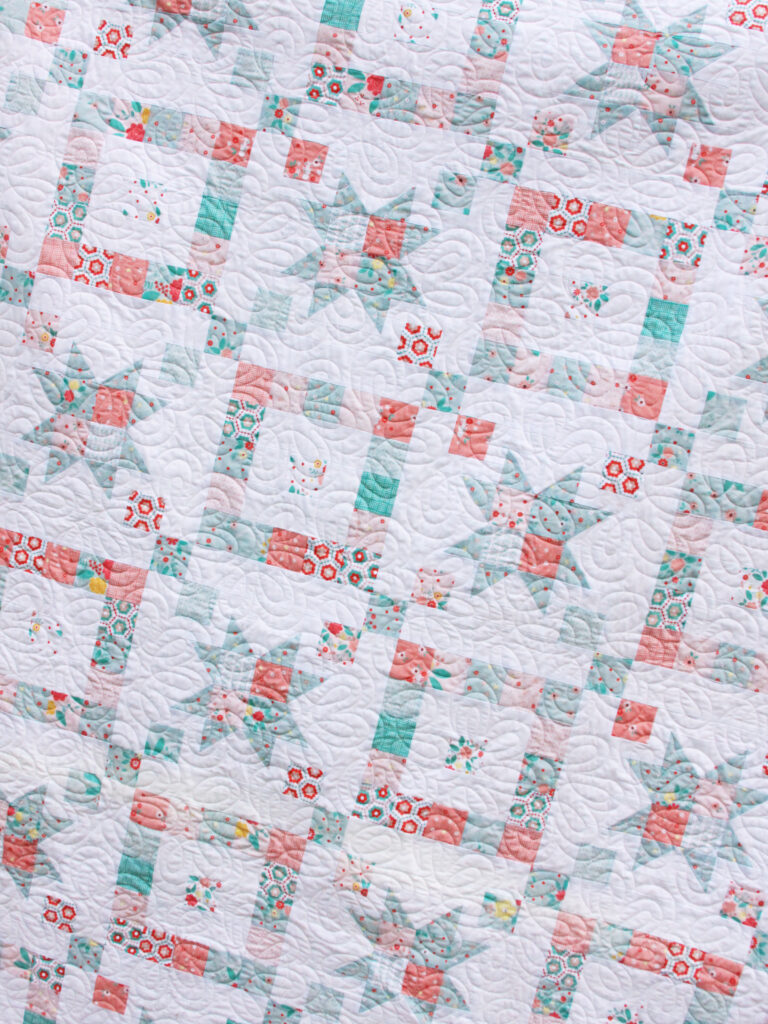 I love how the stars have a chain look between them too!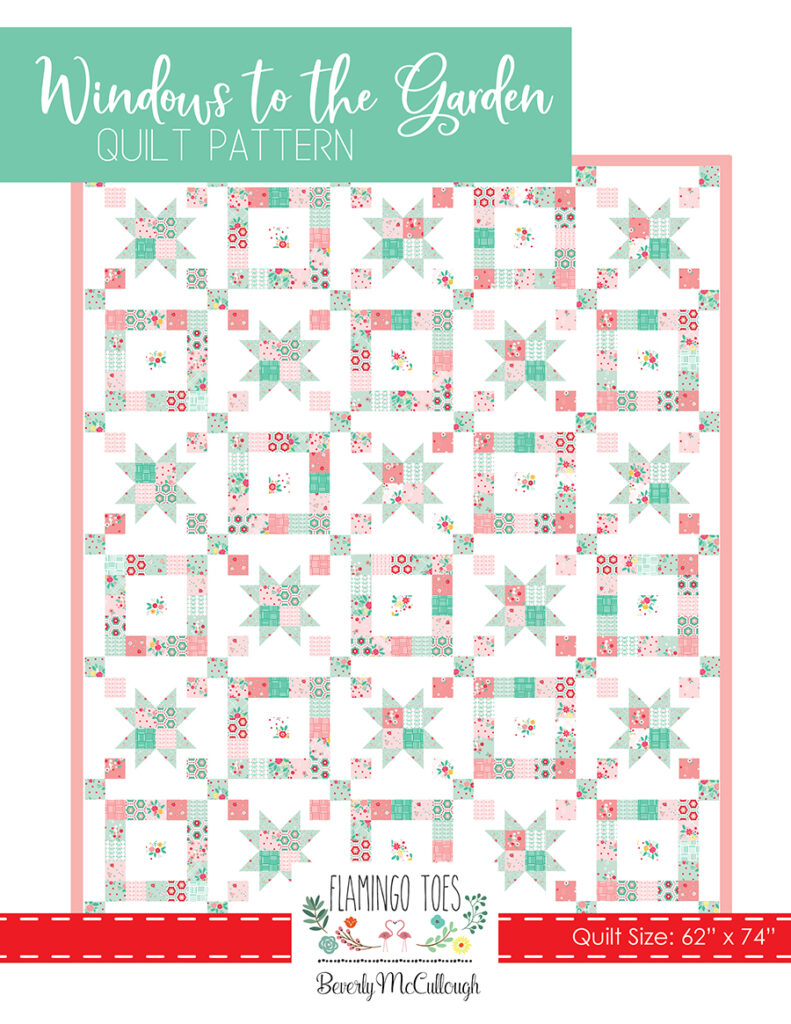 Click here for the PDF Windows to the Garden Quilt Pattern
Click here for the PAPER Windows to the Garden Quilt Pattern (PREORDER)
I also have two new needle minders!! They go great with the sweet floral kitty needle minder that is already in my shop – and they'll go perfectly with the Rose Lane projects you stitch up!
This floral garden gate needle minder with the little sign that says Rose Lane was so fun to make up! I love that it is perfect for Rose Lane projects but it's also so fun for anyone that loves florals!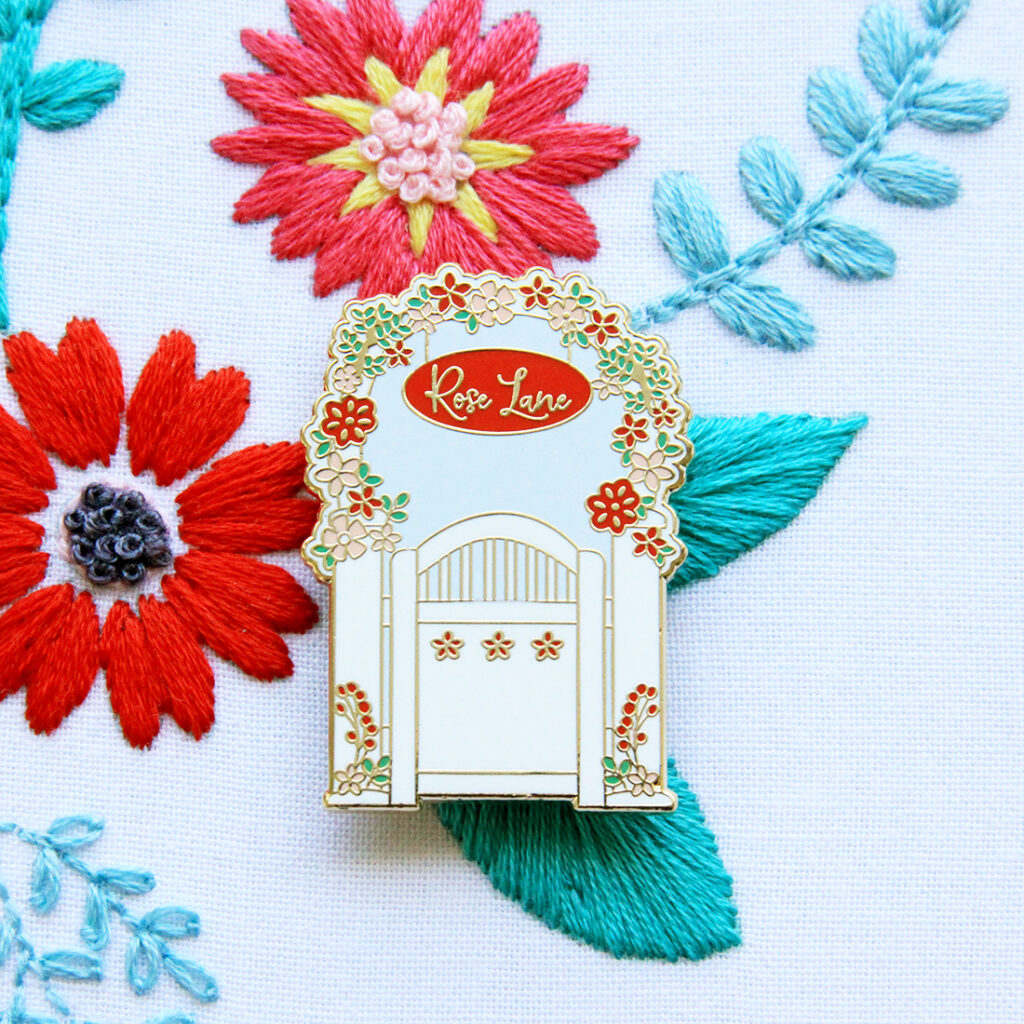 The needle minder is sized at 1 1/2″ tall, like all my other needle minders. So it's a great size for all your embroidery, cross stitch and paper piecing projects!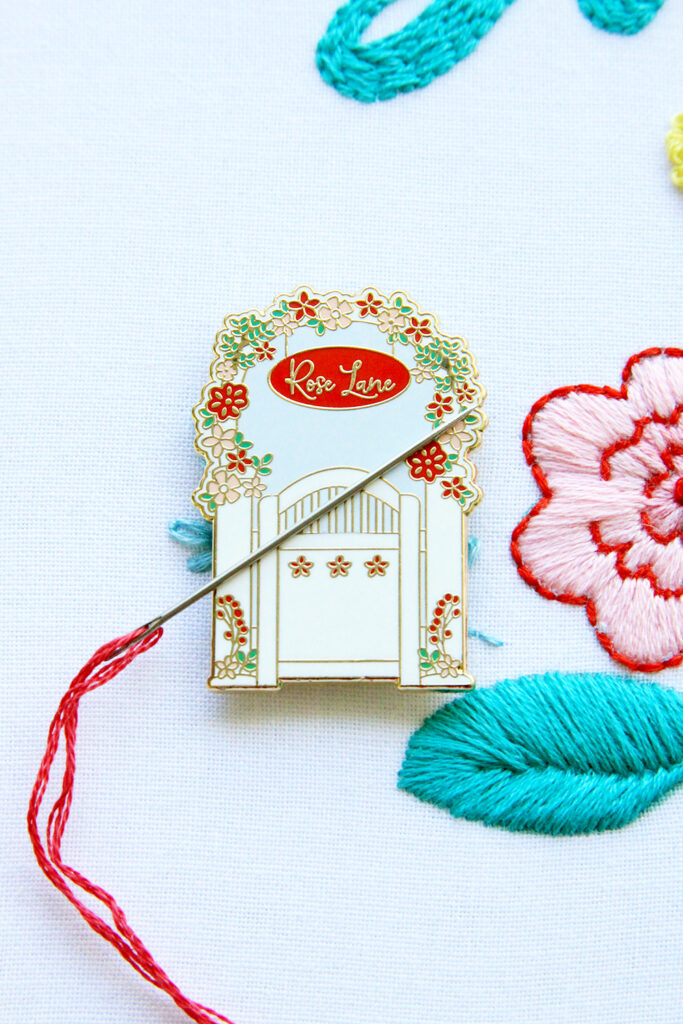 Click here for the Rose Lane Garden Gate Needle Minder
The other new needle minder I'm releasing today is this darling Vintage Garden Quilt – just like the Vintage Garden quilt pattern design! It's a blend of pretty little hexies and a sweet scalloped edge trim and I love how colorful it is!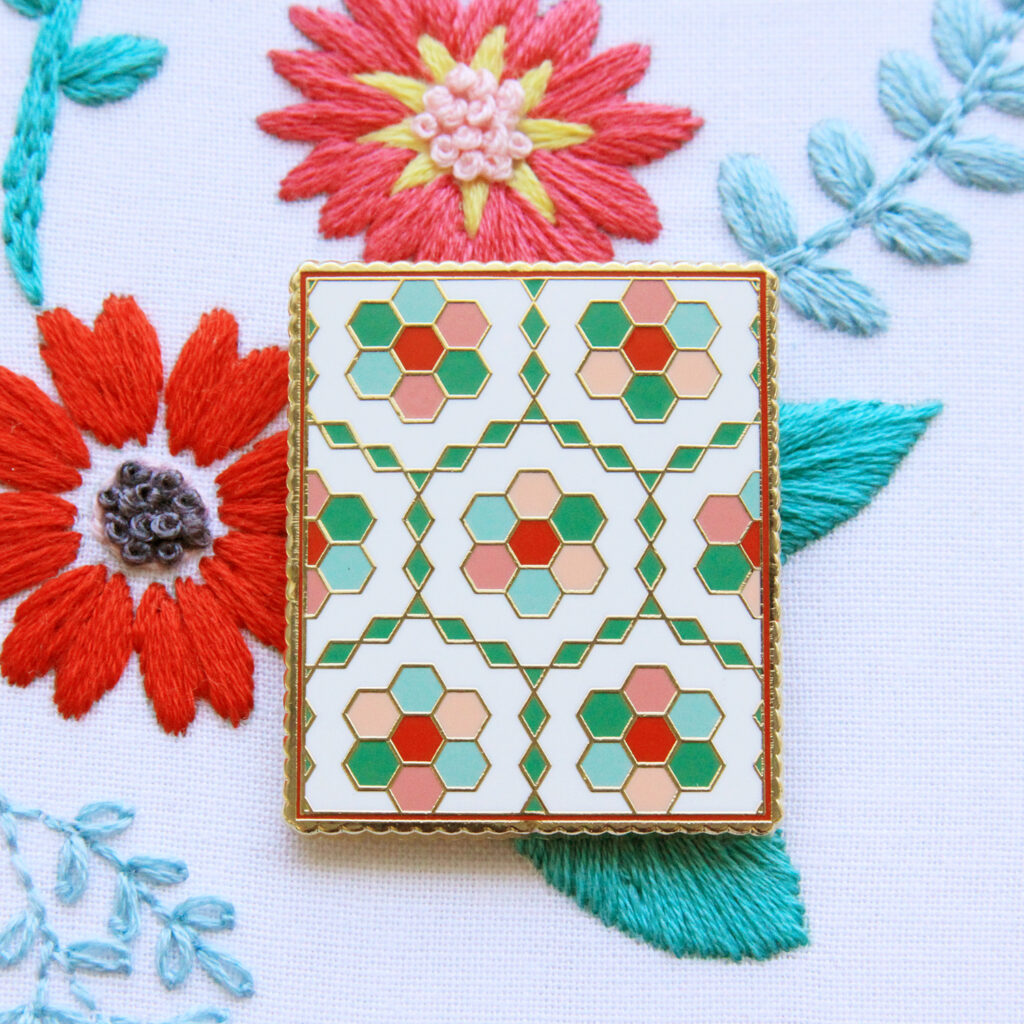 I think it would make such a sweet gift paired with the pattern too – don't you?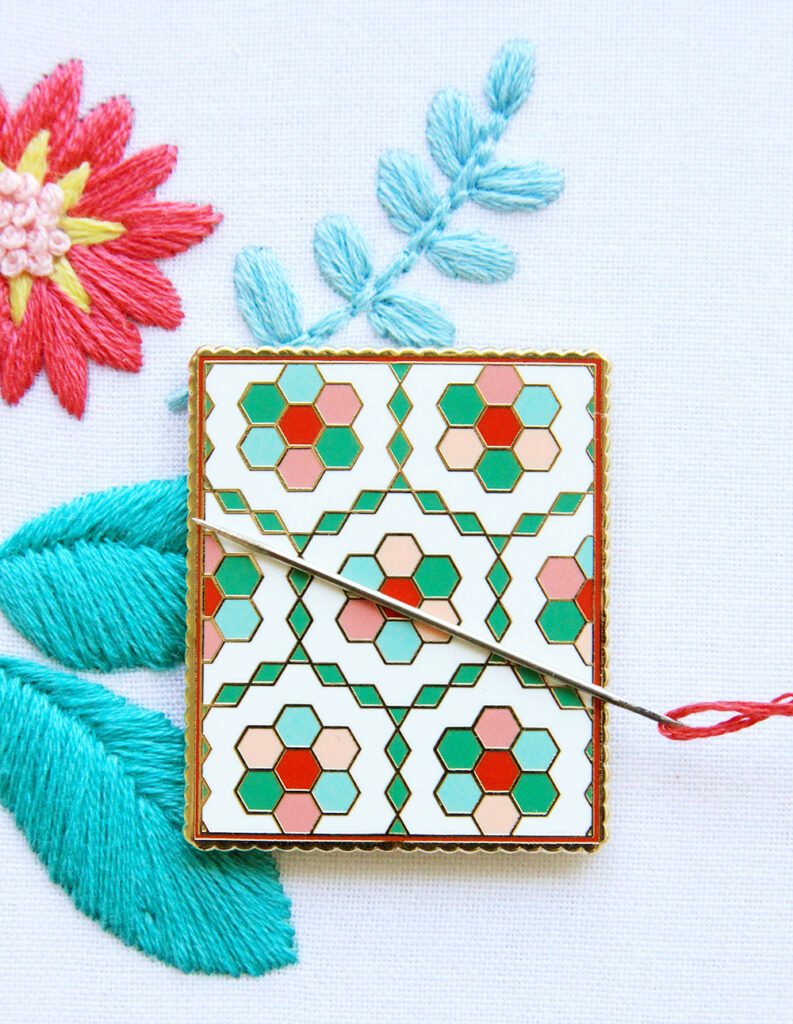 Click here for the Vintage Garden Quilt Needle Minder
I know there's a ton of info in this post – thanks for checking it all out! And one other detail – if you order multiple items from the shop and one or more is a preorder paper pattern – all items that are available now will ship now. I'll send out a seperate package with the paper patterns, with the shipping on me! If you'd rather I ship everything together, just leave me a comment in the NOTE section at checkout and I'll hold your order until the paper patterns come in.
And thank you so much for your support. I'm love sharing my fabric, patterns and needle minders with you and I appreciate so much your kind comments and the support of my shop! It means so much to me!!