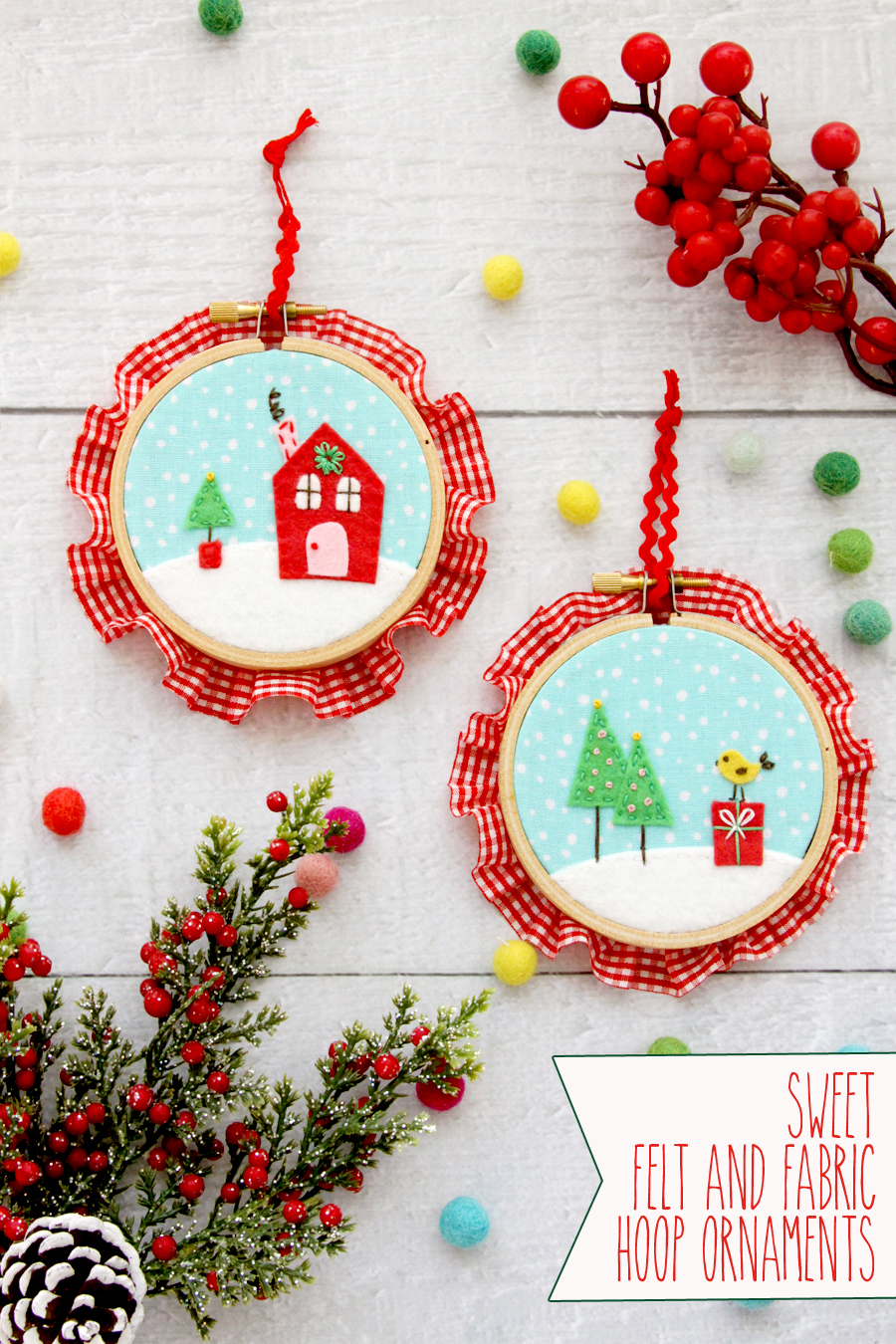 I love sharing hoop projects and thee sweet felt and fabric hoop ornaments are so quick to stitch up and make great gifts and present toppers too!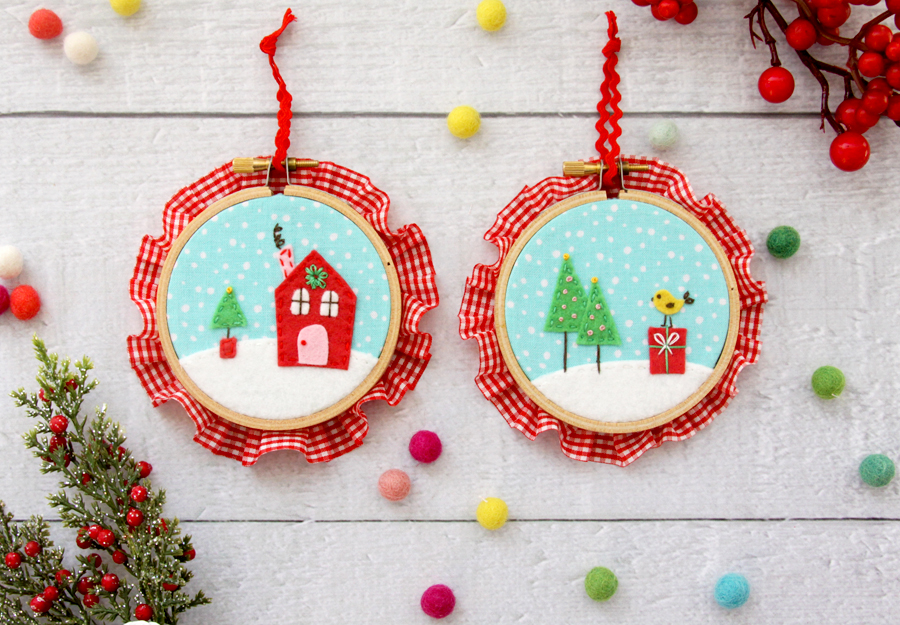 These ornaments are made with little 3″ hoops so they work perfectly on the tree. They make great stashbusters too since they only use a little bit of fabric and felt!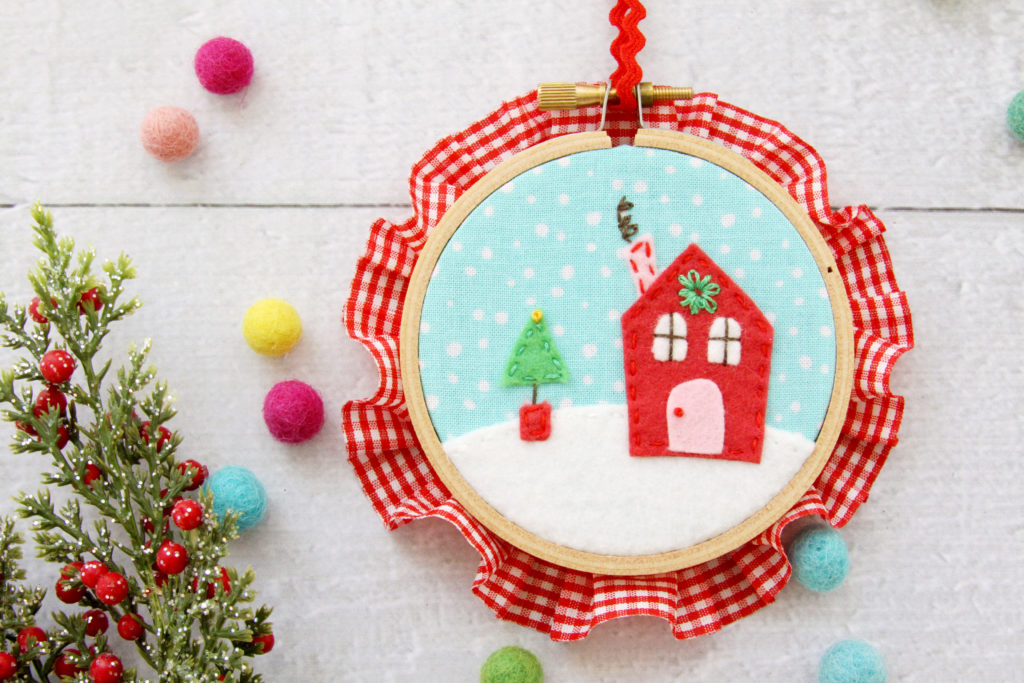 Don't worry if you've never done embroidery either – these are all really simple stitches that anyone can do! So let's get started!!
Felt and Fabric Hoop Ornaments Materials (per ornament)
3″ embroidery hoop
5″ piece of fabric for background
Small pieces of wool or wool blend felt – white, red, green, pink and yellow
HeatnBond Fusible Adhesive
Coordinating DMC Embroidery Floss
Trim for edge of hoop
Hot Glue
Trim for hanging hoop
Begin by gathering up your materials. Cut your small pieces of felt a little larger than the shapes you'll need and iron the fusible adhesive to the wrong side. If you are using wool felt you will be able it iron it just fine. If you use regular craft felt you'll need to use a pressing cloth so the felt doesn't fuse to your iron.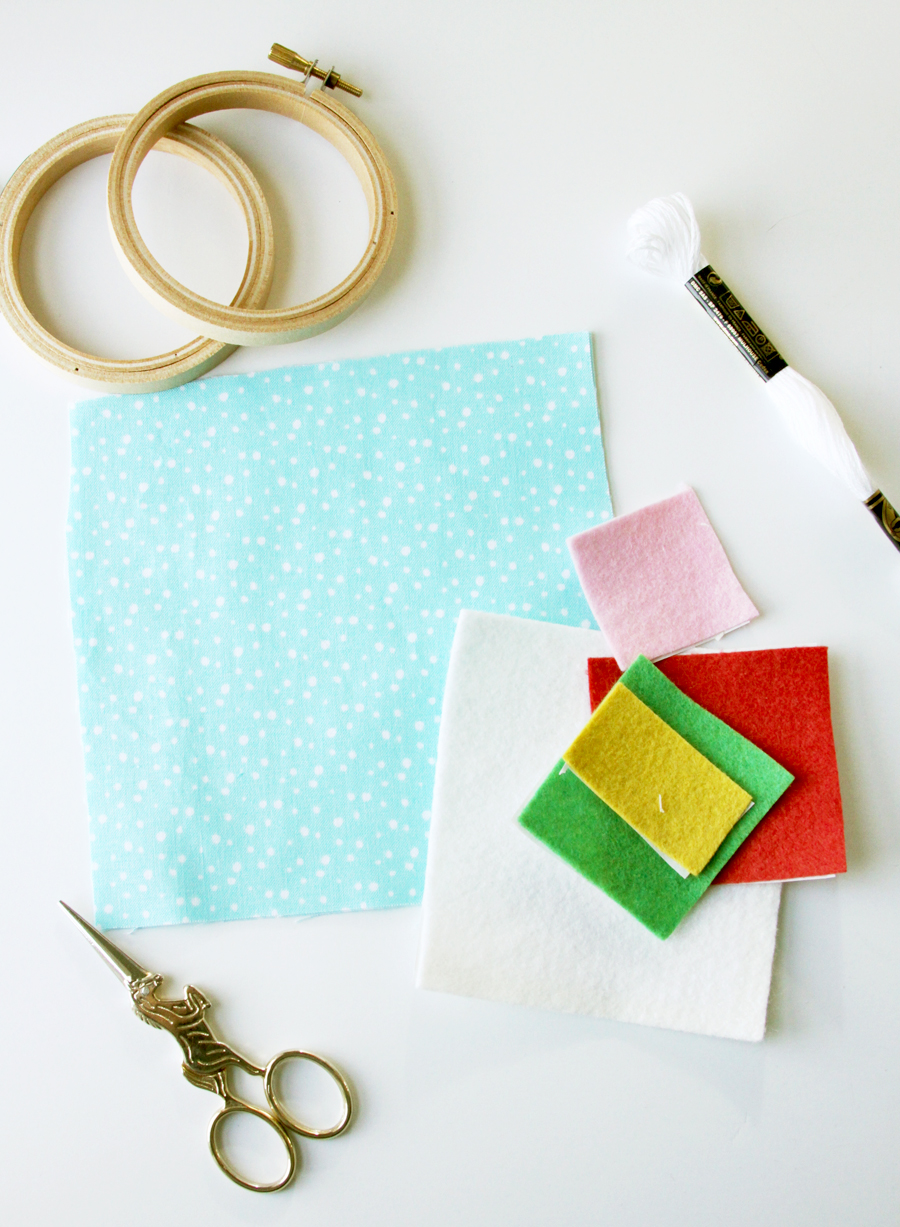 Cut your shapes out for the snow, house, trees, etc. Remove the paper backing and iron them to the background fabric, according to placement on the pattern. Put the fabrics into the hoops.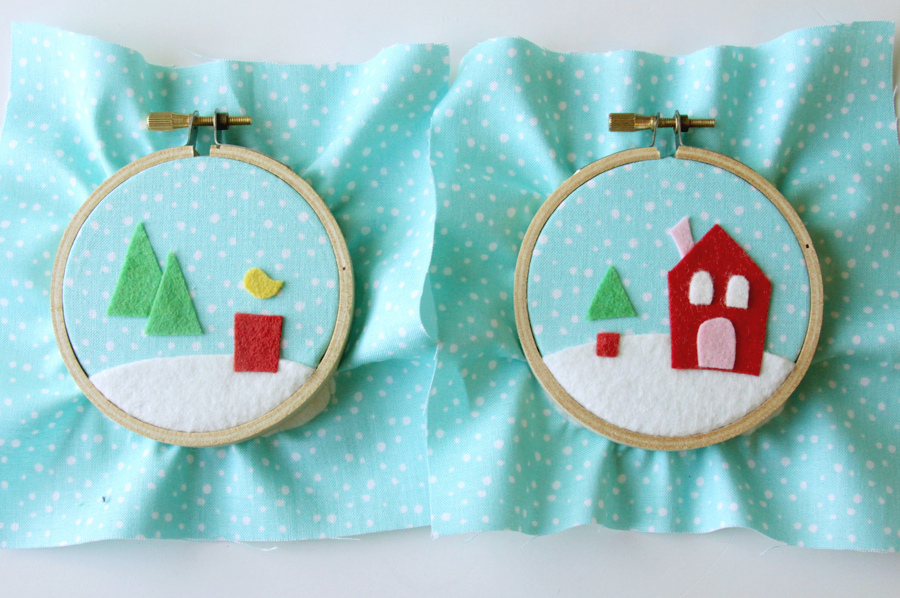 Embellish your hoops with embroidery by stitching down the shapes using coordinating floss. Add details like doorknobs and ornaments on the tree with French knots. Decorate the little bird with small lazy daisy stitches for the tail and feather. Use lazy daisies for the wreath on the house, the bow and the gift, and the little curlicues in the smoke.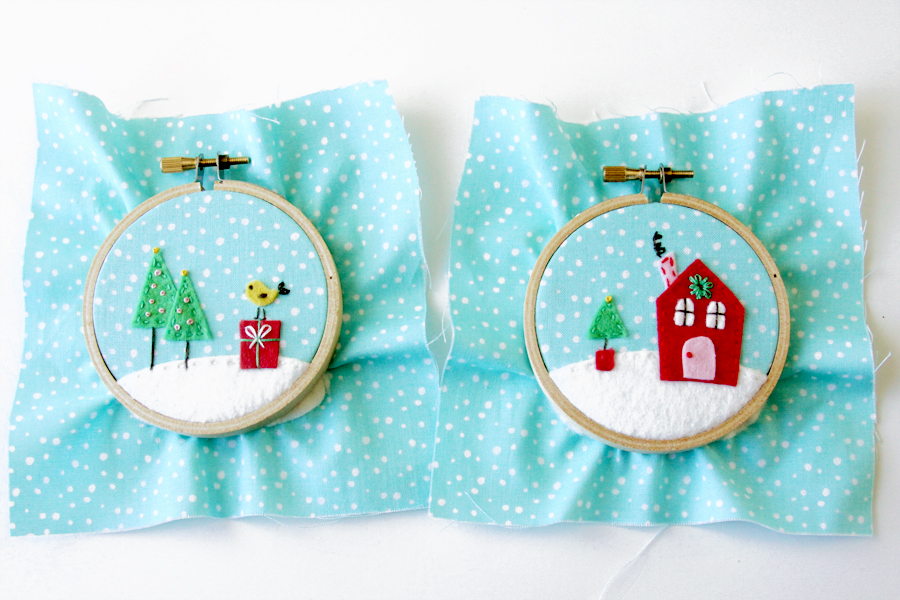 Trim around the fabric, leaving an edge past the hoop of about 1/2″. Glue to the inside back of the hoop with hot glue. Glue trim around the edge of the hoop. I found this fun gingham ribbon trim at Jo-Ann and I cut it in half. Super easy and so cute!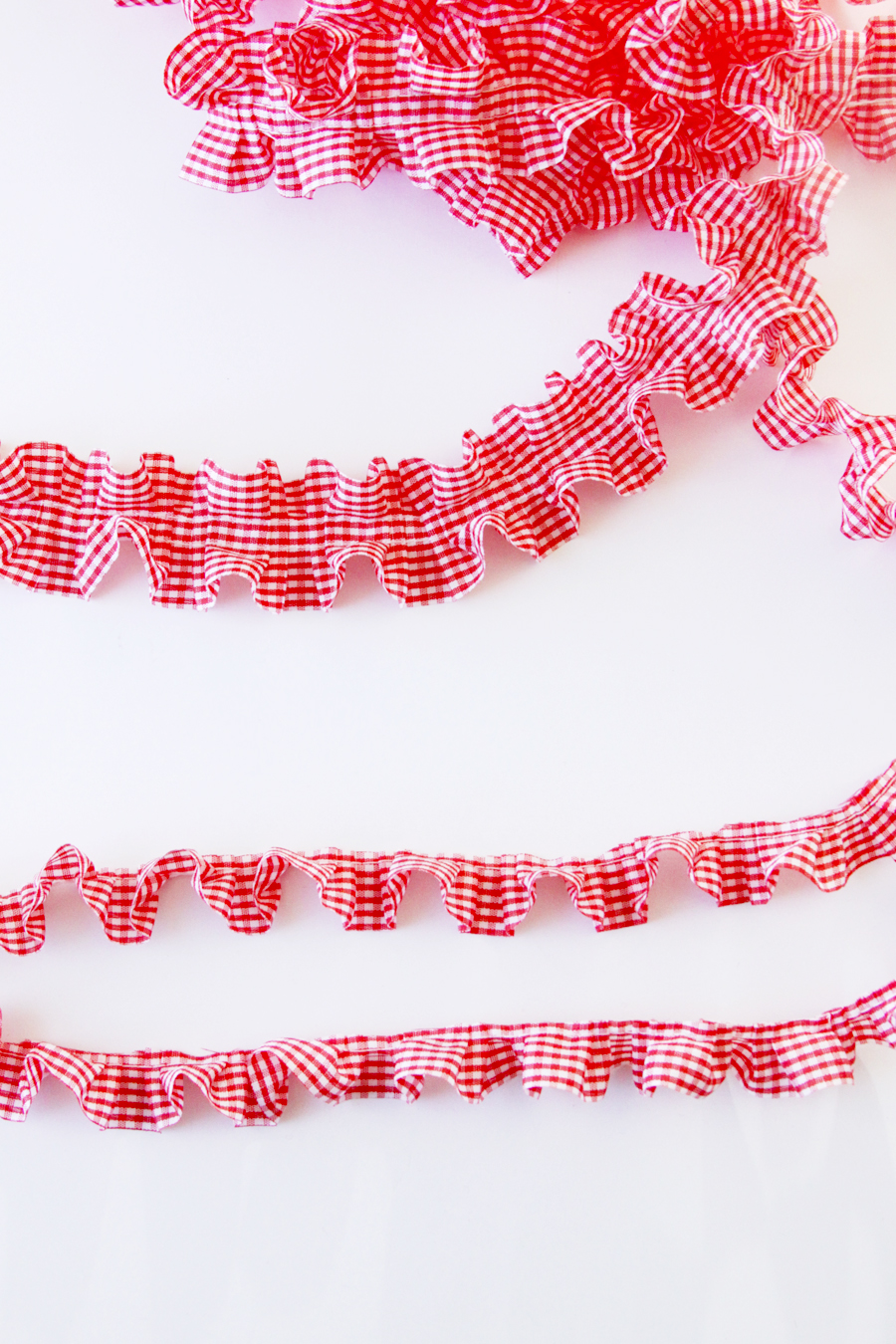 Glue the trim around the hoop and add a bit of trim for hanging the ornament. Finish the back of the hoop by gluing a small 3″ circle of felt to the back side of the hoop.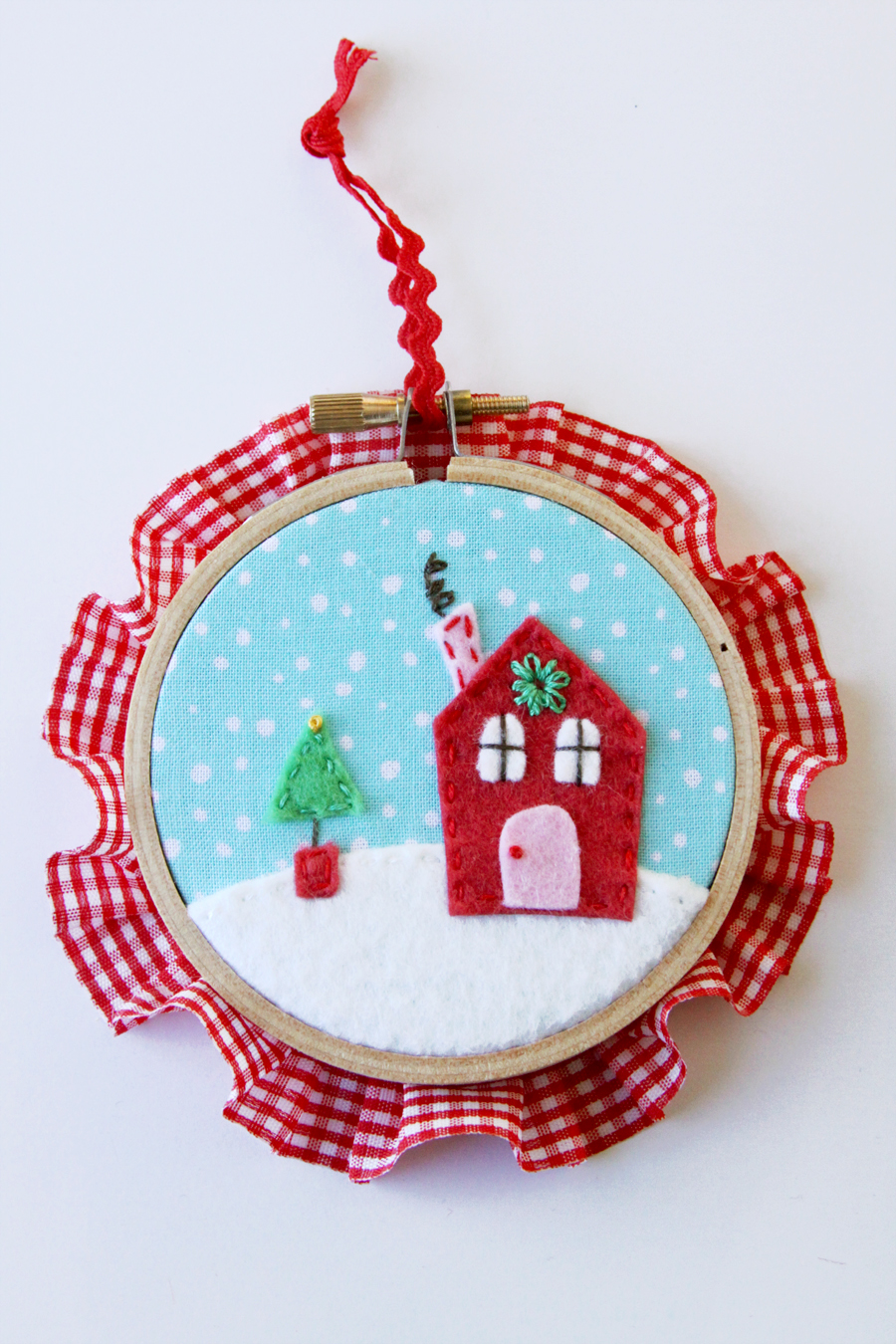 That's it! Now you can show off your cute new felt and fabric ornaments!