This Liberty and Linen Neighborhood Mini Quilt is a fun, new version of my Black and White Neighborhood Mini Quilt! We recently did a sew along with this cute mini in my Facebook Group and it was so fun to sew up these little quilts all together.
My original version of the Mini Neighborhood quilt was all black and white fabrics, with colorful little embroidered flowers. For this version I wanted a little more color! I used Riley Blake natural linen for the background and for the houses I used a combination of Blossom in Spring (little multicolored flowers) and Liberty quilting cottons. I love how they all blended together!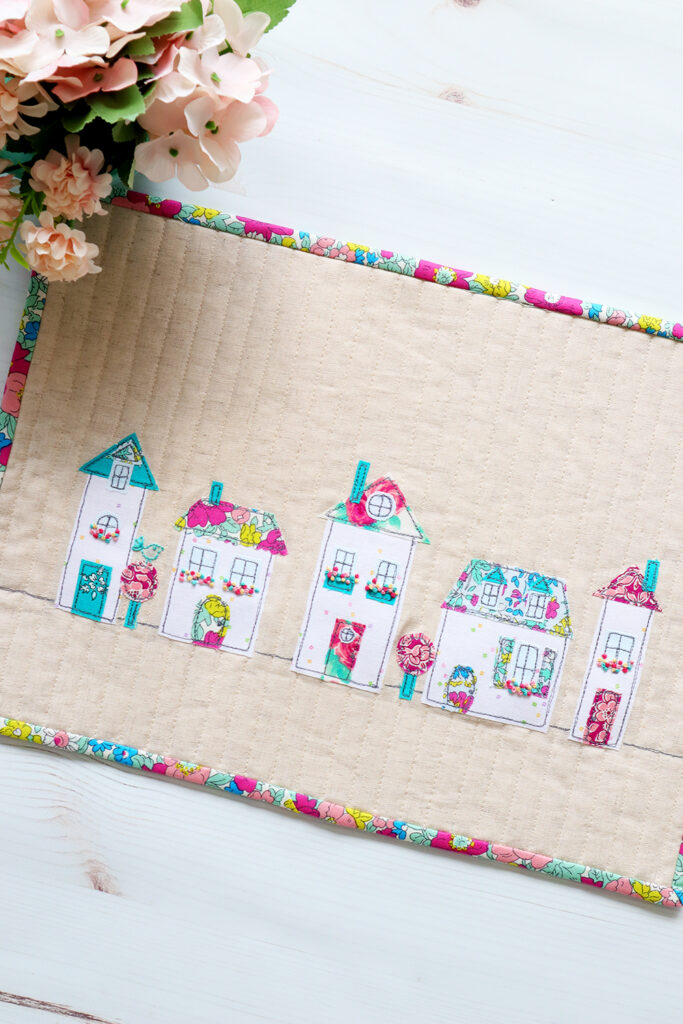 I just love how the bright Liberty prints pop against the linen and Blossom fabric. I kept the bright colors for the flower embroidery – I think they tie in really well with the fabrics too!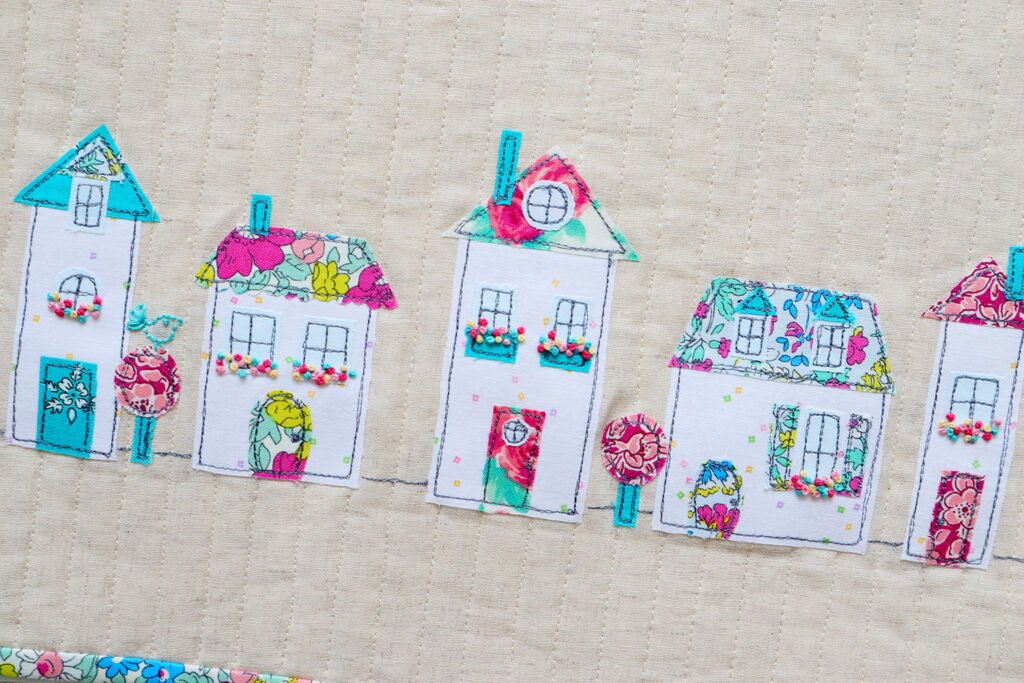 For the quilting I did straight-line quilting 1/2″ apart. I wanted something simple since the fabrics and embroidery were a little busier. And for my binding I chose one of the colorful Liberty prints. I love the way it outlines it all!
Liberty and Linen Neighborhood Mini Quilt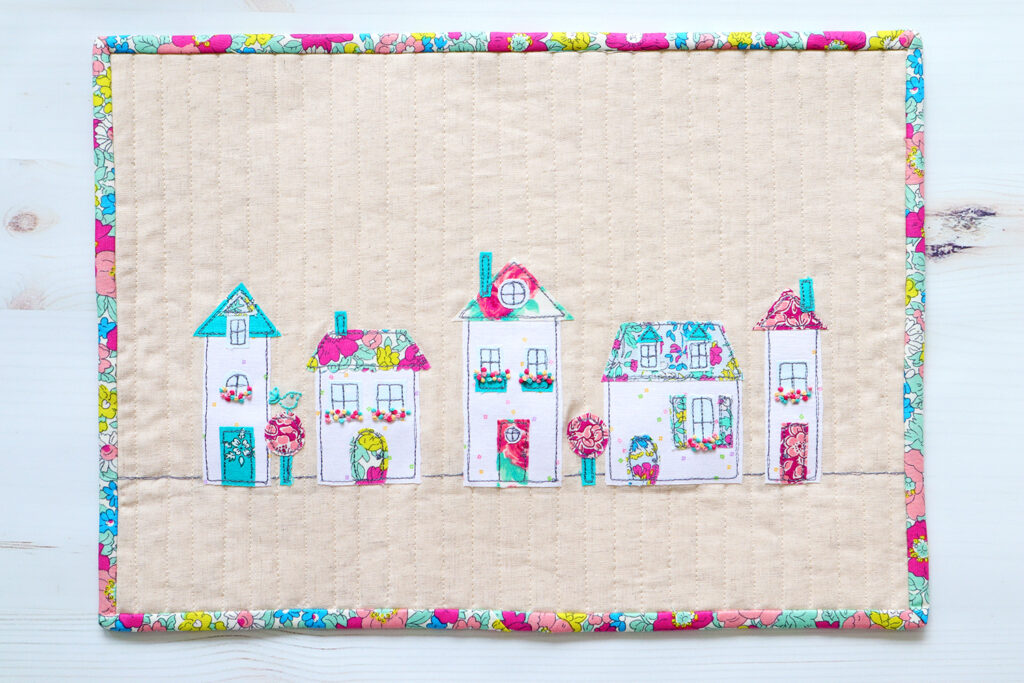 As I mentioned at the beginning of the post, we recently made up this mini quilt as a sew along in my Facebook Group! Every Monday I did a Live video and we'd sew through a portion of the quilt – from start to finish. It was so fun and there are so many fun versions of this cute quilt in our group! We had a lot of members add their own variations as well – with extra embroidery, fun appliques to personalize them, and more. You can still check out all the videos in the group if you'd like to make one too!
If you're wanting to join in with our sew alongs, we're currently making up my cute Spinning Spiderwebs mini quilt! We've only done one week so you can easily jump in! And after we finish up the mini quilt in a few weeks, we will be diving into my Stars and Windows Quilt! It will be a great sew along before the business of the holidays. I'm going to make up mine in Christmas fabric!
The sew along videos will be in the Facebook Group and will kick off on September 28. You can find the pattern in my shop!
I'd love for you to join us! It's such a fun and encouraging group and the sew alongs are a great way to connect with other quilters online.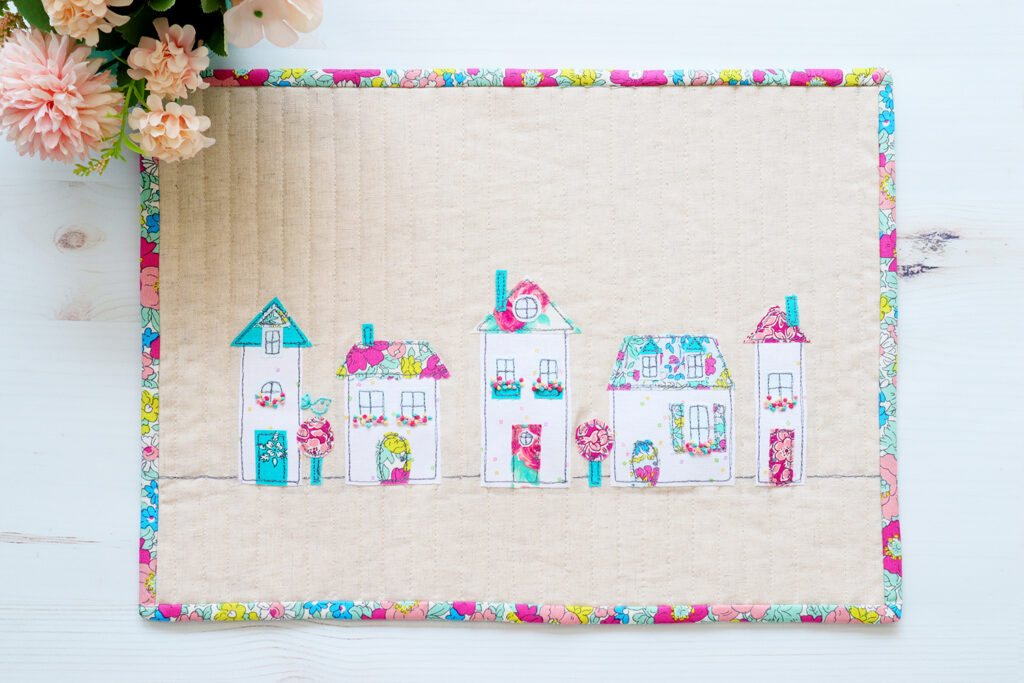 You can find the pattern for my Neighborhood Mini Quilt here.