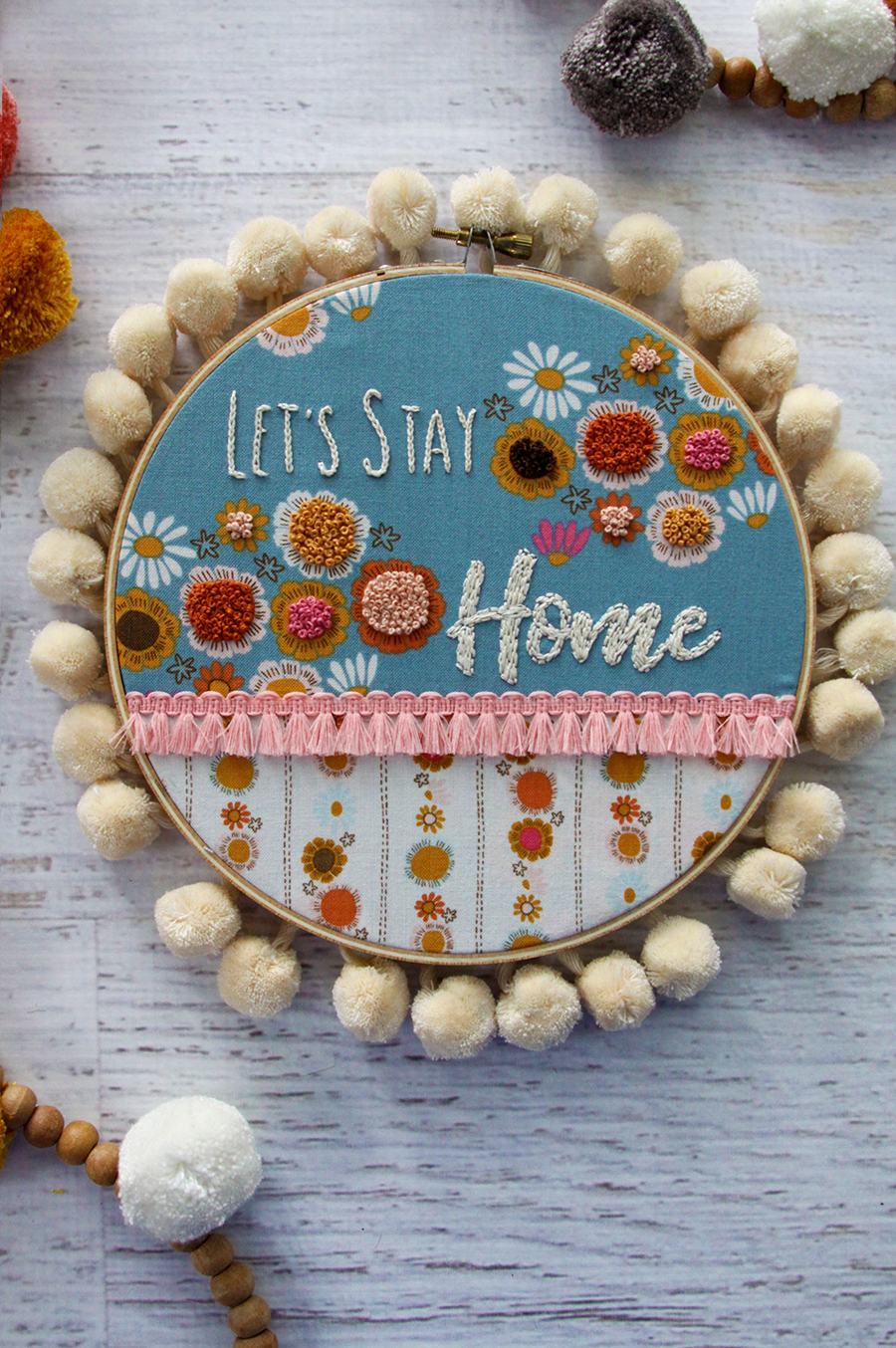 Some fabrics are just meant to have fun embroidery added to them and when I saw the fabulous Guinevere line from Citrus and Mint I just new that it needed to be part of a sweet retro embroidery hoop art!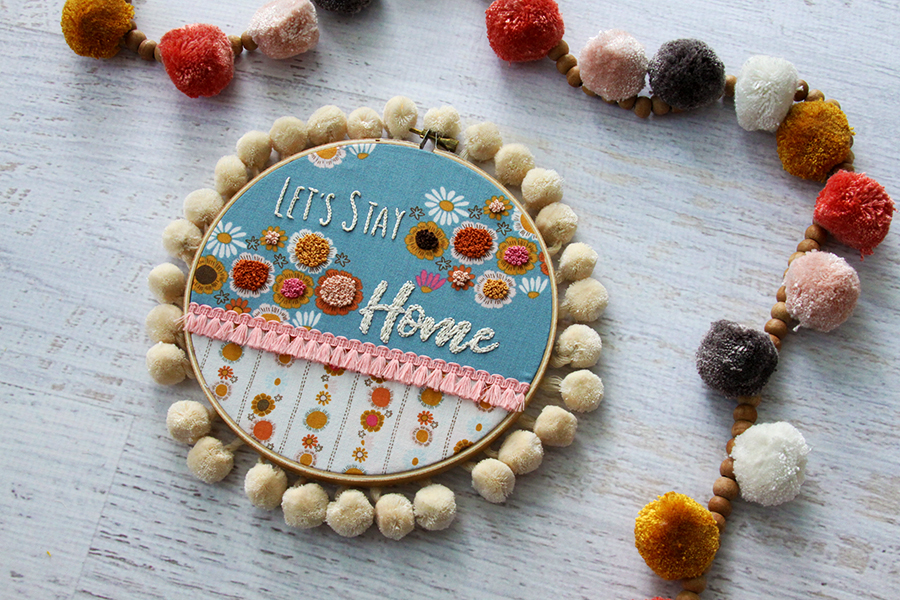 The fabric has these fabulous vintage flowers that were just crying out to be embellished with French Knots! I love how much texture they add to the hoop and it gives it such a fun, retro look.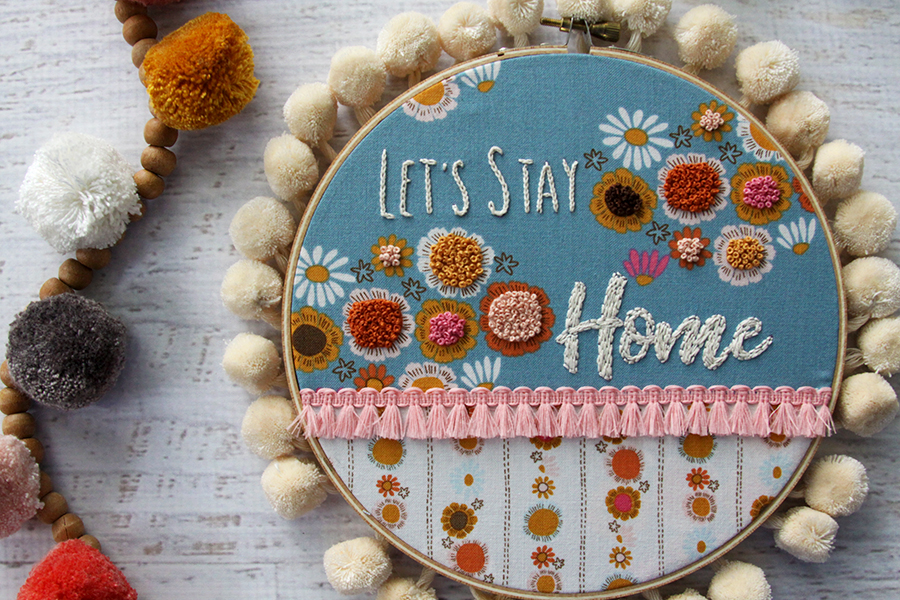 I kept with the idea of lots of texture and used stitches for the lettering with a lot of texture as well  – I'm so excited with how the whole thing came out. And of course the phrase "Let's Stay Home" is just perfect too – especially heading into Fall when all I want to do is stay home under a cozy quilt and embroider!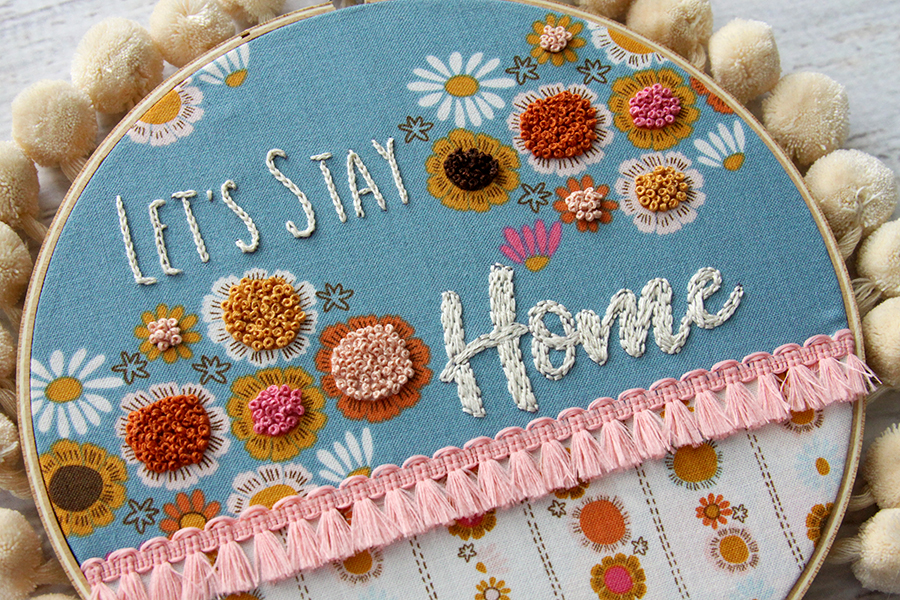 Let's Stay Home Retro Embroidery Hoop Art
Materials:
1/4 yard Riley Blake Designs Dark Blue Guinevere Flower
1/4 yard Riley Blake Designs Cream Guinevere Daisy Chain
1/4 yard trim for front of hoop (pink fringe on example)
1 yard trim for edge of hoop
7″ embroidery hoop
Embroidery Floss coordinating with flowers on hoop
hot glue
Marking Pen
Print out embroidery pattern and trace design onto fabric. You'll want to play with the layout of the flowers a bit, and I found it easiest to cut the lettering apart and trace them onto the hoop separately.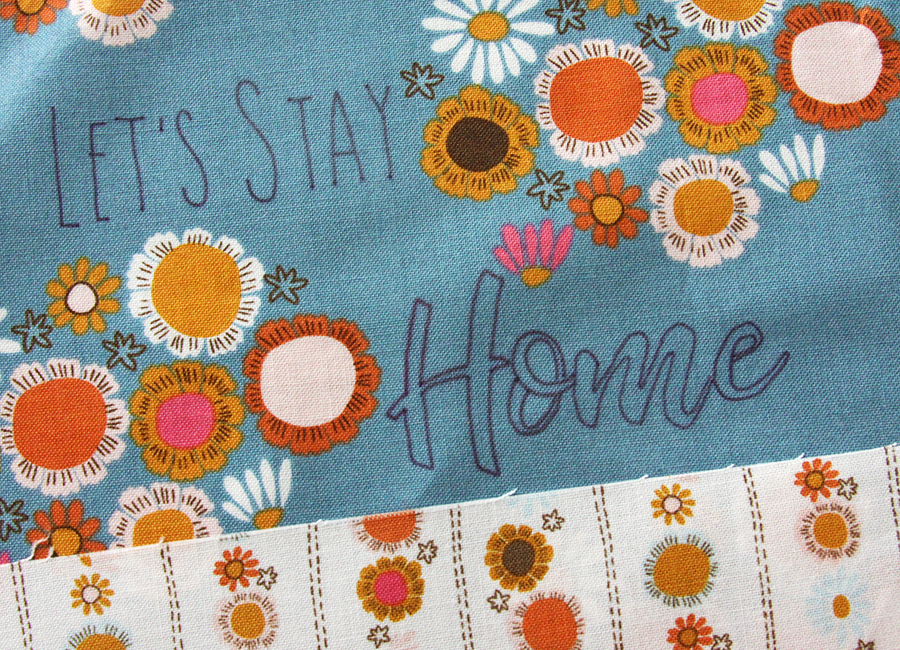 Place the fabric and trim together and glue the trim in place over the seam between the two fabrics. Put the fabrics in a 7″ hoop. (This pink fringe is on clearance at Hobby Lobby so if you want the exact trims, hurry there before they're all gone!)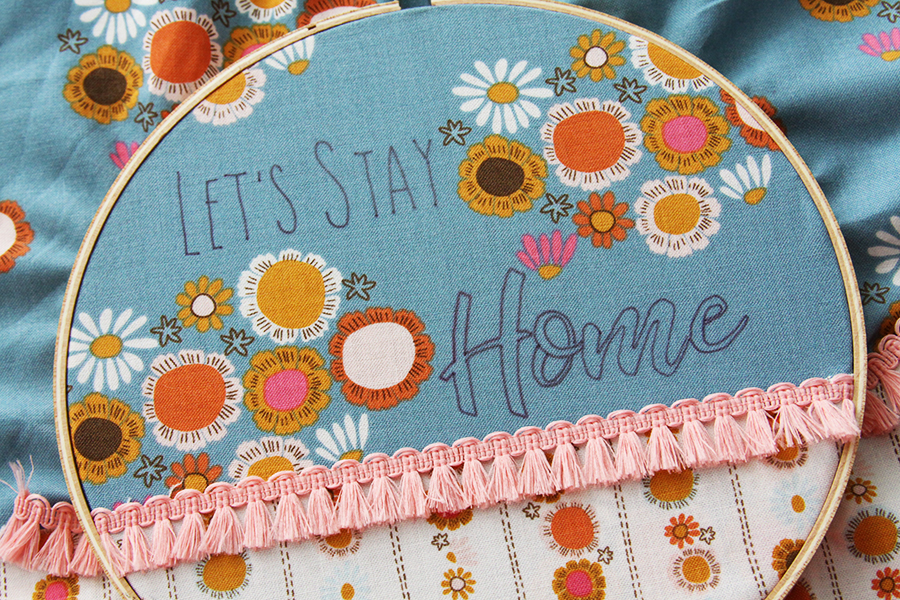 Embroider the lettering first. Use a chain stitch for "Let's Stay" and a woven back stitch for "Home". To create the woven back stitch, outline the lettering with a back stitch then fill the letters in with a back stitch in varying lengths. Choose the flowers to fill in with French Knots. Embroider French Knots around the edge of the center of the flower, then fill in the middle.
(Find the cute bicycle needle minder in my shop!)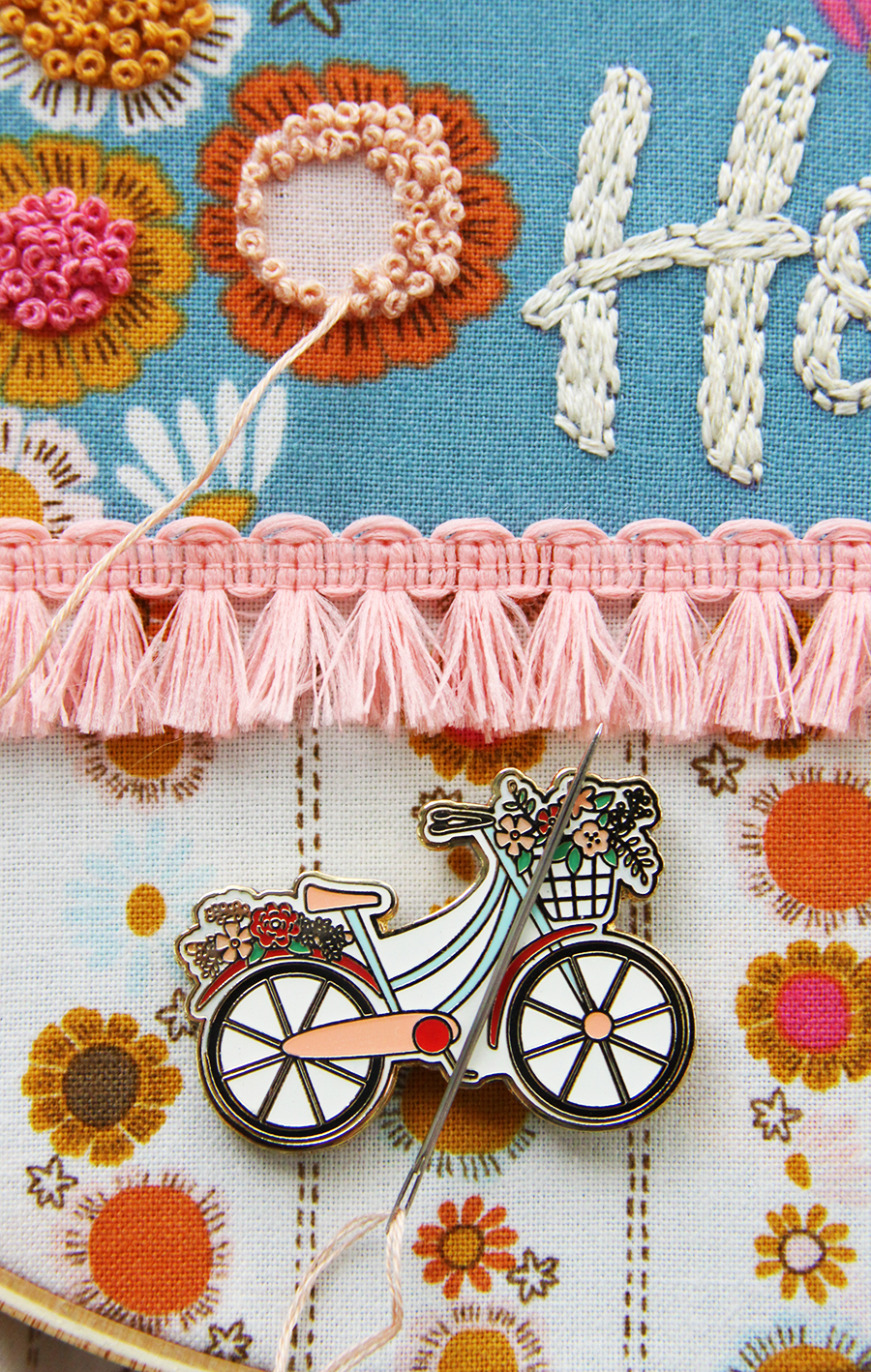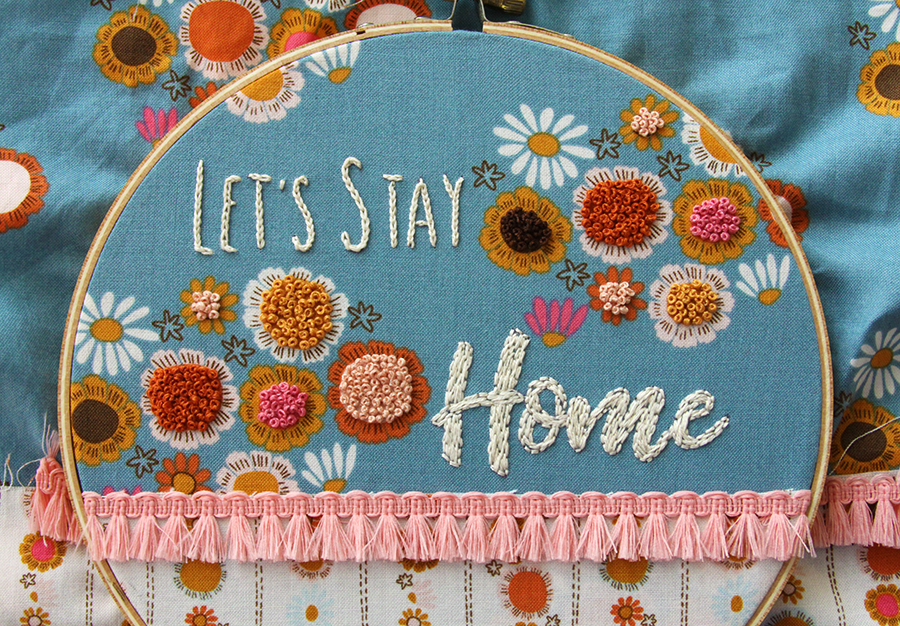 Finish the back of the embroidery hoop. I used pom pom trim from the home decor section. The pom poms were pretty far apart so I went around the outer edge of the hoop 3 times to add in more pom poms.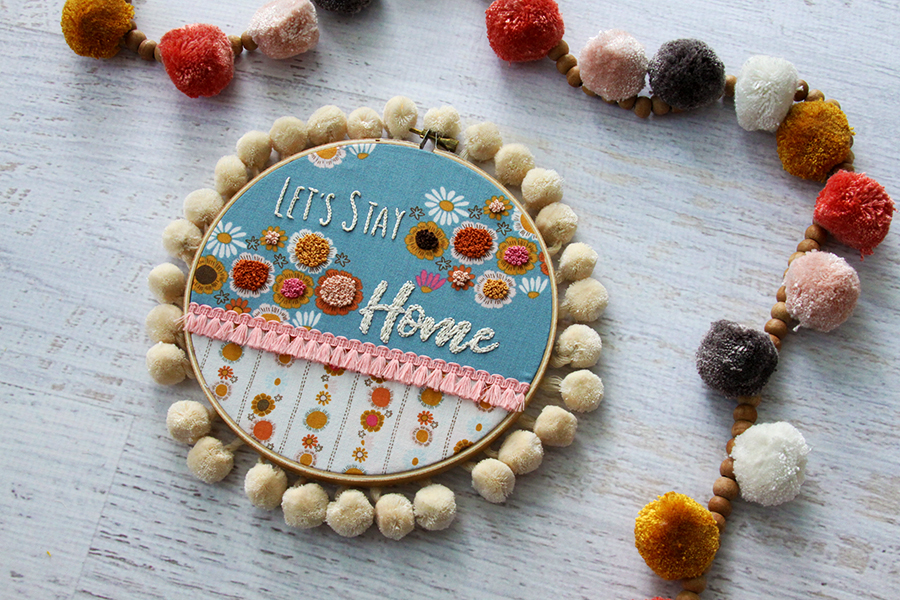 I love how it turned out! And I think it needs to hang up with these cute pom pom garland I found at Target last year!