This Grateful Thankful Blessed Embroidery Hoop Art is so fun for Thanksgiving – it's great for decor or for a gift!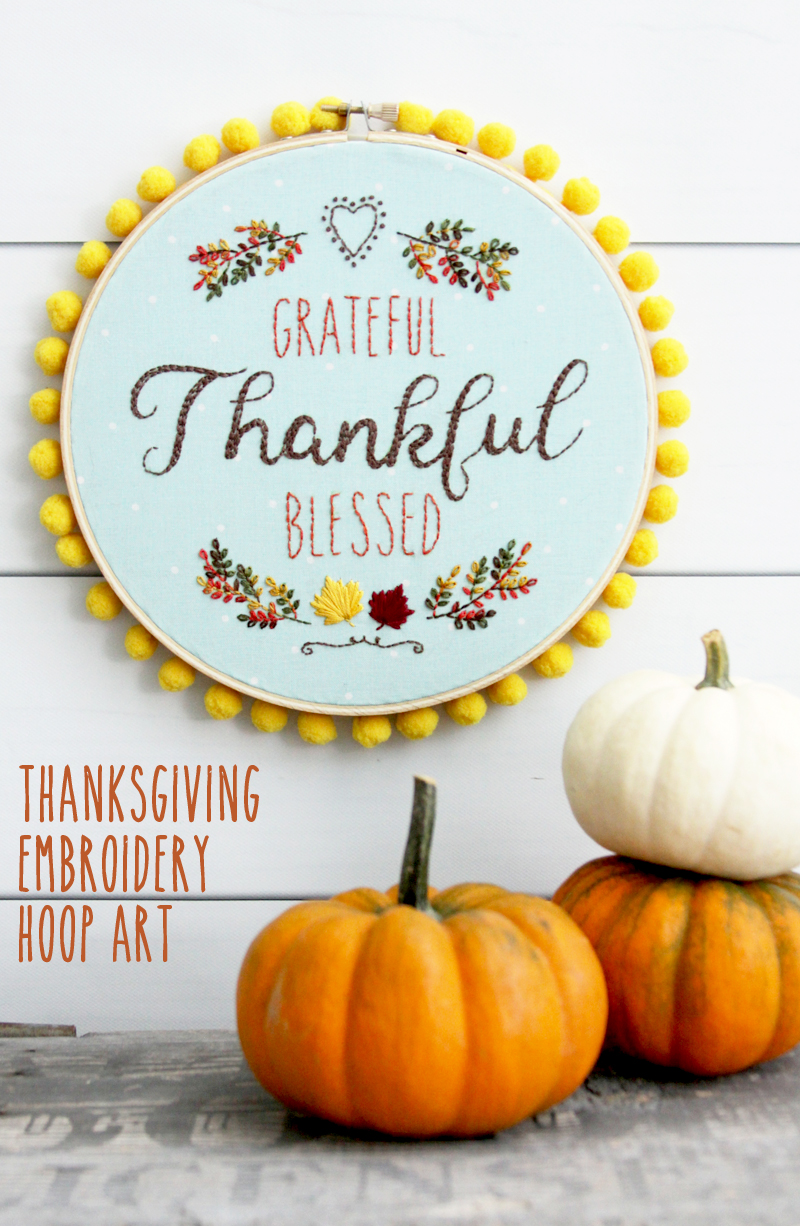 I was looking through projects a couple weeks ago and realized I didn't have any Thankgiving embroidery! It was a serious oversight on my part. ;) So obviously that had to be rectified! I came up with this Grateful, Thankful, Blessed hoop art and I love how it turned out!
I have been dying to use the new DMC Coloris thread and it worked so perfect in this embroidery hoop! It's a fun new variegated thread and I love the color choices! I picked this thread with fall colors and I just adore how it looks on the leaves in this hoop. So fun and fallish!
The DMC Threads and stitches you'll need are:
DMC 350 – for the Grateful and Blessed – use a Backstitch
DMC 779 – for for the Thankful, the heart and dots and the swoop at the bottom – for the thankful outline with a back stitch, then fill in the spaces with a backstitch. Stitch the heart and swoop with back stitch and the little dots are French Knots
DMC 815 – for the red leaf – use a satin stitch  for both leaves and back stitch on the stems
DMC 725 – for the yellow leaf
DMC Coloris 4511 – the leaf stems at the top and bottom – stitch the stems with a back stitch and the little leaves with lazy daisies.
You'll also need a 7″ hoop, a transfer pen, pom pom trim, a needle and the Grateful Thankful Blessed Embroidery Pattern.
Transfer the design and stitch it up!
Such cute thread right??
Finish up the hoop and add pom pom trim. Everything is better with pom pom trim!
Now you have a cute new hoop for Thanksgiving!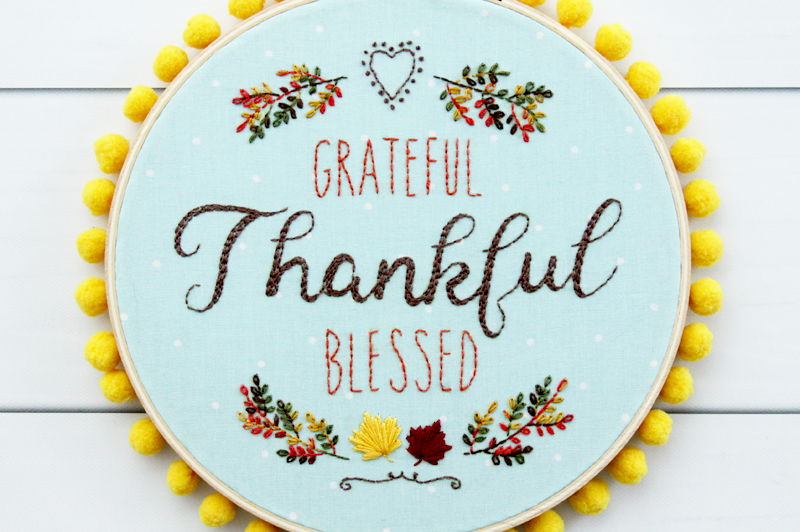 I created another Thankgiving pattern and you can check it out over at the OttLite blog! It's a sweet little Turkey pattern that stitches up really fast!
You can get the pattern over there and check out Marcea from Ottlite's version of the hoop! It's so cute!