Hello friends! Welcome to another week of Must Have Craft Tips! Kara from Mine for the Making here this week to share three popular Christmas decorating trends you are going to love! Now don't get me wrong… I don't ever skip over Thanksgiving. Who could skip over the best meal of the year?! But I definitely don't mind having my turkey dinner by the tree. And even if you don't like to decorate as early as I do, you can pin and save these ideas until you are ready to decorate.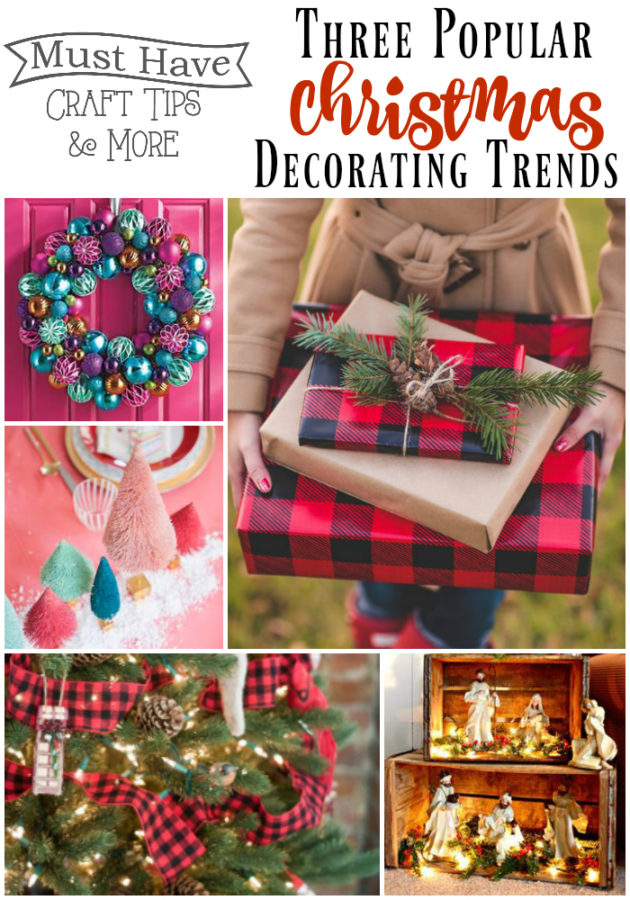 Christmas Decorating Trends: a Buffalo Plaid Christmas
The first Christmas trend and one of my personal favorites is Buffalo Plaid. In fact, be ready for a few buffalo plaid inspired Christmas projects on Mine for the Making soon! But in the meantime… check out these beautiful ways to decorate with the popular plaid of buffalo.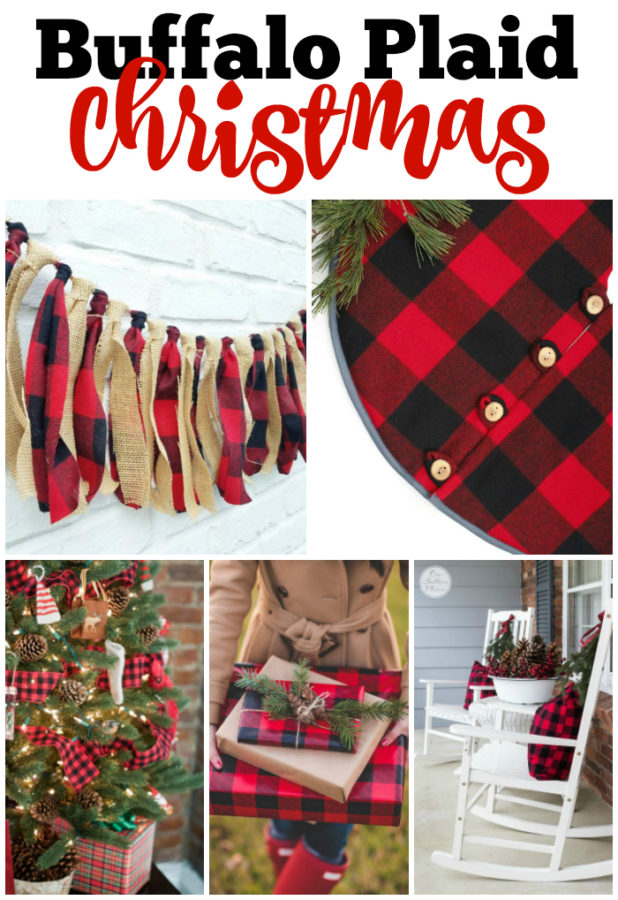 Buffalo Plaid banner – Buffalo Plaid tree skirt – Buffalo Plaid Christmas tree (unknown source) – Buffalo Plaid gift wrapping – Buffalo Plaid porch decor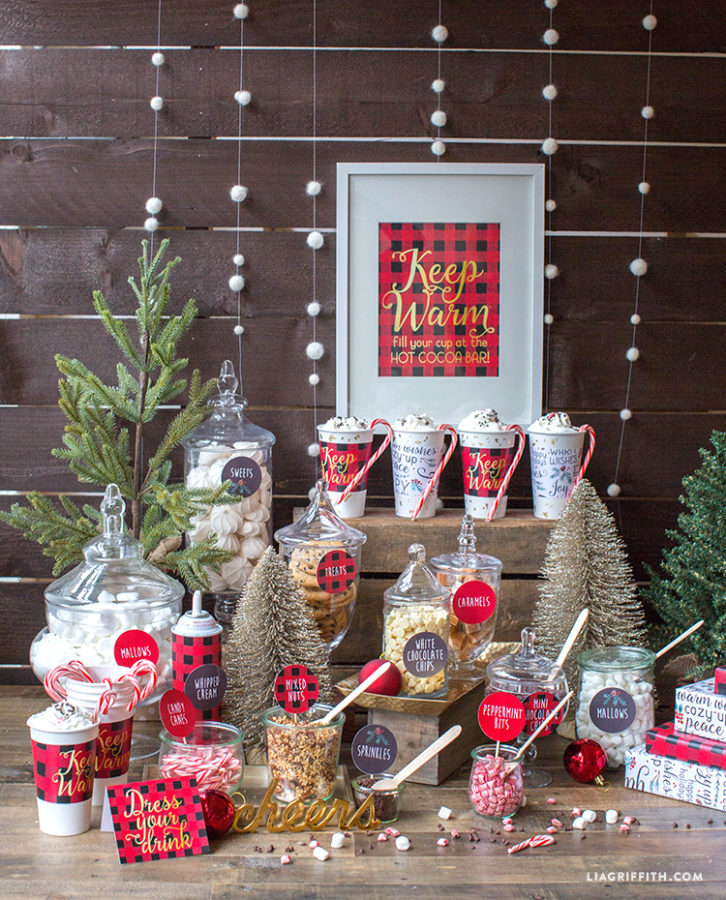 How fun is this Buffalo Plaid Hot Cocoa Bar?! It's so festive and pretty. I love the combo of plaid and gold.

I love these Buffalo Plaid pillows made from blankets! So cozy and cute.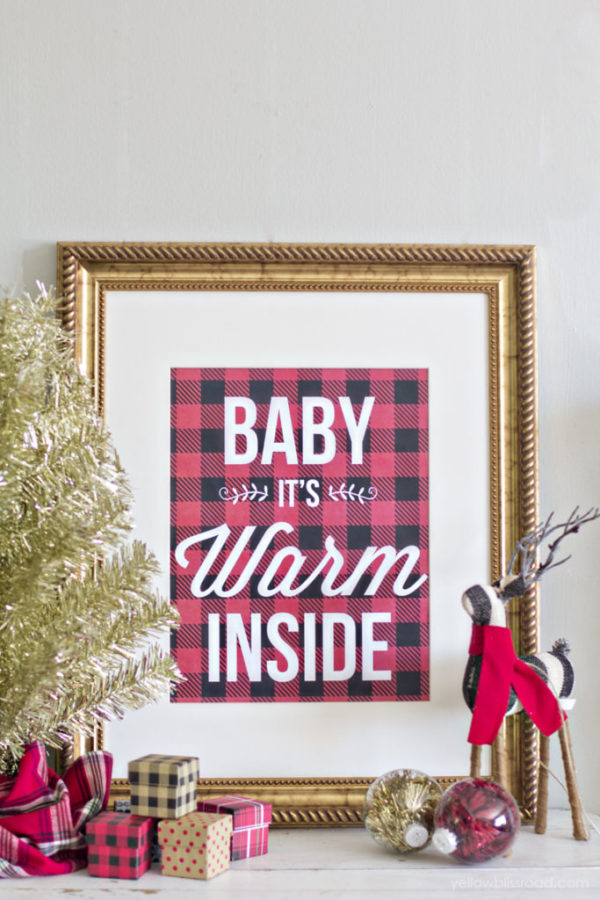 There are a ton of Buffalo Plaid printables floating around cyberspace. This Baby It's Warm Inside print is one of my favorites!
Christmas Decorating Trends: a Farmhouse Christmas
My other very favorite Christmas decor trend is the gorgeous farmhouse Christmas style. I love the hints of rustic and weathered and vintage.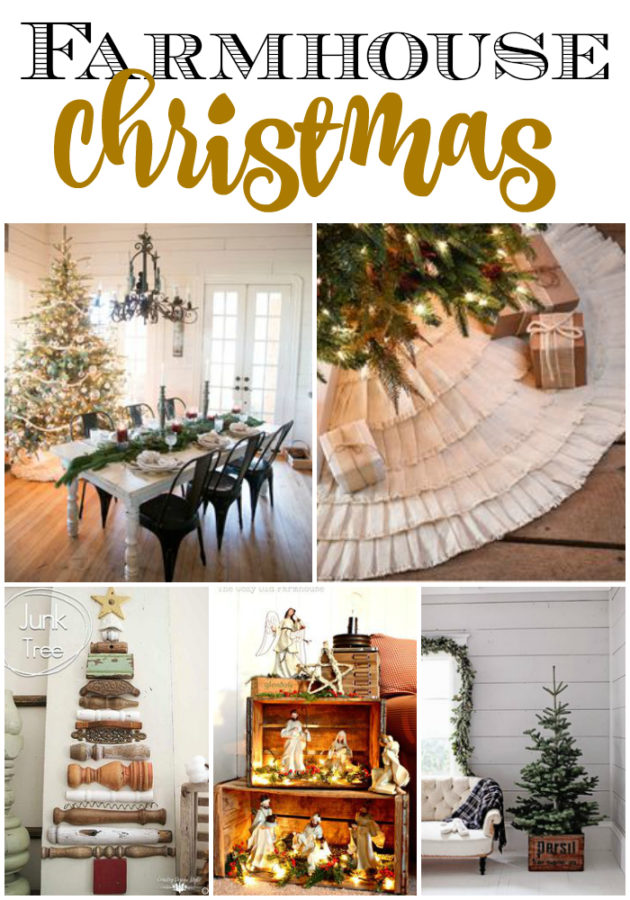 Farmhouse Christmas dining room – Farmhouse tree skirt – Rustic wooden tree – Crate nativity scene – Farmhouse Christmas living room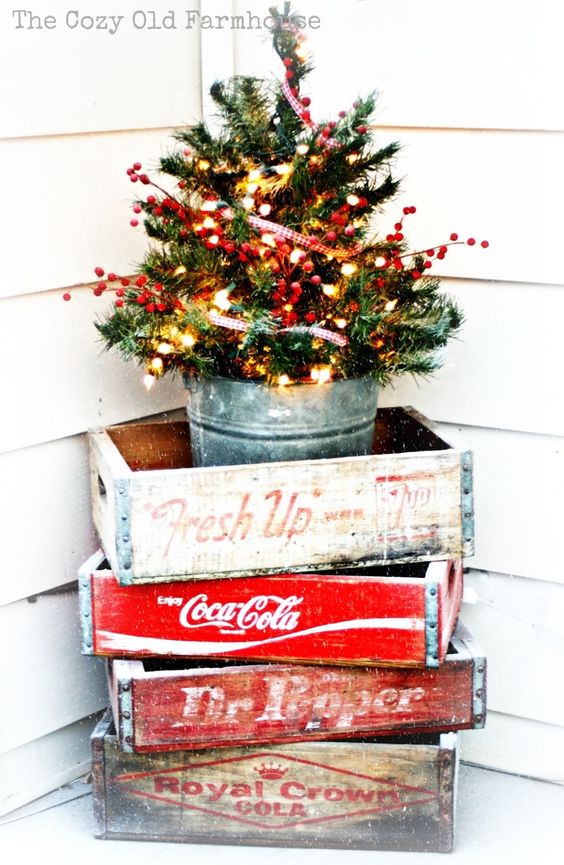 I am so in love with this rustic Coca-Cola crate look! Stack them up and set a Christmas tree inside and you've got an adorable farmhouse look.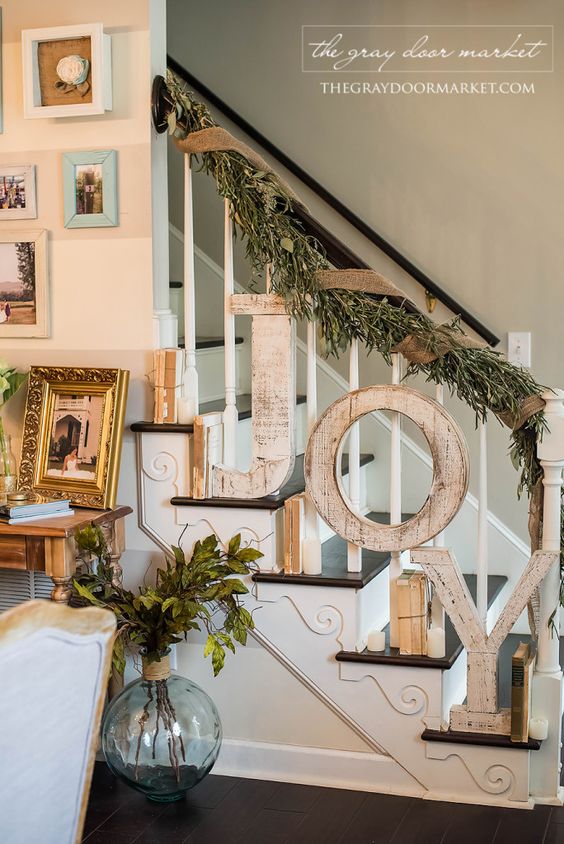 How gorgeous are these farmhouse Christmas stairs. I love the giant wooden letters and the old vintage books.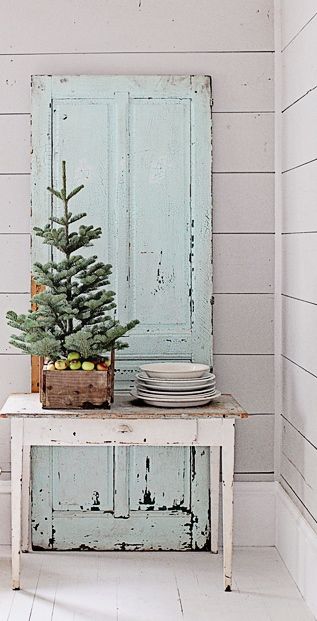 This chippy, old, mint door on the wall behind the tiny Christmas tree gives me all the heart eyes. If this doesn't scream farmhouse Christmas, I don't know what does.
Christmas Decorating Trends: a BRIGHT Christmas
And last but definitely not least, let's have ourselves a BRIGHT Christmas, shall we?! This is far from traditional Christmas decor, but lovely just the same.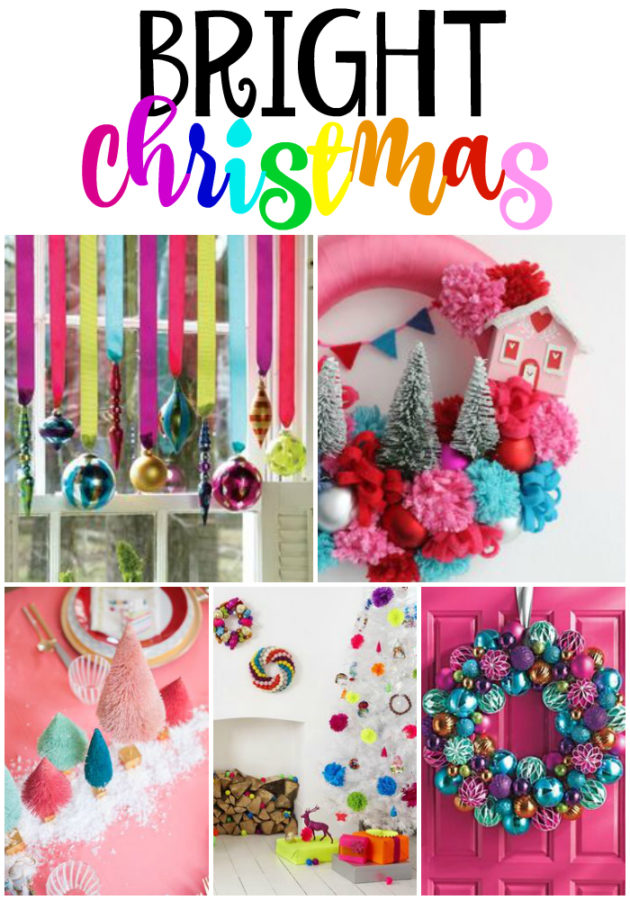 Hanging bright ornaments – Bright Christmas wreath – Bright mini Christmas trees – Bright Christmas tree – Bright Christmas ornament wreath (source unknown)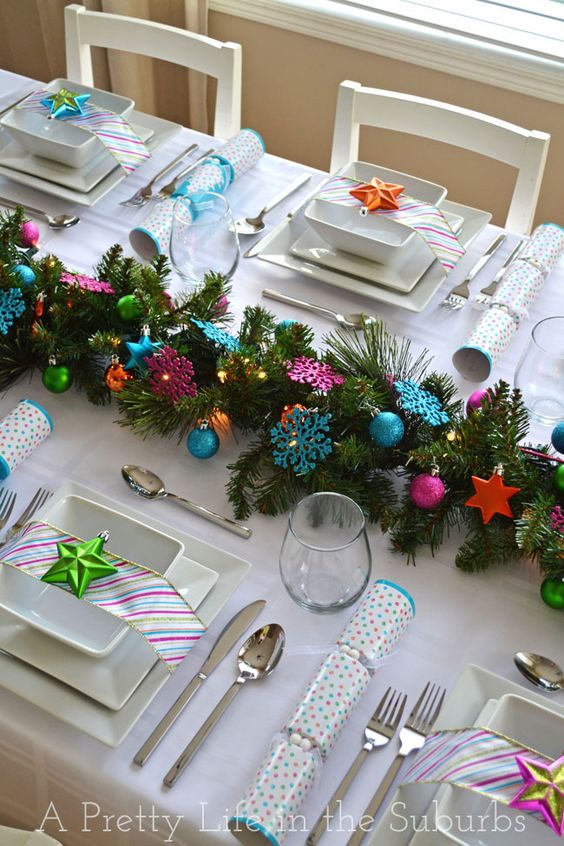 This bright Christmas tablescape is so fun and colorful!

How fun are these brightly, painted Christmas lights?! What a great idea for a garland.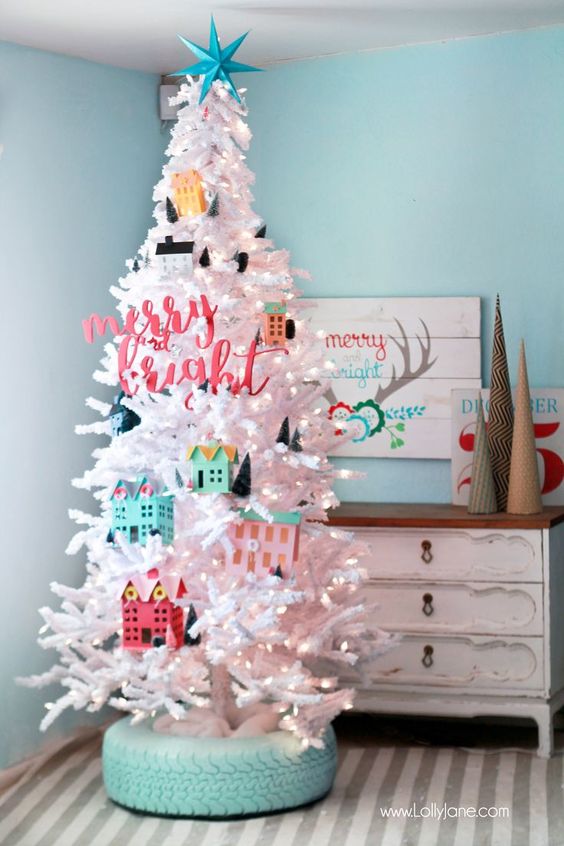 I absolutely adore this white tree with bright ornaments and aqua tire tree base. Such a fun spin on Christmas decor.
There you have it friends! Three of the most popular Christmas decorating trends. Which is your favorite? How do you decorate for Christmas?
Check back next week for more tips!
Your hostesses,

The Scrap Shoppe | Flamingo Toes | Mine for the Making | A Glimpse Inside