We've reached the last row in the Singing in the Rain Quilt and I'm sad to see it coming to an end! But before the end, we get to sew up Singing in the Rain Row 8 – House Quilt Blocks!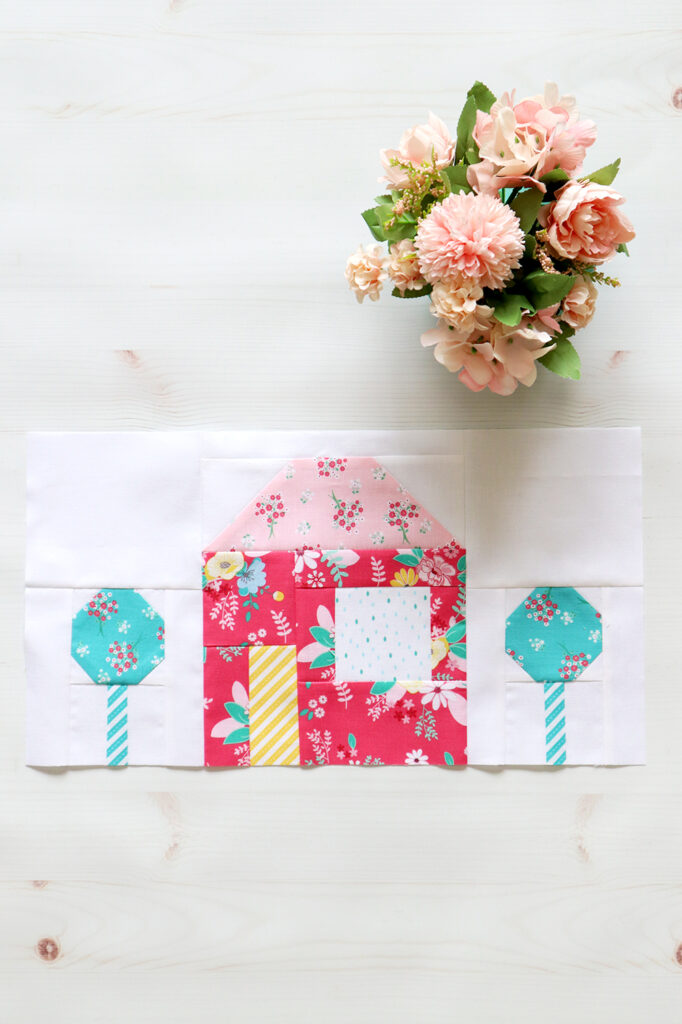 This last row is so fun to sew together and they sew up pretty quickly too! You can have a lot of fun with fussy cutting with these – I think cute little images in the windows would be so great! You could also add trim to the windows or roofline. I love that idea!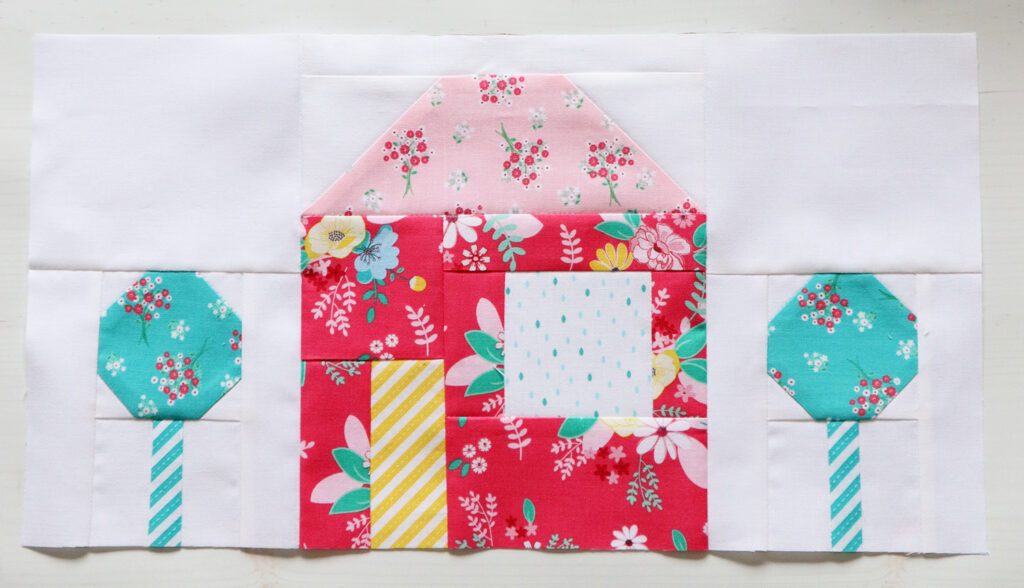 You can play around with fabrics for the doors and trees as well. There are so many fun options!
I'll be sewing through the block this week in my Facebook group – I'd love for you to join us! And it's definately not too late to join in with the quilt! The videos will be available in the FB group permanently, so you can access them any time. Link to join is at the bottom of this post.
Now for some tips!
Singing in the Rain Row 8 – House Quilt Blocks Tips
These are fairly simple so I only have a couple this week!
Make sure you don't skip the step to trim up the bottom portion of the house before sewing the roof on. It's an easy one to miss and the rest of the block will go together so much smoother if you trim it up.
Cut out the pieces for the tree accurately. There are some little pieces that create the snowball effect to the tree so double check that those are the correct size before sewing. When you're cutting little pieces, it's so easy for them to be off just a little bit.
And that is it!! Our last row of the Singing in the Rain Quilt!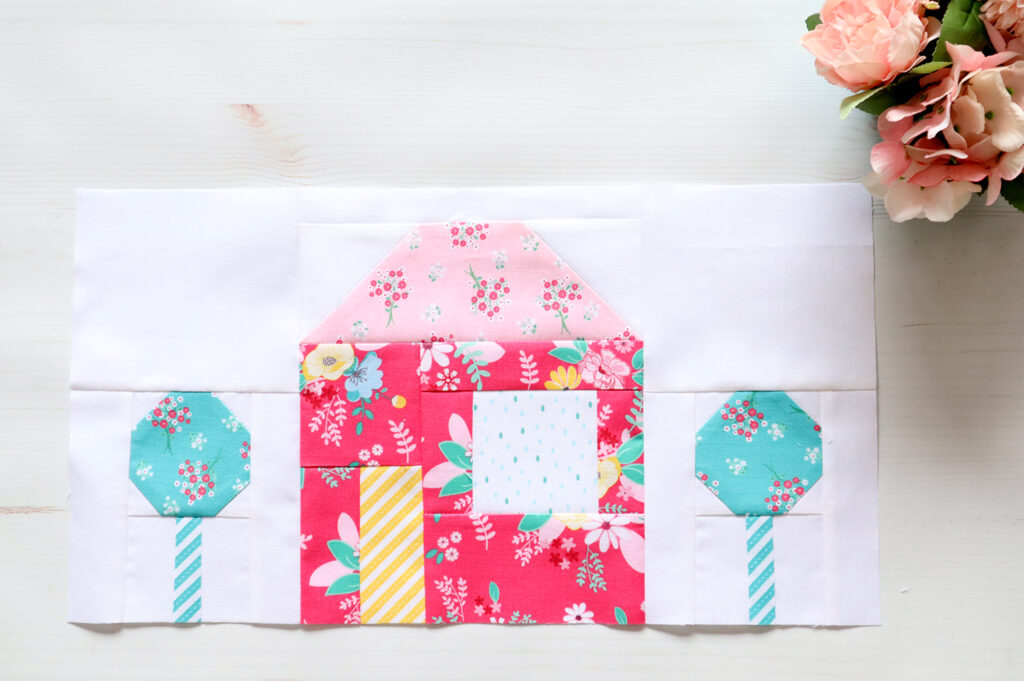 Next we will be doing the sashing and borders to put it all together and finish up the top!
And don't forget to enter to win the final giveaway. Every photo you share on Instagram and Facebook with the hashtags #singingintherainsal and #singingintherainquilt and every photo you share in the Facebook group (you don't need hashtags there) is an entry to win this fun giveaway!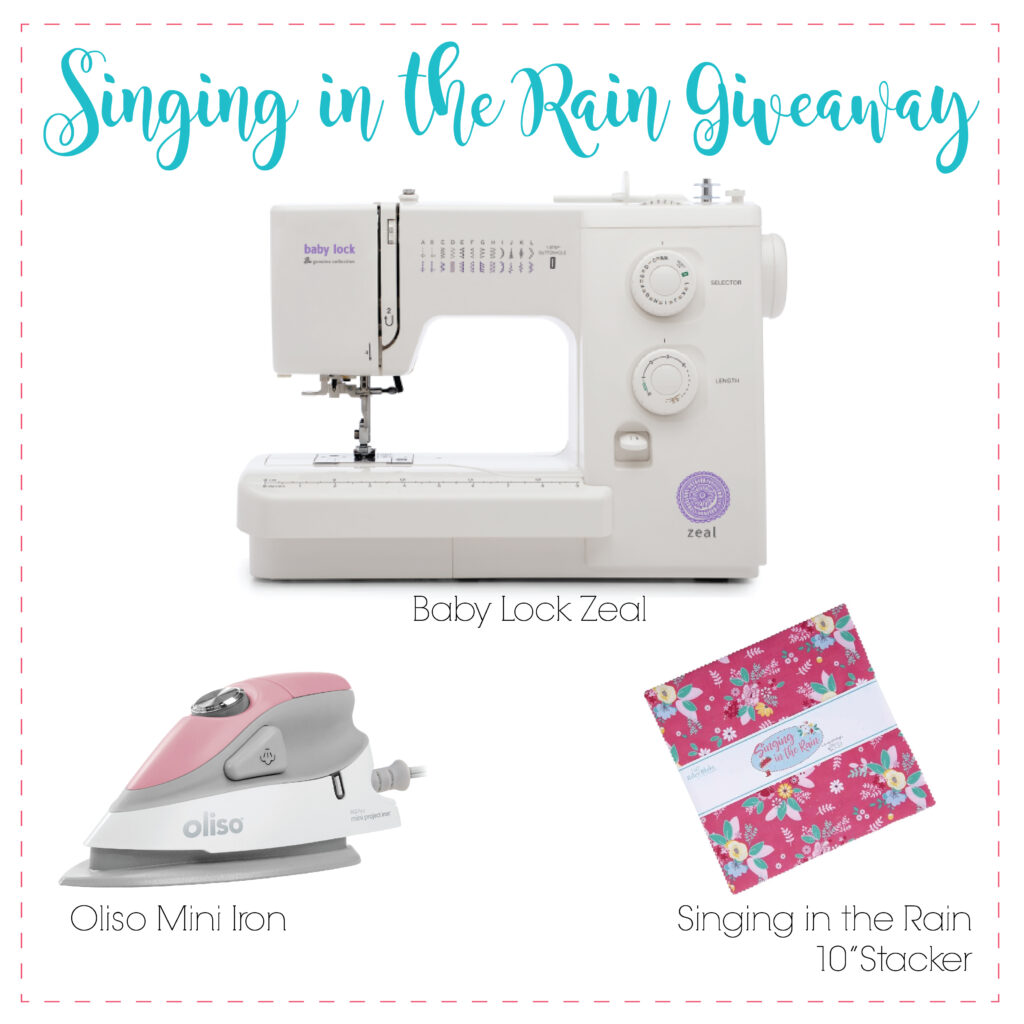 You can check out all the Singing in the Rain quilt posts here!