We're sewing up the cutest little umbrellas in this week's Singing in the Rain Quilt Sew Along Row 2! These are so fun to make and I have some great tips for you to make these super simple too!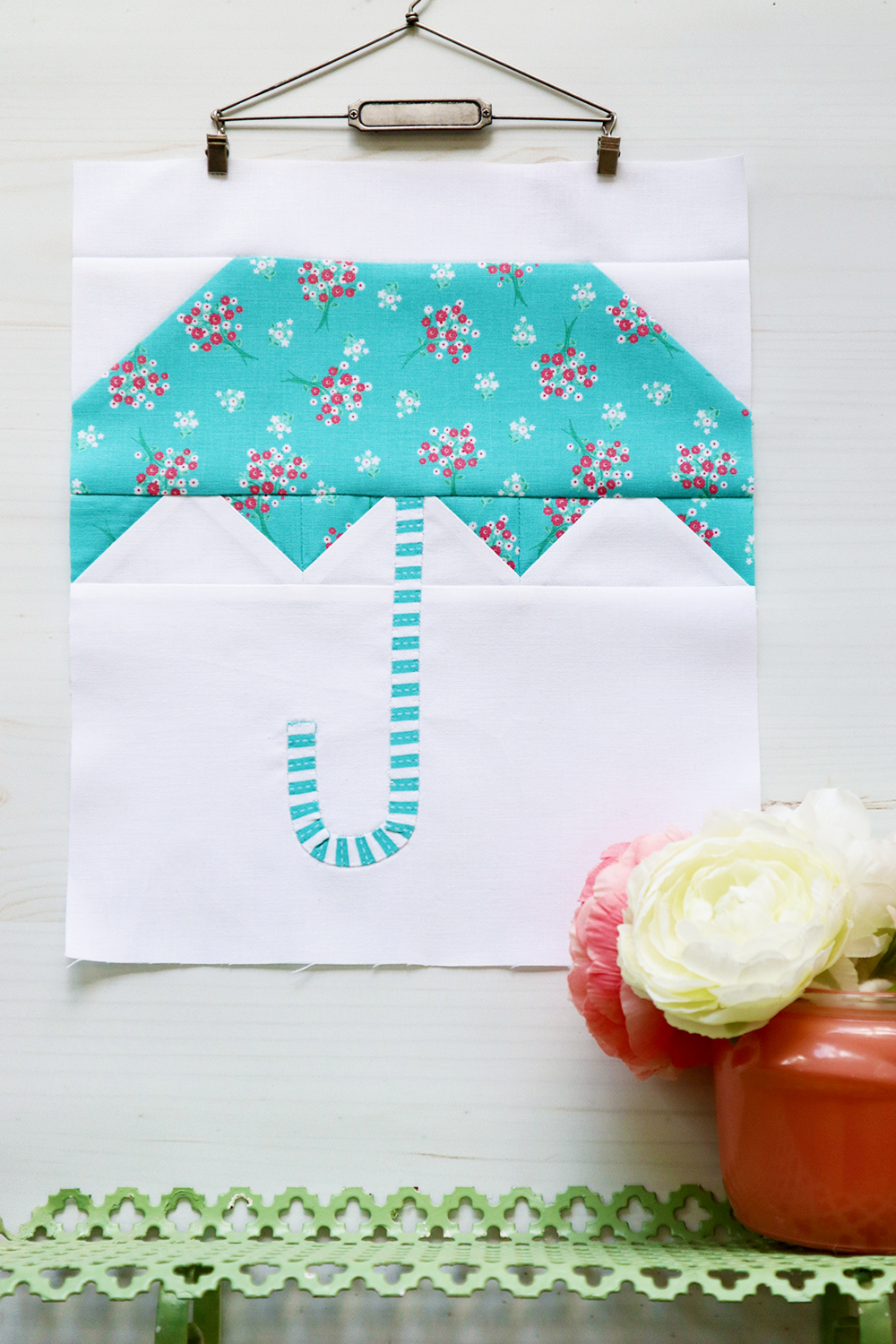 If you're new to the Singing in the Rain Quilt, it's a quilt I designed to go with my latest fabric collection, Singing in the Rain! If you want to sew along it's not too late! You can find shops carrying Singing in the Rain here – but feel free to use a different collection or your stash!
We are doing a sew along and taking a row each week so it's nice and doable.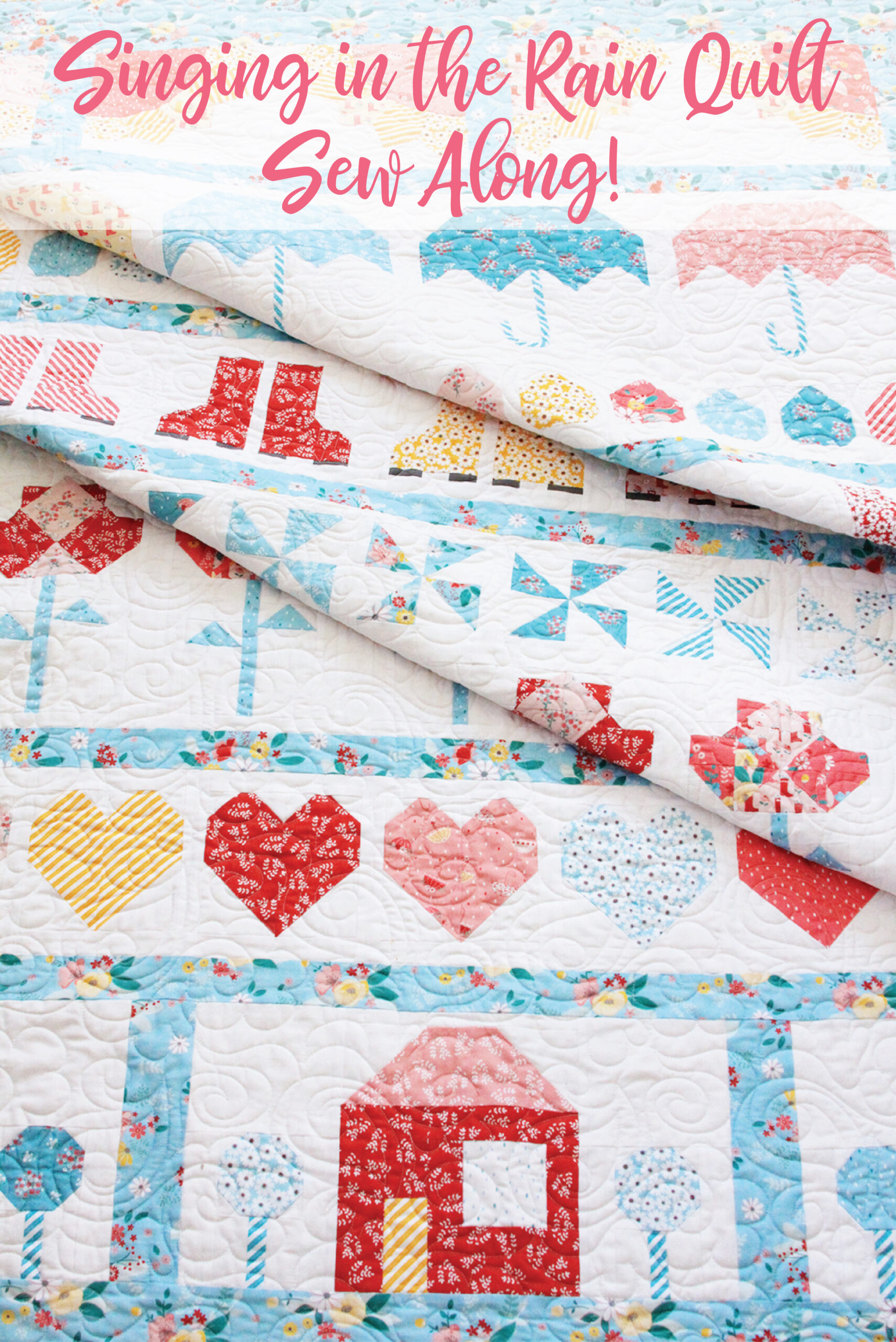 Last week we sewed up Row One – the Dresden Suns. This week we are sewing up some little umbrellas for our row and these are pretty big blocks so they go together really quickly!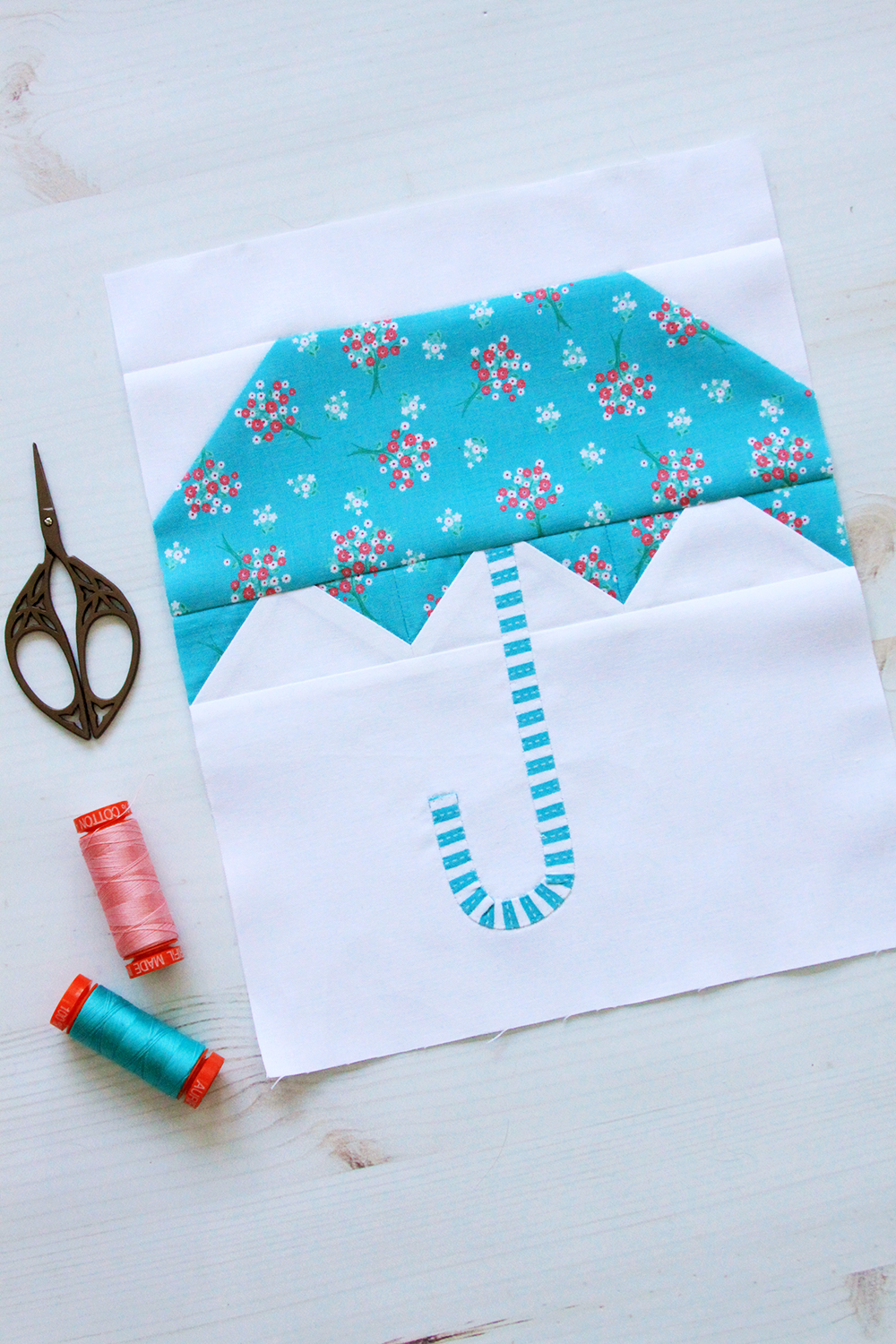 To sew along, you'll need to pick up the Singing in the Rain Quilt Pattern. You can find the PDF pattern here and the paper pattern here.
I have some tips and options for you for this week too!
Singing in the Rain Quilt Sew Along Row 2 Tips
Keep in mind that you want the width of your rows to be the same – but don't worry if you are off just a little. There are several rows with lots of little pieces – it's easy to have them end up a little different. I've built in some sashing on each end so if you need to trim up a row, that's ok!
There are options for sewing up that umbrella handle! Do whatever you feel the most comfortable with – they'll all look great.

Use the instructions to cut the fabric on the bias and applique down the handle. I find that a strip of Steam a Seam or fusible webbing under the bias strip helps to hold the curve in place before sewing it down.
Use the pattern included – trace the shape onto fusible webbing and iron the fusible webbing onto the fabric. Cut out the umbrella handle then iron it to the fabric. Zig zag around the raw edge of the fabric.
Use the pattern included and trace the design onto the background fabric and embroider the handle on! I recommend using 3 strands of floss and a back stitch or chain stitch for the embroidery.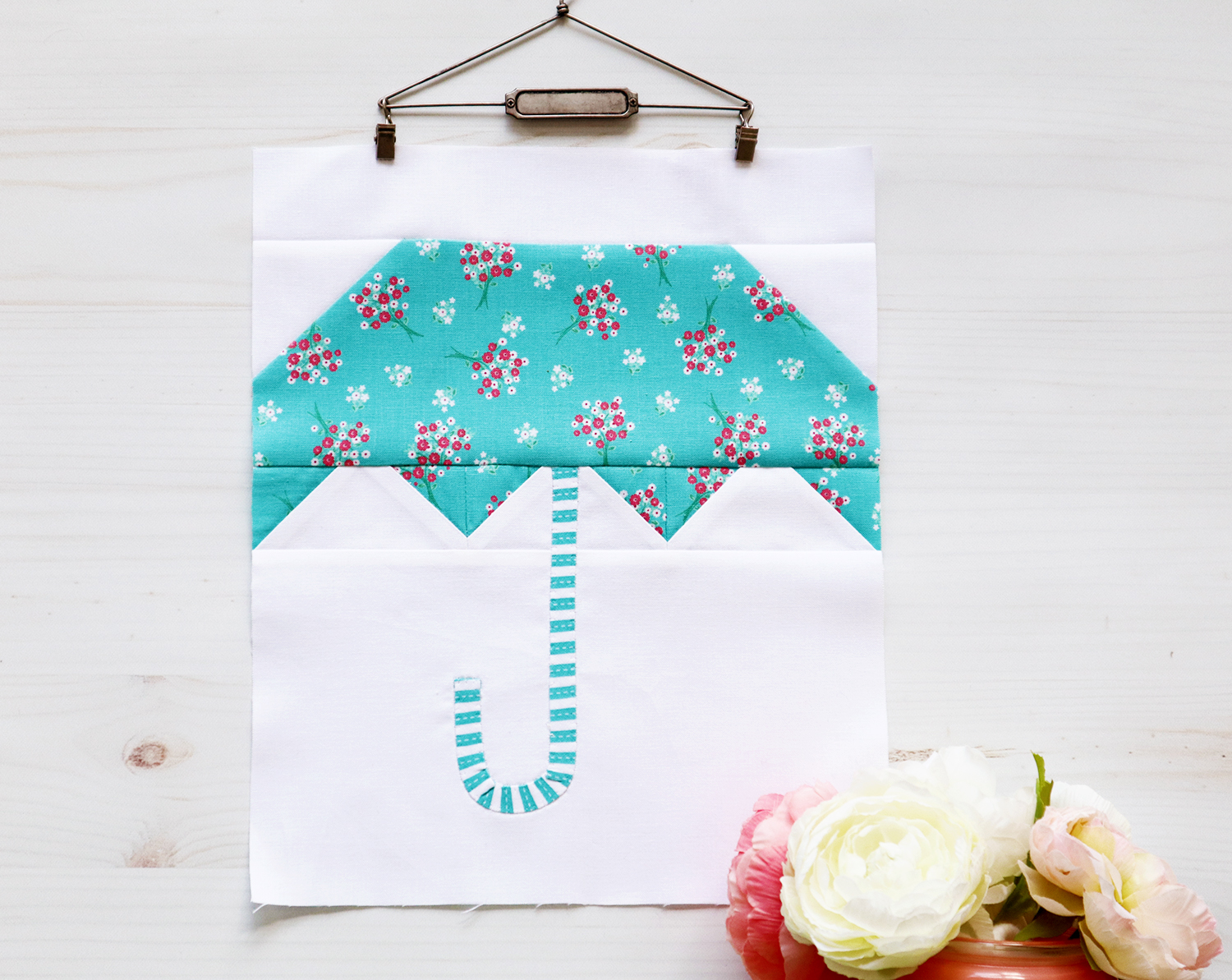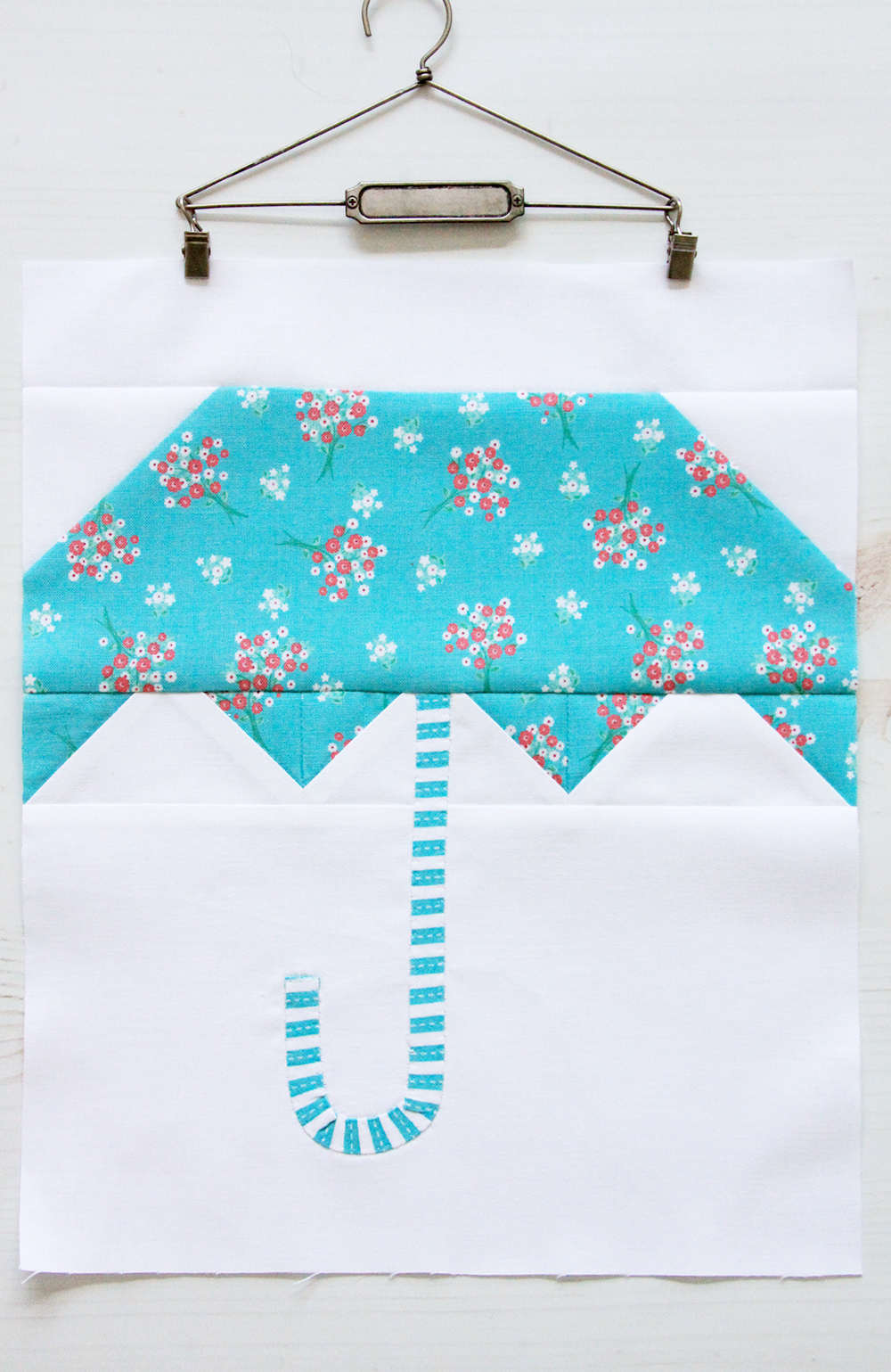 I can't wait to see your little umbrellas! Share your progress on social media with #singingintherainquilt and #singingintherainsal!
And don't forget – I'll be doing a sew through of the umbrella quilt block today (Monday) Live in my Facebook group at 2 PM CST! We're doing giveaways in the video every week too – it's so fun. I would love for you to join us!