I'm so excited! We are diving into the Singing in the Rain Quilt Sew Along Row 1 this week and that means we are sewing up these sweet little sunny Dresden blocks!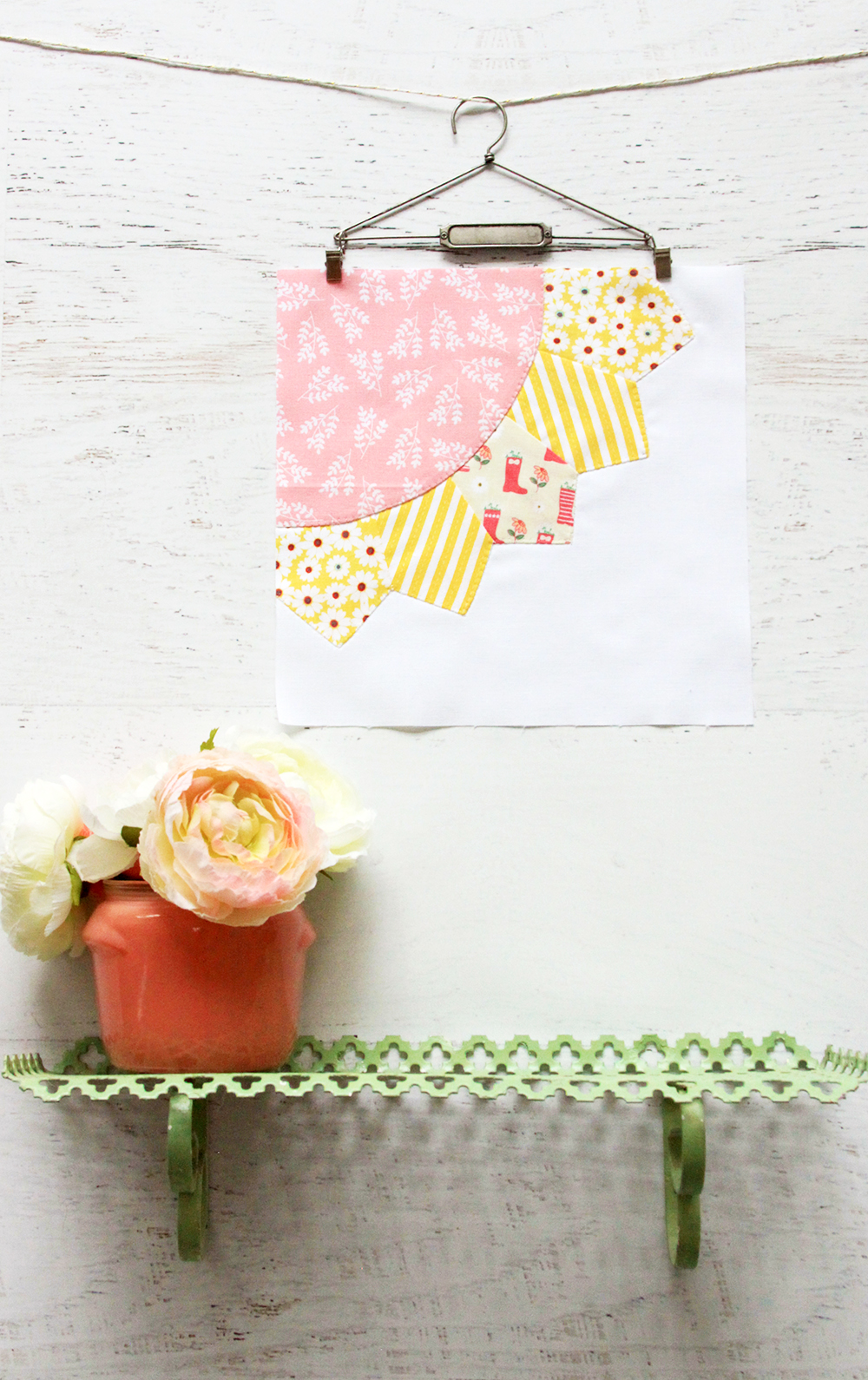 If you are new to this quilt we are sewing along together on my new Singing in the Rain quilt! We are sewing a row each week and this is Week 1!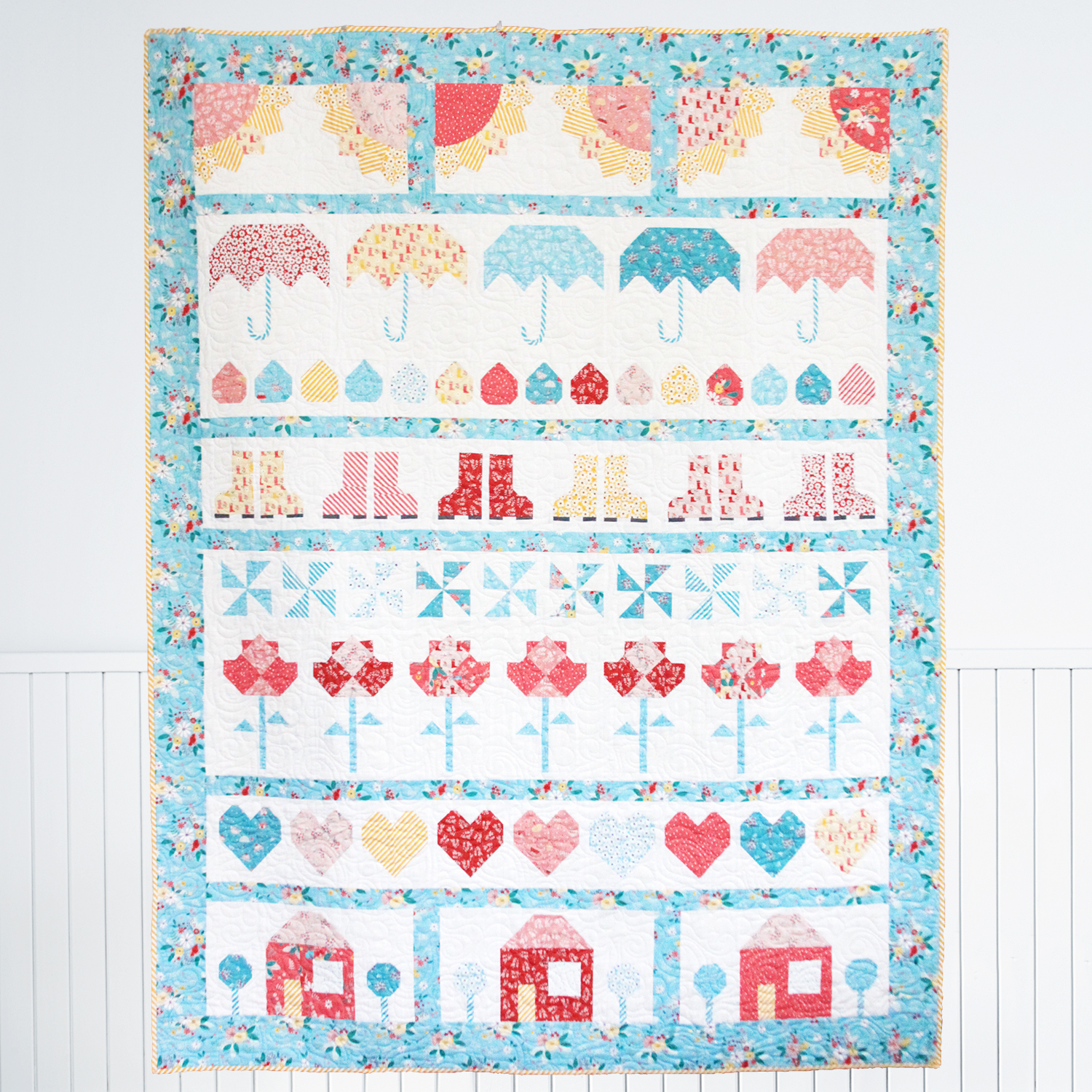 To join in the sew along you will need the Singing in the Rain quilt pattern. You can find the PDF pattern here and the Paper pattern here. If you'd like to sew with Singing in the Rain fabrics, check out my list of shops. You can find fabrics and quilt kits there! Feel free to dive in with your own fabrics as well – we have a lot of quilters sewing with the stash and I am so excited to see all the different versions!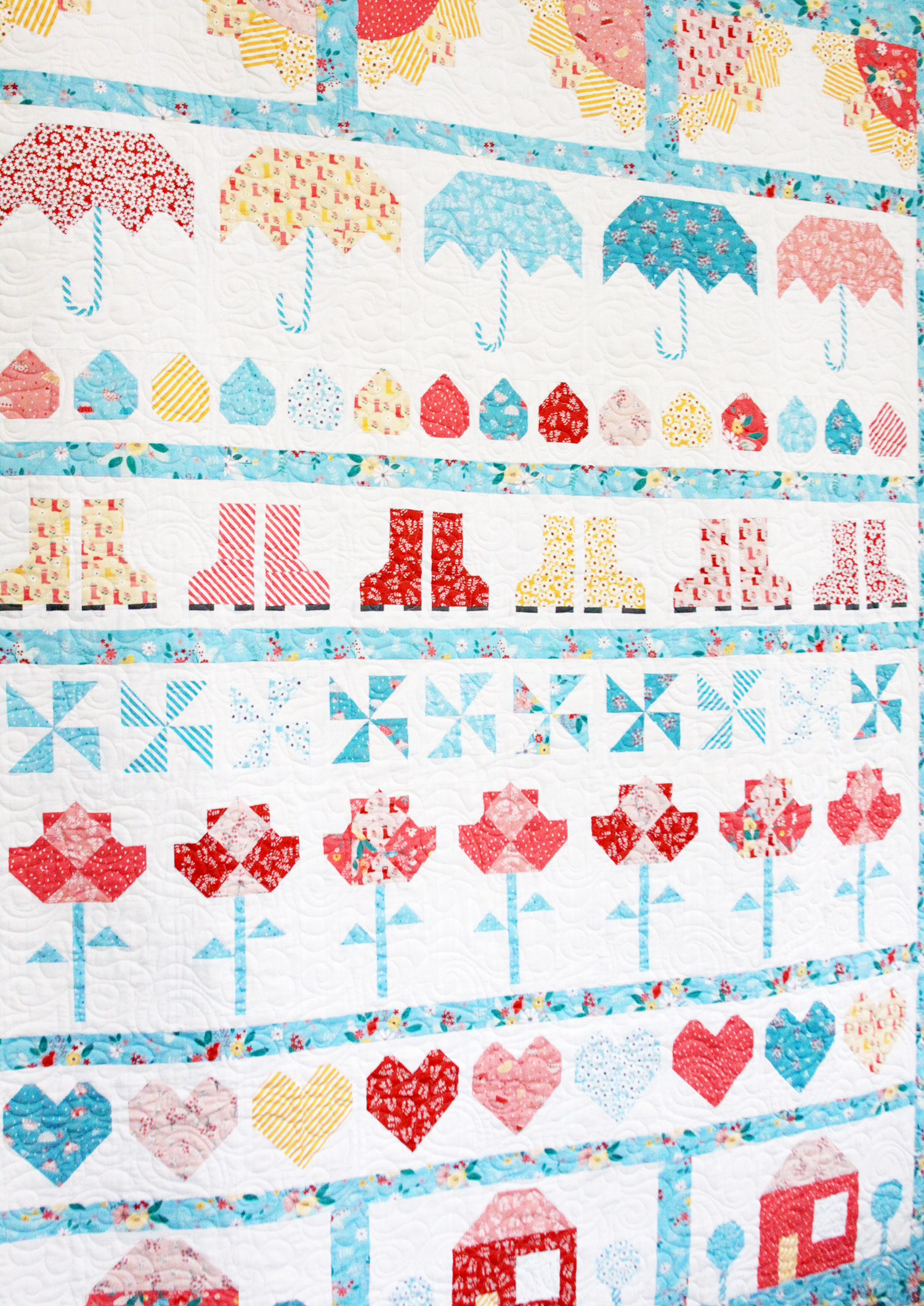 This week we are staring with Row 1 – the Dresden Suns Row!! All the information needed to make the row is in the pattern booklet but I have some tips for you here!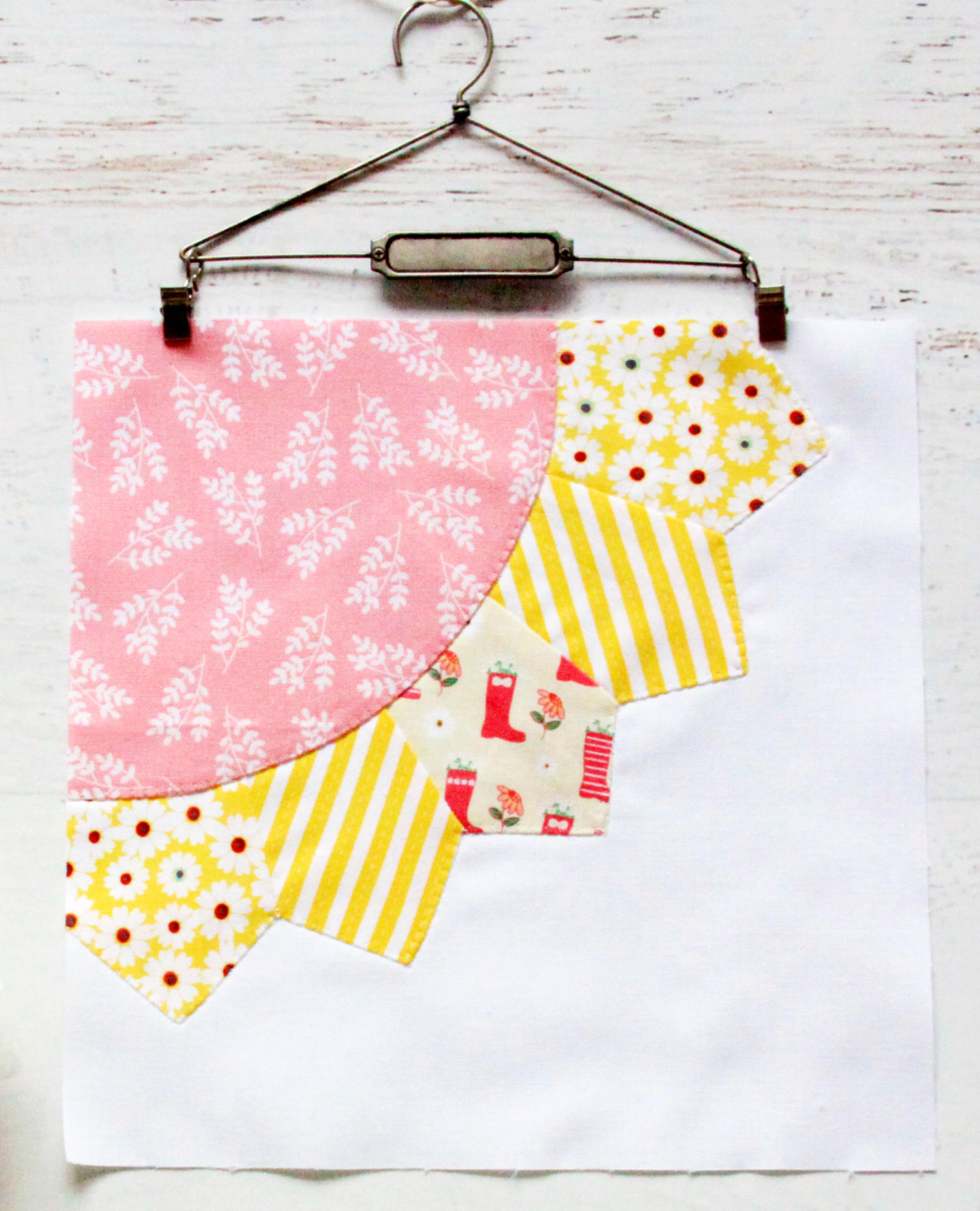 Singing in the Rain Quilt Sew Along Row 1
Dresden Quilt Block Tips:
If you don't have interfacing for the sun portion – don't worry! You can use a background fabric, light muslin, or something similar.
To cut out the Dresden Fan pieces, I find it helps to place the pattern on the fabric, then place a small ruler on top of it and line up the edge you want to cut, then cut along the ruler edge. This takes a little longer but it makes sure that your sides are nice and straight and you aren't shaving off your pattern and cutting it smaller and smaller with each cut. ;)
To create nice sharp points in your Dresden fans, use a point turner or something similar.
To stitch down your Dresdens, there are several options – feel free to choose what you're most comfortable with!

Hand Applique – you can stitch the pieces down by hand. With only six blocks this is pretty quick to do!
Machine Blanket Stitch – this is a fairly common decorative stitch – check your machine to see if you have it! I have a Baby Lock and set mine at 2.0mm width and 1.0mm length, but feel free to practice on a scrap fabric piece to see what size works for you.

I chose to do the machine blanket stitch with a clear Aurifil monofilament thread. That allowed me to use the same thread on all the pieces, but it would also look great if you match your thread to your fabric, or use a contrasting thread for a decorative look!

Small Zig Zag Stitch – I recommend practicing on scrap fabric to find a good size and matching your thread to your fabrics as close as you can.
Straight stitch – because your pieces are all turned, you can stitch them down with a straight stitch just inside the folded edges.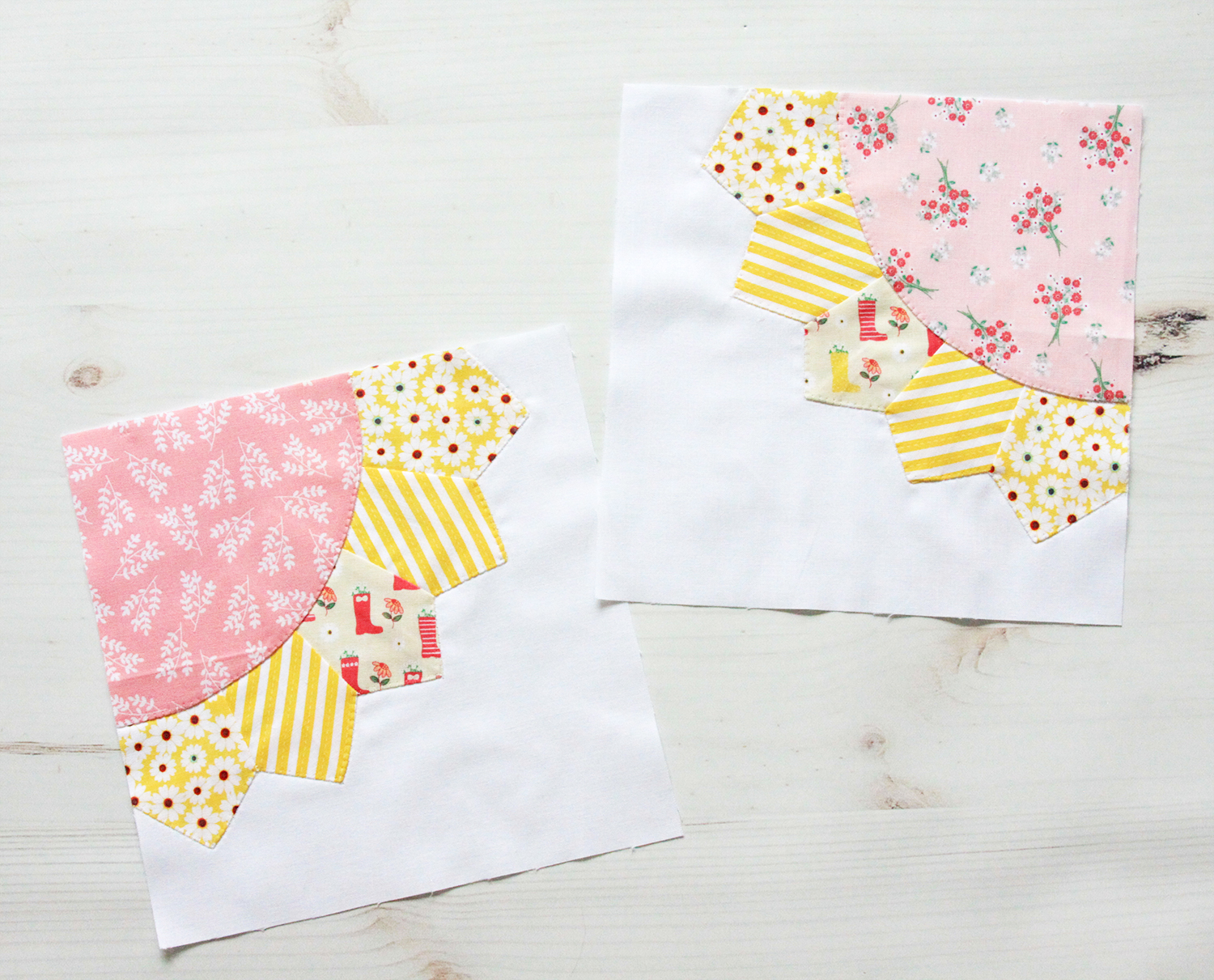 Once your quilt is all quilted, it won't really be noticable what method you used to stitch down the dresdens, so feel free to do what you're most comfortable with – or jump in with a new method to try something you haven't done before!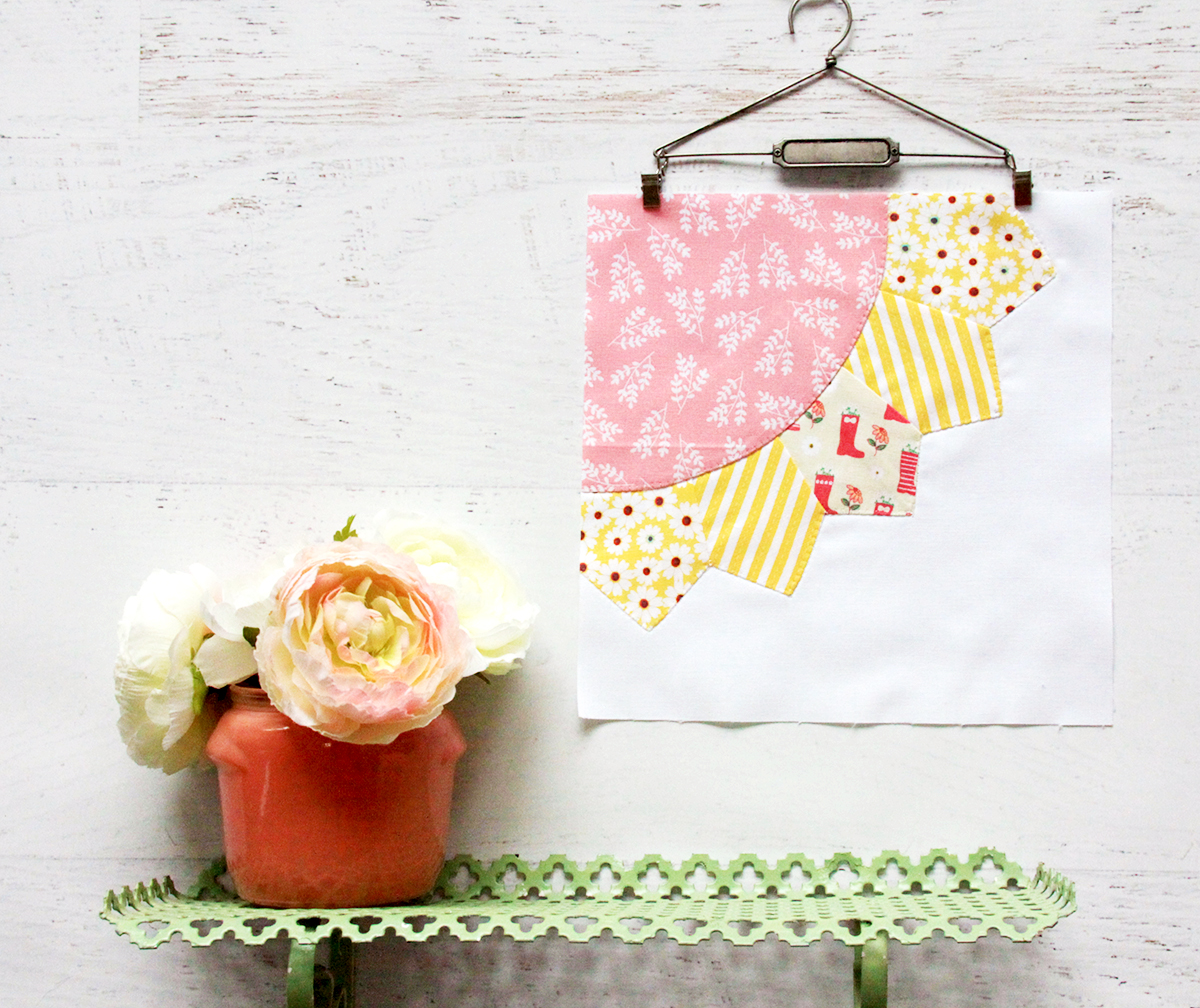 I will be doing a live sew along video of this block in my Facebook Group today (Monday, May 4) at 2 pm Central Time! You can hop on and see how I sew up this block and hang out with us – it is going to be so fun! If you can't be there to watch live, the videos will stay in the Facebook group so you can watch them when you have time.
Also – please don't worry if you are waiting on your fabric or can't start right away. Things are so crazy right now and I know it's sometimes hard to get what you need. Feel free to dive into your stash for the quilt or join in later! I want this to be a fun and happy sew along (I think we all need fun and happy right now) so don't worry and join in when you can. :)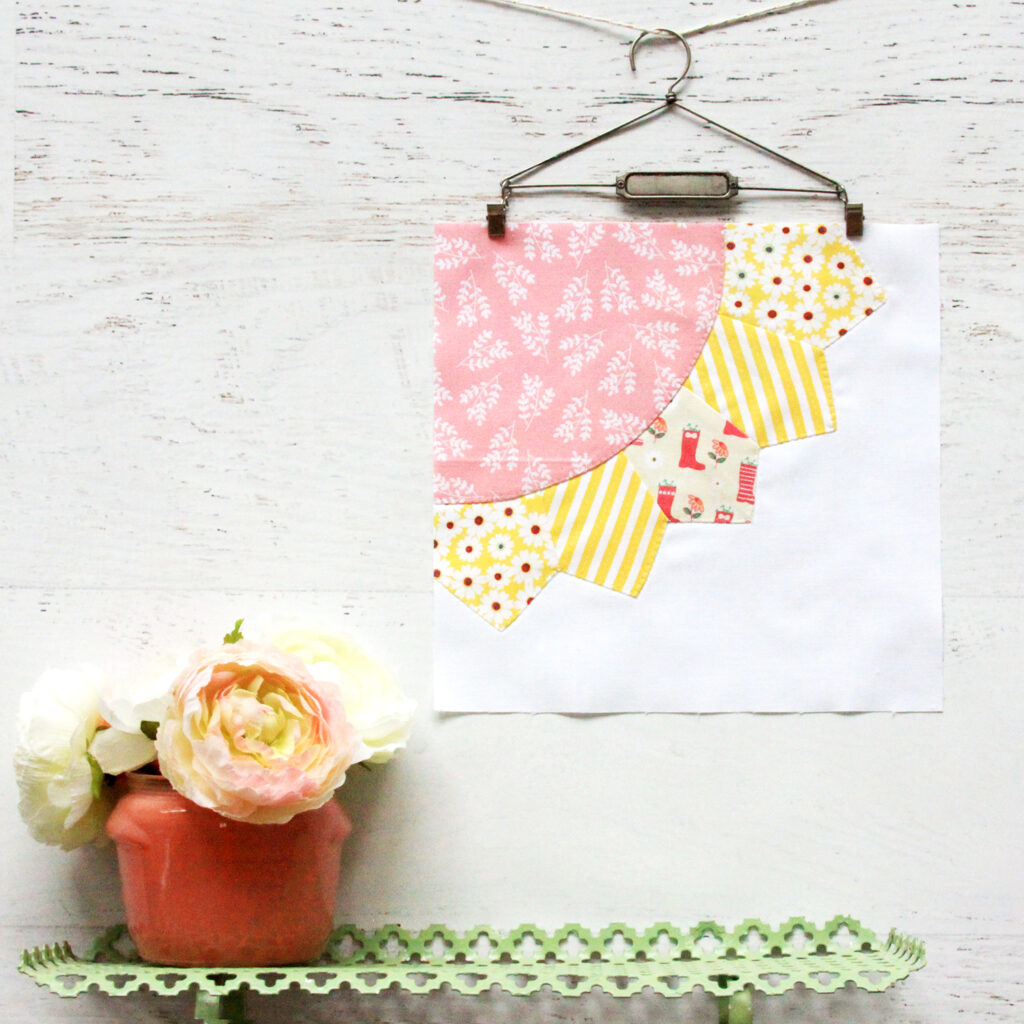 I can't wait to see your Sunny Dresden blocks! Please share them in our Facebook Group and if you're on Instagram tag me (@FlamingoToes) and use the hashtags #singingintherainquilt and #singingintherainsal.
If you're sewing along and share in the group or on social media, for each share you do, you'll have an entry into the giveaway that will happen at the end of the sew along! I can't give away the prize yet . . . but it will be awesome!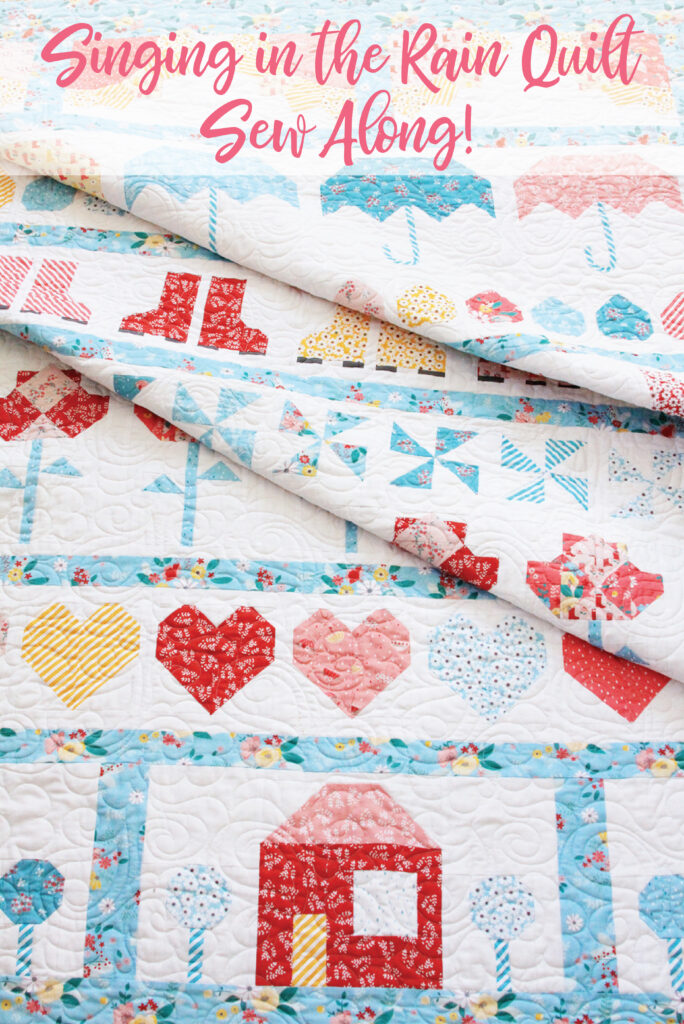 Singing in the Rain Quilt Sew Along Row 1
Have fun sewing up these sweet little Dresden Suns!