I'm so excited to be kicking off the Singing in the Rain Sew Along today! We're going to be talking about the schedule, supplies and we're having a fabulous giveaway!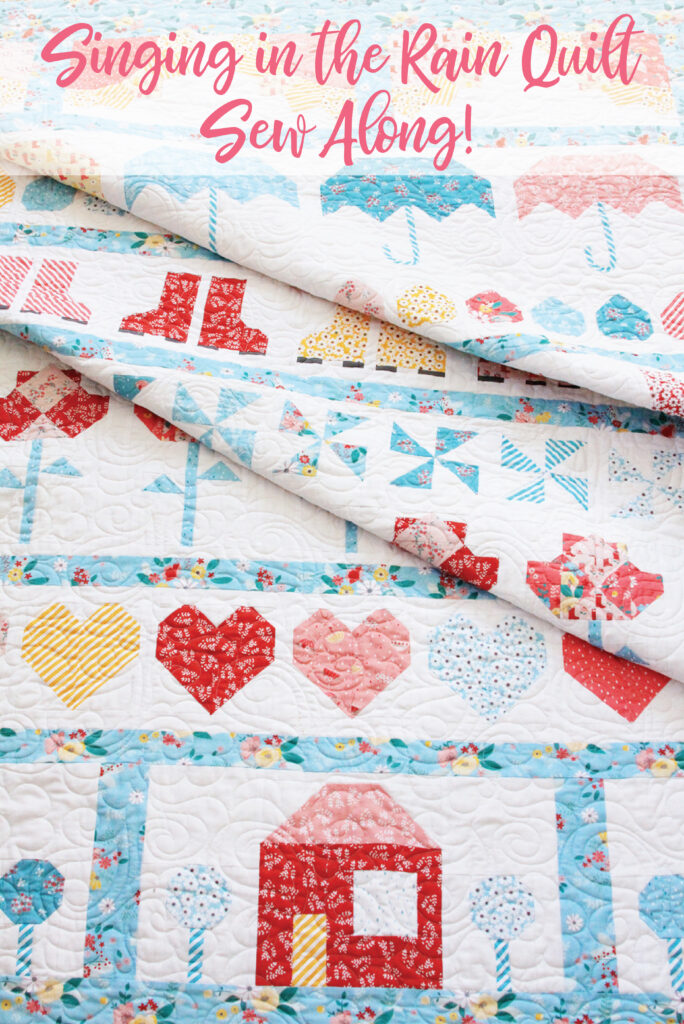 For this sew along we're going to be making the Singing in the Rain Quilt! We will be sewing one row a week so here's how the schedule will go.
May 4 – Row One – Sunny Dresdens
May 11 – Row Two – Umbrellas
May 18 – Row Three – Raindrops
May 25 – Row Four – Rain Boots
June 1 – Row Five – Pinwheels
June 8 – Row Six – Flowers
June 15 – Row Seven – Hearts
June 22 – Row Eight – Neighborhood
June 29 – Finishing – Sashing and Borders
We're going to have so much fun sewing each row! And I'll have tips each week as we go. Plus something fun – every week I'll be doing a little live sew along of the block of the week in my Facebook Group! So if you'd like to check that out, you can join the group here!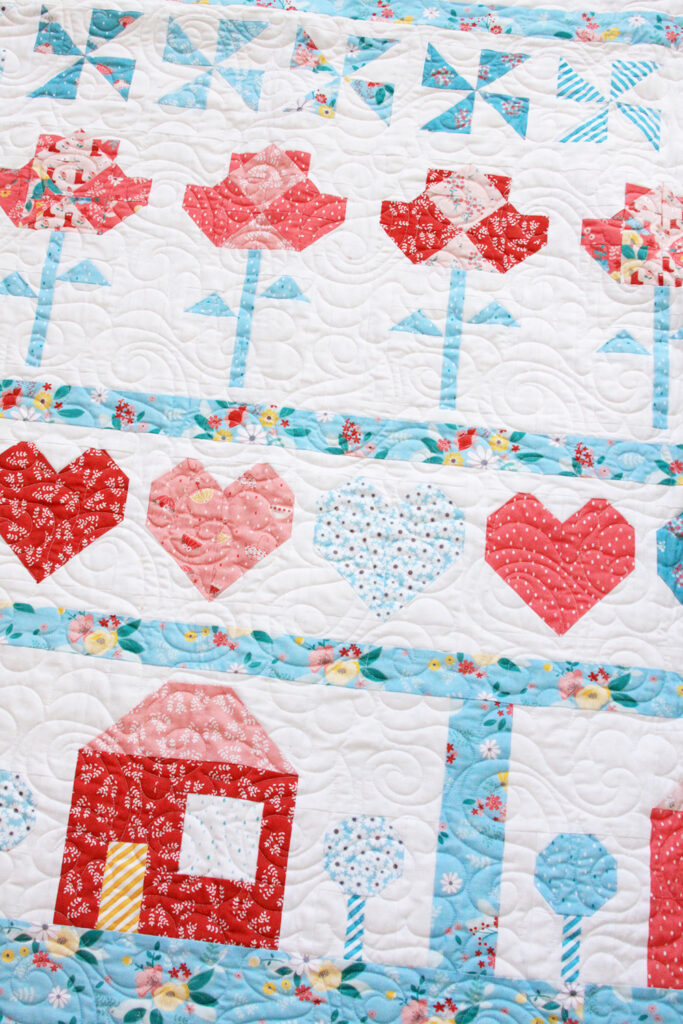 And don't worry if you don't have time to do the entire row each week – there's no time limit! The posts will stay on the blog and videos in the group so feel free to take as long as you like.
To sew along you will need the Singing in the Rain Pattern – you can find that in my shop – Click here for the PDF version and here for the Paper version. For materials you will need:
Singing in the Rain Fat Quarter Bundle (or 21 fat quarters)
1/2 yard lightweight fusible interfacing
1/8 yard dark gray solid
Background print (Riley White) – 3 ½ yards
Border: Singing in the Rain Main Waterfall – 1 ½ yards
Binding: ¾ yard
Backing: 5 ½ yards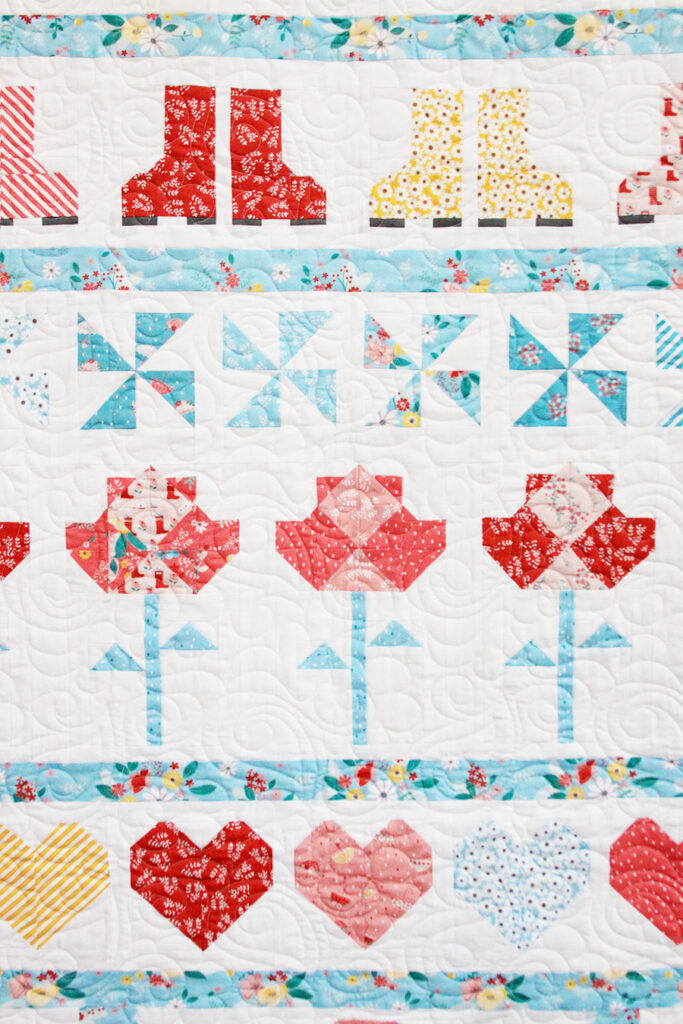 If you'd like to use Singing in the Rain fabric, you can check out my list of shops that are carrying it. Some are carrying precuts, some fabrics, and some have kits so you can dive right into sewing!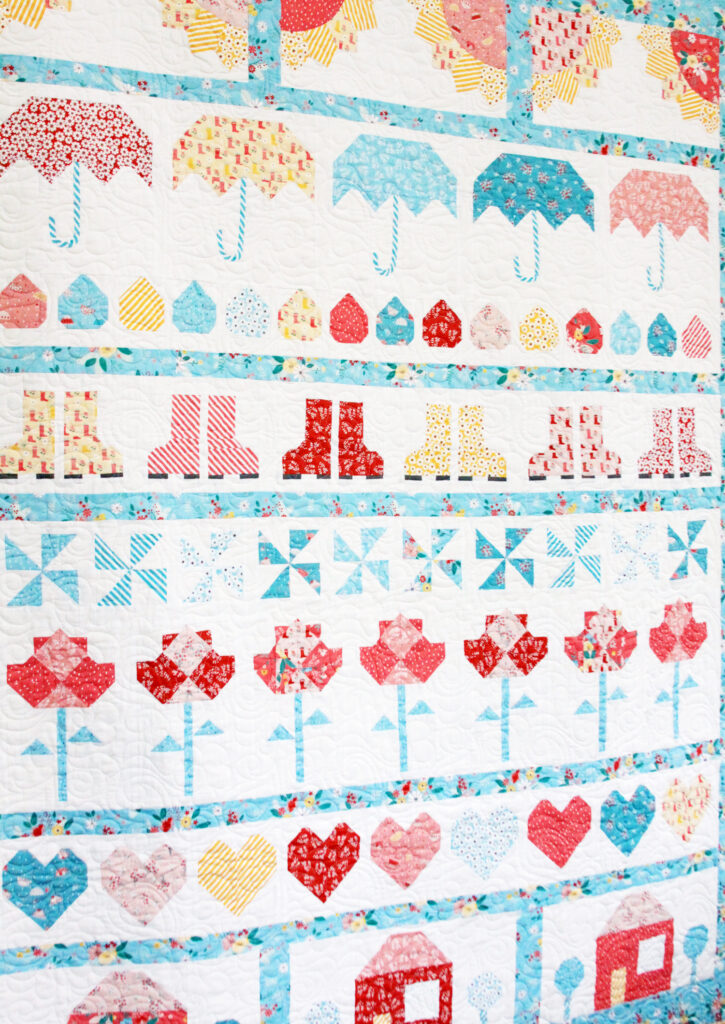 We are having a giveaway to celebrate the kickoff of the sew along but there will also be one at the end!! For that end giveaway, to enter you'll need to share your photos on Instagram or Facebook with the hashtags #singingintherainsal and #singingintherainquilt. Also please tag me @FlamingoToes. Keep in mind I won't be able to see private accounts.
This week to enter, please show off your fabric pulls for the quilt! I can't wait to see what you are sewing with! If you check out the #singingintherainquilt hashtag on Instagram you can see the testers different version – they're all so fun!!
But first let's talk about the giveaway to kick off the Sew Along!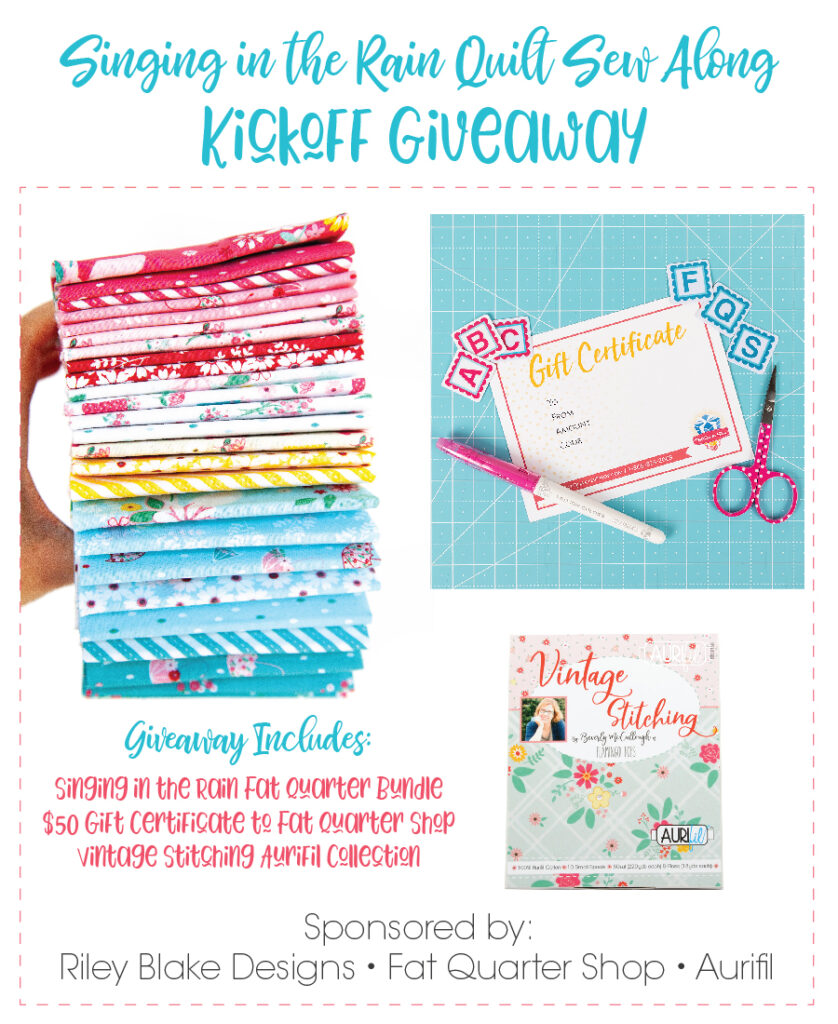 The giveaway to kick off the sewalong is sponsored by Riley Blake Designs, Fat Quarter Shop and Aurifil! The winner of the giveaway will receive a Fat Quarter Bundle of Singing in the Rain from Riley Blake, a $50 gift certificate from Fat Quarter Shop, and my Aurifil Collection Vintage Stitching!
Giveaway is open worldwide and will close next Sunday, May 3 at Midnight. I've tried to give you lots of options for entering – feel free to do one or two or them all! And you can enter whether you are sewing along or not! :)
a Rafflecopter giveaway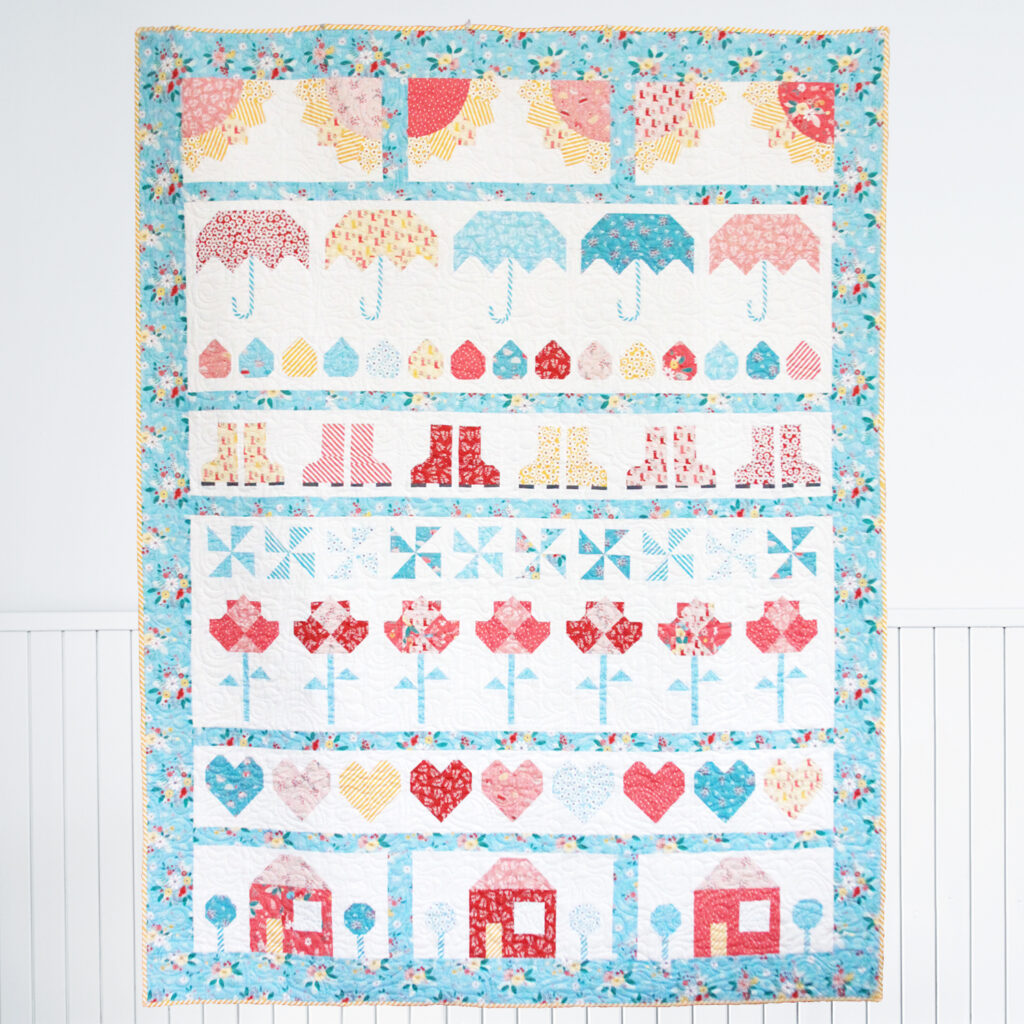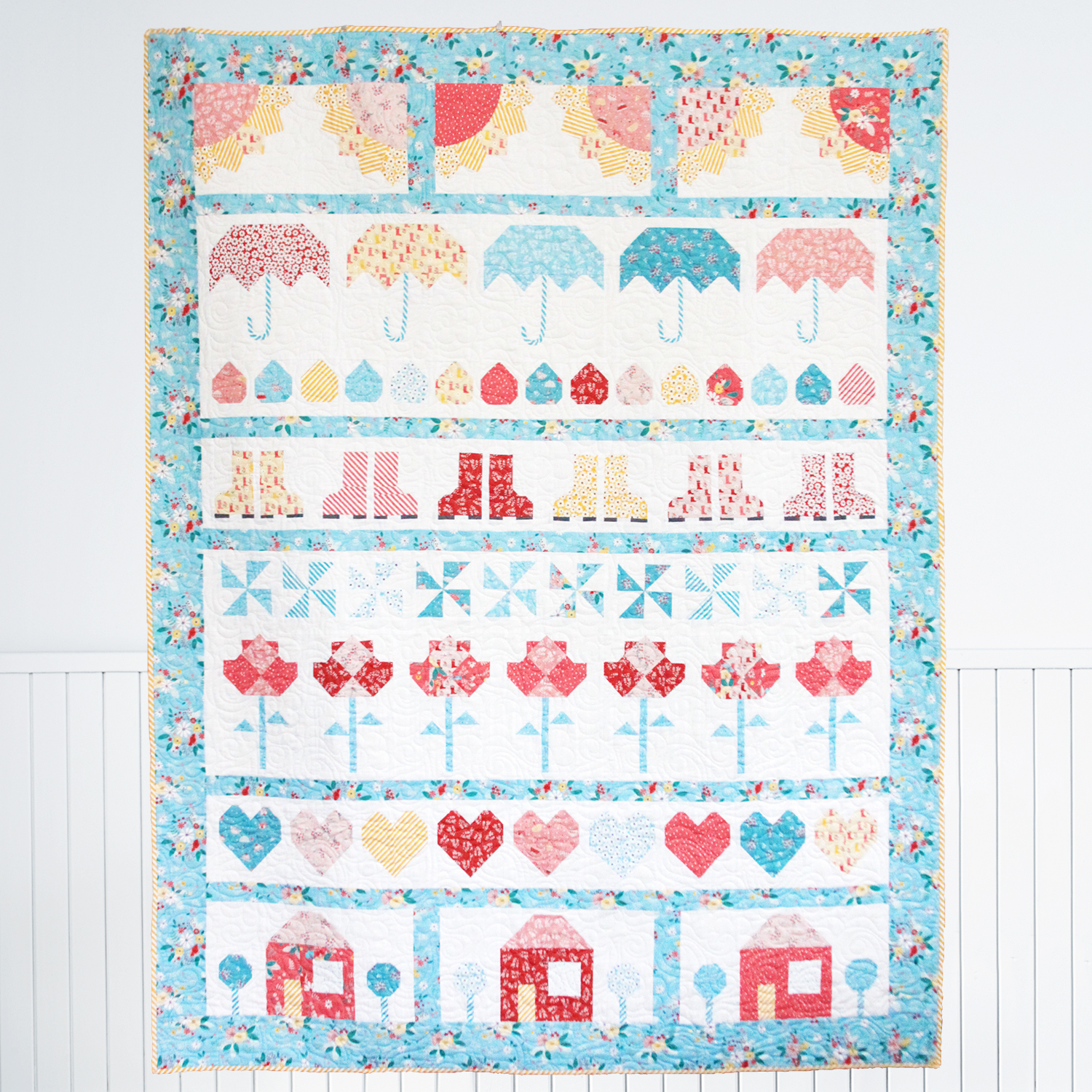 I hope you'll sew along with us! And stop by next week for Row One!!