I'm so excited for today's Scrap Busting Extravaganza post! Today we have the super talented Bethany from Pitter and Glink!
Bethany has a fun paper crafting project, and you all know I'm hopeless at paper crafts. Seriously, it's sad. But Bethany's project is so cute and she makes it look so easy, I think even I could do it!! Love it!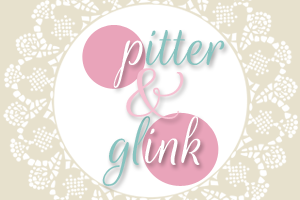 Hey, y'all!  I'm Bethany, blogger from Pitter and Glink.  I love all things pink and glittery (hence my blog name).  I love to decorate, craft, and redo furniture.  I also love to make special little pieces of decor for holidays, and my favorite pieces of decor are ones that I don't have to spend a lot of money to create.  That's why I'm so excited to be sharing my Rolled Scrap Paper Heart Art with you today.  (Well, that and the fact that I adore Bev and her awesome blog, but I digress.)
What I love most about this project is that I was able to not only use scraps to create it, but I also completely crafted from my stash, meaning I didn't buy anything to create this pretty art.  If you would like to make your own rolled scrap paper heart art, you'll need the following supplies:
Wooden Laser Cut Frame
Scrap Foam Board
Scraps of Patterned Paper
Old Sheet Music
Printed Heart
Wood Stain
Foam Brushes (2)
Mod Podge
Hot Glue & Glue Gun
Craft Knife
Scissors
Dowel Scrap or Pencil
Ink Pad (optional)
Paper Rose Scrapbook Embellishment (optional)
To begin, stain your wooden frame. I chose to use a soy stain since I was crafting inside; the fumes aren't as bad as with regular stain.
Once your stain is dry, cut a piece of foam board the size of the opening of your frame plus a little extra overhang so that you can glue the pieces later.
Cover the cut foam board with a piece of sheet music or even a book page.  I recently bought six old hymnals from my local Restore, so I used a page from one of those.  Use Mod Podge to adhere the paper to the foam board.
While your Mod Podge is drying, it's time to make the heart. Find a heart you like online, and copy and paste it into a Word document. Size the heart to fit inside your frame and print it. Cut strips of patterned paper scraps wide enough to cover the heart template.
Roll the paper strips over the dowel (you could also use a pencil) one full rotation and run a thin line of glue over the paper.  Roll a few more rotations and glue the end. Cut off excess paper. Continue to make paper rolls until you have enough to cover the entire heart template.
Lay the rolled paper pieces over the heart template. Cut the pieces to fit the template exactly. I started by laying on piece at the end and lightly making a pencil mark where I wanted to cut the paper. I cut the piece and then glued it to the template. I repeated the process until the entire heart was complete.
Cut the rolled paper heart out. Use hot glue to glue the sheet music-covered foam board to the back of the frame and to attach the heart to the center of that.
If you want your heart to stand out a little more, rub the edges and top with an ink pad. I used a gold ink pad for a subtle look. And then because the top right part of my heart was a little wonky (that's a technical term), I covered it with a paper rose from my craft stash.
What do you think? I just love that this art cost me nothing. Nada. Zilch. I used scraps and what I had on hand, which is a great way to try to tame my craft
hoard
stash that has gotten a little out of control.
I love the vintage look of the piece, but by using a different frame and different paper, you could totally change the look of the art to match your personal taste.
If you like this project, I hope you'll come visit
Pitter and Glink
to check out some of my other projects.
Like my
Craft Room Makeover
(You won't believe what it looked like before!).
Or my
Stitched Geometric Feather Art
.
Or my
Faux Watercolor Happy Girl Clutch
.
And, of course, you can find me on Facebook, Twitter, Pinterest, and Instagram.  I want to thank Bev for letting me visit with y'all today.  Happy crafting!





This is so awesome Bethany!! I have always loved those scrolly wood frames – and your Rolled Paper Heart is so perfect in it! Thanks for the inspiration and for joining in the Scrap Busting Extravaganza!!