I just adore pixel quilts and this Retro Camper Pixel Quilt is super easy to sew up and a great project even if you're a beginner quilter. Plus – who can resist retro campers?!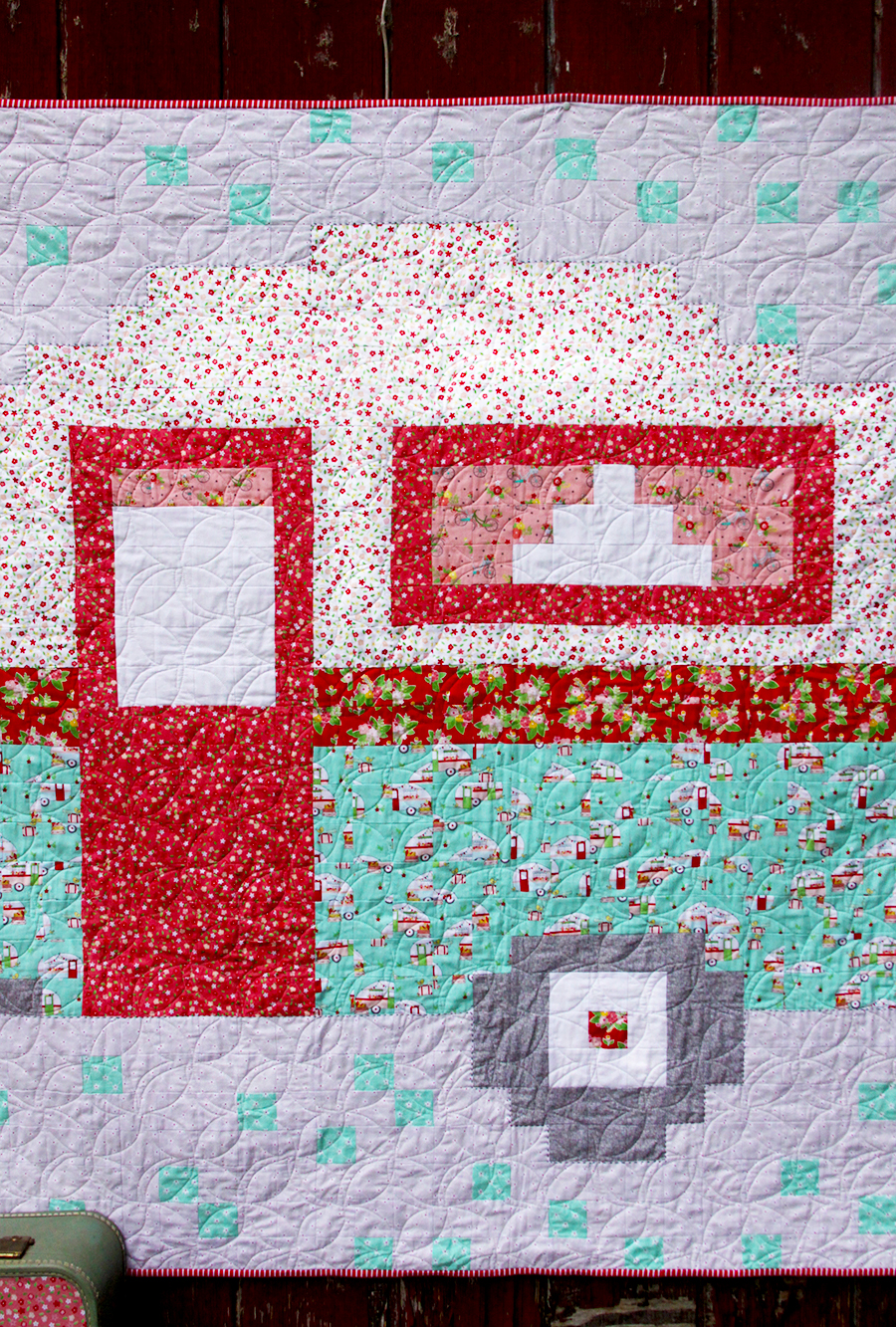 I've used Vintage Adventure fabrics for this quilt from my first fabric line with Riley Blake Designs and I'm excited with how it looks with this quilt. The fabrics have vintage bicycles, retro campers, hot air balloons and lots of florals! I think that it would be fabulous with any fabric though!! The squares end up 2″ x 2″ so small print fabrics would be perfect.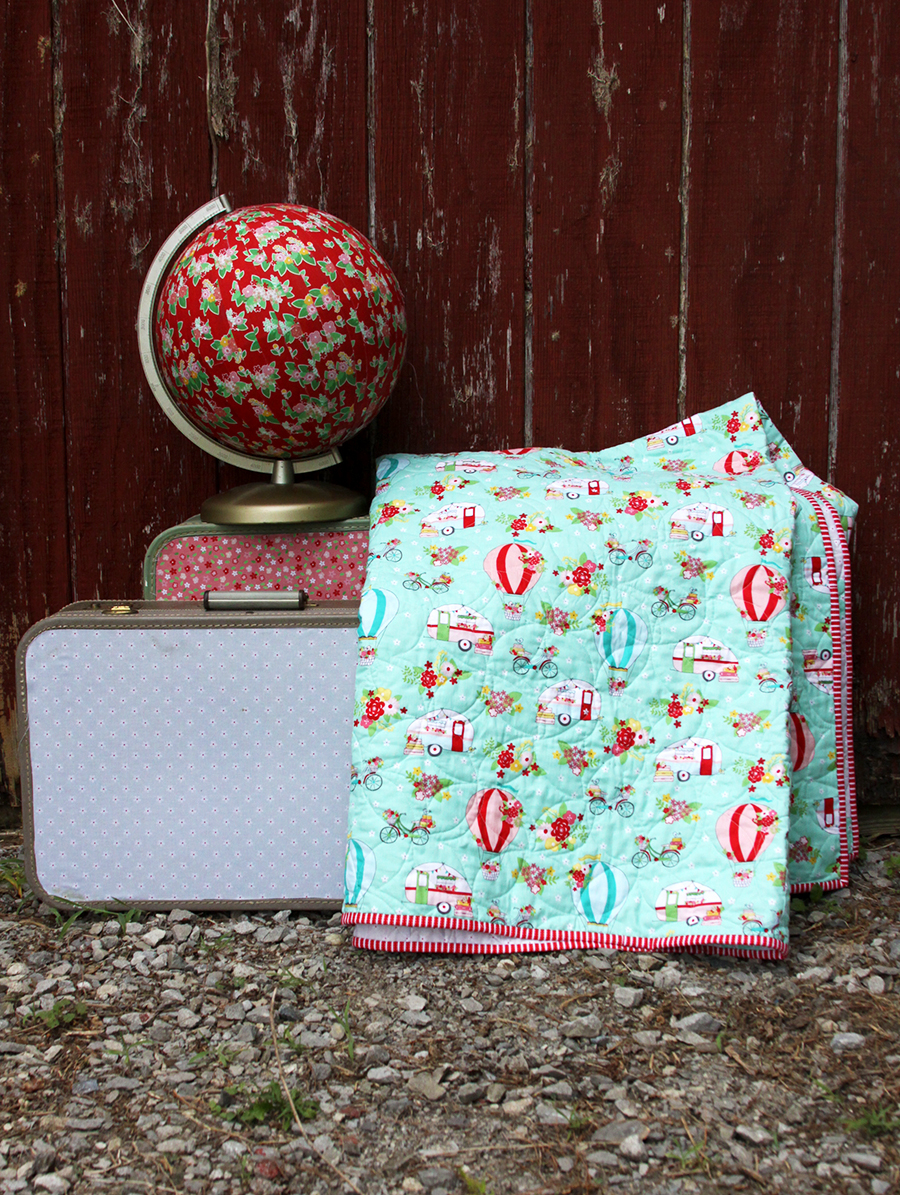 Retro Camper Pixel Quilt Tutorial
Materials:
Quilt Size: 63″ x 83″
Top of Camper – 1 yard – white tiny floral
Windows and Inside of Tire – 1/2 yard – white on white print
Tire and Camper Hitch – 1/2 yard – dark gray
Stripe on Camper – 1/2 yard – red floral
Outline of Window and Door – 1 yard – dark pink
Curtains in Window and Door – 1/2 yard – light pink
Base of Camper – 1 yard – aqua
Background Main – 3 yards (I recommend this having a higher contrast to what I used – it's a little hard to tell the top of the camper from the background in certain lights) – gray
Background Highlights – 1/2 yard – aqua
Backing – 5 yards
Binding – 1 yard
Batting
Optional – DMC Pearl Cotton Black No. 8 for detail stitching
Or, if you would like to purchase a low cost, ad free PDF version of this pattern that includes all the directions below and is designed for easy printing, visit my shop. Thanks!
Cutting:
Print out the quilt layout before you get started. This will help you know where the different colors go and how to sew everything together. I also recommend having a rotary cutter and mat for cutting out your squares. The process will go much quicker and be  more accurate than cutting them out by hand.
All the pieces for the quilt are cut at 2 1/2″ x 2 1/2″ squares. Cut your fabric into 2 1/2″ strips, then cut those strips into 2 1/2″ squares.
Cut the fabrics into the following number of squares:
White Tiny Floral – 160 (top of camper)
White Solid – 37 (windows and tire)
Dark Gray – 31 (tire and hitch)
Red – 53 (camper stripe and detail on tire)
Dark Pink – 94 (door and outline of window)
Light Pink – 22 (curtains)
Camper Aqua – 153 (base of camper)
Background Gray -574 (background main)
Background Aqua – 77 (background highlight)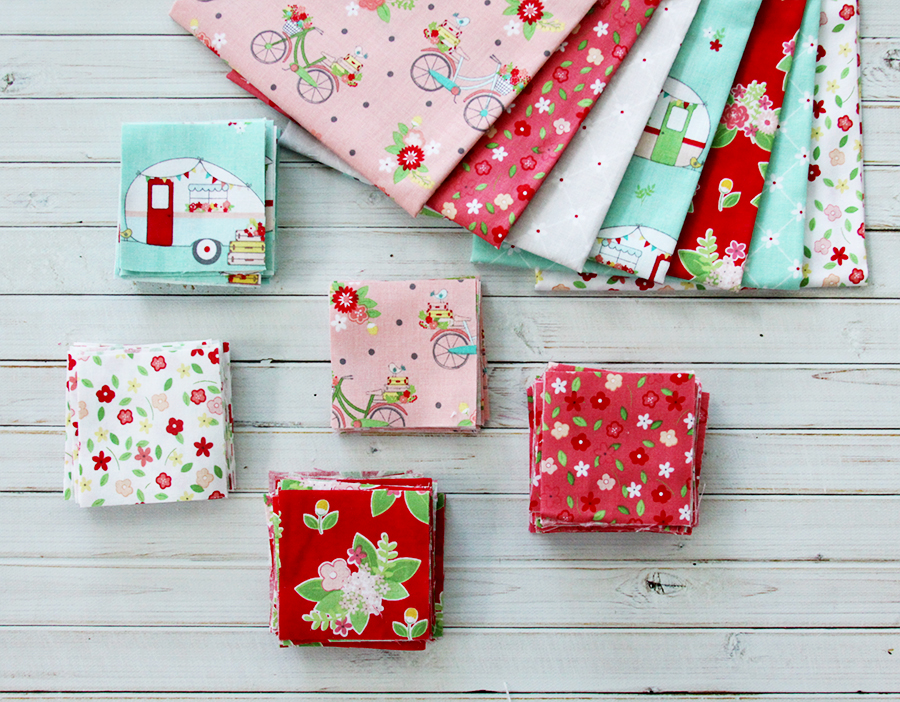 Keep workable stacks of your fabrics near your sewing machine so you can pull each color square as needed. Chain stitching will also make your piecing go much faster throughout the quilt.
Assembly instructions: (all seams are 1/4″ seam allowance)
Start with the top left block square on the pattern. Sew together the first and second blocks, right sides together, in all five rows of the top left block.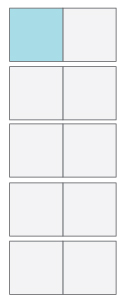 Cut the blocks apart. Sew the third blocks in the column to the second blocks in each row.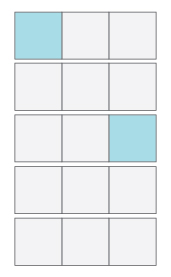 Repeat with columns four and five. You should now have 5 rows of 5 blocks.
Press the seams to one side on the back but alternate which side you press to for each row. For example, press the top row to the left, the second row to the right, and so on. This will help the seams nest together.
Sew row one to row two – right sides together and meeting seams. Try to get the seams to line up, but also don't worry too much if they're the tiniest bit off. People will be so dazzled with your awesome camper quilt that they won't notice if a few of your seams are off. :)
Continue sewing the top row of blocks together, just the way you did with block one. You should have 8 blocks for the first row.

Sew the blocks together to form Row 1 of the quilt. Only 5 more to go! You can press the seams open, or press them to the left. If you press them to the side, press the row two seams to the right, and alternate as you continue down the rows so the seams nest together.
Refer to the pdf pattern and repeat these steps down each row of the quilt. Because there are so many little squares, I found it easier to assemble each row as I completed the blocks. This keeps each block in the correct row and you can make sure you have the alignment and direction correct.
Once you have all six rows finished, begin sewing the rows together. Sew row one to row two, lining up the block seams and pinning. Next, sew row 3 to row 2 and so on down the quilt. Press the long row seams open and give the quilt a final pressing.
Quilt and bind as desired. Mine was quilted with an all over orange peel design by Julie Williams.
After quilting I decided I wanted my camper to pop a little more so I stitched around the entire outline of the camper with a running stitch using Black DMC Pearl Cotton. I love that it helps the white to stand out a little more on the gray background print!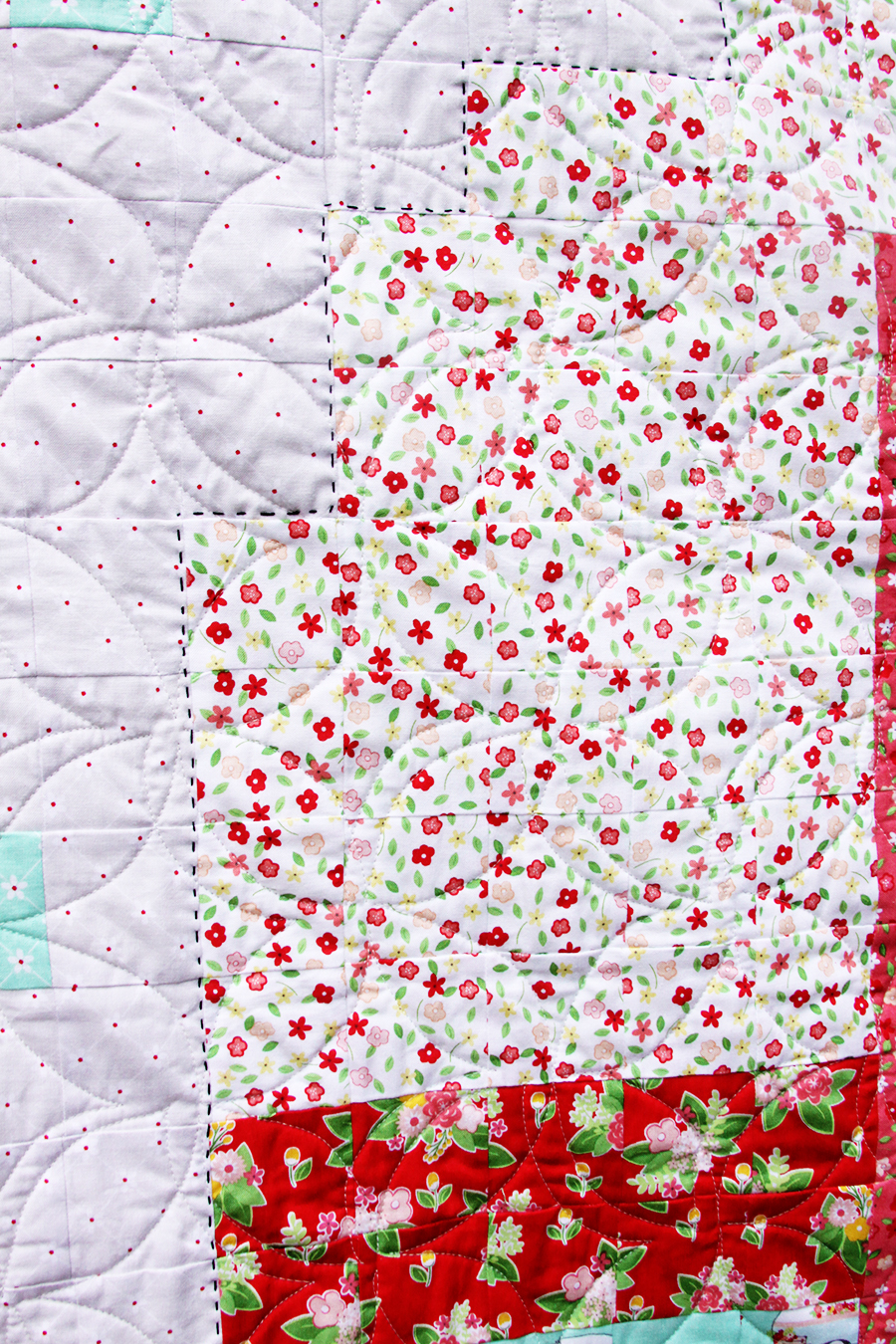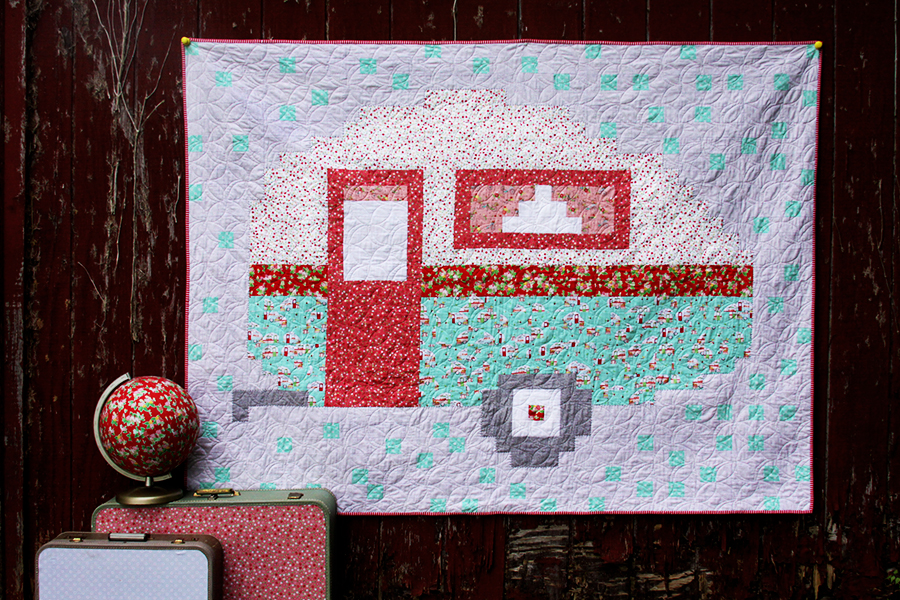 I can't wait to see your versions of the Camper quilt! If you share any photos on Instagram use the hashtag #camperpixelquilt so we can see how great they look!