Ok wow – we are getting close!!
17 Days Left till Christmas! Ack!! I am so not ready. Like . . . . really not ready!
I can't show you my list – because, well – it's a secret. But it's loooonnnnnng.
And those are the things I KNOW I need to do. That doesn't include all the gifts I haven't even figured out yet.
I'm in trouble.
What about you? Are you sailing through the season – with all your gifts wrapped in snazzy homemade paper, sitting there sipping eggnog while I rush around like a crazy person?
No? Ok – I have some ideas for you. All these can be put together pretty quick – with relatively little fuss and mess. I think.
The Dutch Wax bracelet looks complicated – but it's really just a lot of gluing and wrapping. Except for the yo-yos – and if you put on Christmas Vacation you can get through those before the cat sets the tree on fire.
Don't forget about these awesome Party Animal Necklaces for stockings! A tube of animals and  more quick gluing and you can have one for everyone!
These Candy Jars would make fun neighbor or teacher gifts – there is a printable for the fabric labels and you could whip up a set in an hour – or even less if you use paper!
The Bicycle bag would be a cute gift for any of your girlfriends – you could fill it with treats or a gift card or some tea or coffee!
This is one of my favorites – my Recipe Binder! It would be so fun to give with a set of measuring cups/spoons – or with a few of your favorite recipes inside!
Last year I did this cute sewing kit – it's mostly a few supplies and then printed fabric! The link has several animals you can print out for the little sewer on your list.
Is your husband/boyfriend hard to buy for? A stitched love note would be sweet and unique! You could leave the roses and rick rack off the frame to make it a little more "manly" haha.
This post from last year has a few gift ideas including these fun Date Night gift card holders! I have the images for you to download and quick instructions to sew them up!
This one is already on my list to use – it's a cute way to package up a Magazine Subscription! Buy the magazine – print out the card – wrap it up – bam! Quick, easy, awesome gift.
So I hope my little roundup helps you with ideas – or maybe triggers some ideas of your own!!
Now – I'd love it if you help me out! Do you have any quick ideas for gifts? I could use some children and teenager ideas especially if you've got them!
~~~~~~~~~~~~~~~~~~~~~
P.S. I'm over at sweet Allie's site today, Miss Lovie, as part of her Anniversary celebration!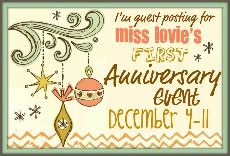 Come check out my cute new ornament!
Thanks a bunch! :)