I love all types of embroidery – florals, decorative stitches, word art and more. They're all so fun and pretty. But sometimes it's fun to do something a little silly too. I mean, we can't be serious all the time right?
Today I'm sharing the pattern for a fun little hoop – a take on an adorable Mason Jar design. But instead of a Ball Mason Jar – I have tweaked it a bit for all you go-getters out there and stitched Baller instead!
This is a great beginner design to stitch – it just uses a simple back stitch. You can find the how to for that stitch on my Embroidery Tips page.
Materials:
8″ base fabric
8″ light mason jar fabric
DMC Embroidery Floss
Small amount of trim and ribbon
6″ embroidery hoop
Needle
Hot Glue and Glue Gun
6″ circle of felt
Instructions:
Download and printout Baller Mason Jar Embroidery Pattern. (This pattern is for personal use only.)
Trace design onto a light fabric.
Stitch outline and large curve at bottom of mason jar with 2 strands of DMC floss. Stitch all other lines and words with 1 strand of floss.
Press the design onto fusible webbing. Trim around the mason jar outline, 1/3″. Press the design onto your base fabric.
Add trim and a little bow for decoration.
Trim fabric around embroidery hoop to 1/2″ past hoop. Glue the fabric to the back side of the hoop frame.
Glue felt circle to back of hoop.
That's it!! Super easy and cute right??
I love the look the little trim gives the hoop!
What do you think? Do you like to do fun embroidery designs?
You might also want to try
You're My Jam Embroidery Hoop Art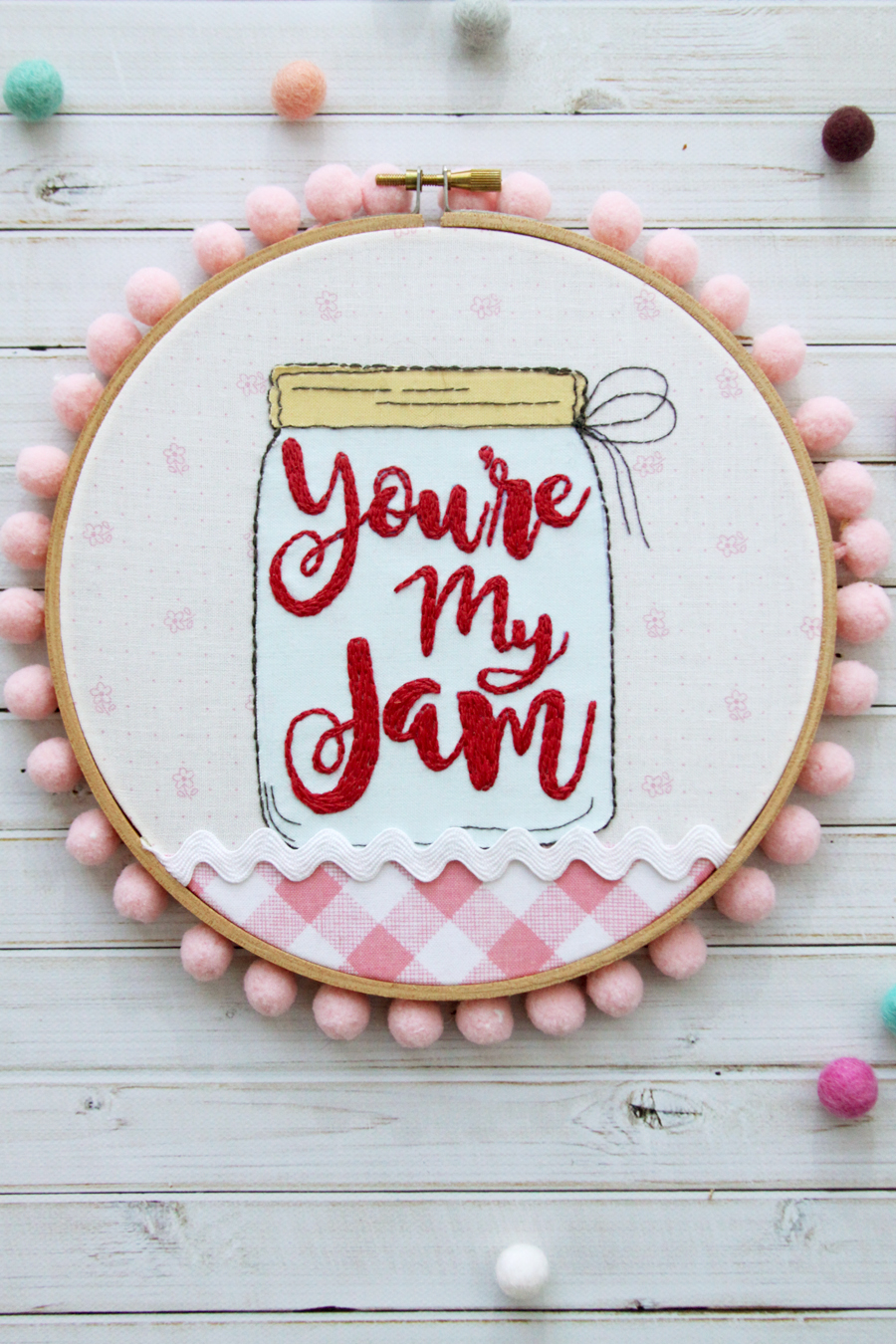 Life Is Sweeter With You Hoop Art