I'm so excited to announce that my newest book, Make It Mini – 13 Mini Quilts with Embroidery, is released! I can't wait for you to see this fun new book!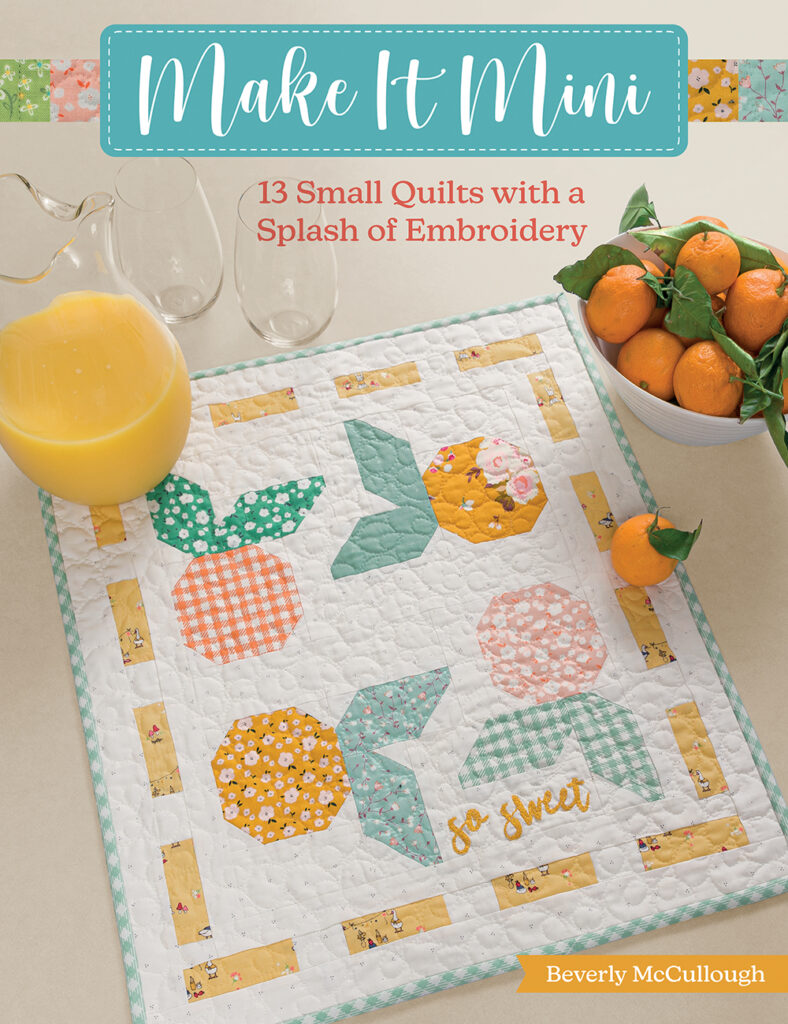 Make it Mini has thirteen small quilt projects, all with a little touch of embroidery! There is everything from the darling citrus quilt on the cover, a barn, sweet florals, and bees, to hexies and mason jars! There is something for everyone. The quilts have a mix of embroidery, some have stitches as an accent, and on some quilts, it is the star.
I've also tried to make the quilts really flexible for you! For each quilt, there is a tip on how to make it your own with different options for embroidery, fussy cutting, and ways to change up the quilts so there is no embroidery if you'd prefer that.
Let's take a look at the projects in the book! All the projects are made with Riley Blake Designs and Aurifil thread and I've listed each fabric collection for each quilt. Feel free to change up these fabrics of course to make the quilts your own!
Make It Mini – 13 Mini Quilts with Embroidery
A Fresh Start
The first quilt in the book is a great one to start with! The design is made up of a series of flying geese blocks, all pointing out a pretty floral bouquet. The fabrics collection I used in this quilt is Whimsical Romance by Keera Job.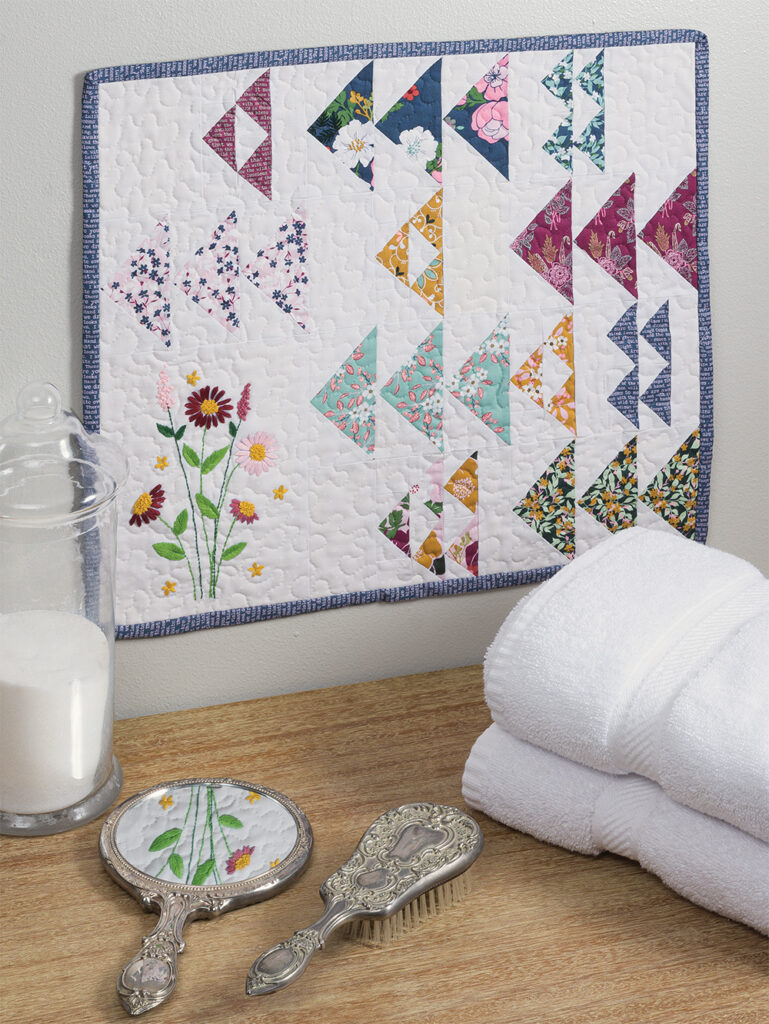 Spring Flowers
Spring Flowers is made up in my Stardust fabric collection with a pretty floral heart embroidered in the center. This quilt would be really fun in holiday fabrics too!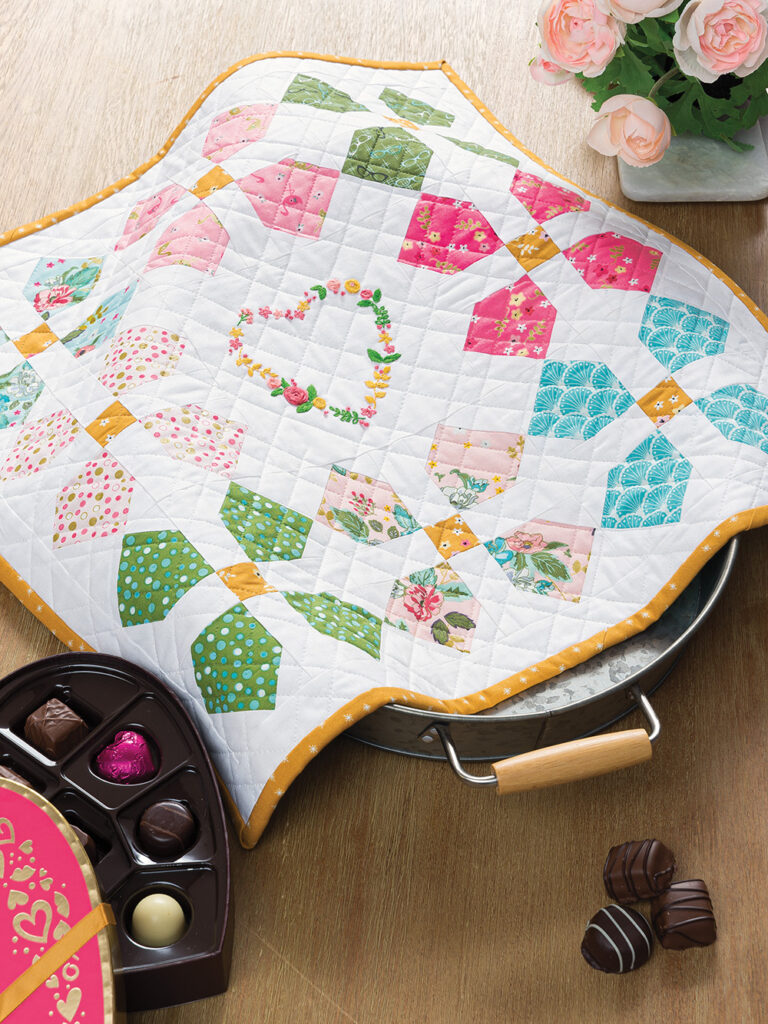 Daisy Farm
One of my favorite quilts in the book is this sweet Daisy Farm Barn Quilt! Those big daisies below the farm are so fun to stitch, but you could add a floral print there instead! I used Blossom by Christopher Thompson for this quilt, and a great Riley Blake mini stripe for the binding.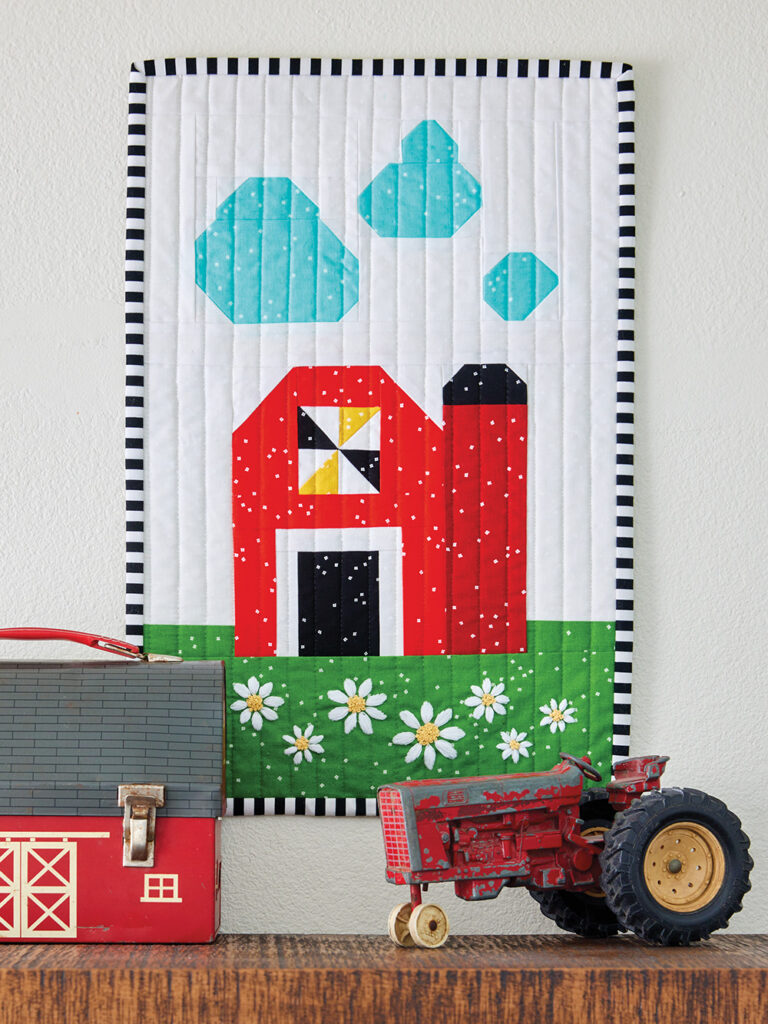 Stepping Stones
This sweet mini quilt has a gingham vibe to the design, with little florals embroidered in the corners. This quilt makes a great table topper (as shown) or you could use it as a wall hanging. The prints in this quilt are from the Heartsong Collection by Gabrielle Neil Design.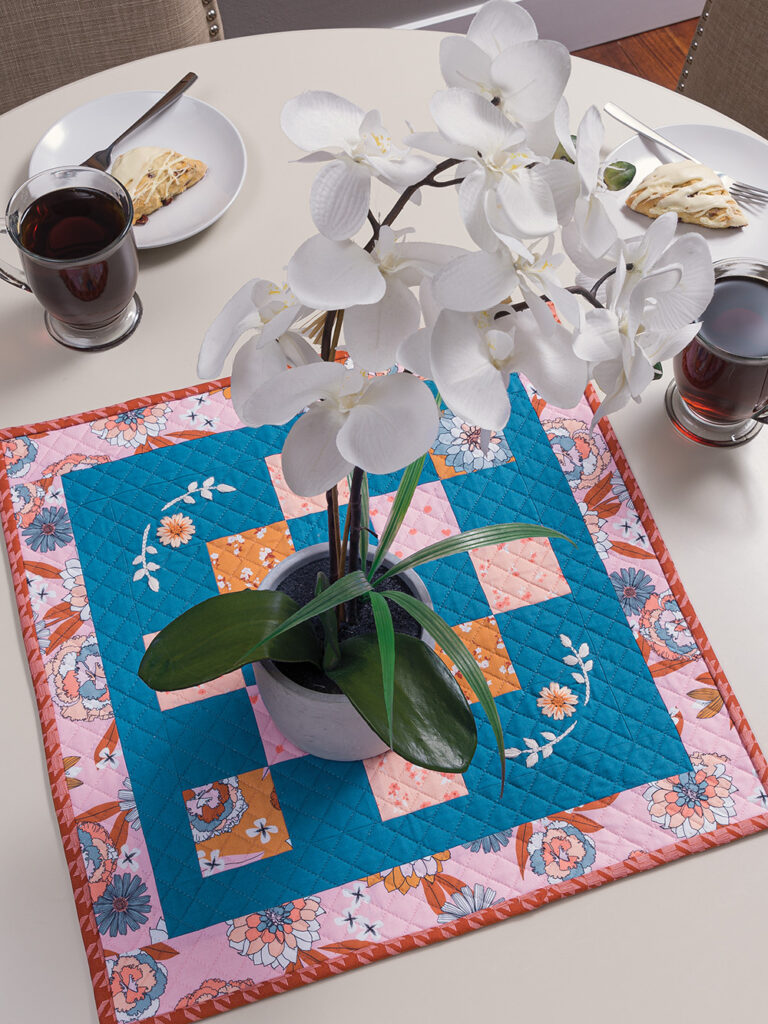 Blooming Heart
The Blooming Heart mini makes such a great gift for a friend!! It has a sweet heart "flower" and a patchwork section, made up of a mixture of print and stitched flowers. This little sweetie is so fast and fun to make! The fabrics used are Indigo Garden by Heather Peterson.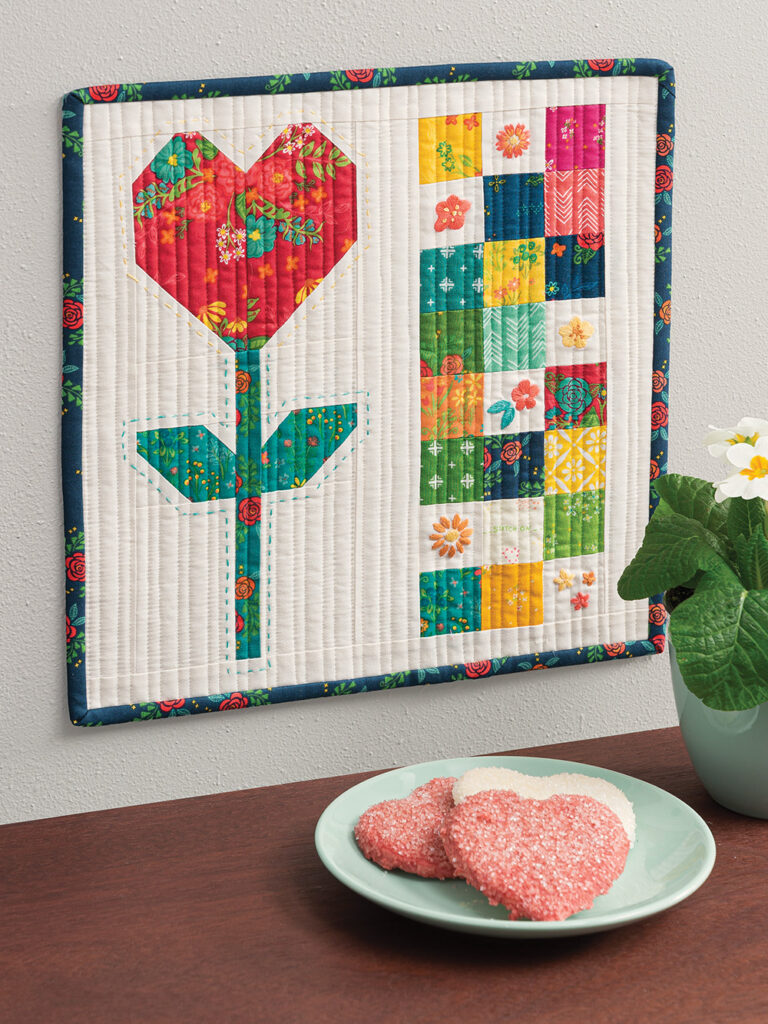 Bee-utiful Day
Isn't this a fun little quilt?! It is decorated with little flowers and a sweet little bee heading to its hive. The fabrics in this quilt are Gingham Foundry by My Mind's Eye. I am planning another version in my Daisy Fields fabrics as well, they are coming out in August and I think they'll be great for this little quilt!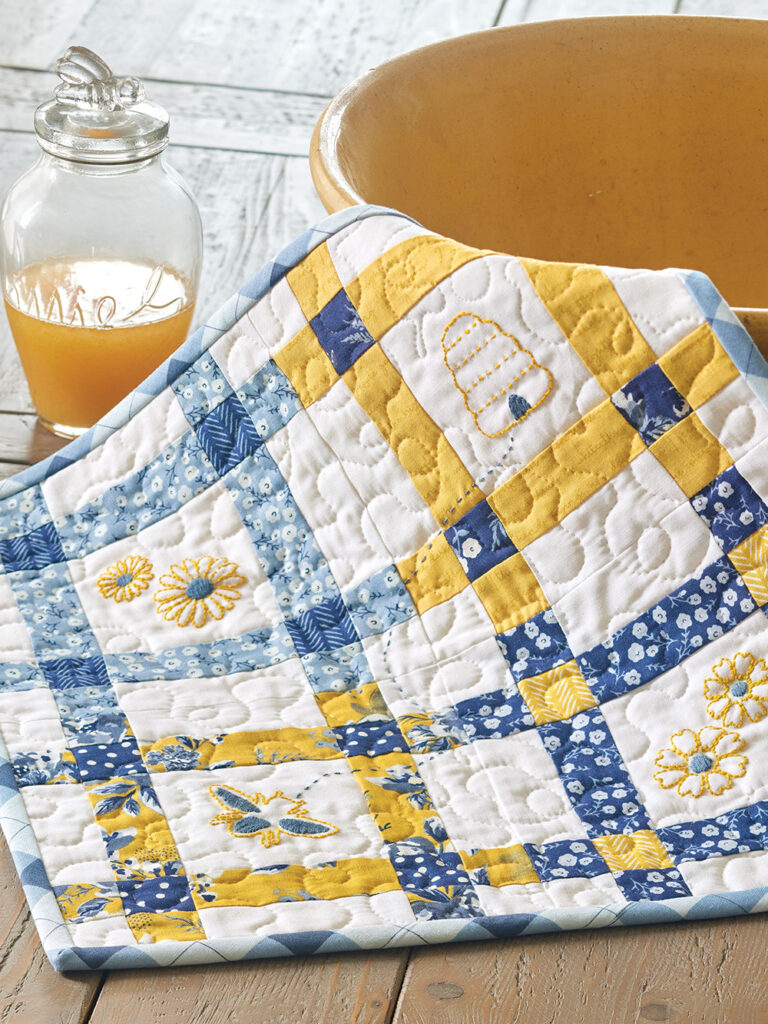 Hexie Flowers
If you've been wanting to make an English Paper Piecing project, but you don't have time to make an entire quilt, this is just the mini quilt for you! It is covered in little hexie flowers and decorated with stitches to continue the hexagon theme. The print fabrics are from the Stitch collection by Lori Holt.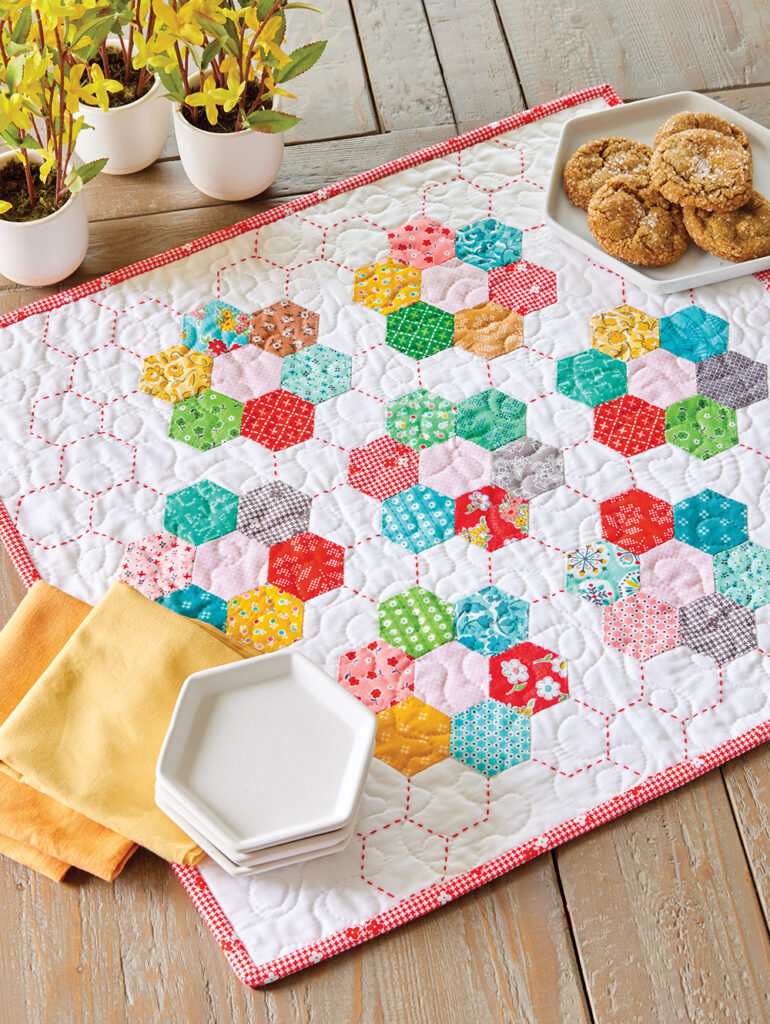 Home Sweet Home
Home is our favorite place to be! This mini quilt is made up of a pieced house block and decorated with a little quarter Dresden sun. It also has a little embroidery that says "home sweet home". Wouldn't this be great as a housewarming gift? The print fabrics are from the Primrose Hill collection by Melanie Collette.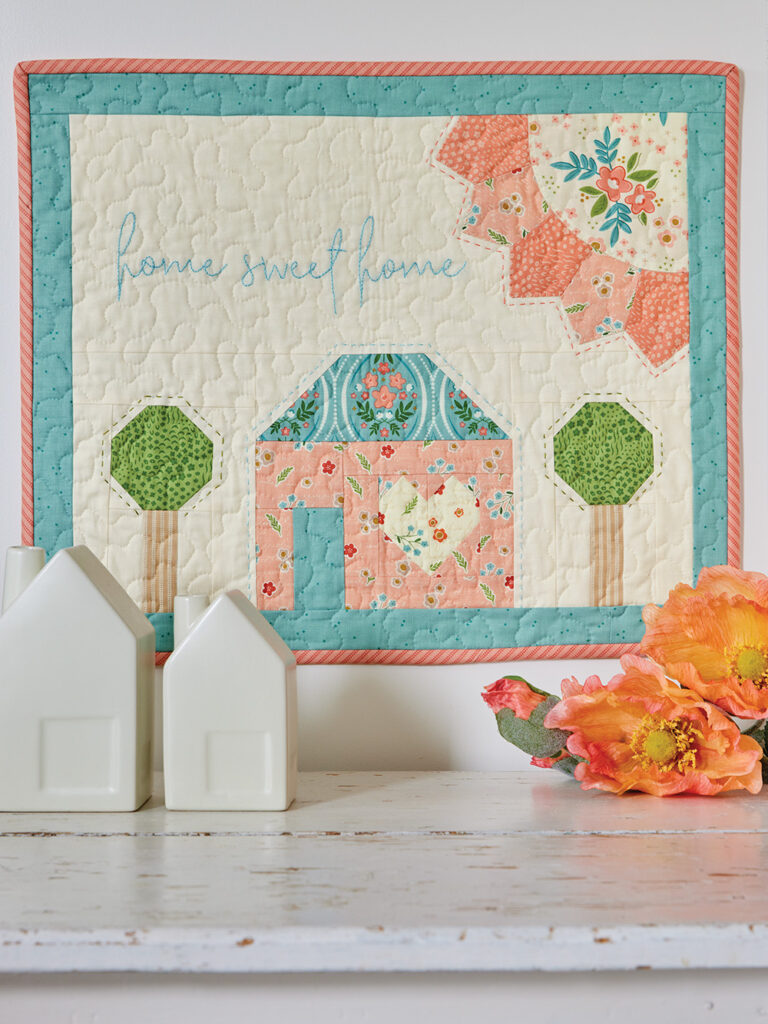 Garden Rows
This blooming row of flowers is decorated with the sweet garden words; plant, grow, and bloom. It would be so fun to change it up and customize it for the things you love, just by changing up the words! These fabrics are from the Beneath the Western Sky collection by Gracey Larson.
Sweet Orchard
This is the cover girl of the book! This darling quilt is decorated with a little phrase, "so sweet". I made my fruits into oranges, but you could change them up with different colored prints and make apples or peaches! These prints are from the Hidden Cottage collection by Minki Kim.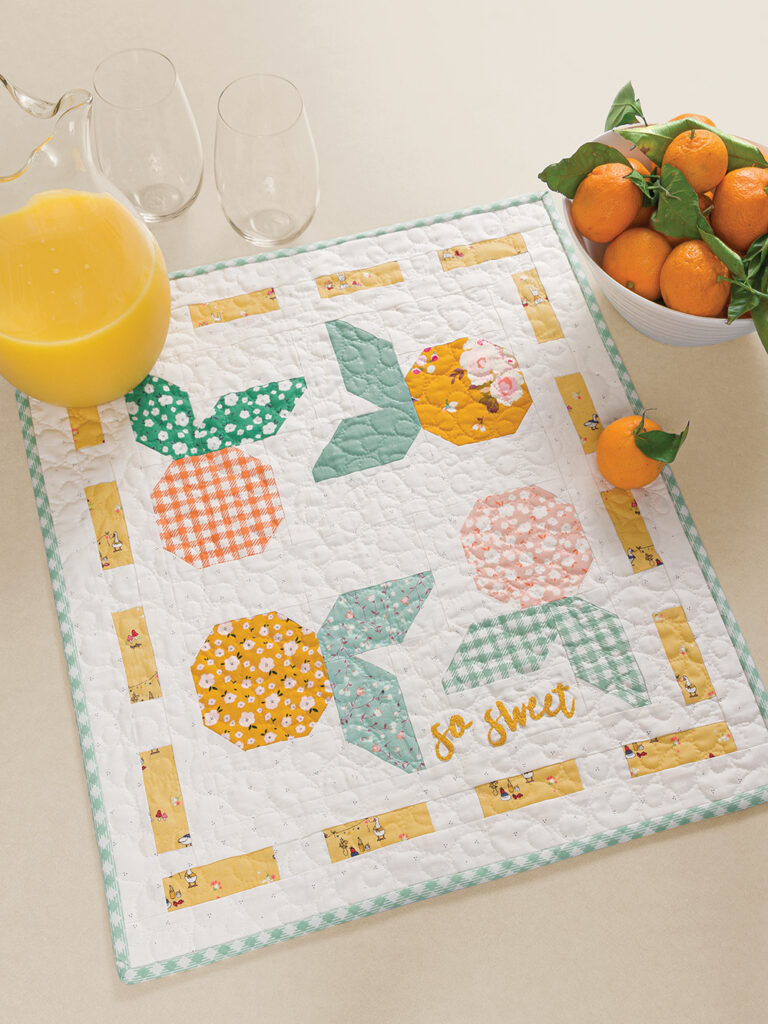 Vintage Bouquet
This is the smallest mini in the book, but the embroidery really shines in it! I just love mason jars full of flowers, and I had so much fun creating one in fabric. These prints are from my Stardust collection and this quilt would be so easy to make your own with different fabric and floss colors.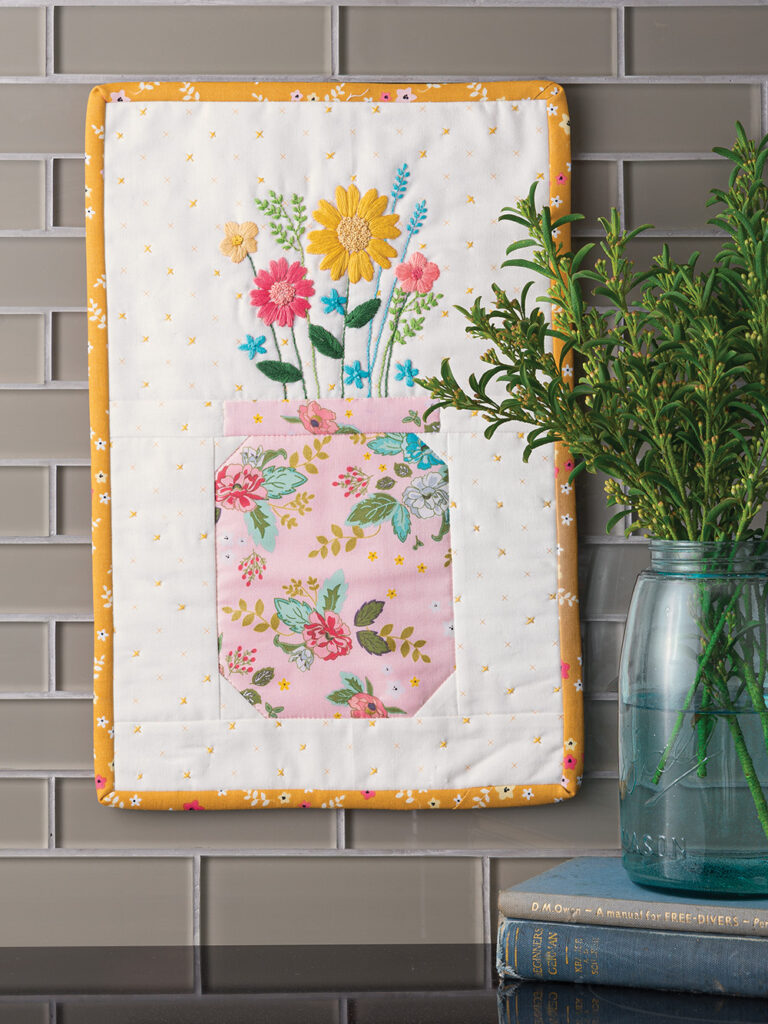 Love to Quilt
We all love to quilt, right? Show off how much you just adore stitching with this fun mini quilt, decorated with phrases like Quilt, Sew, and Love. This quilt is made up of darling Quilt Fair fabrics by Tasha Noel.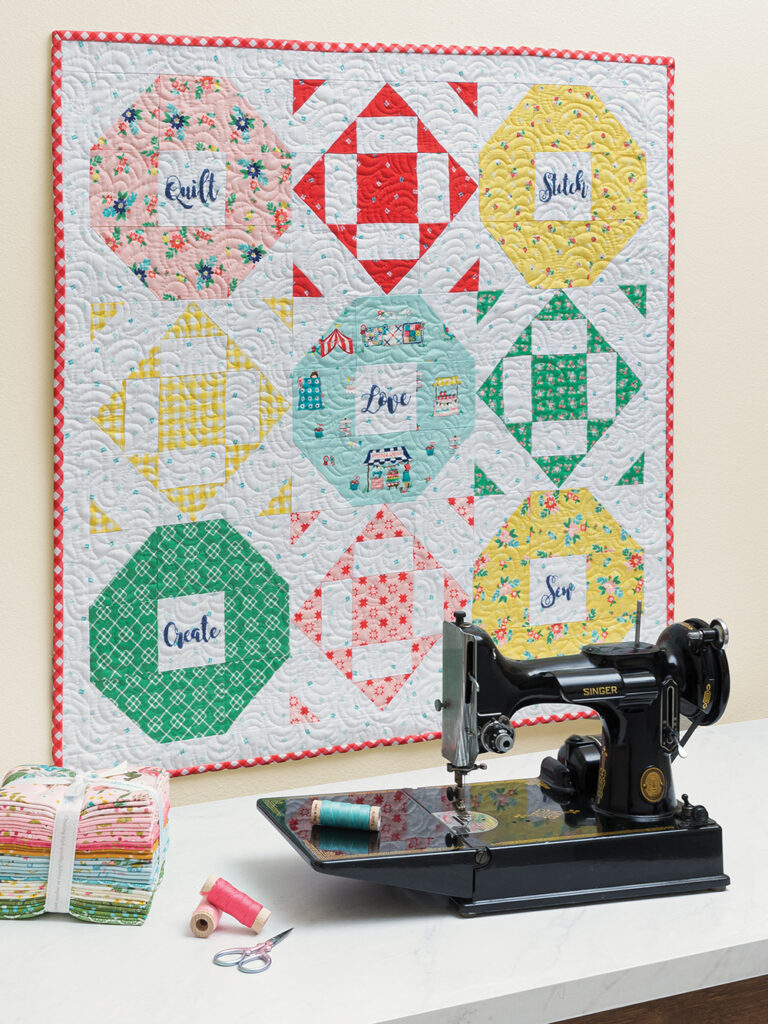 Walking on Sunshine
These little curved blocks make me just want to skip! (I won't, because I'd trip, but the thought is there.) Don't be afraid if you've never done curved piecing, this little quilt is the perfect place to start. It is embellished with a sweet little floral wreath in the center to finish it off. The fabrics are from the Saturday in Paris collection by Christopher Thompson.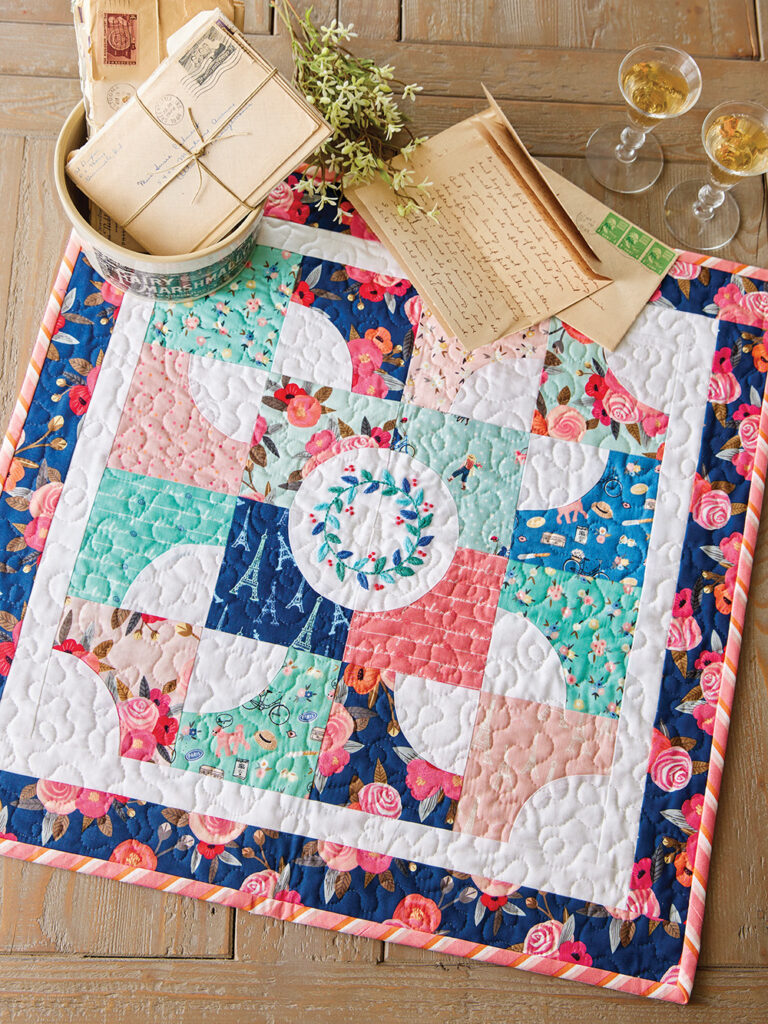 And that is it! All the quilts in my new book. Do you have a favorite? I'd love to hear!
You can find the book in your favorite local and online quilt shops as well as Amazon and Barnes and Noble. I also have signed copies in my shop!
I can't wait to see what you make with the book! At the end of July, we'll be kicking off an amazing book tour – two weeks of seriously fabulous designers showing their own versions of the quilts! It is going to be amazing!! Take a look at this lineup:
Make it Mini Book Tour – Coming Soon!
Isn't it exciting!! It's going to be so fun!!