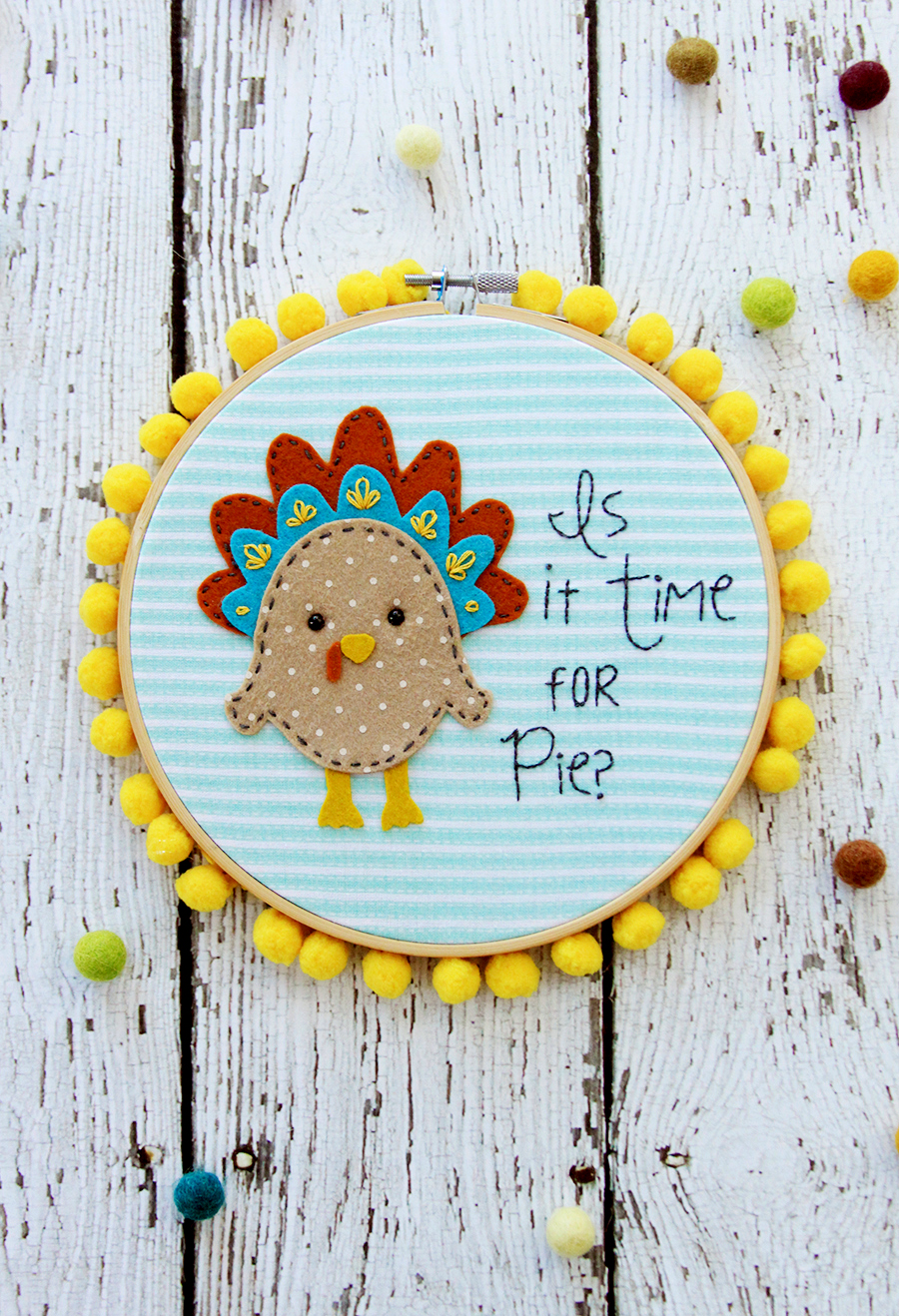 With Thanksgiving just around the corner – I thought it was high time that we had a cute turkey embroidery hoop! Especially one that asks if it's time for pie – because really. That's the question we all want answered!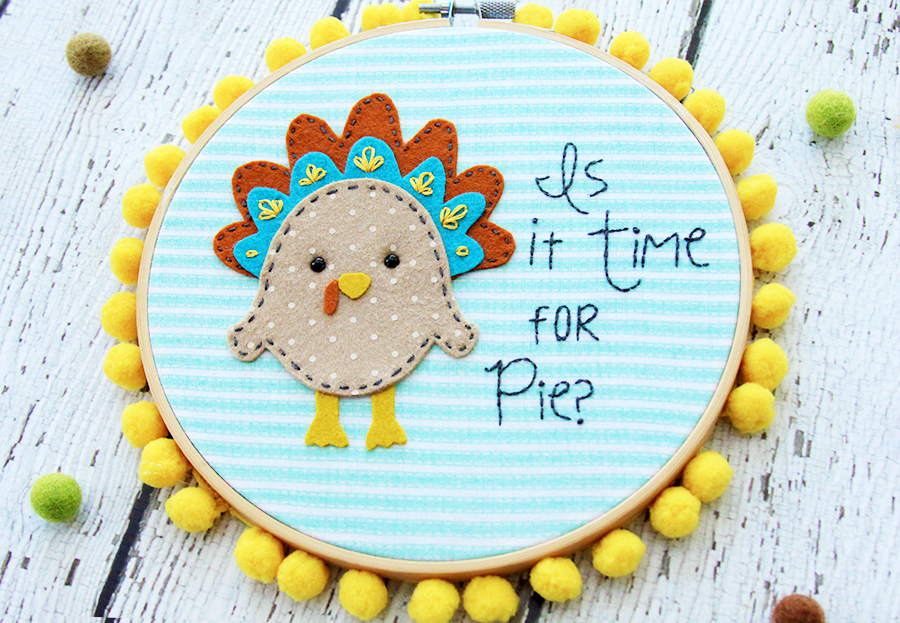 This cute hoop is a mix of simple embroidery and fun felt. And of course a cute little turkey! I really love how fat he is. :)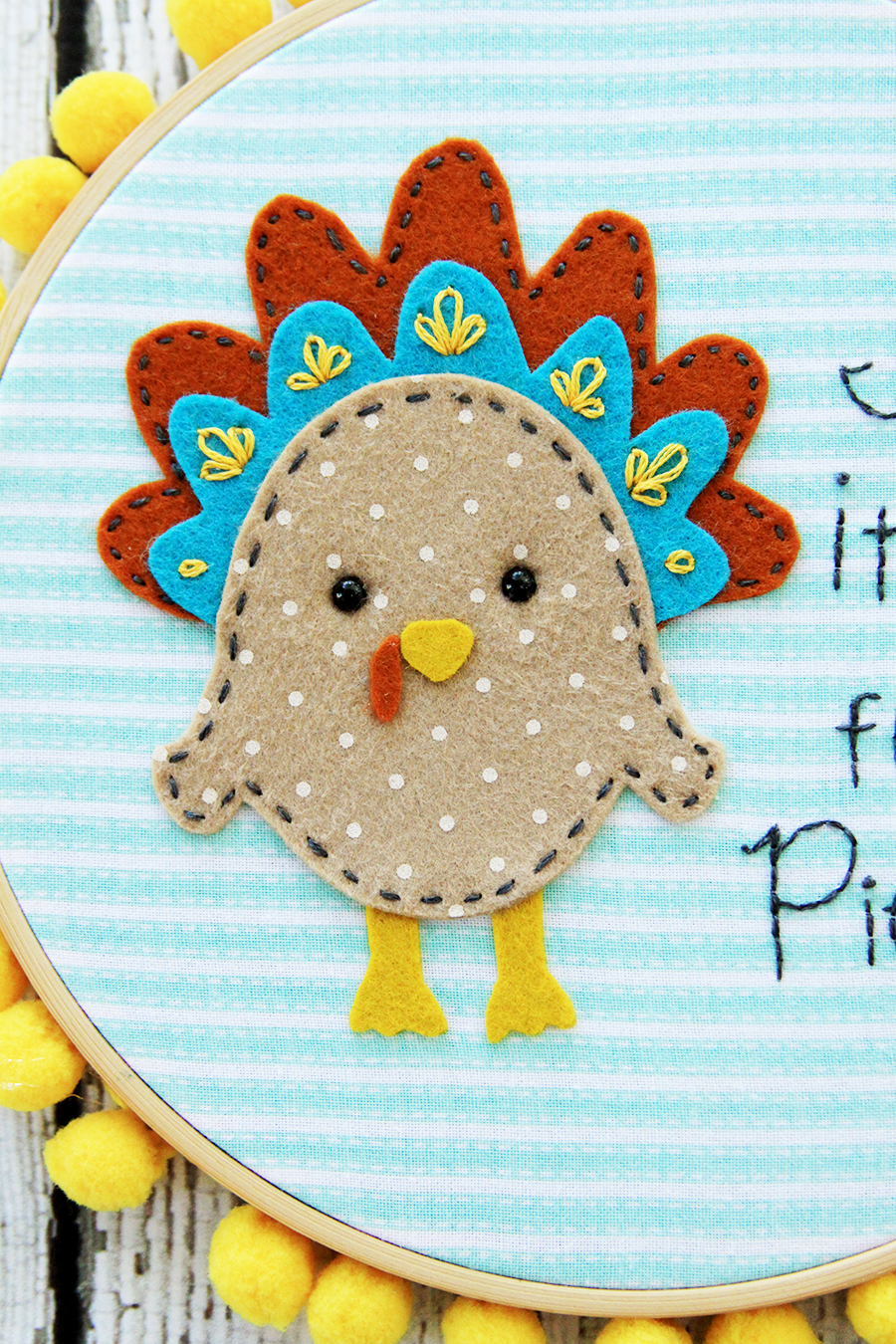 I shared this free pattern over on the Ottlite blog a few years ago but I never made up the hoop, and I wanted to add a little extra embroidery! I love the little lazy daisies on the turkey feathers.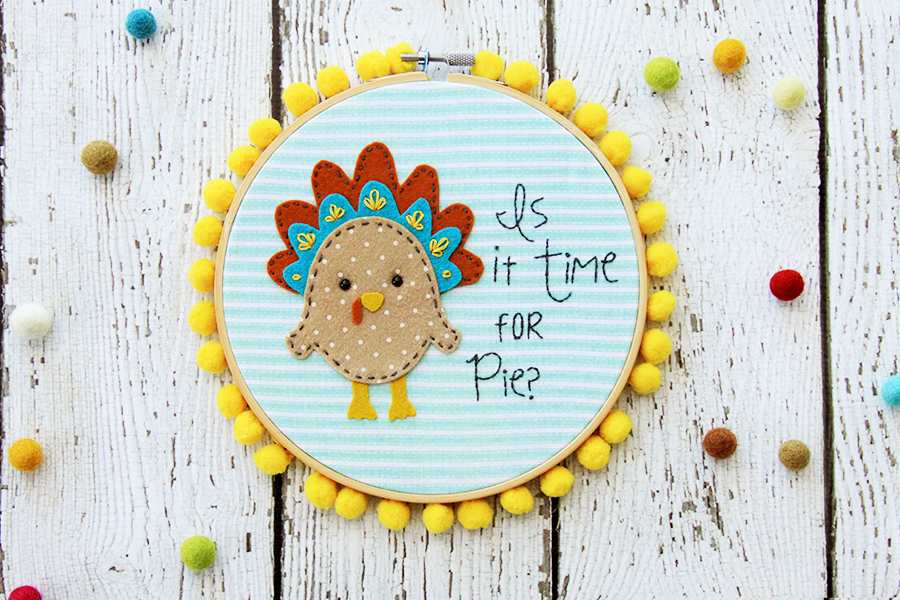 Here's what you'll need to make your own!
Materials:
10″ square of background fabric – I used the Vintage Adventure Aqua Stripe
Four colors of wool or wool blend felt. I used brown polkadot, aqua, rust and mustard
Embroidery Floss – Dark gray and mustard
HeatnBond
Small scrap of fusible fleece or felt
7″ embroidery hoop
1 yard yellow pom pom trim
4.5mm safety eyes
Glue
Marking Pen
Instructions:
Transfer the lettering pattern to the background fabric.
Iron fusible webbing to the wool felt. Cut out the shapes for the turkey, feathers, feet and nose.
Layer the feathers and turkey onto the fabric according to the pattern. The wool felt is rather thick with the feathers so add a piece of fusible fleece of felt scrap under the lower half of the turkey body so the turkey lays flat and doesn't have a little ridge from overlapping the feathers.
Embroidery the turkey by outlining the body and the largest feather with a small running stitch. Stitch lazy daisies along the middle feather.
Using the pattern, mark the location of the eyes. Using sharp embroidery scissors, pierce a small hole through the felt and fabric for the safety eyes. Be really careful not to make it too big. Put the safety eyes in place.
Embroider the lettering with a back stitch.
Show off your cute new hoop!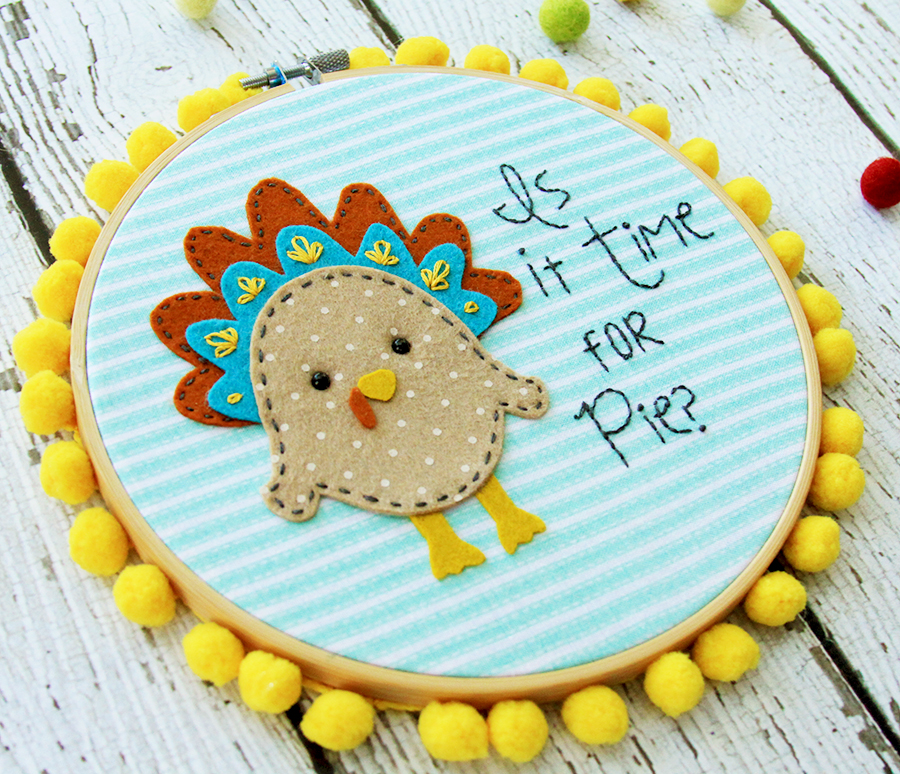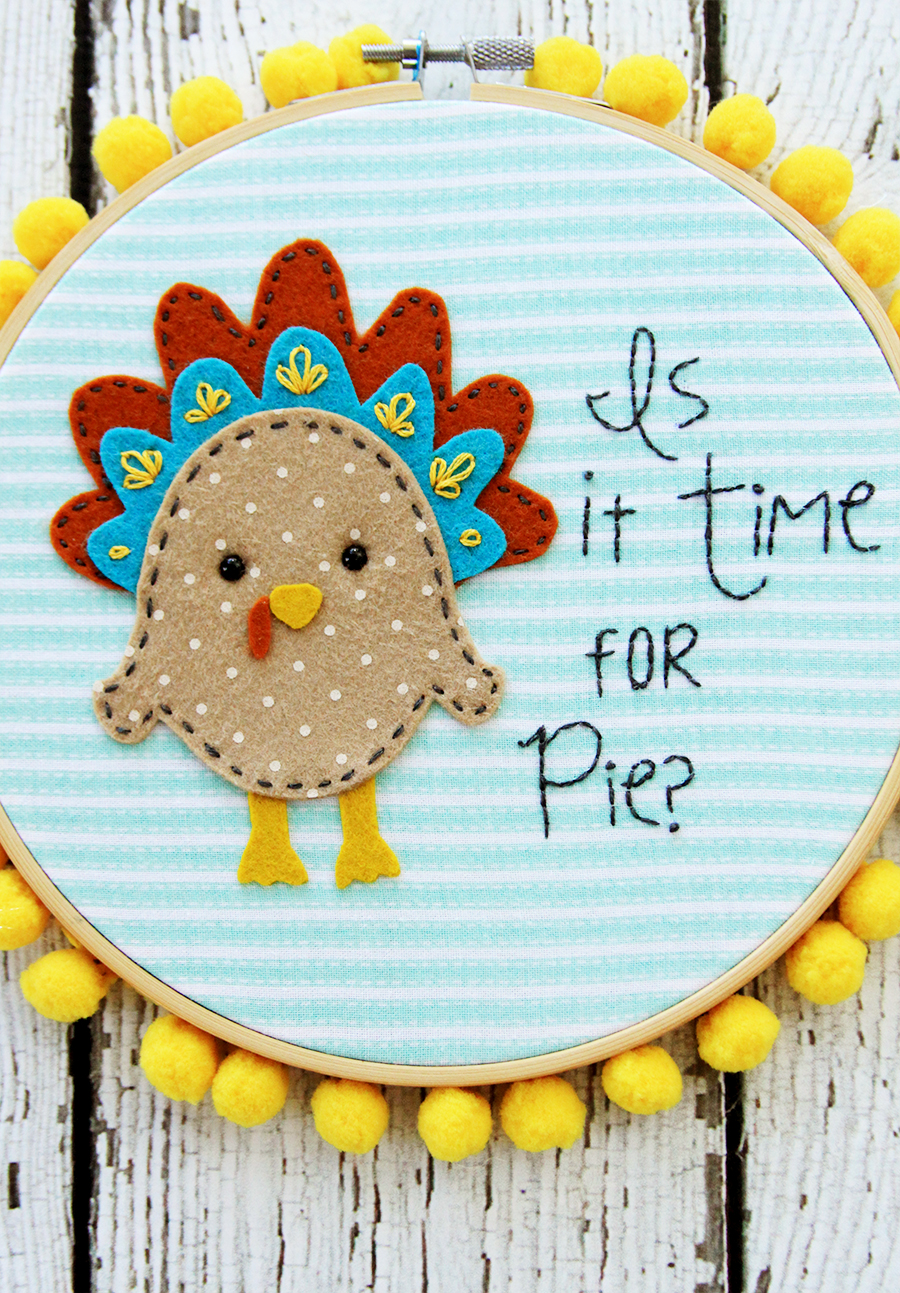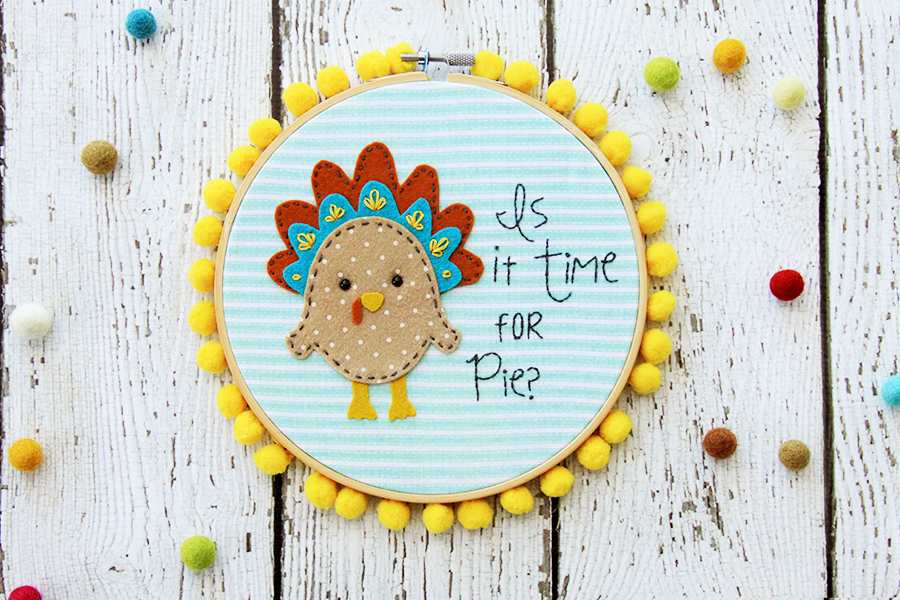 Wouldn't this be so cute as a Thanksgiving or Friendsgiving hostess gift?