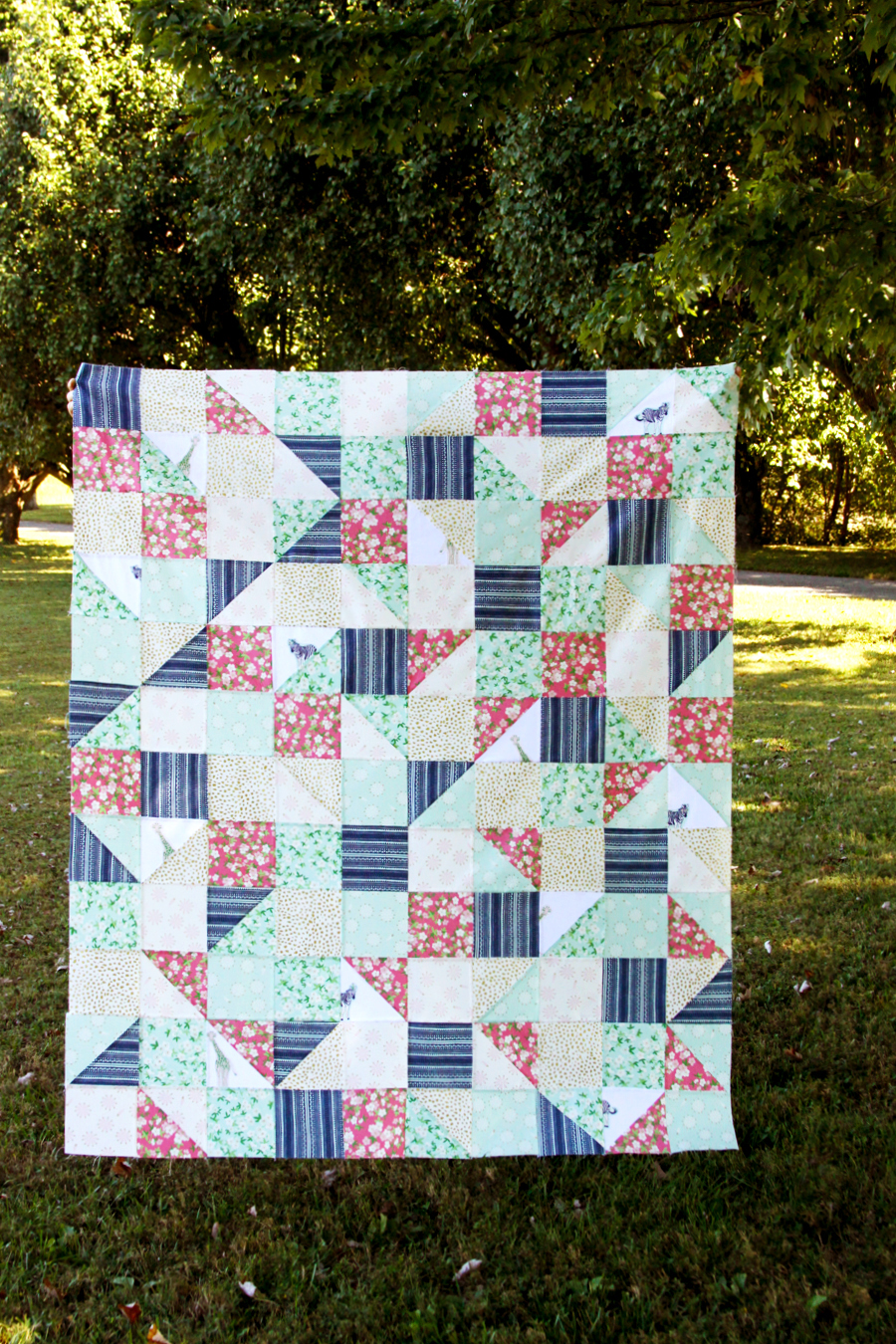 I just can't resist a fabric line that is pretty and fun all at the same time!! I had so much fun making up this new Hidden Safari Party Lap Quilt – it has some cute little surprises when you look up close!
I used the fun new line from Melissa Mortenson (Polkadot Chair) and Riley Blake Designs called Safari Party! It's made up of sweet florals, feathers, geometric lines and awesome stylish little safari animals!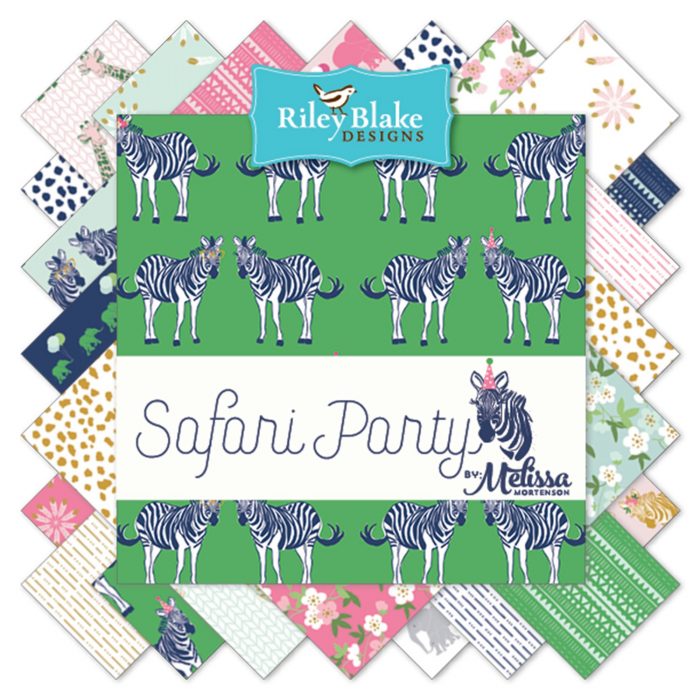 This quilt is made up of square blocks, simple half square triangle blocks, and some special half square triangle blocks with zebras and giraffes peeking around corners!
Can you see the gold sheen on that giraffe print? It's so sparkly and awesome!
It's a super easy quilt to put together – so let's get started!
Materials for Quilt Top:
1/4 yard Safari Giraffe Pink
1/4 yard Safari Main Mint with Sparkle (Zebras)
1/2 yard Safari Geometric Blue
1/2 yard Safari Feathers Mint with Sparkle
1/2 yard Safari Feathers White with Sparkle
1/2 yard Safari Animal Print Gold with Sparkle
1/2 yard Safari Floral Mint with Sparkle
1/2 yard Safari Floral Pink with Sparkle
1/2 yard Confetti Cottons White
Themoweb Soft Stretch Lite fusible webbing
Disappearing marking pen and ruler
Lap Quilt Size: 51 x 62
Download the Quilt Layout Here
Cut out six 6″ squares from white fabric
Cut out twenty-four 6″ squares from assorted prints except for the giraffe and zebra prints
Cut out seventy-three 5 1/2″ squares from assorted prints except for giraffe and zebra prints
Cut out an assortment of zebras and giraffes – slightly larger than the finished size you'd like them to be.
Iron the fusible webbing to the back side of the giraffes and zebras. Trim around them so you have about 1/8″ all the way around the animal.
On your white squares, draw a diagonal line down the center. This will be your cut line later. You don't want any of your animals to cross this line.
Place the animals on the white triangles so they peek out from corners, sides and the edges. You'll want one animal on each triangle – so 2 per square. Make sure you trim the animal fabric before you iron it on. I did three squares with giraffes and three with zebras.
Sew a small zig zag stitch around all the animals.
Place a 6″ square of fabric right sides together with the animal print squares. Draw a diagonal line (the same direction) on the wrong side of the white square. Sew a 1/4″ seam on either side of this line, then cut down the line. This will form two half square triangle squares – with one animal on each. Press the seam towards the printed fabric.
You should have 12 animal squares when you're all done. Sew up 35 more half square triangles. Trim the squares up if necessary so they are 5 1/2″ square. You won't have to cut much off.
Layout your quilt with the regular 5 1/2″ squares according to the quilt layout (link to this is just below the materials section above). Use this as a guide – if your animals or prints need to be adjusted that's totally fine. You just want one animal square in each row and the rest of the half square triangles scattered around the quilt.
Sew the blocks in row one together, repeat with row two and three. Press the seams opposite for each row – for example press the seams to the left for row 1 and to the right for row 2. Sew rows 1 – 3 together.
Repeat for the remainder of the rows, sewing them together in three row sections. Once you have four 3-row sections, sew these sections together to make the entire quilt top.
It's so fun to see the little animals peeking out from the squares!
Finish the quilt as desired! I'll be taking mine to my quilter – I'll be sure to share a photo when it's finished!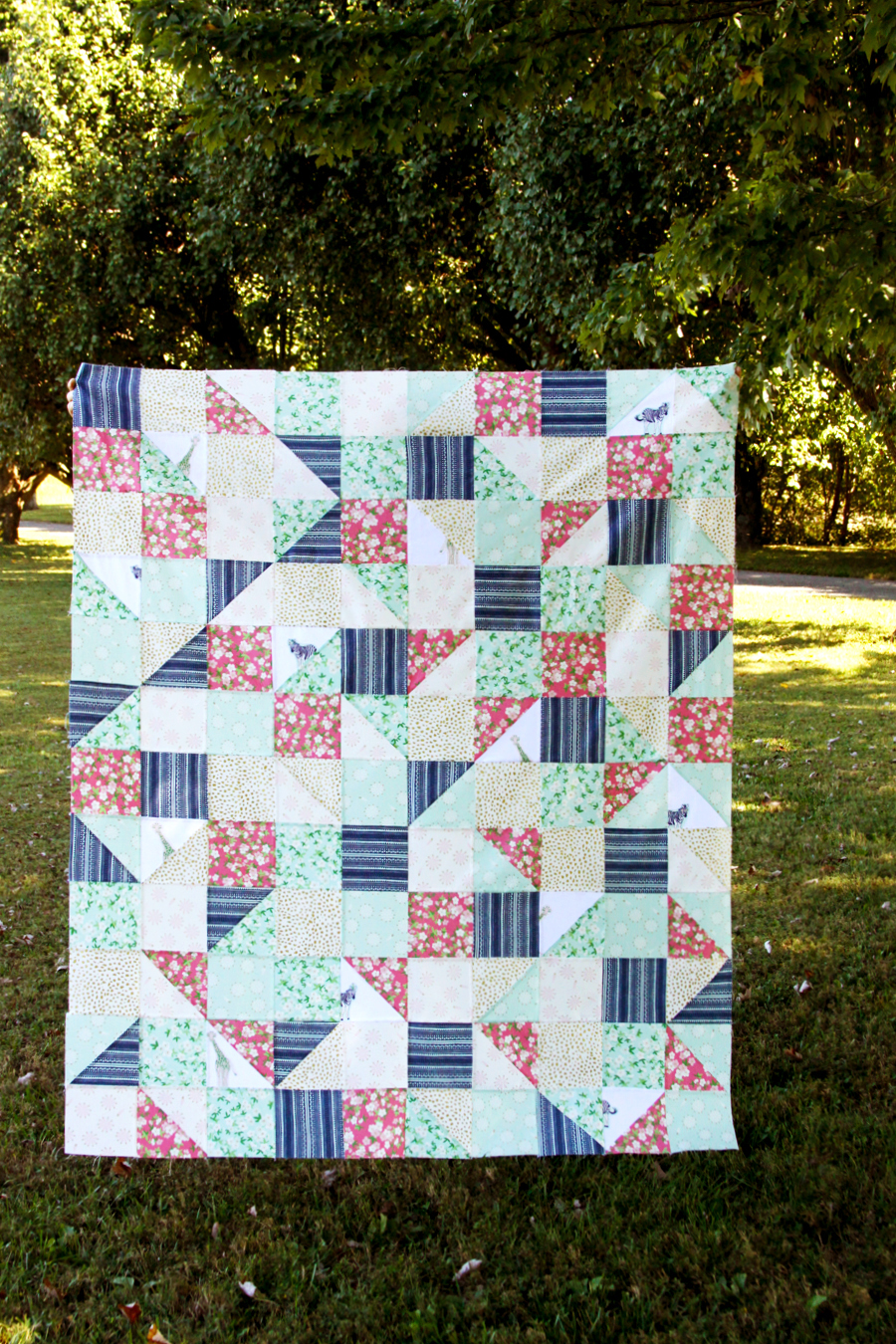 If you make up the Hidden Safari Party quilt I'd love to see a photo! You can share it on my Facebook wall or tag me on Instagram!