Are you hungry? I hope so!
Hop on over to A Vision to Remember to check out one of my recipes Bobbie has posted for the 30 Day Food Challenge!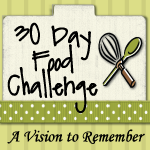 The recipe is Meatball and Swiss Chard Soup and it's soooo yummy. One of our favorites!
Meatballs and pasta and veggies  – with garlic bread. Can't go wrong there!