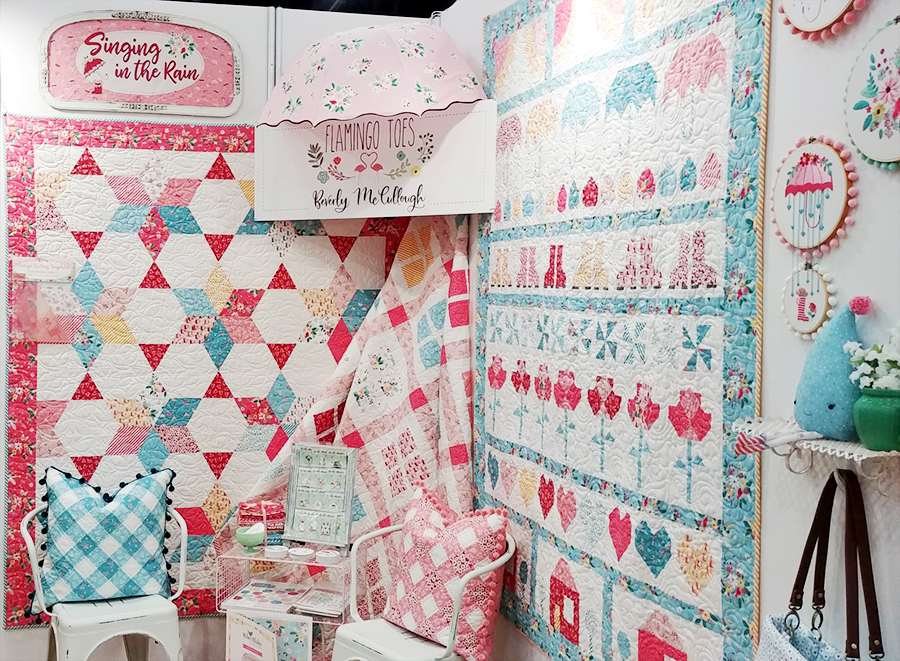 I'm so excited to be sharing my recap of this Fall Quilt Market 2019!
I showed off my next line for Riley Blake Designs called Singing in the Rain, it will be out next March!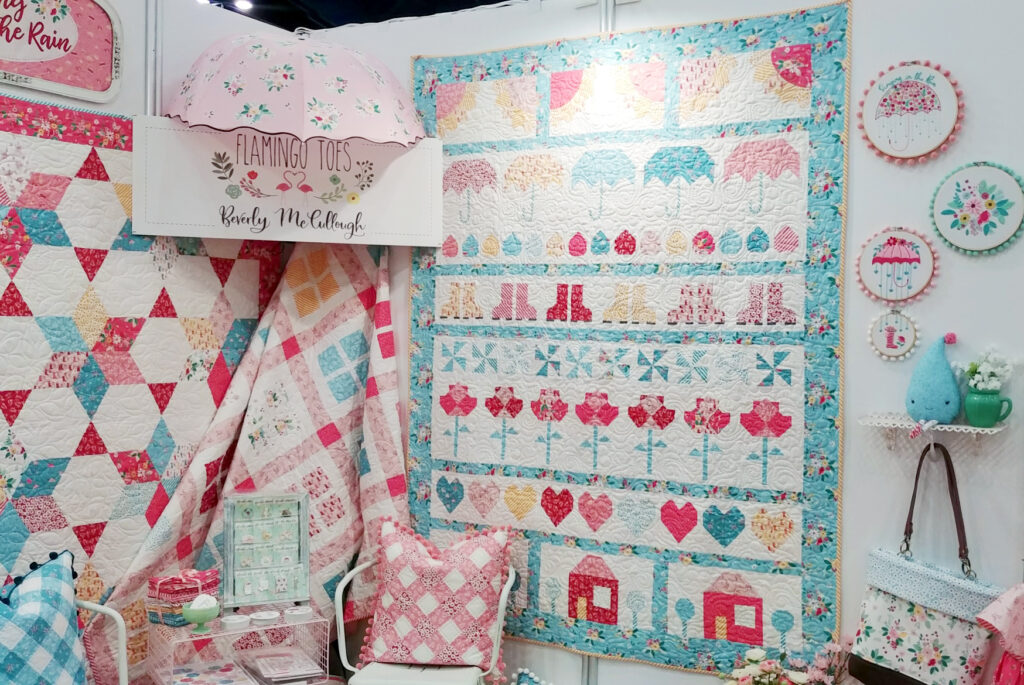 I had a blast sewing up projects for the Fall Quilt Market 2019 booth! Quilts and Pillows and Embroidery Projects and lots more!
I'll be able to show more photos this spring with closeups of all the prints in the collections, but for now, you can see all the fun colors (we have yellow!!) and the designs include bright flowers, little umbrellas, rain boots, rain drops and more!
There are three new quilts coming out with Singing in the Rain! The first is the Singing in the Rain Row Quilt and I'll be doing a sewalong here on the blog with this quilt in April!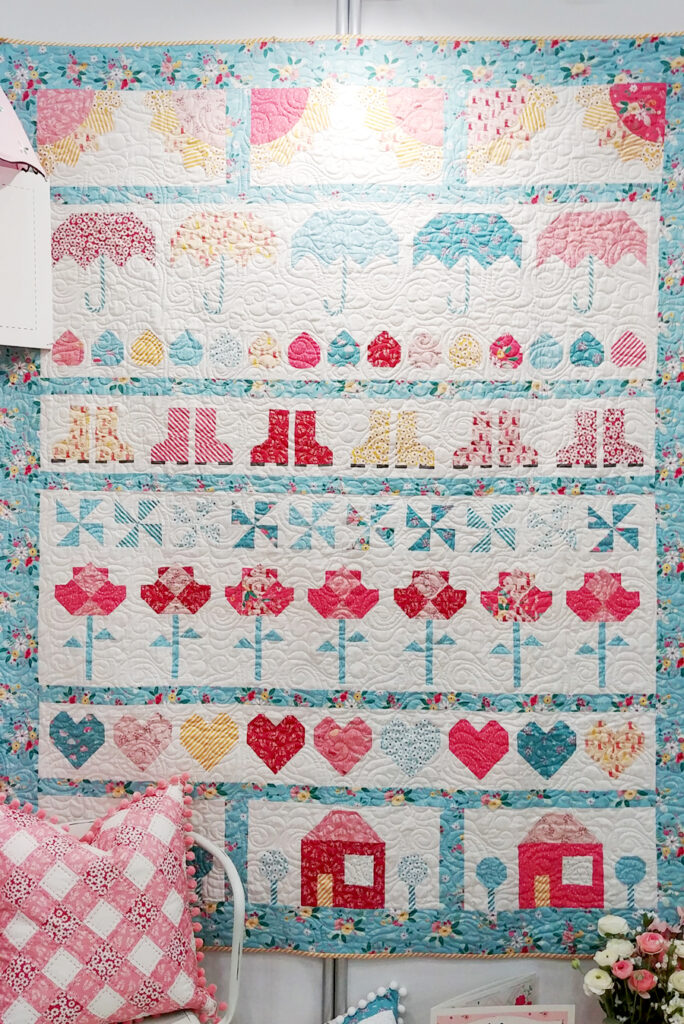 The Gingham Windows Quilt hanging in the center is designed for 10″ stackers and it's a great way to show off a favorite fabric collection!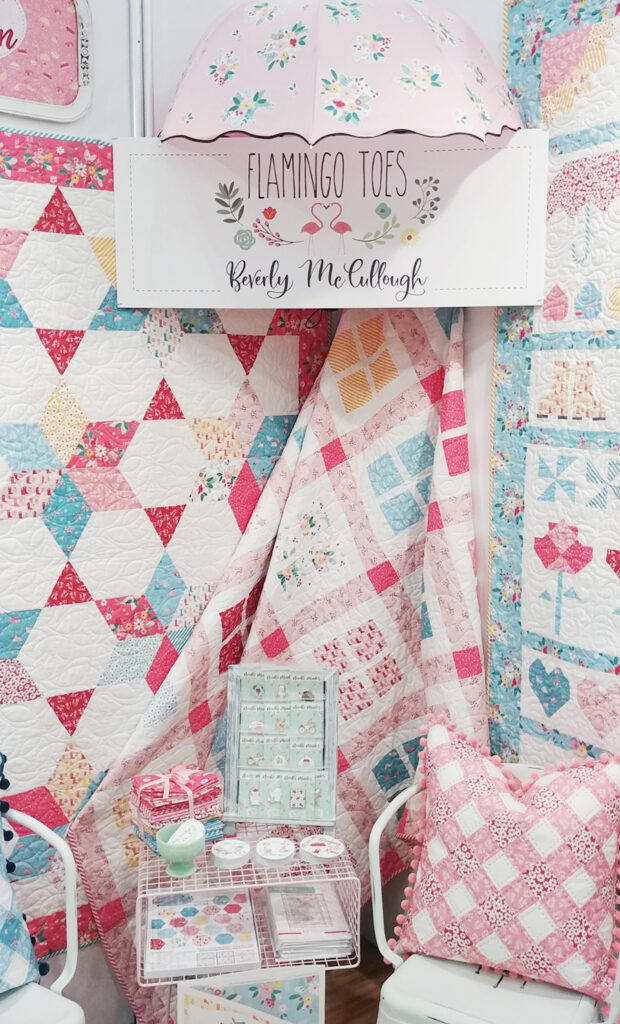 The third quilt is called Vintage Stars! It's great for 10″ stackers too and it's so fun to sew up!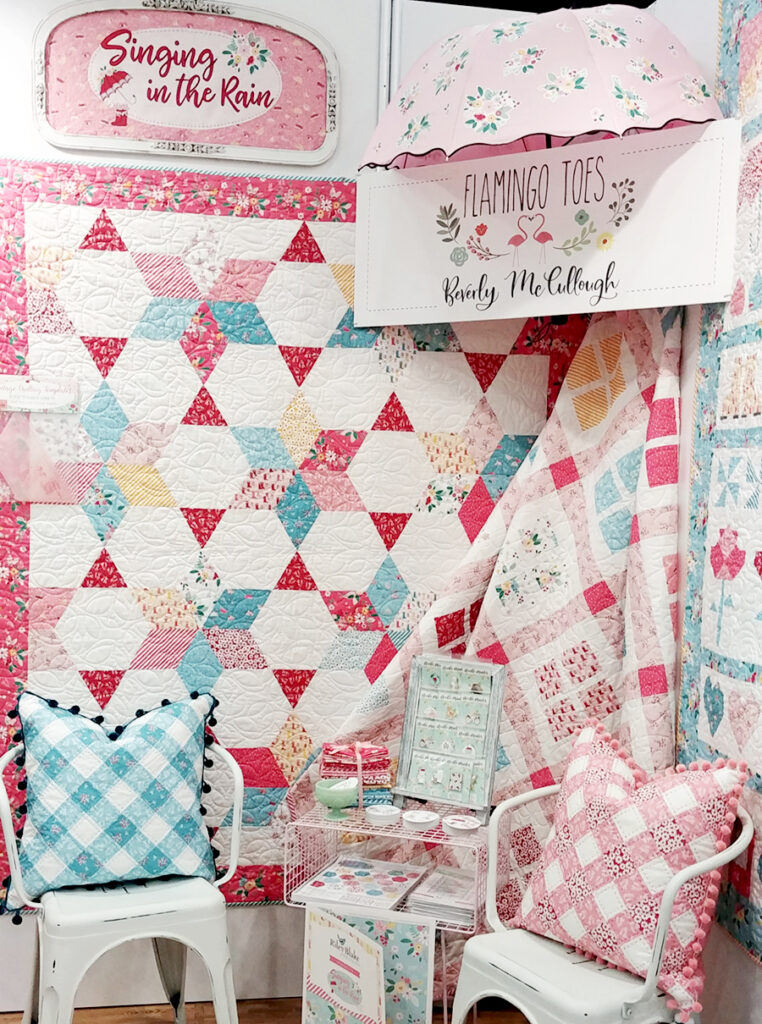 The Vintage Star quilt uses my new templates that are coming out in January! These templates are also for the Vintage Garden Quilt and another new quilt coming out early next year!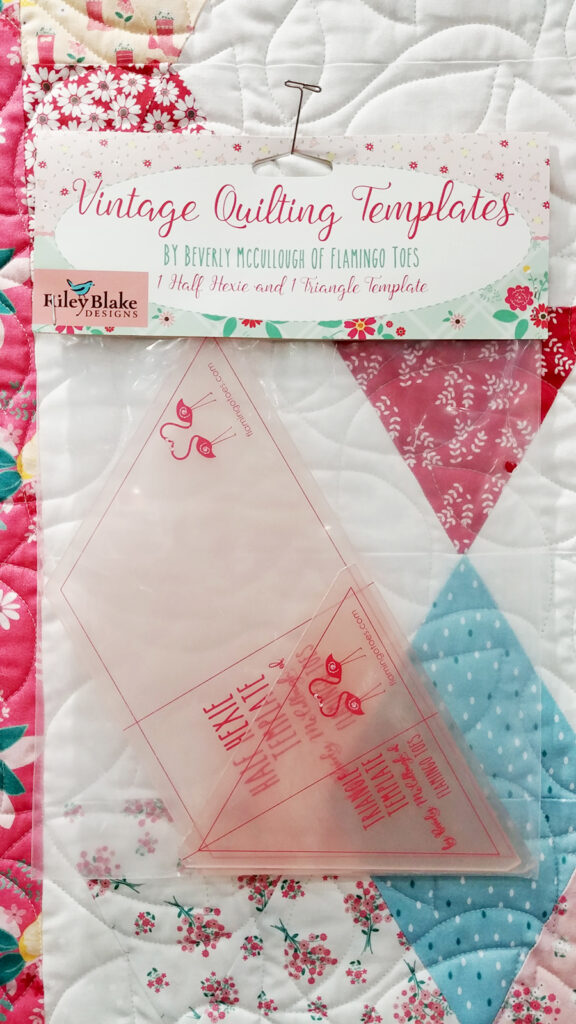 I'm so excited about these new templates! You can ask your local quilt shop to carry them – they can preorder them now. I'll post here when they're available too!
I also made a few smaller projects for the Fall Quilt Market 2019 booth! These Gingham Pillows were a blast to sew up. I used the Ten Sisters Easy Piecing Grid to put them together. I'm going to do a Christmas version of them too – I think that will be so fun!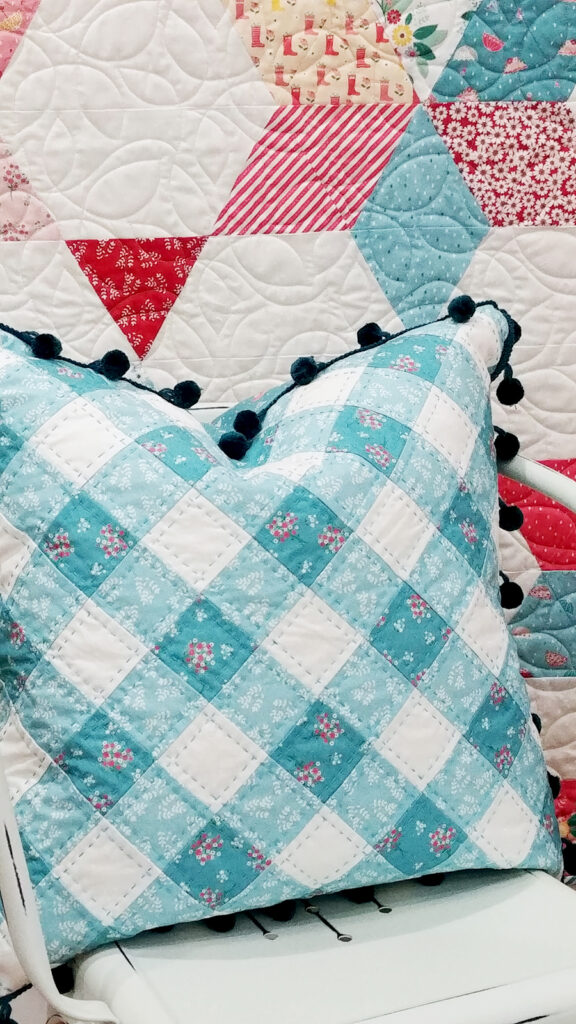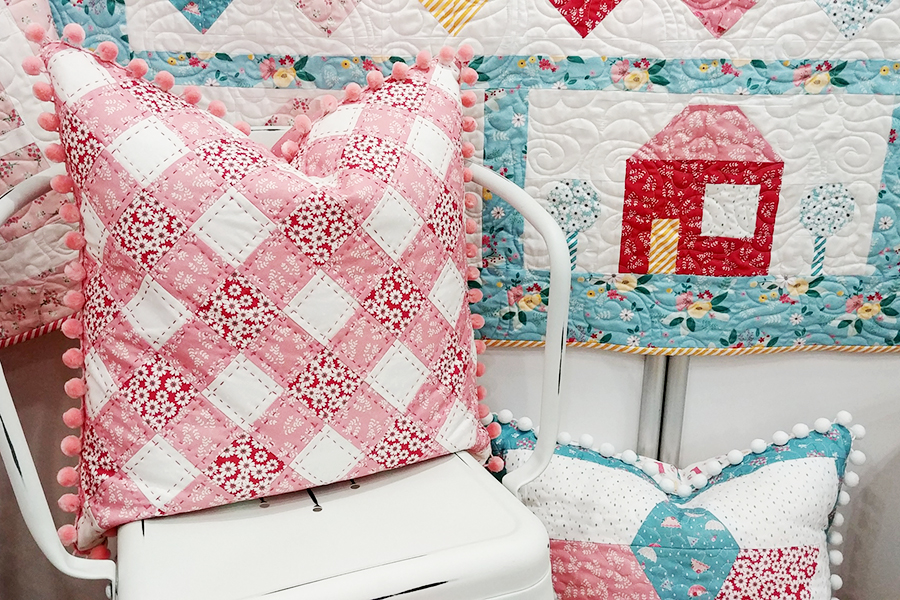 I did some embroidery designs for Singing the Rain too! These three new patterns will be available this Spring as well, along with (fingers crossed) embroidery kits!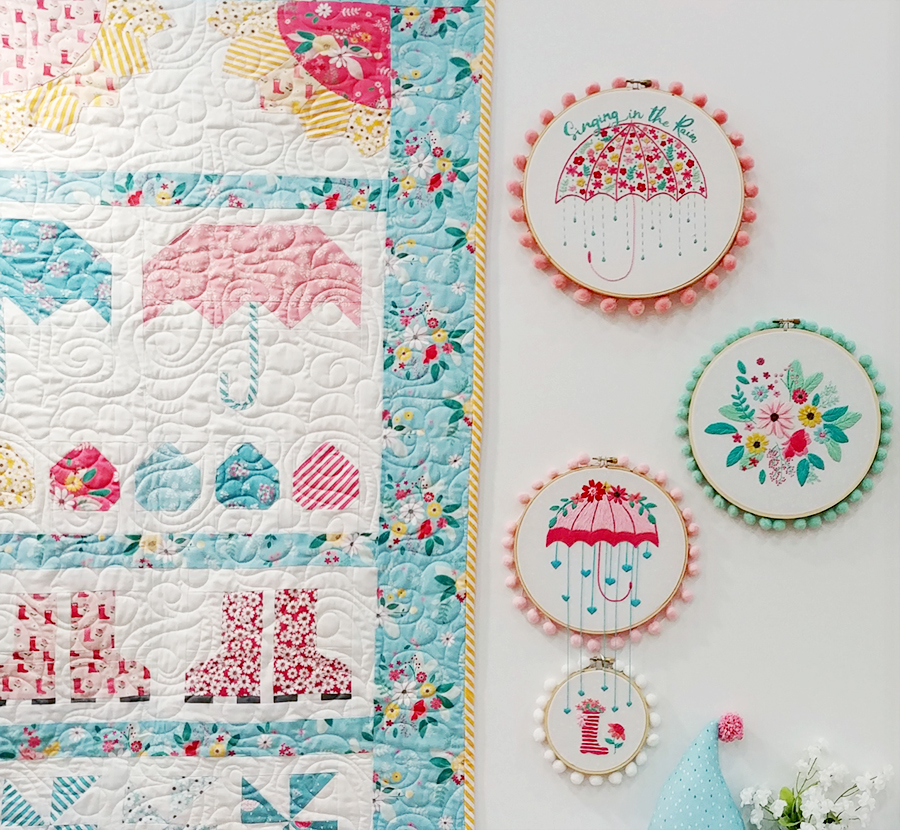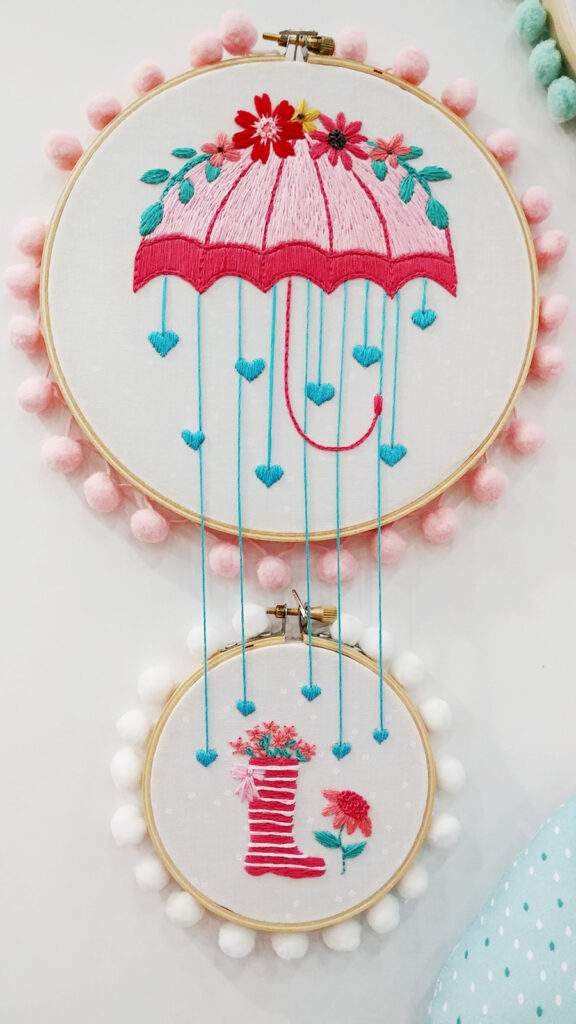 I also made up this darling little Rain Drop!! This pattern will be out this Spring as well, along with a few other friends!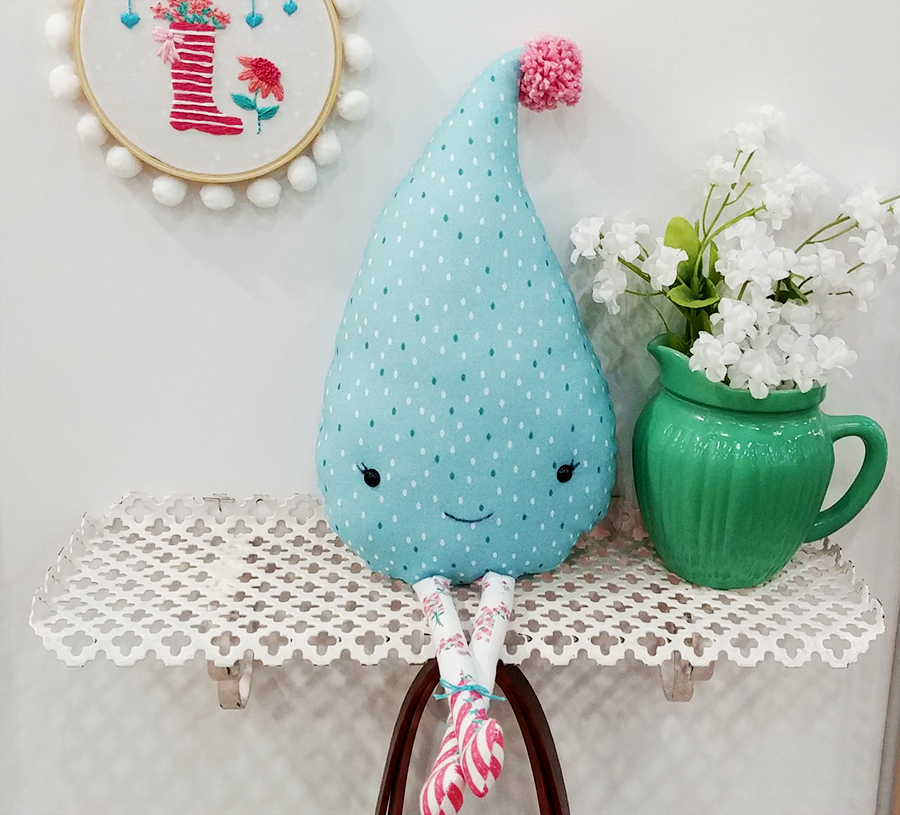 The little dress is a Little Lizard King dress, the pattern is called Melbourne. The little flutter sleeves just kill me!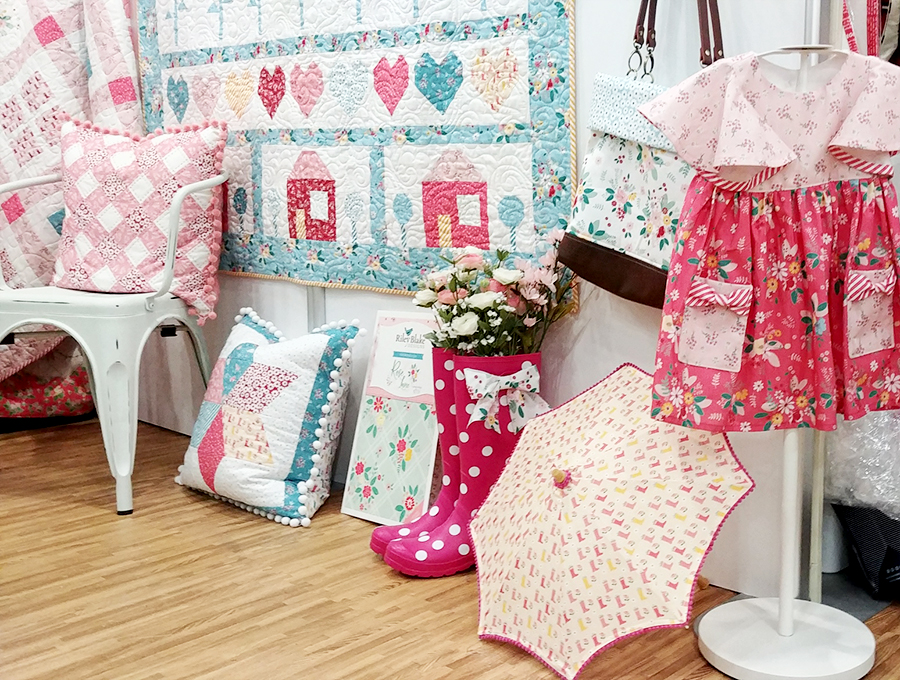 I am so excited about Singing in the Rain! You can ask your quilt shop to preorder it – it's available for preorder now!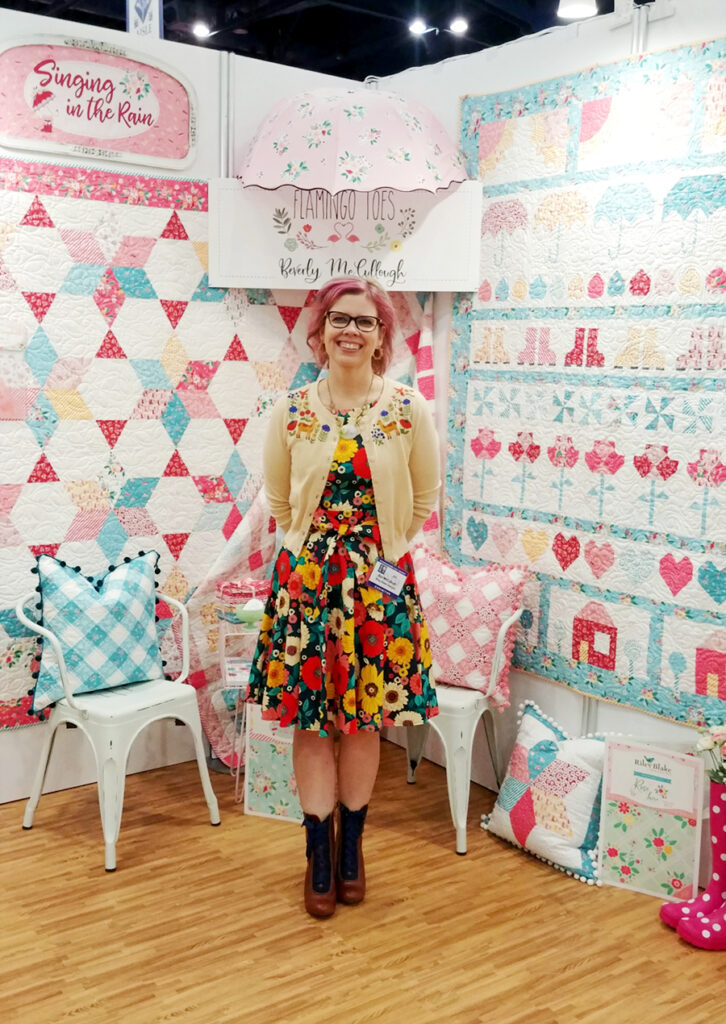 Let me show you around the Riley Blake Fall Quilt Market 2019 Booth! Riley Blake is celebrating their 10th anniversary this year! This is me and Cindy Cloward, the owner of Riley Blake. I made this fun little birthday cake mini for the booth!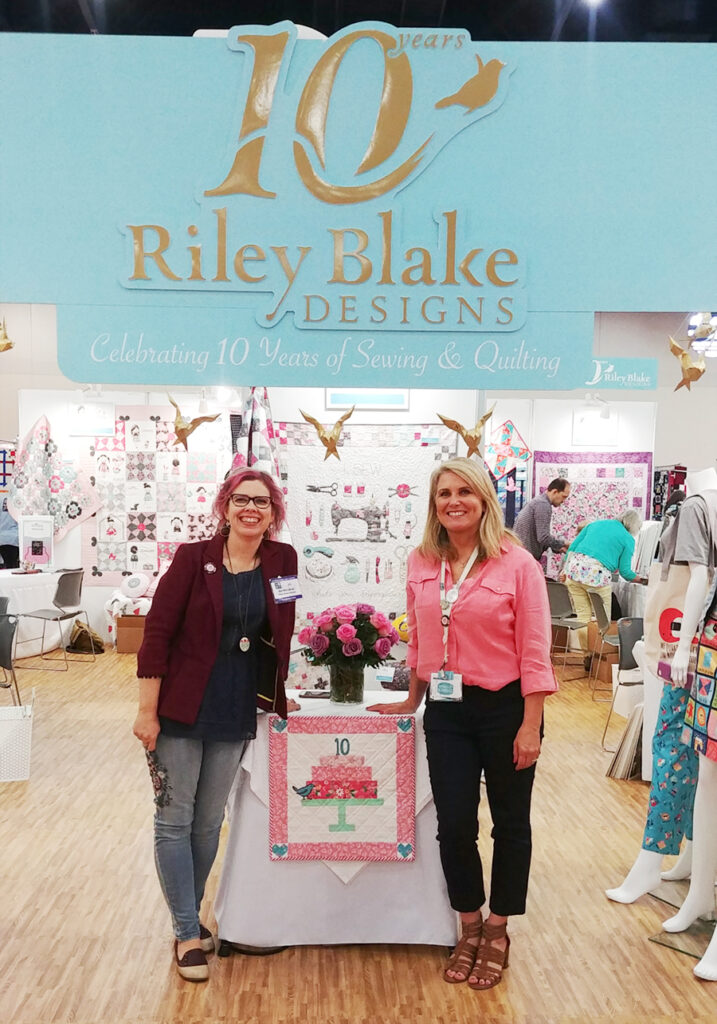 Here are some of the new lines coming out soon!
Fall Quilt Market 2019 Favorites:
I was so excited to hang out with Amanda Neiderhauser of Jedi Craft Girl. She was showing her new line, Scaredy Cat! It's a darling new Halloween collection with these great little line drawn cats!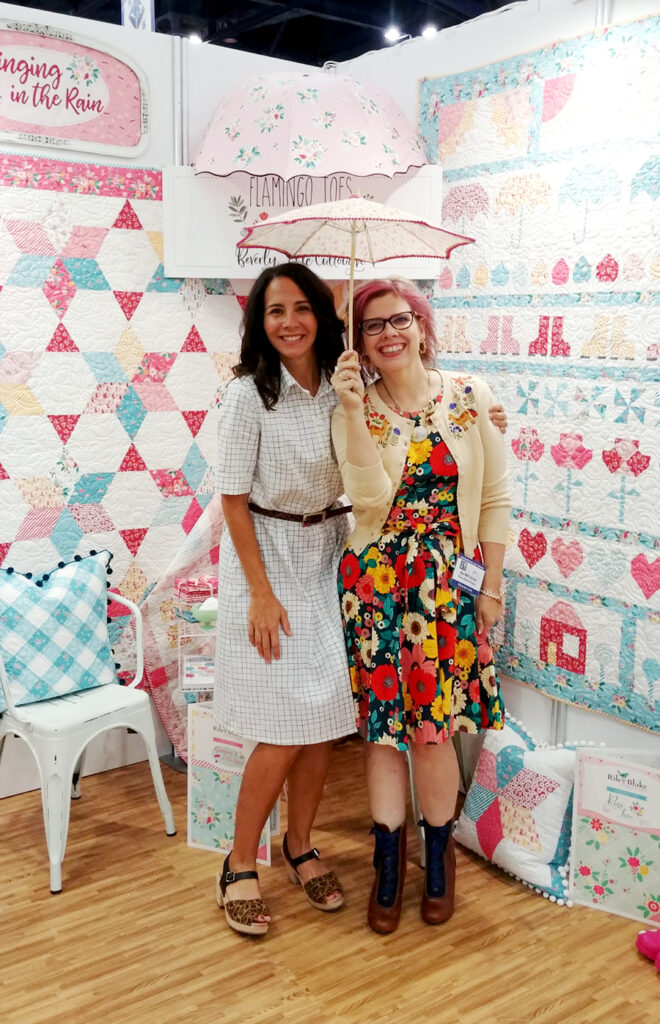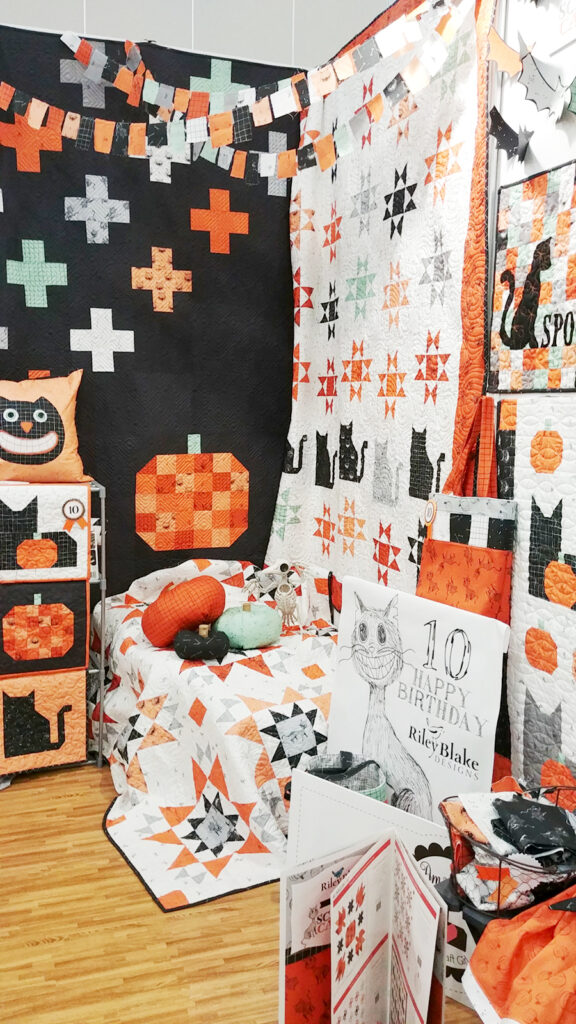 Christopher Thompson (The Tattooed Quilter) has a new line coming out in December called Winifred Rose! It's pretty florals and the sweetest little bunnies!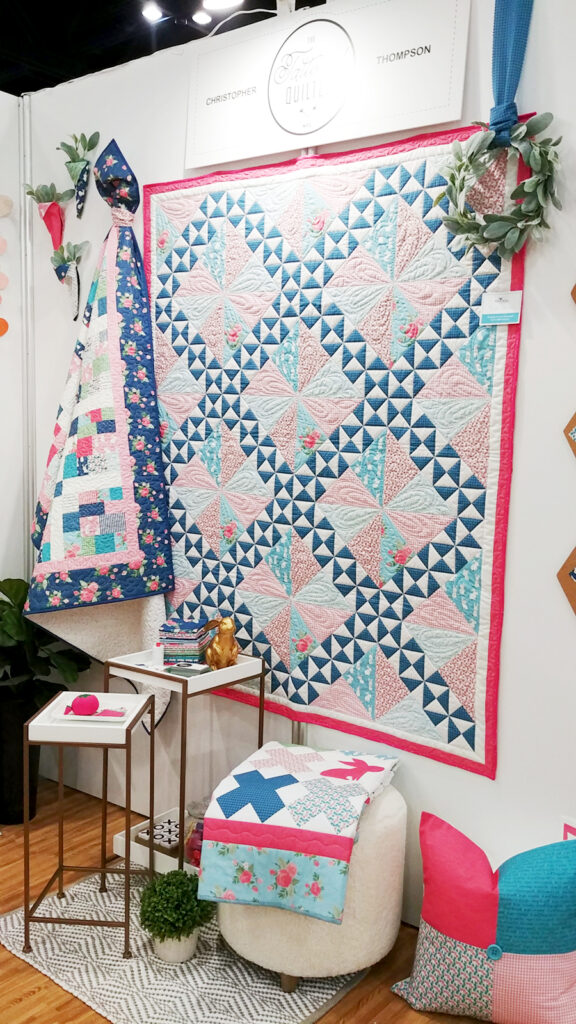 I shared my Fall Quilt Market 2019 booth with new Riley Blake designer Tara Reed. She was showing two collections, a darling farmhouse line and a lodge line!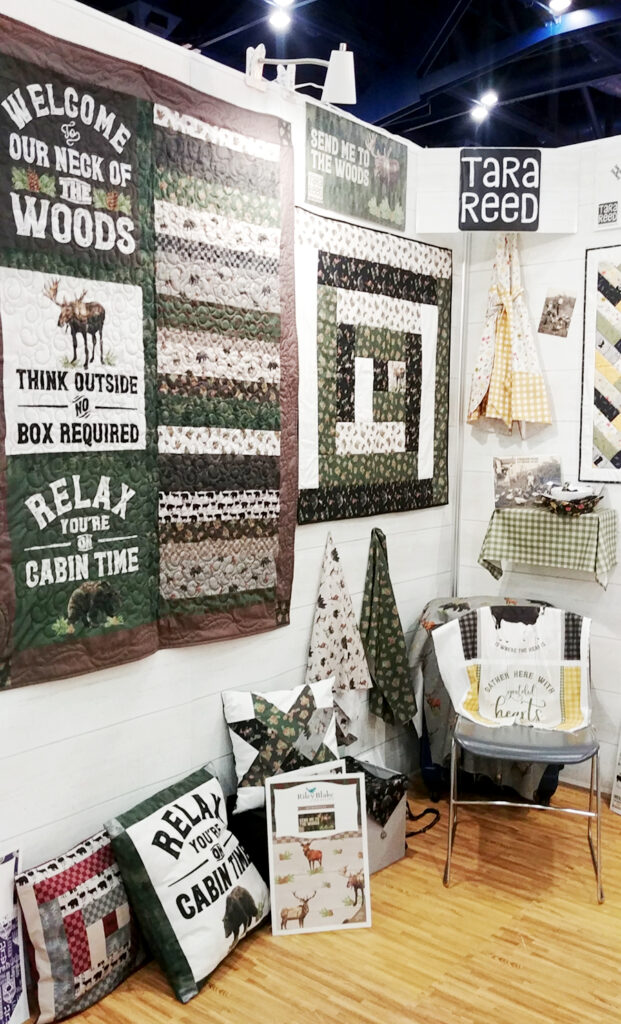 Amanda Castor from Material Girl Quilts was showing her newest line, Dream Weaver. It's these gorgeous blues and golds and fun prints!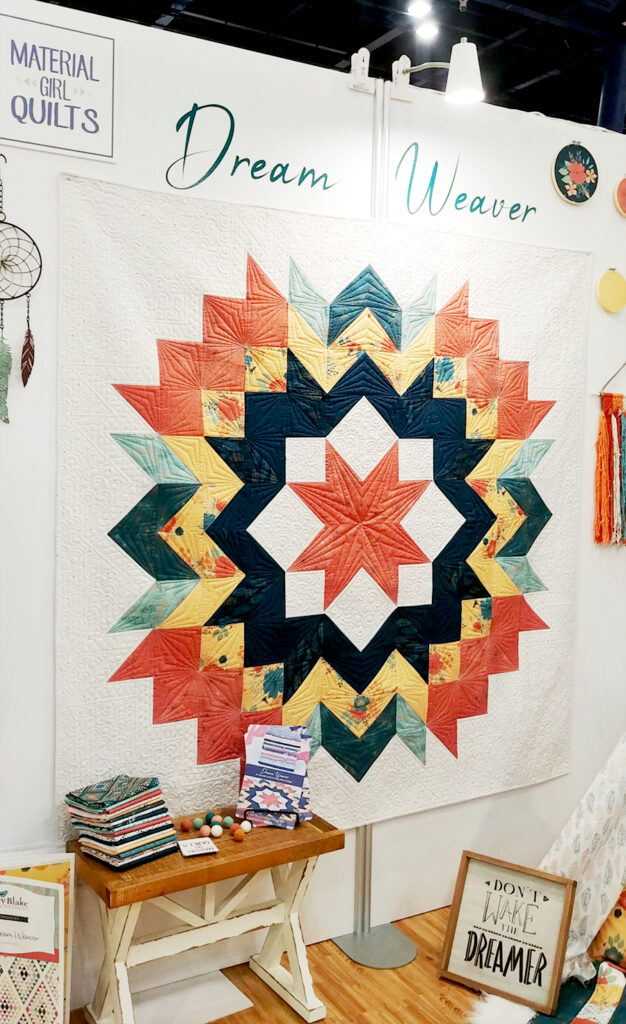 I also met Sandy Gervais – she is new to Riley Blake but not new to designing fabric of course! She is so fabulous! You're going to love her new collections!
We had several new designers at the Fall Quilt Market 2019! Gracie Larson from Burlap and Blossoms was showing her new line Play Outside!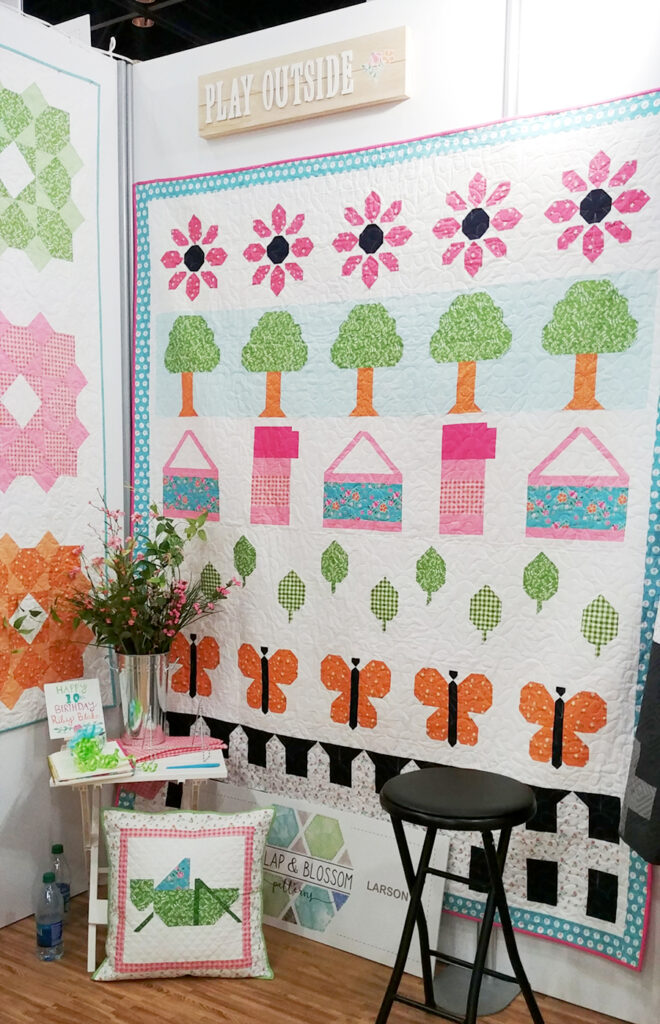 I also loved meeting Kelli Fannin of Kelli Fannin Quilts! She has a new collection called Sew Chatty coming out with cute prints and all sorts of fun sewing puns! How great is this Viewmaster pattern?!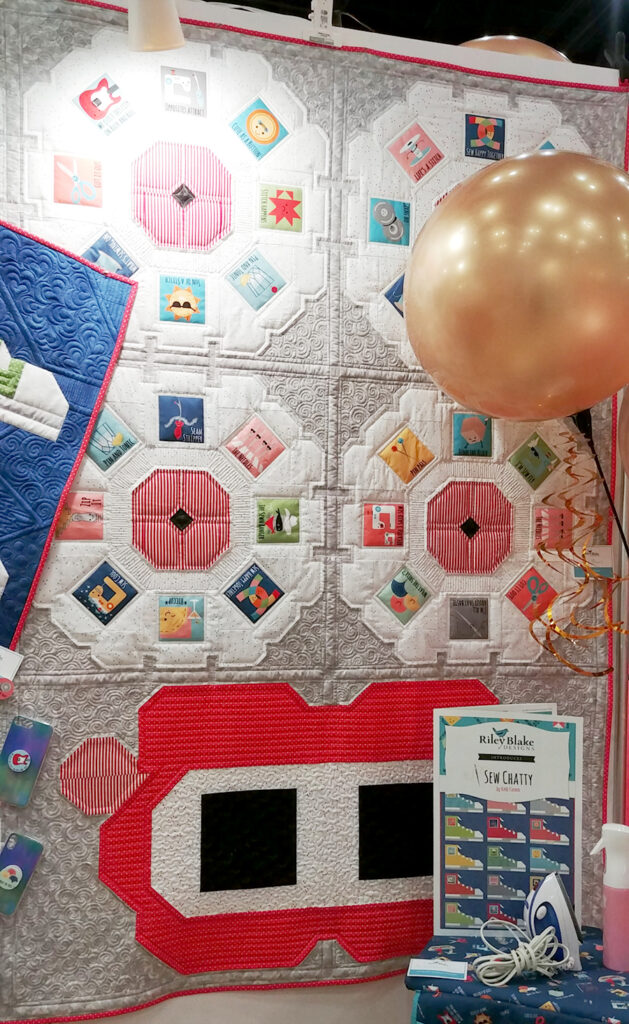 Gerri Robinson from Planted Seed Designs was showing her new Gemstones basics. These are so rich and gorgeous!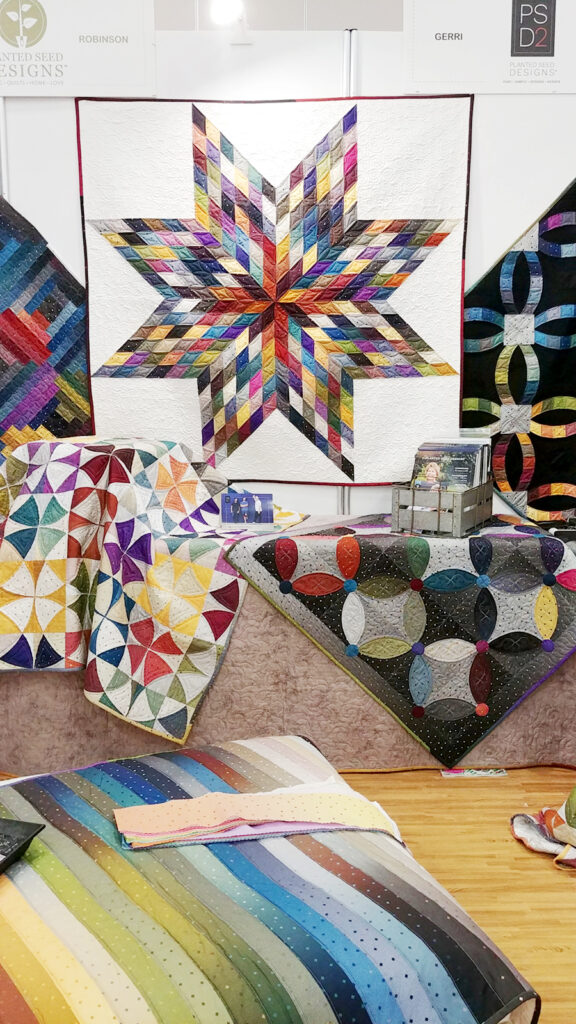 Jill Finley from Jillily Studio showed her new line Conservatory! She created a greenhouse in her booth and she won best booth at Market this year!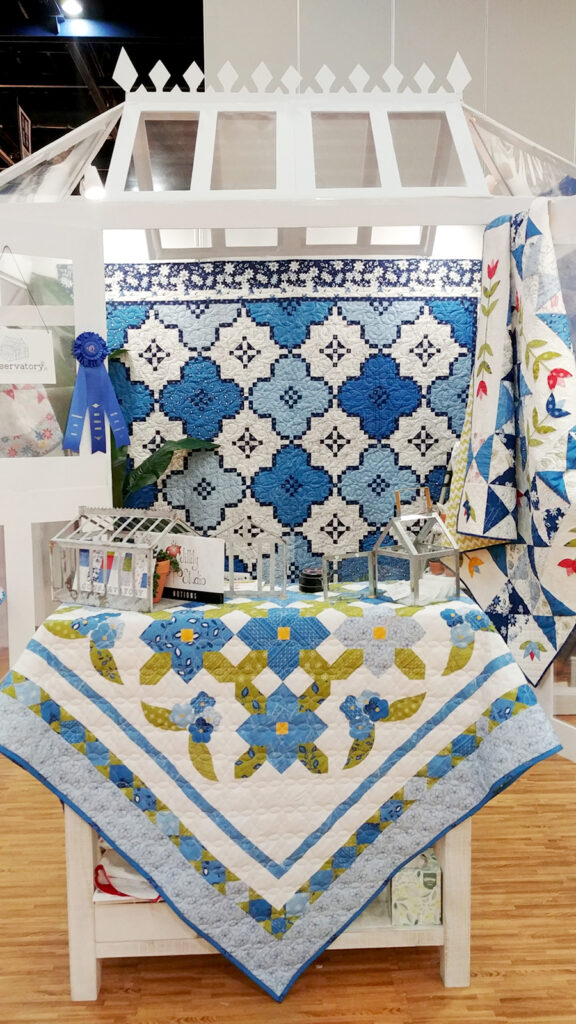 The Simple Simon Girls have a new farmhouse line coming out called Modern Farmhouse! I'm super excited for this!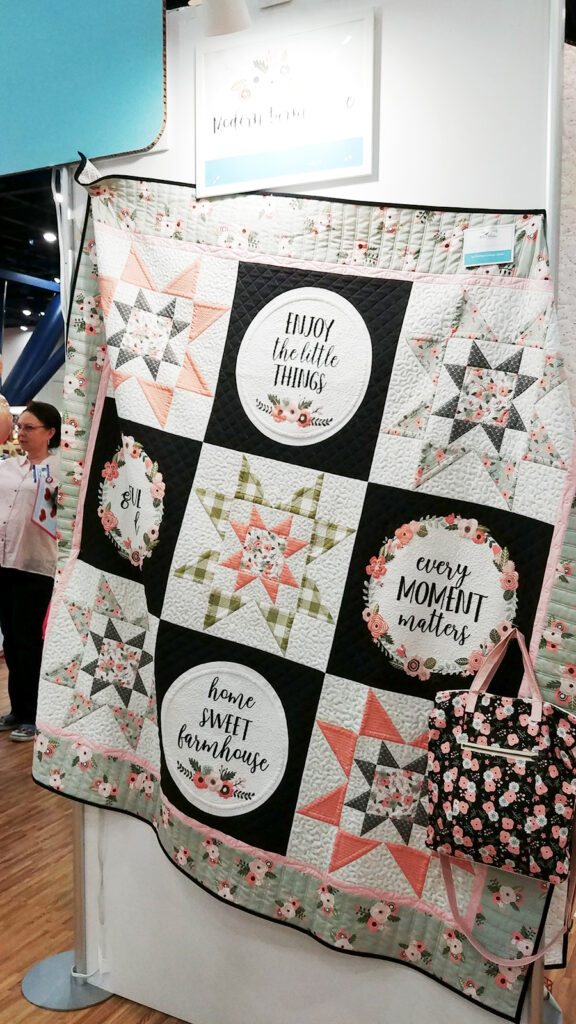 Janet from Joy Studio was showing two new lines! This Goose Tales line is a new Halloween line based on Mother Goose stories!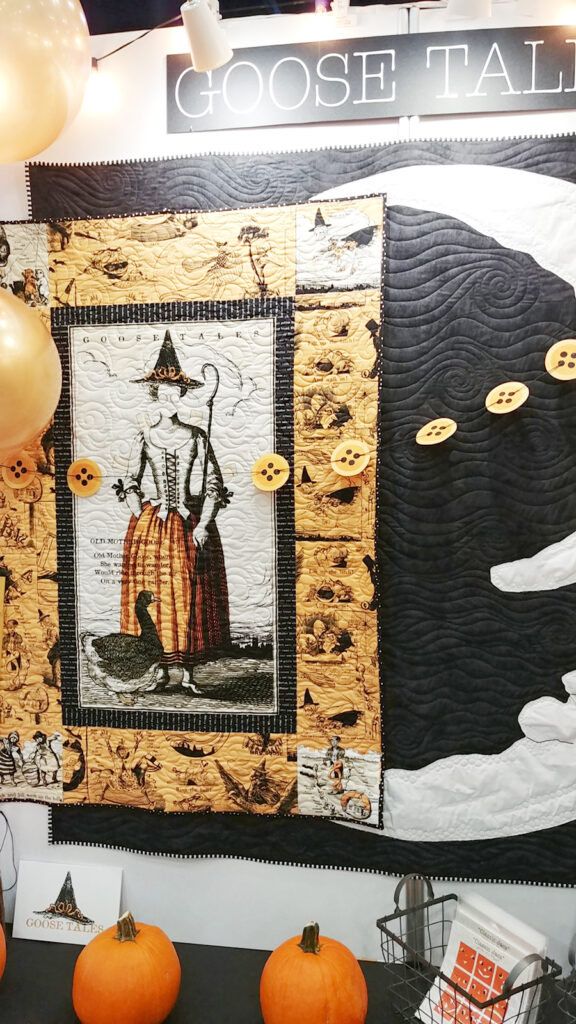 Lori Holt had a fun collection called Vintage Housewife coming out soon too!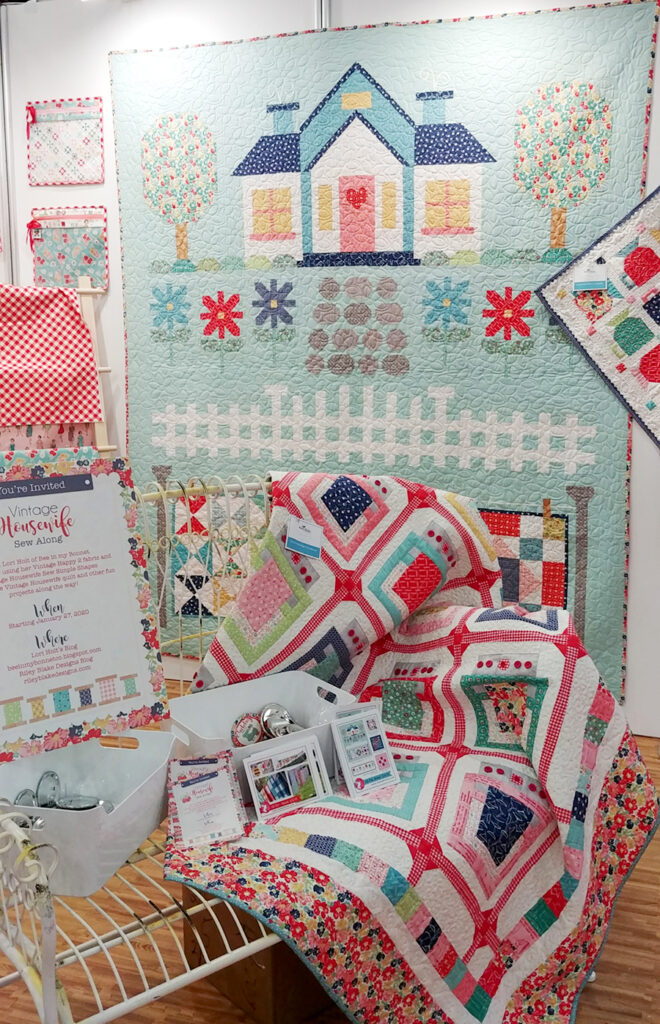 I hope you've had fun looking around the Fall Quilt Market 2019 booths! You can check with your local quilt or favorite online shops to see if they'll be carrying these new lines! And I can't wait to show you more Singing in the Rain this Spring!!