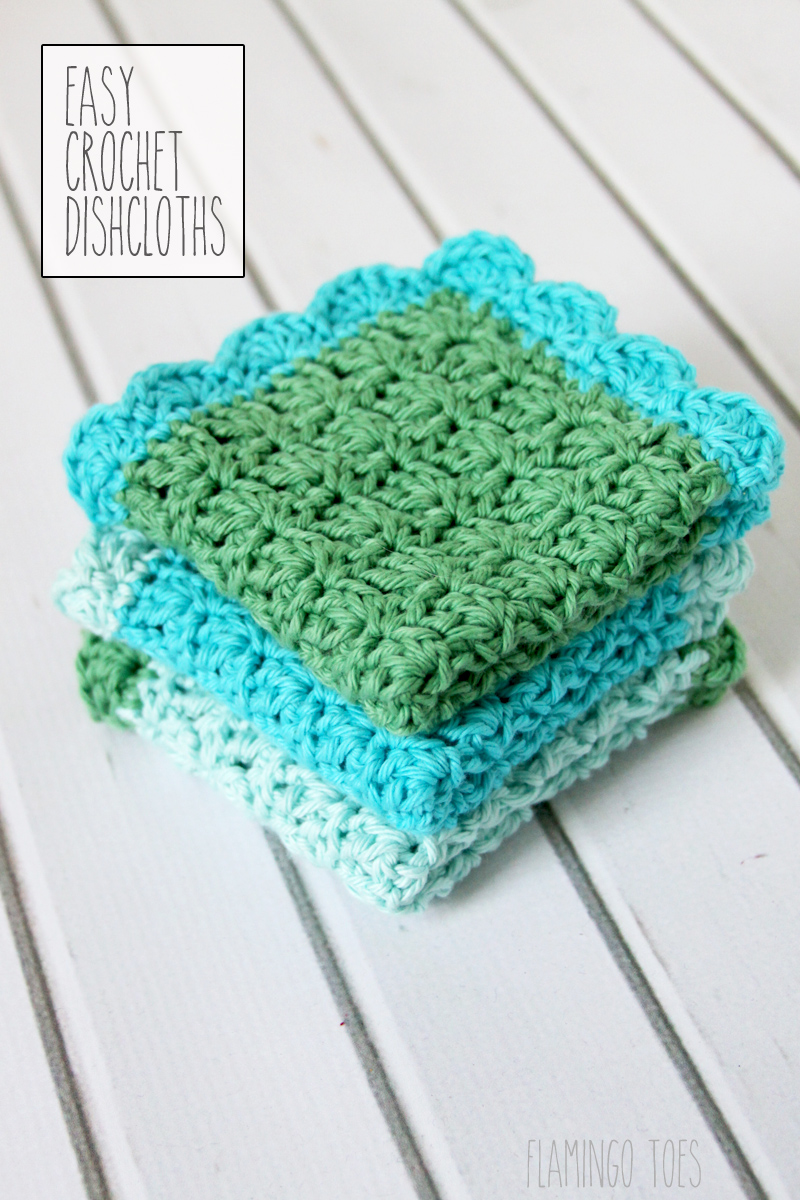 It seems I am always needing new dishcloths and towels for the kitchen! We go through them so quickly around here. Do you have that problem too?
I love a good crochet dishcloth for that reason. It's so easy and quick to make up and it works so well. These little cloths make great washcloths too! They are perfect for stitching up during a tv show or a car ride – you can have a pretty new crochet dishcloth by the time you've watched Buttercup and Westley finally get their happy ending. :)
This easy crochet dishcloth pattern uses the Primrose stitch for the main section, it has such a great texture to it. I added a little scalloped border – because I can't seem to crochet things without a scalloped edging. It's a compulsion. They look so sweet that way though!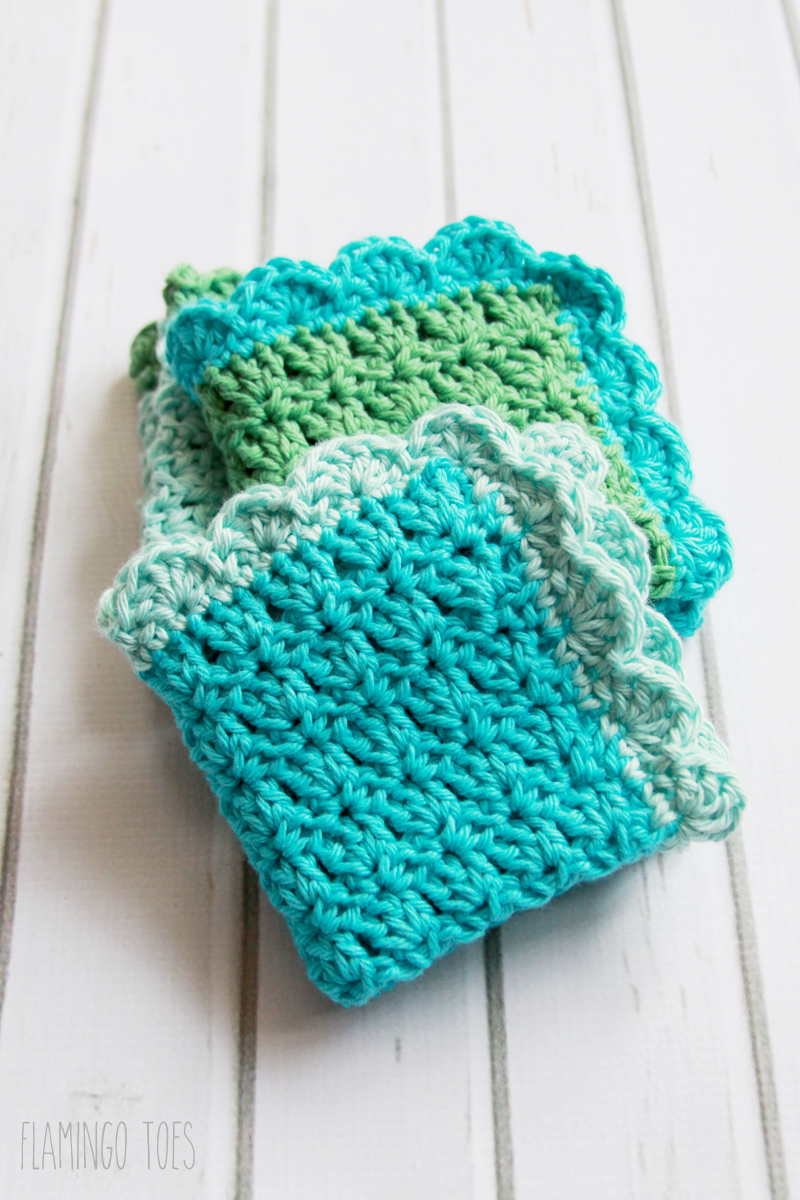 Here's the easy crochet dishcloth pattern for you!
I used three colors of I Love This Yarn Cotton from Hobby Lobby – and I had plenty for all three cloths and lots leftover. So one skein should easily do more than one cloth if you want to use all one color for your main section and edging.
This crochet dishcloth post contains affiliate links.
Terms:
ch: Chain
sc: Single Crochet
dc: Double Crochet
hdc: Half Double Crochet
Crochet Dishcloth Tutorial: the Body:
Foundation Chain – ch 32.
Row 1: In the third chain from hook, work 1 sc, ch 2, 1 sc. *Skip next two chains and in next chain work 1 sc, ch 2, 1 sc. Repeat from * across. Finish with 1 hdc in last chain. Turn.
Row 2: Ch 2. *In next ch 2 space work 3 dc (shell made). Repeat from * across. Finish with 1 dc in top of turning chain. Turn.
Row 3: Ch 2. *In second dc of shell, work 1 sc, ch 2, 1 sc. Repeat from * across. Finish with 1 hdc in top of turning chain. Turn.
Rows 4 – 9: Alternate rows 2 and 3, ending with row 2.
You could stop here if you don't want to add in the scallop edging – that's totally fine!
Change colors (if desired).
Crochet Dishcloth Tutorial: Edging:
Round 1: Ch 1. Turn cloth and working down left side, crochet 29 sc along the side. When you reach the corner ch 1, then sc 29 across bottom of the cloth. Repeat for each side, adding a ch 1 at each corner. Connect with a slip stitch to first ch 1 when you reach the starting point.
Round 2: Skip first sc, in next sc work 5 dc (scallop made). *Skip 1 sc and in next sc do a slip stitch. Skip 1 sc and in next sc work 5 dc. Continue around all four sides of the cloth. Connect with slip stitch to starting point.
Note: The scallops usually ended up over a corner for me, but I didn't worry to much about that if they didn't. I figured no one would be looking that close, and if they were that meant they were doing my dishes so that was all right with me. :) If that sort of thing bothers you, you can adjust your stitches easily so they work out evenly.
Now you have a super cute cloth you can use for dishes or baths  – and they make great gifts too!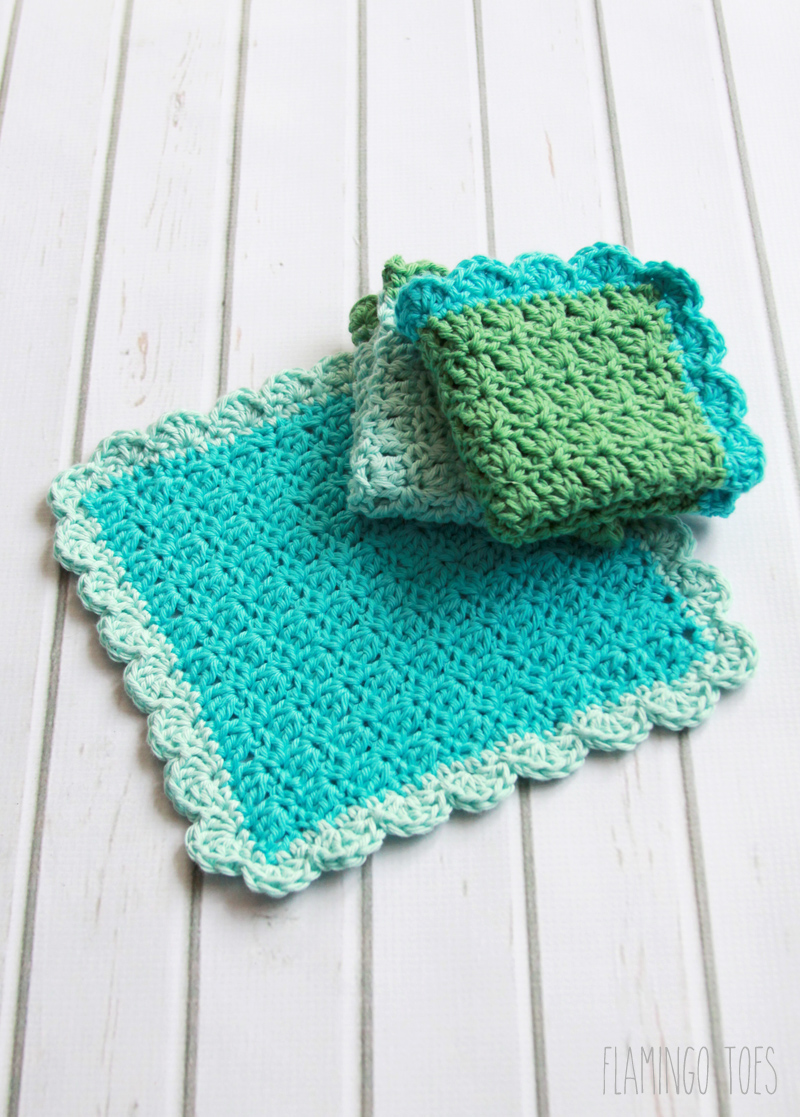 I hope you make your own crochet dishcloth, they are so fun to do!