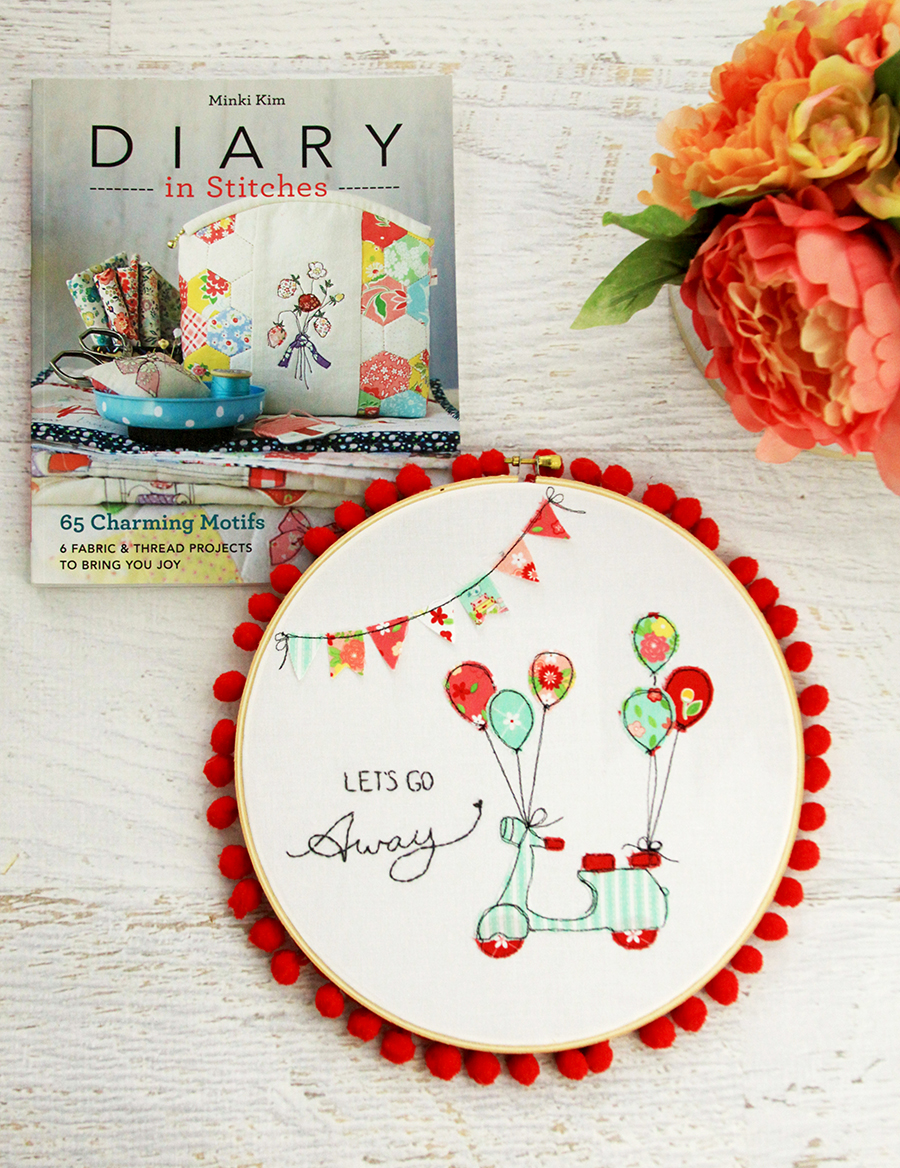 I'm so excited to share this new book with you from Minki Kim, Diary in Stitches! Minky's darling book is full of fabric illustration projects and they are all so sweet! I had such a hard time picking a project to do but in the end I had to go with this darling scooter!
I'm joining in with the Blog Tour for Diary in Stitches – you can see a list of all the other's participating in the hop at the end of the post – along with a giveaway!
You can find the book in bookshops and online retailers like Amazon and make sure you check out all the beautiful projects that Minki shares on her blog as well.
The illustrations in the book are so perfect for embellishing all sorts of projects. There are several different sizes as well so you can find something that would add the sweetest look to anything. I chose the little balloon decorated scooter to recreate. Here's Minki's version!
So cute right?! I put mine in an embroidery hoop (cause that's what I do) and added a little fabric bunting!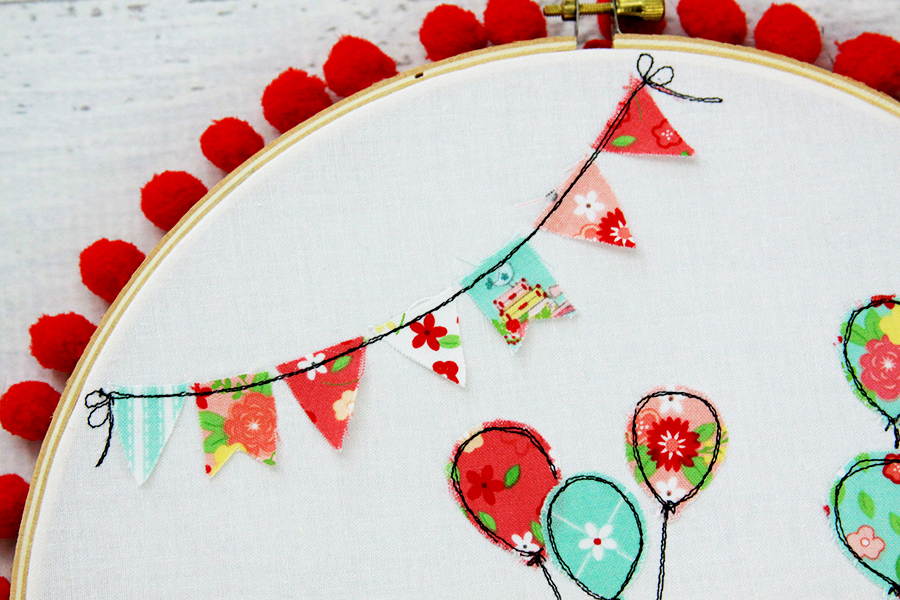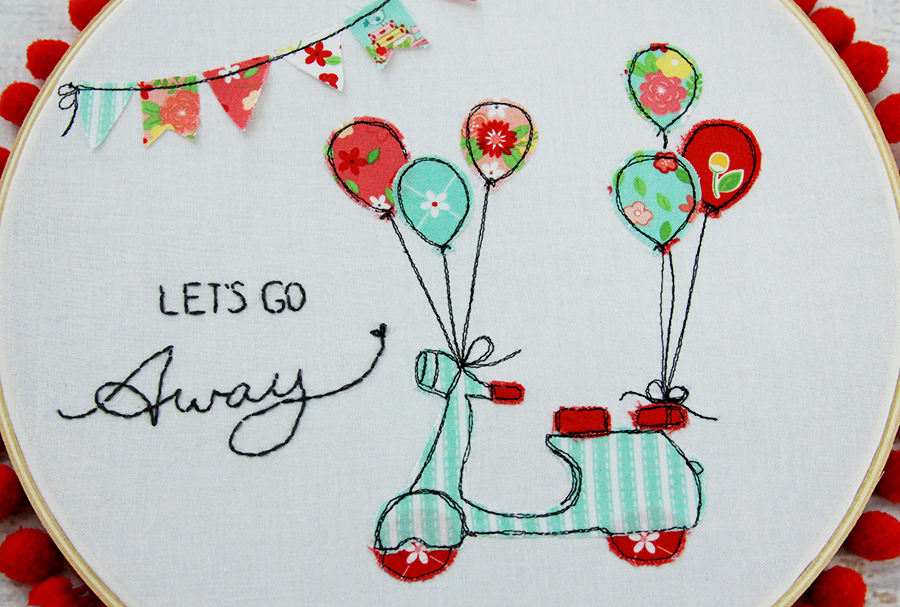 I did the lettering with hand embroidery rather than machine embroidery as well since I wanted it to be a little darker. I love how it turned out! I used Vintage Adventure fabrics for it too – I thought they went perfectly with the cute little scooter!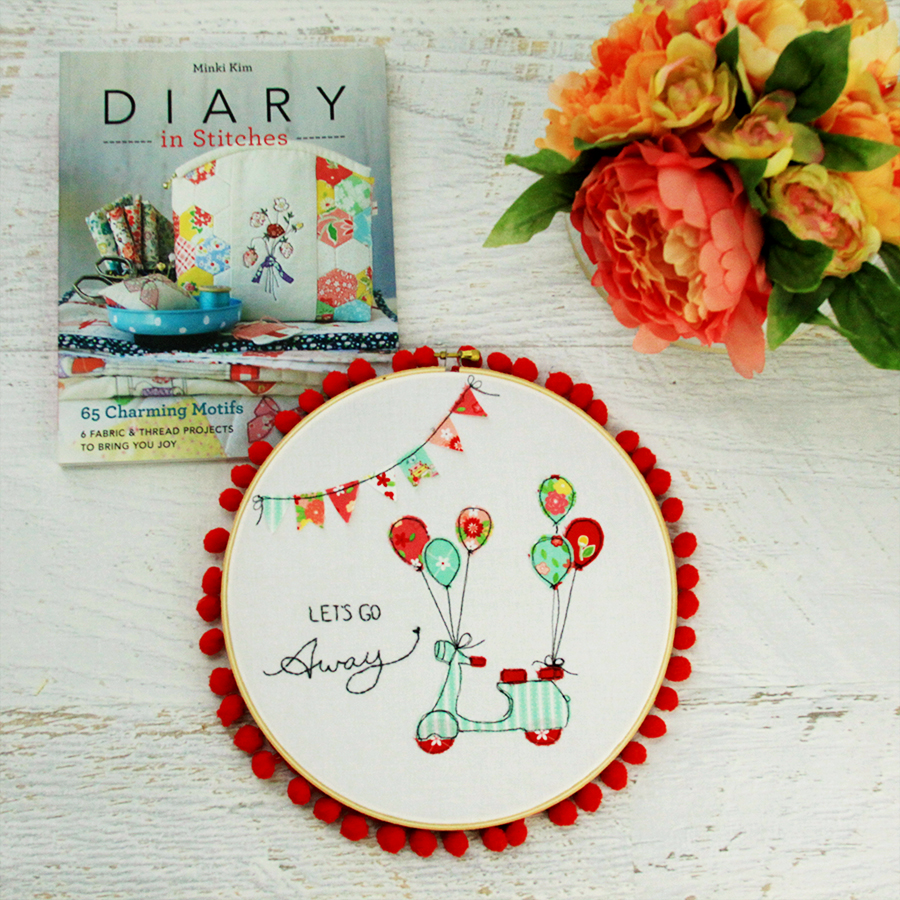 We're having a giveaway as part of the tour! We're giving away an ebook copy of Diary in Stitches to a lucky winner!
To enter, leave a comment below!
We'll be drawing the winners after the blog tour ends. Make sure you visit everyone else on the tour too!
Aug  30   C&T, C&T Publishing Blog    @ctpublishing
Sep 6,    Elise Bae, Elise and Emelie  @eliseandemelie  
Sep 13,  Sharon Burgess,Lilabelle Lane Creations   @lilabellane
Sep 20,  Lauren Wright, Molly and Mama  @mollyandmama
Sep 27,  Sedef Imer, Down Grapevine Lane  @downgrapevinelane
Oct 1, Love Patchwork & Quilting, Love PAtchwork & Quilting @lovequiltingmag
Oct 4,  Kristyne Czepuryk, Pretty by Hand  @prettybyhand
Oct 11, Bev McCullogh, FlamingoToes  @flamingotoes
Oct 18, Olivia, This Handmade Life,  @thishandmadelife
Oct 25, Erin Simpson, Aurifil, @aurifilthread
Nov 1,  Ayda Algin,  Cafenohut  @cafenohut
Nov 8, Bernina USA, WeAllSew  @berninausa
Nov 15, Minki Kim, MinkiKim, @zeriano