I'm so excited – I have a fun new quilt to show you! Jessica Dayon has come out with a fabulous new book, and I love this quilt I've made up from it! This is my Christmas Village Frolic Quilt!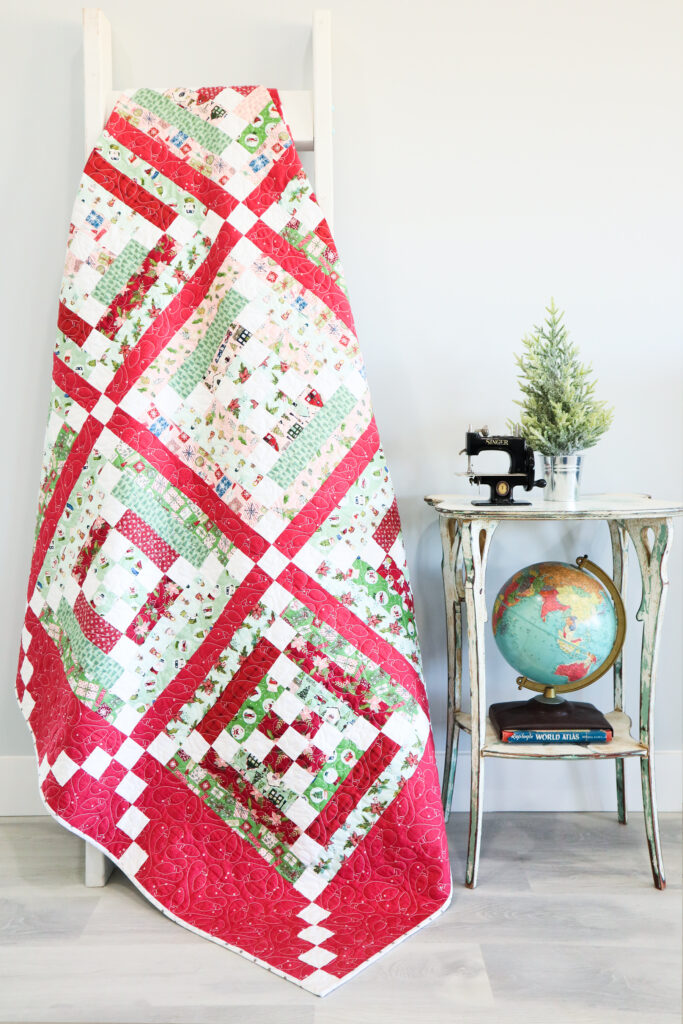 Jassica Dayon's new book, Precut Parade, is such a fun book! It is full of quilts that are perfect for precuts – and they are all really sweet!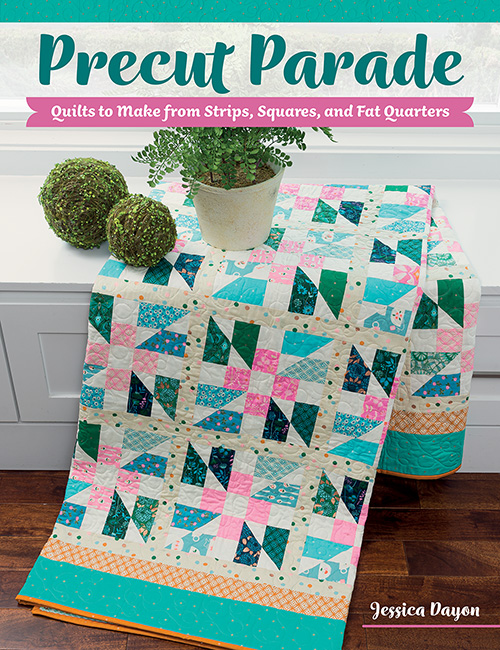 I wanted to sew up a project from the book, and while it was really hard to choose, I decided to make up the Frolic quilt! This quilt is perfect for 2 1/2″ strips and sews up so fast. Here's Jessica's version of the Frolic quilt from the book!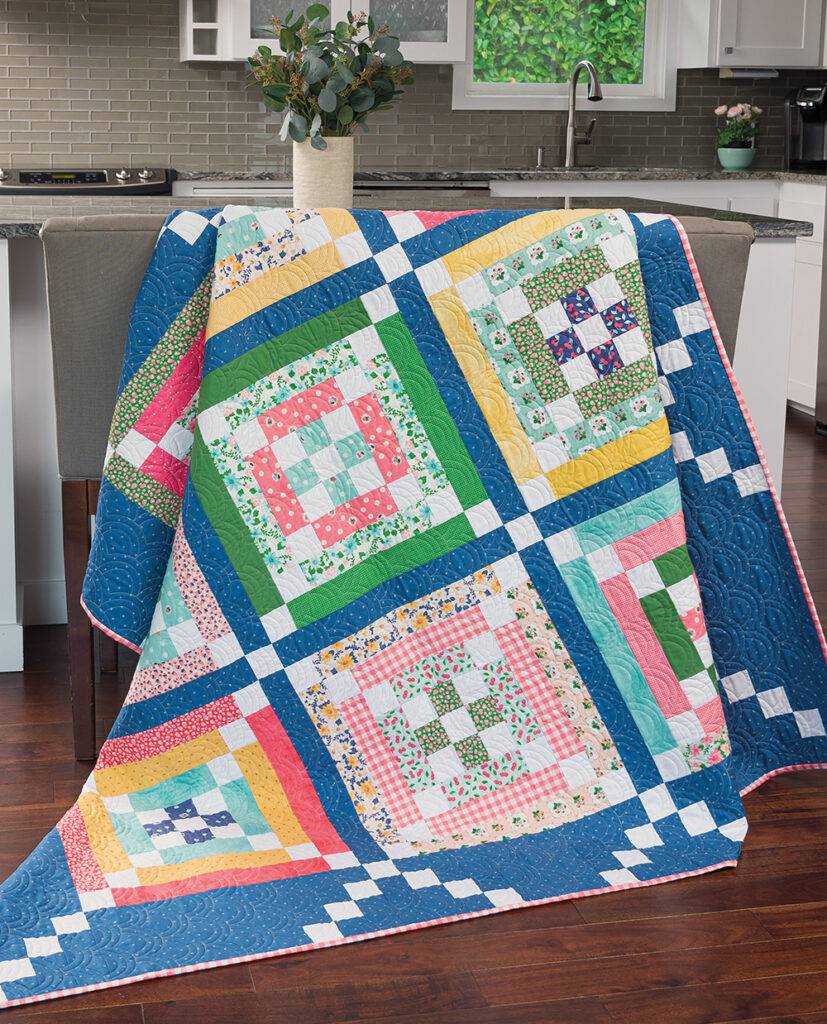 It's such a fun quilt that reminds me of picnics! I decided I wanted I needed another Christmas quilt, so I made up my quilt with Christmas Village fabrics from Katherine Lenius and Riley Blake Designs. This is a darling collection made up of little Christmas houses, florals, snowglobes, and snowflakes. For my sashing and borders, I used Dainty Daisy in Jazzberry, and I love how the red color frames the quilt.
Christmas Village Frolic Quilt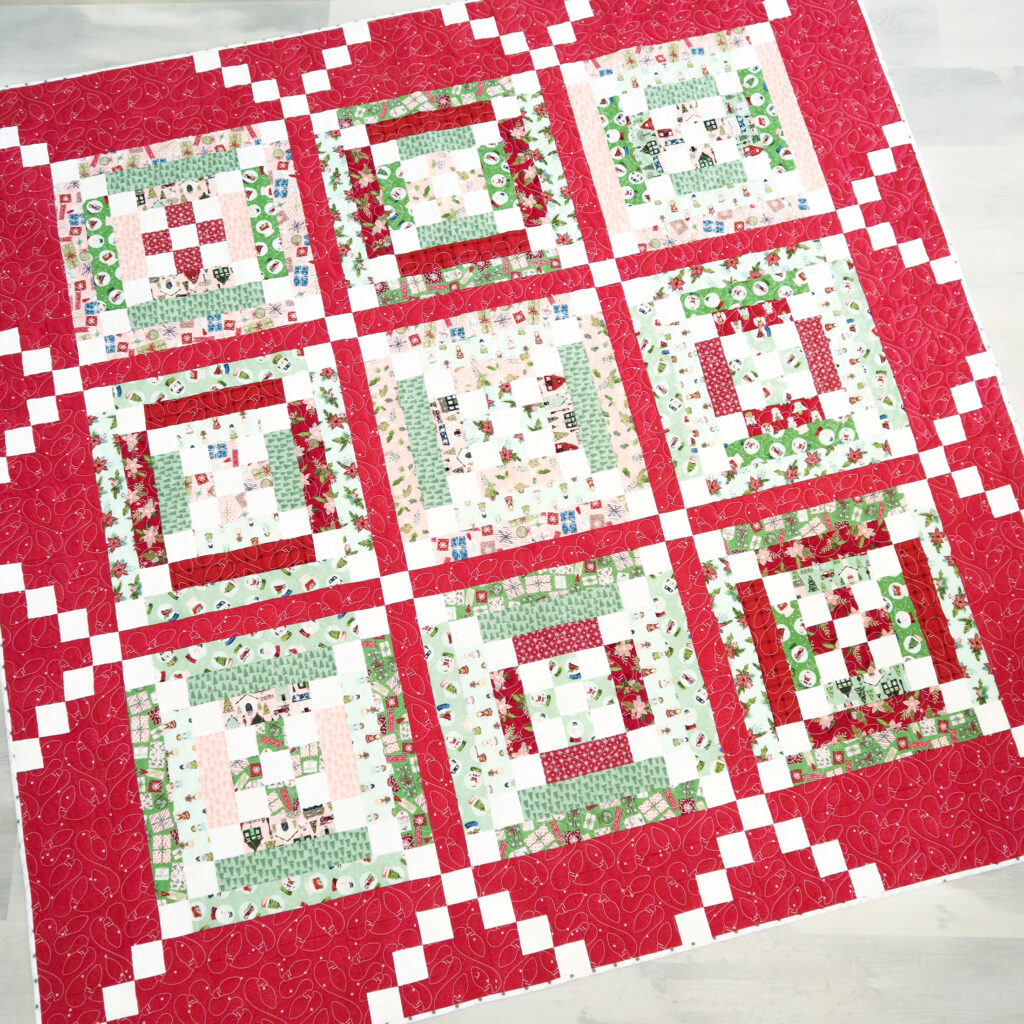 The collection has navy colorways, but I decided I wanted my quilt just to have the reds, greens, and pinks, so I left those out. I like how the addition of the pink prints adds a bit of "vintage" to the traditional colors.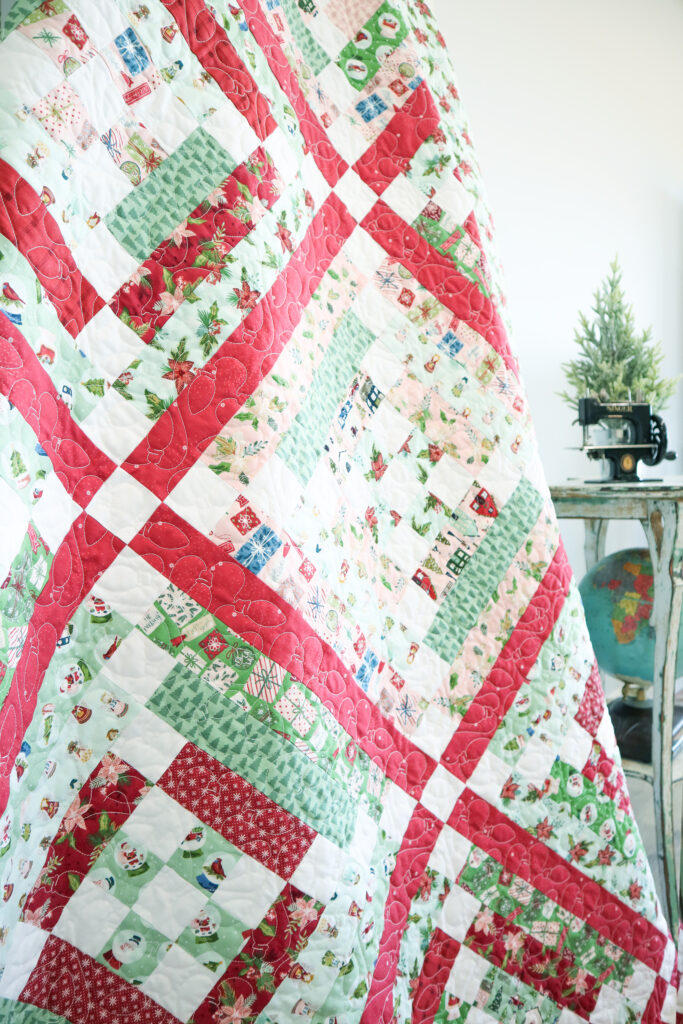 I backed my quilt in the mint poinsettia print from Christmas Village and I think that adds such a sweet bit of color to the back of the quilt. I can't wait to use this in a couple of months!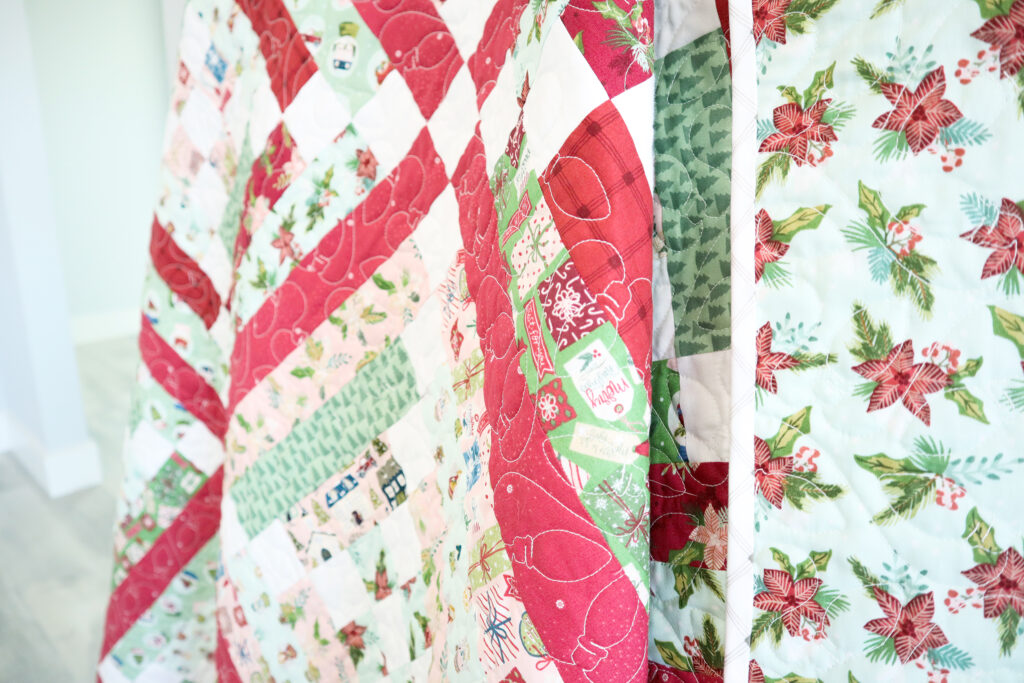 For the quilting, I used my Baby Lock Regalia and a Christmas lights pantograph. I wasn't sure about using white thread and how it would look against the red borders, but I actually like how the design looks on it! What do you think? What color thread would you use? And isn't that Dainty Daisy pop of color so fun?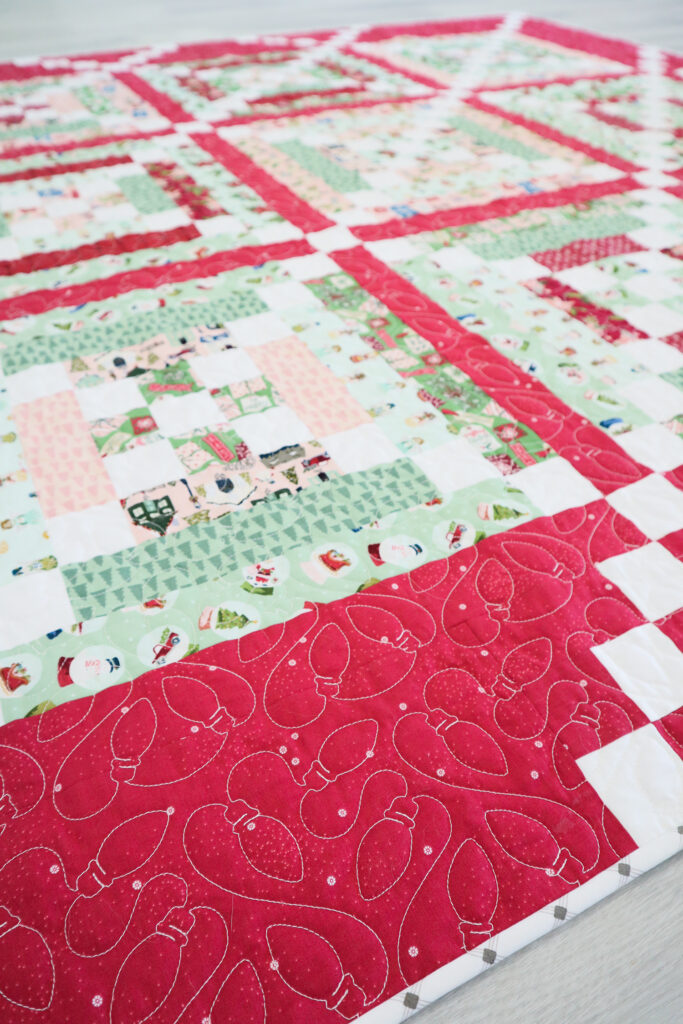 That Irish chain look that runs through the blocks is so fun! One of my favorite things about making this quilt was how fast it was! The blocks are really large and super easy to assemble, so I felt like it took almost no time at all.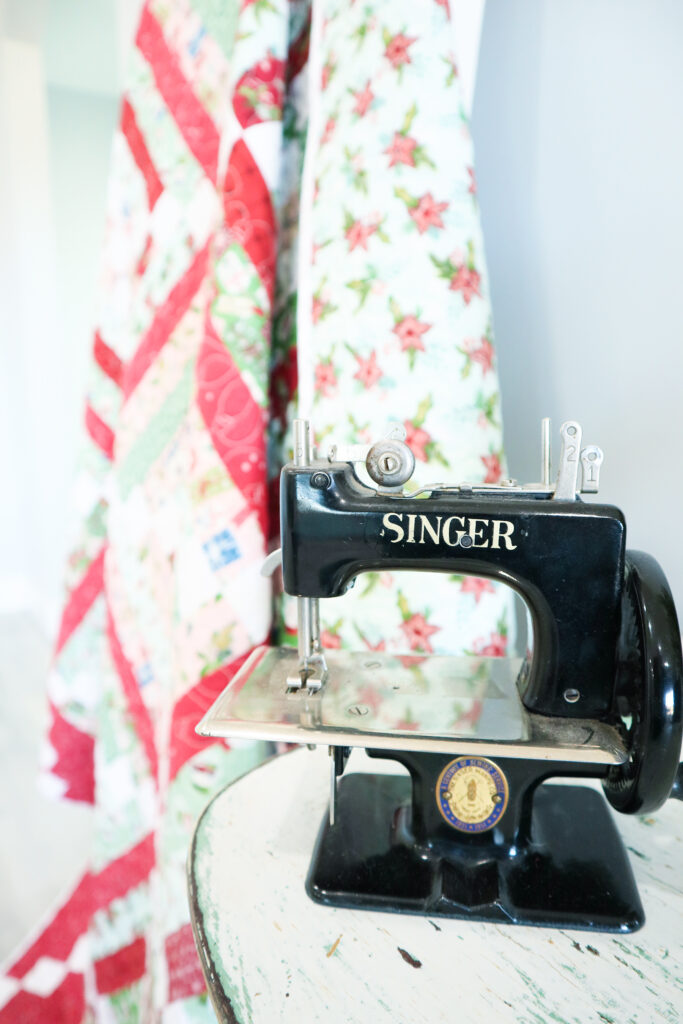 Jessica's such a talented quilt pattern designer, and these quilts in the book are no exception! They are all really fun! You can find the book in your favorite quilt shop, Barnes and Noble, and Amazon. Here's the link to Amazon if you want to check out the book and the other quilts in it!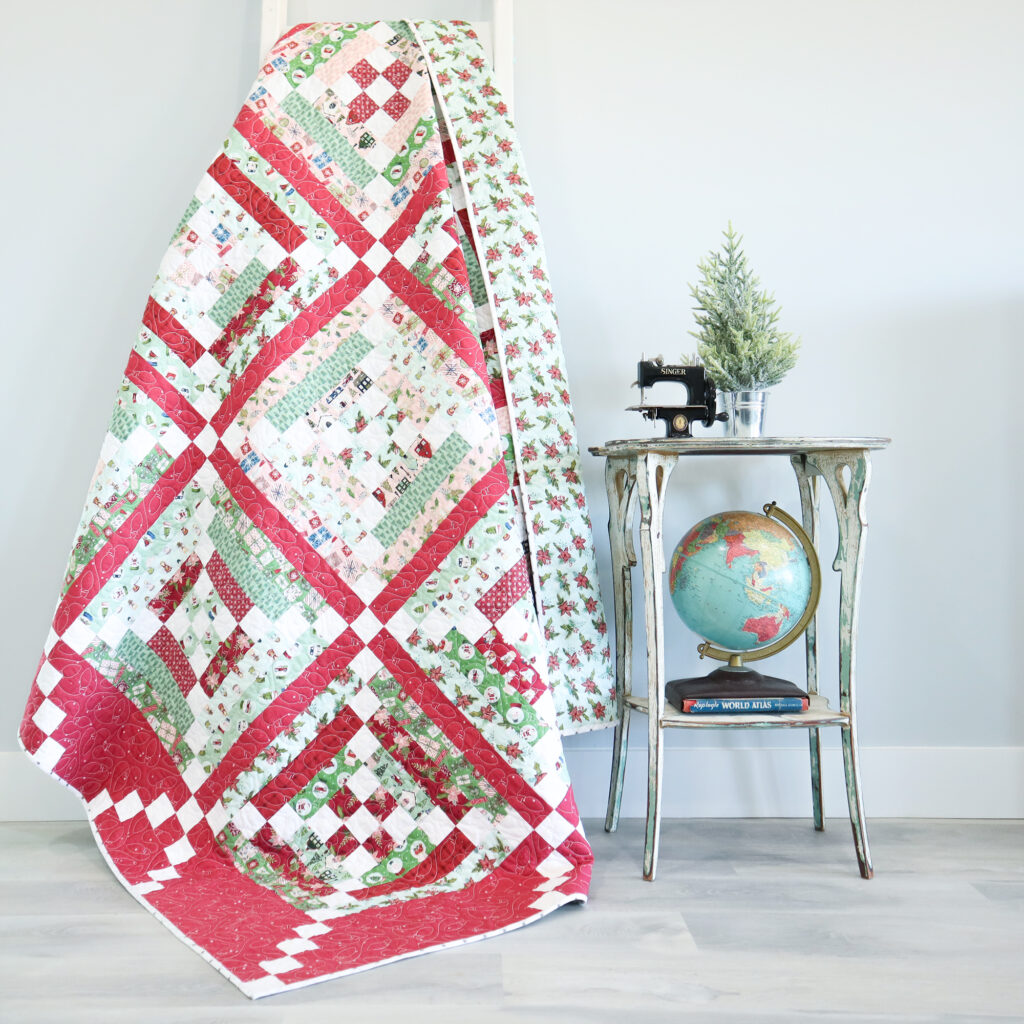 You can visit Jessica at her blog, Jessica Dayon, and on social media on Instagram. Make sure you follow her – you will love what she is sharing and making! And don't forget to pick up her new book, Precut Parade!
I'd love to know what you think of my Christmas Village Frolic Quilt!