These Cherry Almond Shortbread Cookies are so quick and easy to make up and they make great Christmas cookies! Or really, any time of year!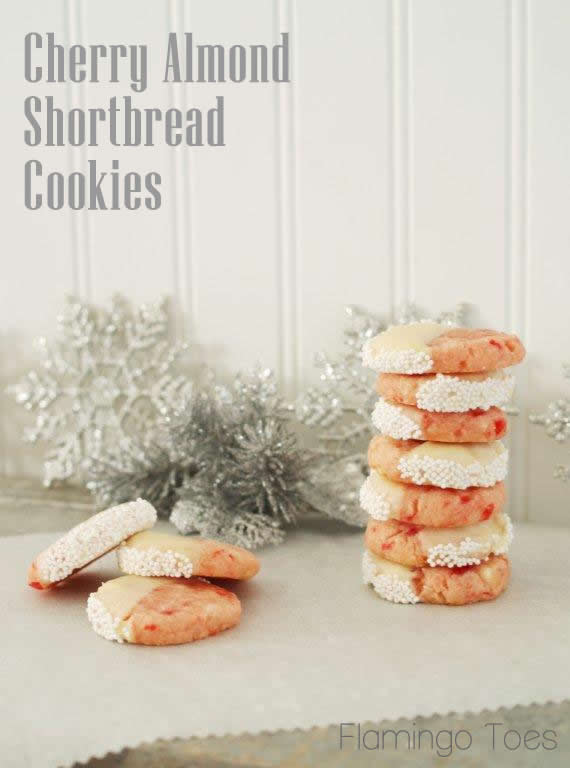 It has been an AGE since I posted a recipe!
I love to cook and bake though – I need to start sharing more. And this is the perfect time of year to start!
We bake lots of cookies for Christmas – usually during the week before we bake up a flurry – so by the time Christmas rolls around we have a big assortment of yumminess!
These sweet little Cherry Almond Shortbread Cookies have quickly become a family favorite.
They're really easy to put together too!
I have a printable recipe for you below – so you don't have to print out all my chatter. :)
All you have to do is mix up all your ingredients – then knead them until they form a ball.
This is the fun part. You get your hands in there and really mix things up.
Feel free to keep your extra maraschino cherries handy – for tasting purposes only of course.
Once your dough is all together, roll your dough into small balls. Place them on a parchment lined cookie sheet.
FYI – I am a firm believer in only baking on parchment sheets. Everything turns out SO much better, plus cleanup is crazy easy.
Find some really cool glasses at a Mexican restaurant and talk the bartender into letting you buy a bunch of them. At a ridiculously cheap price.
Dip the end of your wickedly cool glasses in sugar, then press down the cookie balls.
(Oh ok. I guess the whole Mexican-restaurant-drinking-glass-deal adventure is optional, but it's definitely more fun that way.)
Bake the cookies for 10 or 12 minutes, until they're all set. Let them cool on the cookie sheet for a minute or so, then transfer them over to a parchment lined wire rack.
Yes, again with the parchment paper. But I hate the little lines that the rack leaves on the bottom side of the cookie. I'm shallow.
While the cookies are cooling, melt the rest of the white chocolate with the shortening.
Dip half of the cookies in the chocolate, then run the edge in sweet little nonpareils, or edible glitter.
This makes them cute AND yummy.
Place the cookies back on the parchment paper until they're set. Mine took about an hour.
(If you're in a hurry, you can pop them in the fridge to speed things up.)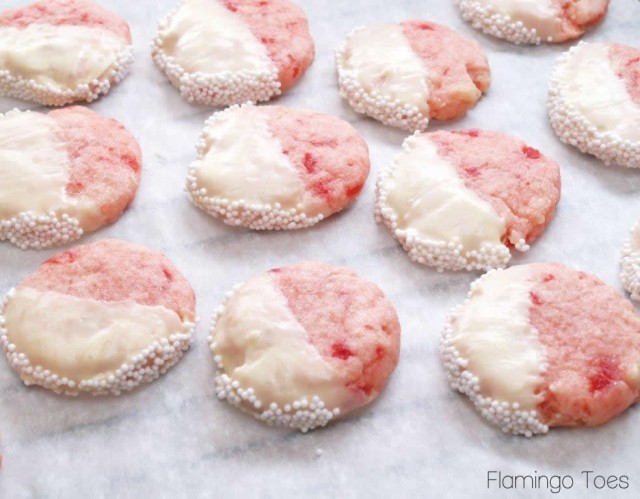 To store these, put them in a closed container, separating the stacks of them with . . . you guessed it . . . parchment paper.
We like to keep ours in the fridge – they're super yummy cold.
Cherry Almond Shortbread Cookies
Here's the recipe – I'd love to hear if you give them a try this Christmas!
If you're looking for a cute Christmas project to set these on, they go great with my new Starry Ornament Table Runner and Cross Stitch patterns!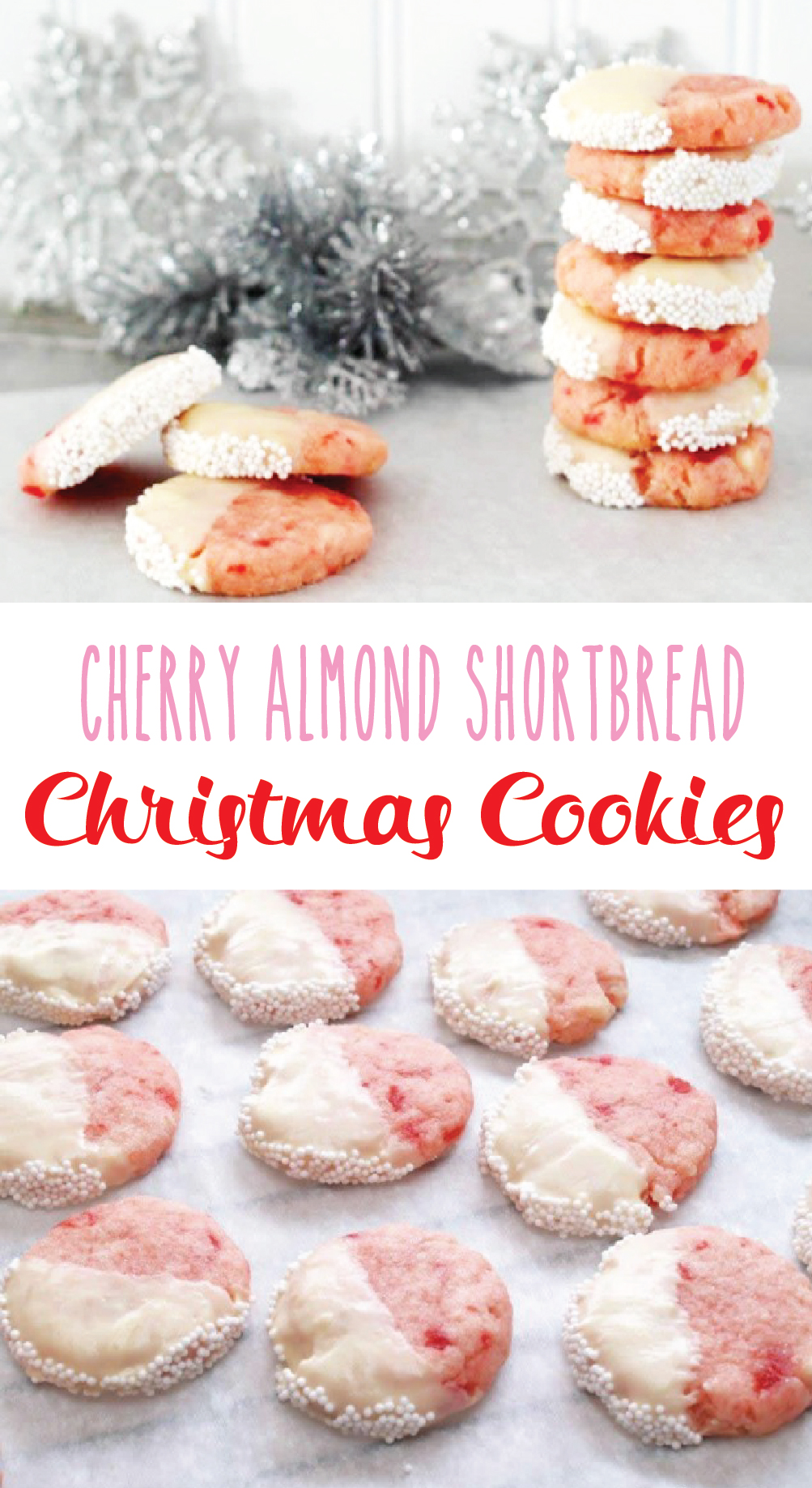 Cherry Almond Shortbread Cookies

Print recipe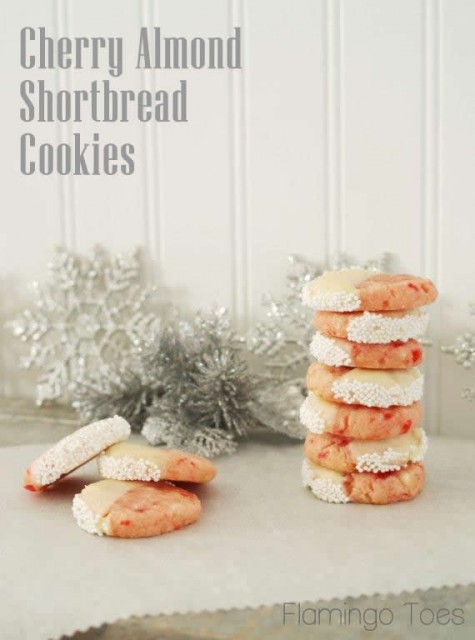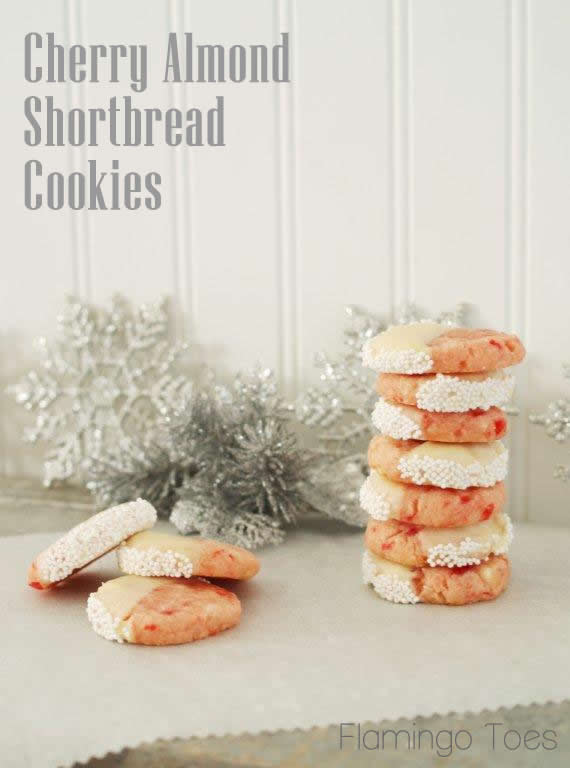 Ingredients
1/2 cup maraschino cherries (drained and finely chopped)
2 1/2 cups all-purpose flour
1/2 cup sugar
1 cup cold butter
12 oz white chocolate baking squares (finely chopped)
1/2 teaspoon almond extract
1 teaspoon marischino cherry juice
2 teaspoons shortening
Optional
Edible glitter or nonpareils
Yield
Makes about 4 dozen cookies.
Directions
Preheat oven to 325 degrees.
In a large bowl, combine flour and sugar. Using a pastry blender, cut in the butter until mixture resembles fine crumbs. Stir in drained cherries and 4 ounces (2/3 cup) of the chopped chocolate. Stir in almond extract and cherry juice.
Knead mixture until it forms a smooth ball.
Line cookie sheets with parchment paper.
Shape dough into 1" balls. Place balls 2" apart on parchment liners.
Using the bottom of a glass dipped in sugar, flatten balls to 1 1/2" to 2" rounds.
Bake in preheated oven for 10 to 12 minutes, or until centers are set. Cool for 1 minute on cookies sheet.
Line wire racks iwth parchment paper. Transfer cookies to wire racks and let cool.
In a small saucepan, combine remaining 8 ounces chocolate and the shortening. Cook and stir over low heat until melted.
Dip half of each cookie into chocolate, allowing excess to drip off. Roll edge in glitter or nonpareils.
Place cookies on parchment paper until chocolate is set, or set chocolate faster in the refrigerator.