Wow – Easter is right around the corner!
I've been doing some Easter crafting, but I don't have anything ready to show you yet! So I thought it would be fun to do a little roundup of sweet Easter bunnies – and there's still plenty of time for you to sew these up!
Eek! These guys are so darling! That chenille fabric makes them look so vintage!
From: Sew 4 Home
This little Chenille Bunny has always been one of my favorites – it looks so soft and sweet.
From: Sew Much Ado
This Sew and Tell Rabbit is soooo cute!! I love his little button nose! And of course, all the rick rack.
From: Me Sew Crazy
Sock Bunnies! These would be so quick and easy to do – and there are so many fabulous sock prints out there. You could come up with some really quirky bunnies!
From: Lil Boo Blue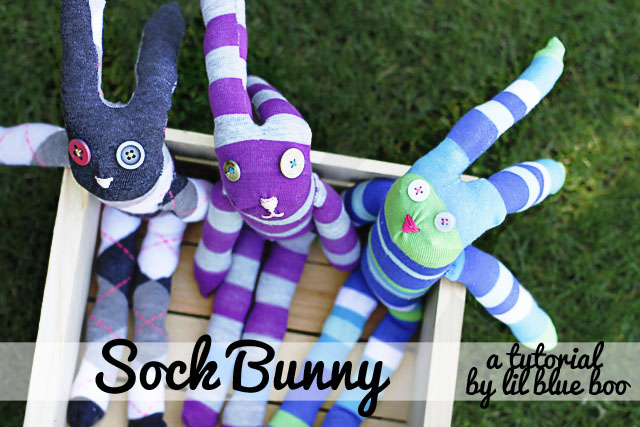 Ok – how fun are these little guys? Their faces are so sweet!
From: Quilted Cupcake
Changing up the fabrics makes for fun and unique bunnies – I love this little Menswear Bunny!
From: Martha Stewart
I made these little guys eons ago! This Bunny Bowling pattern is so cute and fun.
From: The Long Thread on the Etsy Blog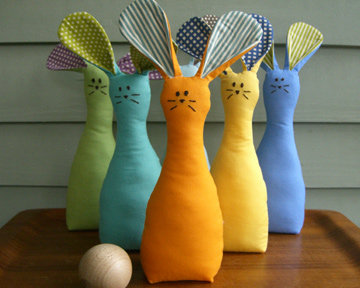 Here are mine – just to show ya. I made these back in March 2010 btb (before the blog).
They were kind of silly.
This little Linen Bunny would make a gorgeous decoration! You could pair it with some lovely faux eggs and some moss.
From: EAB Designs
Here's another little sock bunny tutorial – this time from baby socks. So sweet.
From: Elsie Marley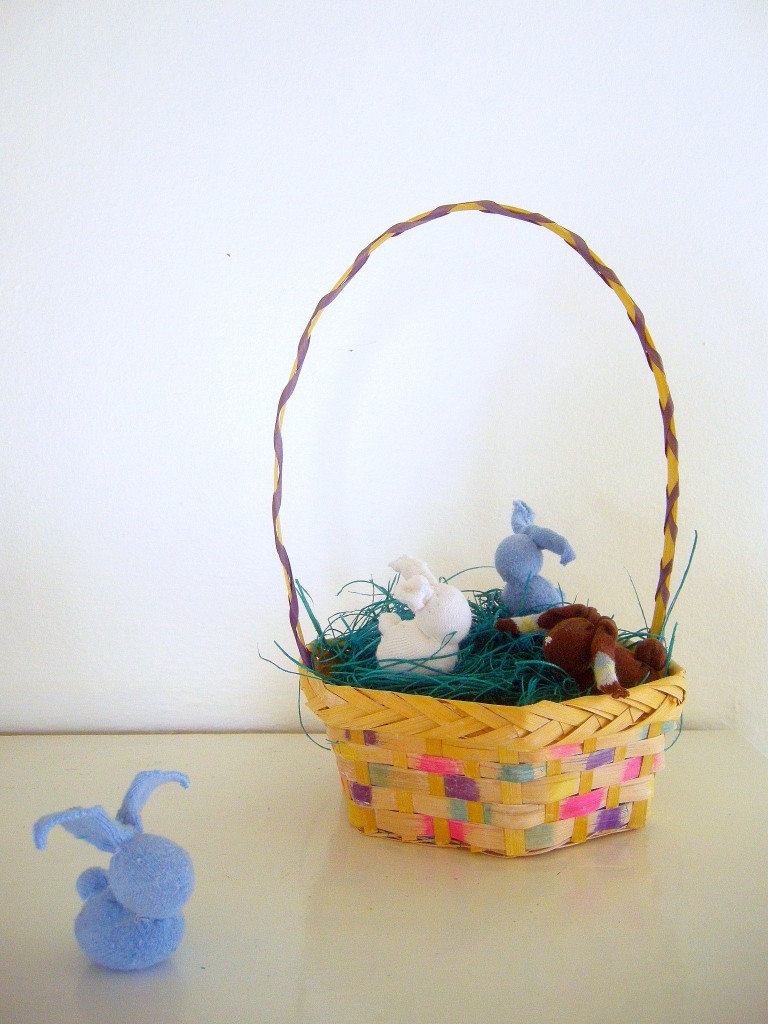 These little guys are super simple! I love their pinked edges too!
From The Little Fabric Blog
You can sew up both of these cuties from the same tutorial – aren't they great? I think I'd have to go with the little guy with legs though.
From: Revoluzza
Gah – how fun are these little Bunny Hand puppets? You could make up a whole easter family!
From: Purl Bee
Ok, technically this isn't a bunny softie (I didn't even include it in the count!) – but it was too cute not to share! This little bunny bag is so darling.
From: NanaCompany
This little Bunny Pal has an egg to hold! I love his eyes and those floppy ears!
From: Lark Crafts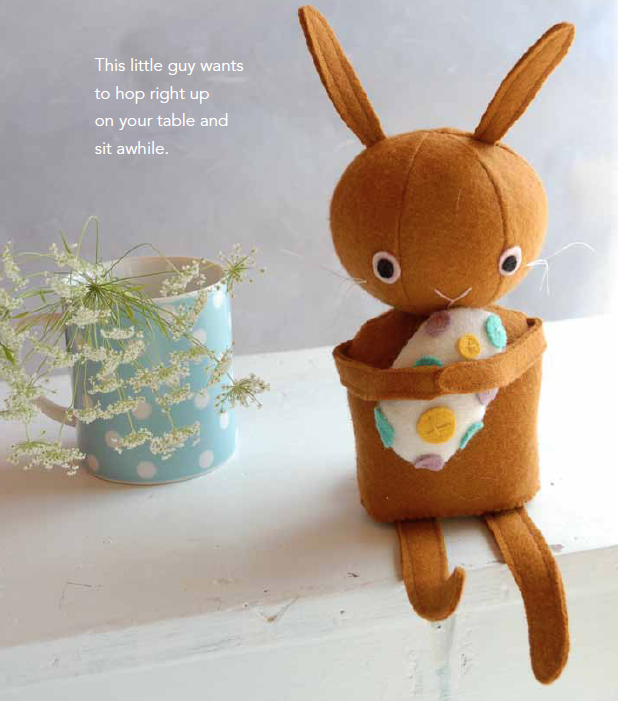 Wee Tiny Bunny Sachets!! These would be super quick to do!
From: Craft Passion
I need this Mooshy Belly Bunny for my very own!! This one is super quick too!
From: Chez Beeper Bebe
I'm pretty sure I need a whole basket of these little Peeps bunnies! They have little "arms" to hold a gift too!
From: Mommy Savers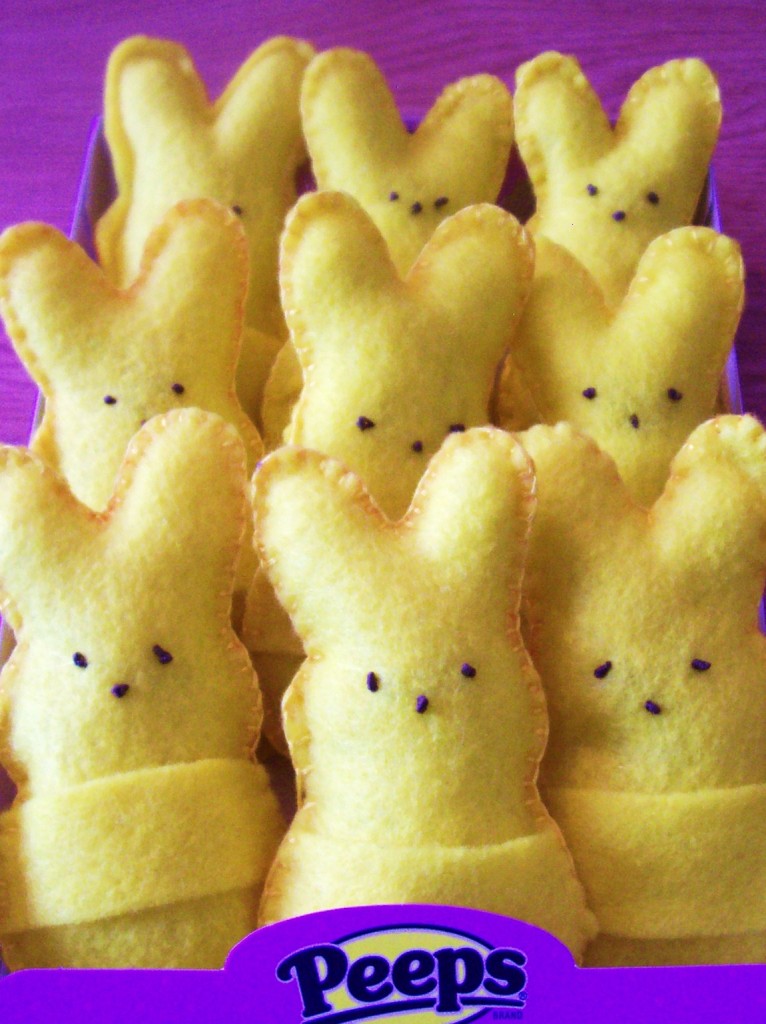 This Jack Rabbit Softie is so fun – and not too girlie either – so you could make him up for your little guy for Easter!
From: The Mary Frances Project
Every time I find another I think, "Oh, this is my favorite"  – aren't these little bunnies so fun and unique? They're faces just kill me.
From: The Handmade Home
This awesome guy is made from a repurposed scarf! You could use any fabric though – it would be so cute in a floral print too!
From: Lark Crafts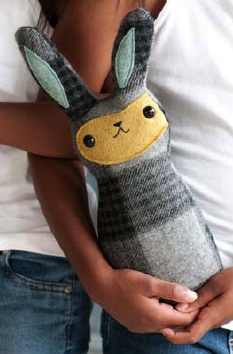 Heart. Nose. That's all I have to say about that.
From: All Sorts
These little Roly-Poly Fabric Easter Bunnies are made out of vintage sheets. They are so fun and easy to make!
Aren't you in love? I just want to sew them all up!