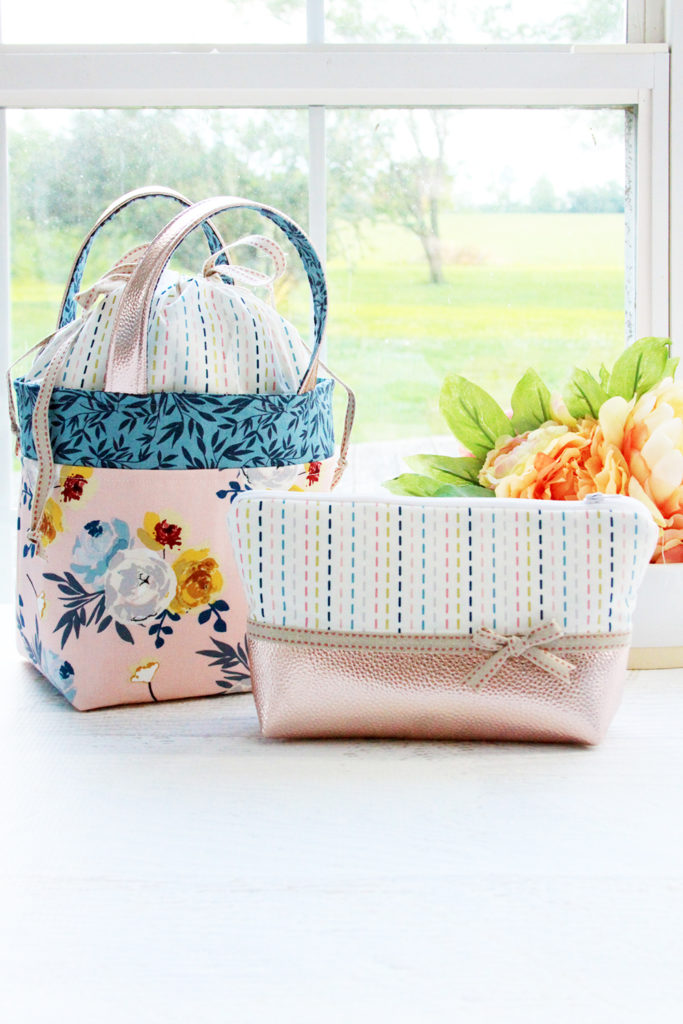 I can't resist a cute bag – and in today's post we have two!!! This Blooms and Bobbins Fabric Bag Set makes up super quick and they're perfect for holding all kinds of things. I'm going to use mine for projects while I'm traveling – I think the large tote will be perfect for hoop are projects and I can keep my threads tidy in the small bag.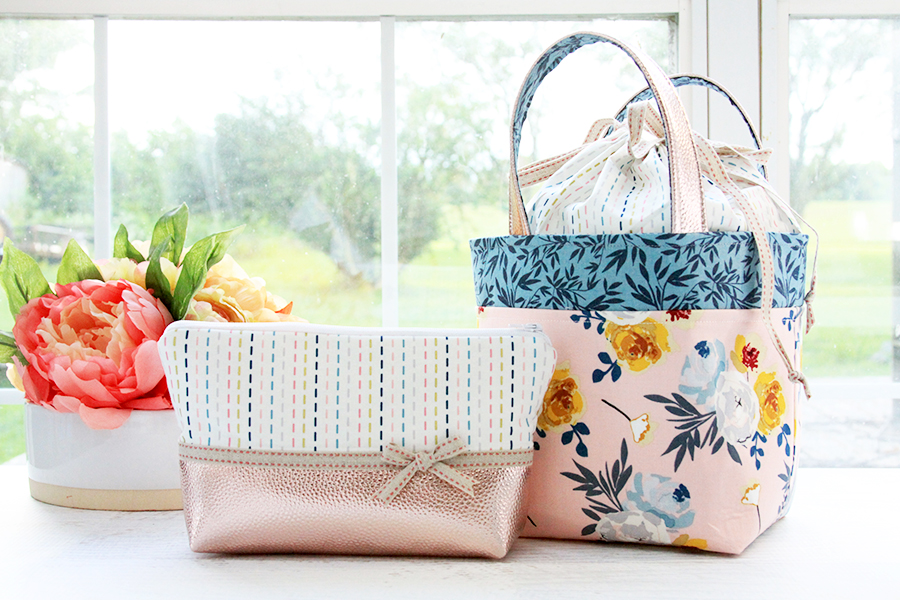 The fabrics in the bags are from the new collection by Melissa Mora from Melly Sews called Blooms and Bobbins from Riley Blake Designs! It's a gorgeous fabric line with lots of florals, little stitched lines, and sewing machines.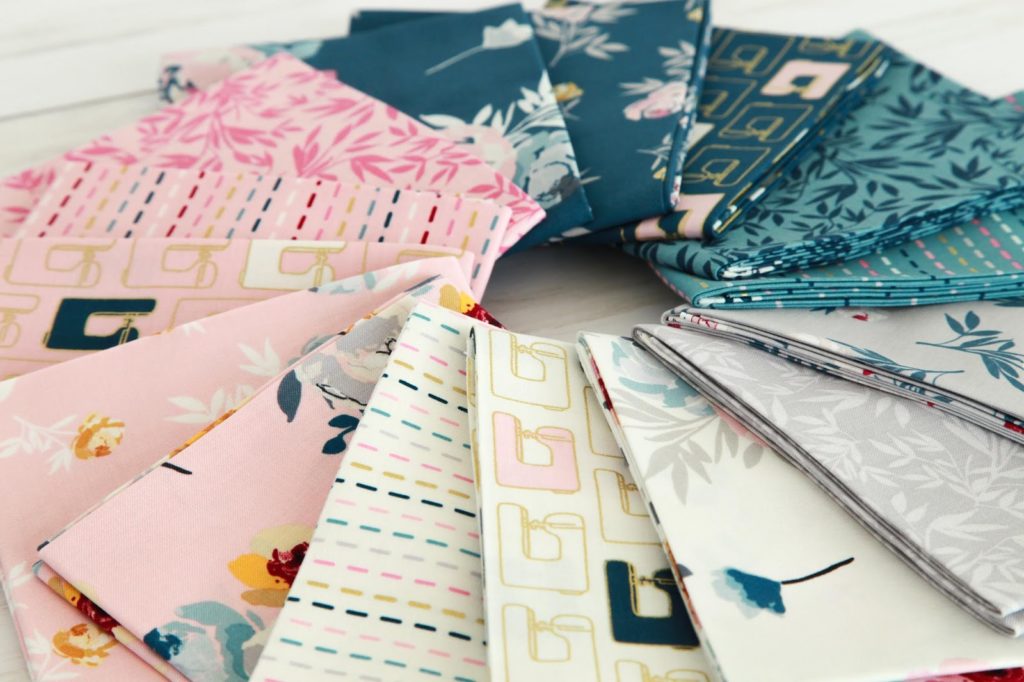 Isn't that a pretty color palette?! I love it! I've been wanting to make up the Lunch Bag Tote from Pink Penguin for ages now and I thought Melissa's pretty fabric would be perfect!
I used the Blooms and Bobbins Main Pink print (affiliate links) for the body of the bag, the Blue Leaves print for the inside of the straps and the top band and the Sparkle Cream Stitches print for the inside cover and lining.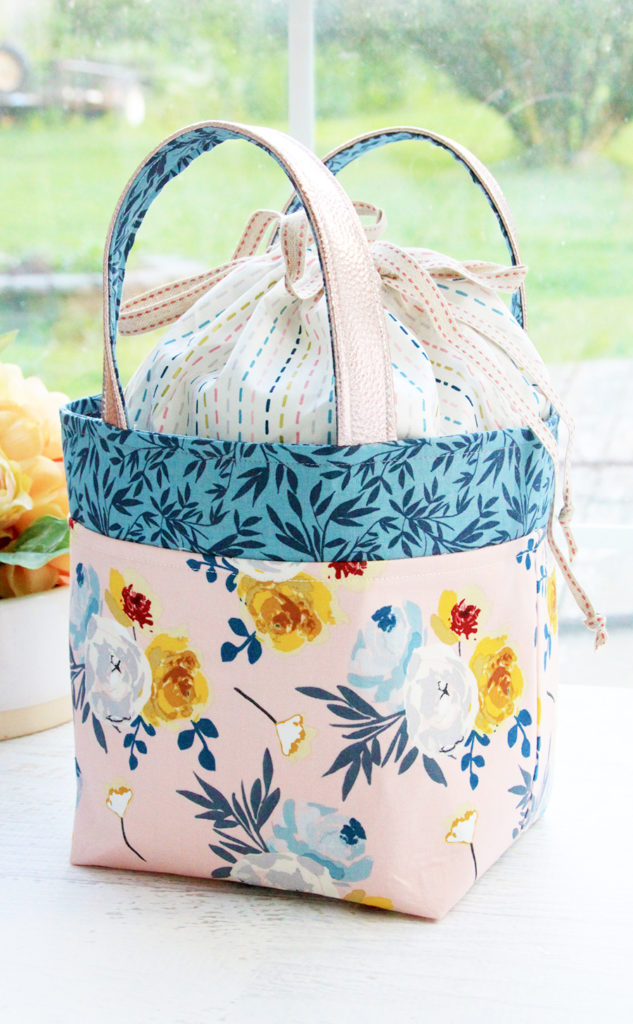 I followed Ayumi's tutorial exactly – except instead of fabric for both sides of the handles I used this gorgeous rose gold faux leather I found at Hobby Lobby. It looks so pretty with this fabric collection! It was super easy to sew – you can use a teflon foot or add some washi tape to the bottom of your presser foot to make it glide through your machine. Also I found that using binding clips really helped when I was sewing together the straps and all the fabrics at the top.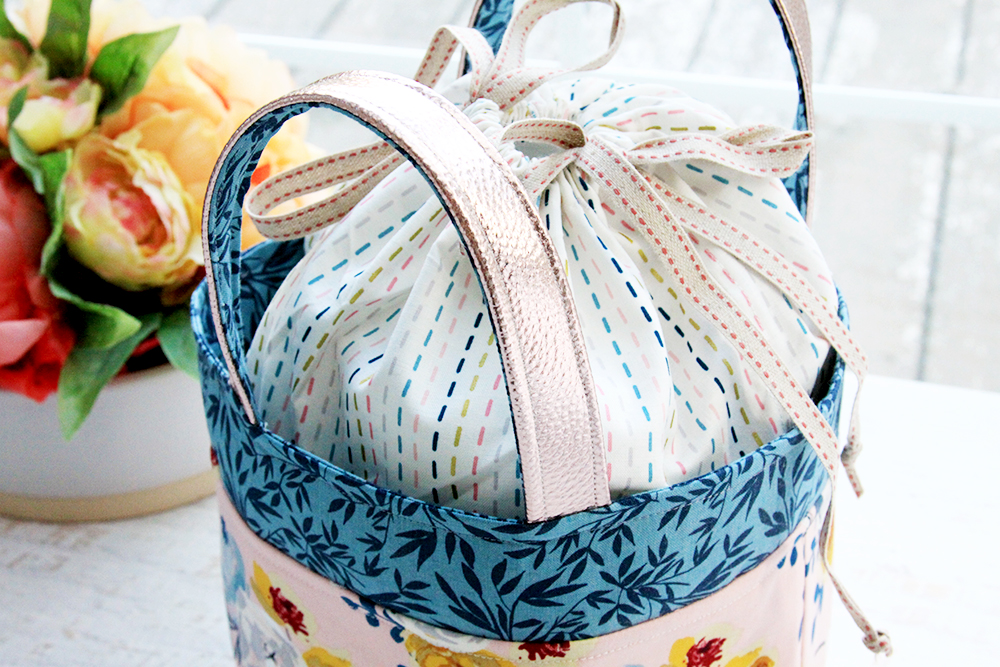 The bag takes 5 fat quarters but I used 3 fabrics and I needed a little more than that for the inside since I made my lining and cinched cover out of that fun stitched fabric. I am in love with that print!!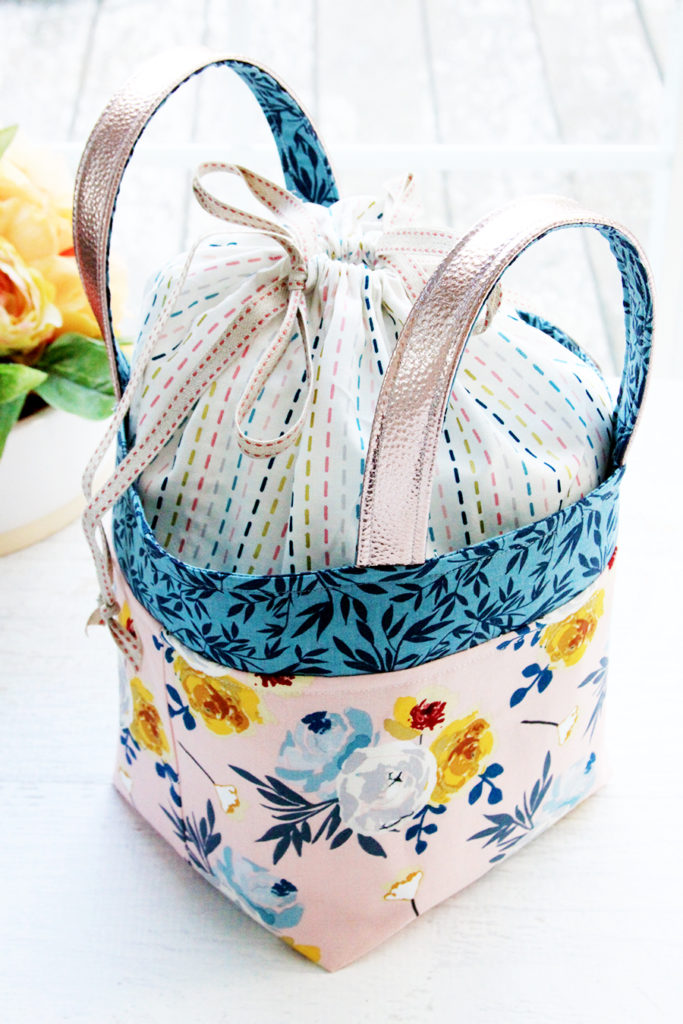 I made the coordinating zipper bag from my zipper bag tutorial. The only alteration I made was to cut the outer base pieces 10″ x 4″ instead of 10″ x 5″. With making the straps out of the leather I didn't have enough to do the full base but you'd never know – it looks great this way!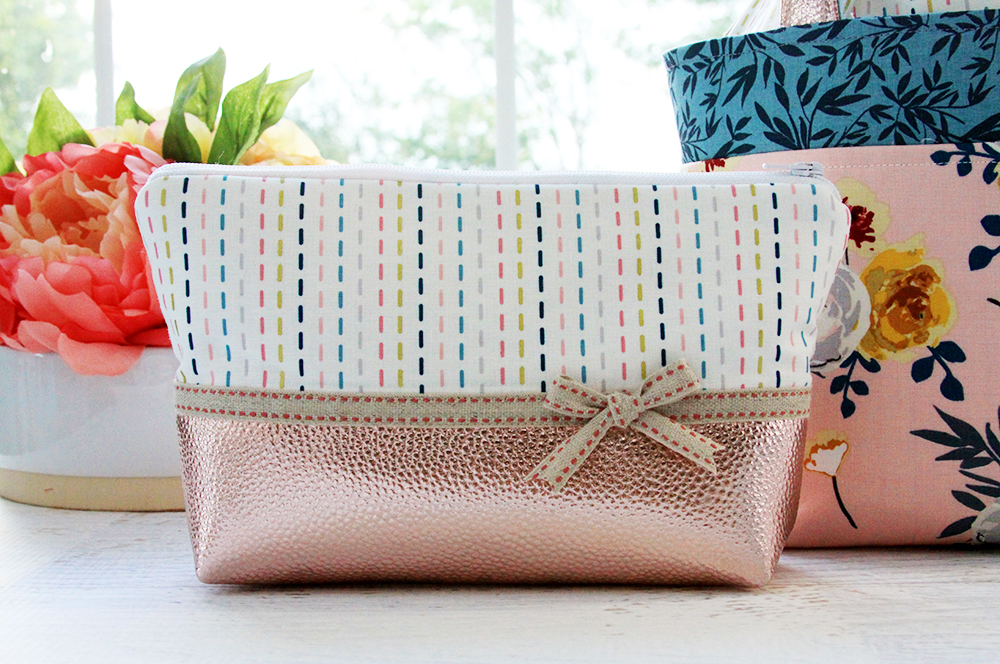 I used the large floral for the lining – I love how colorful it looks inside!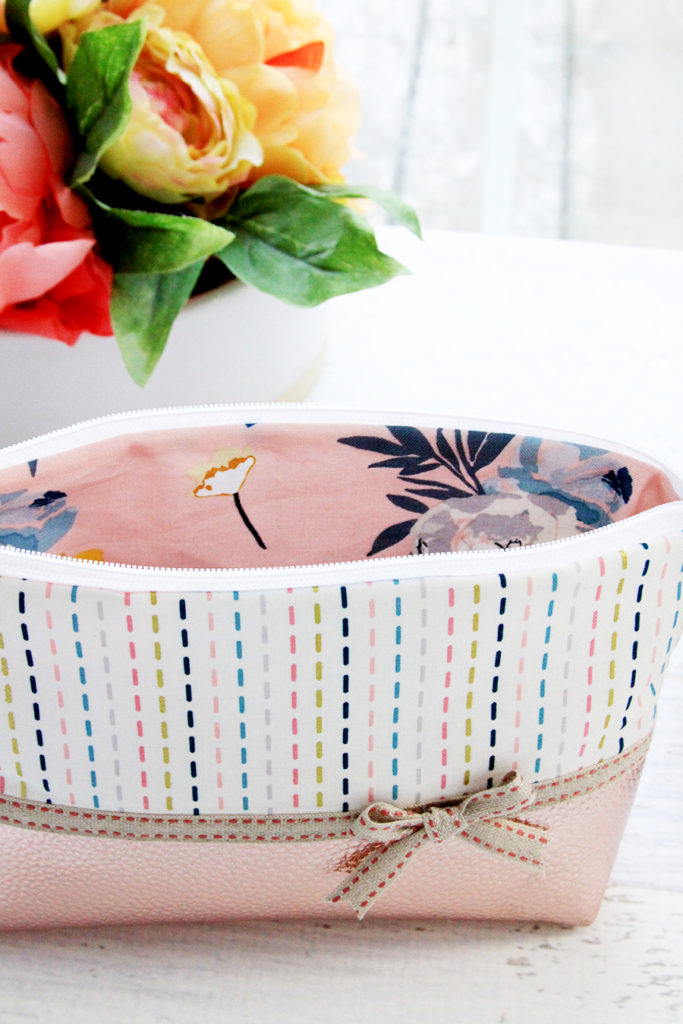 It's hard to tell in the photos but the gold stitched line on that print is a shimmery gold. It adds such a fun sparkle and goes so perfectly with the rose gold base!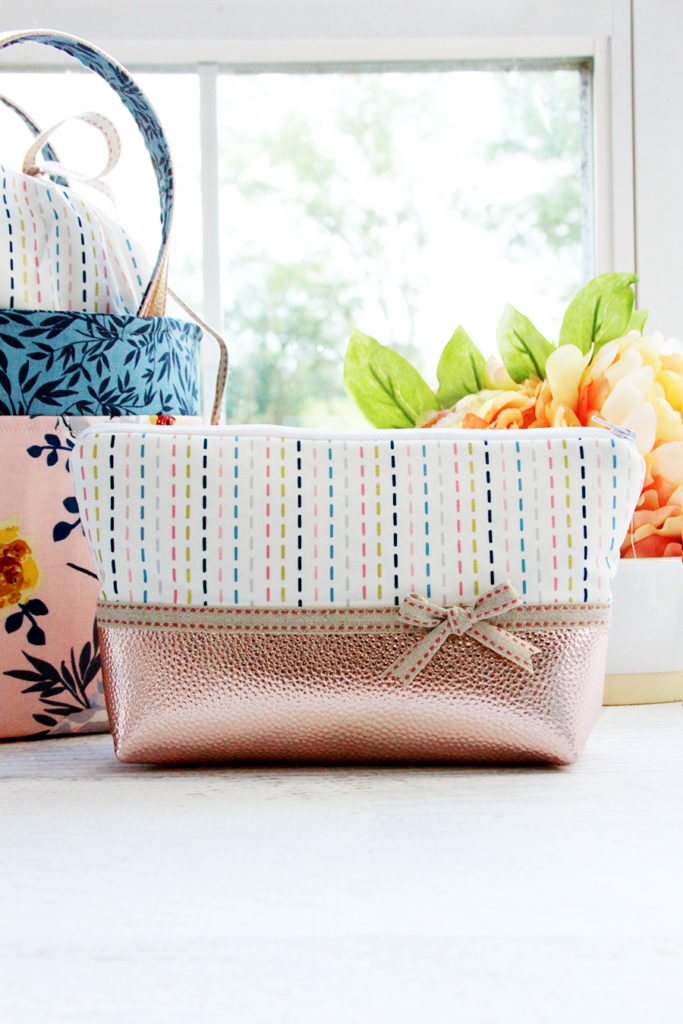 I love how these fabrics coordinate together and I can't wait to start using these bags for projects this summer!