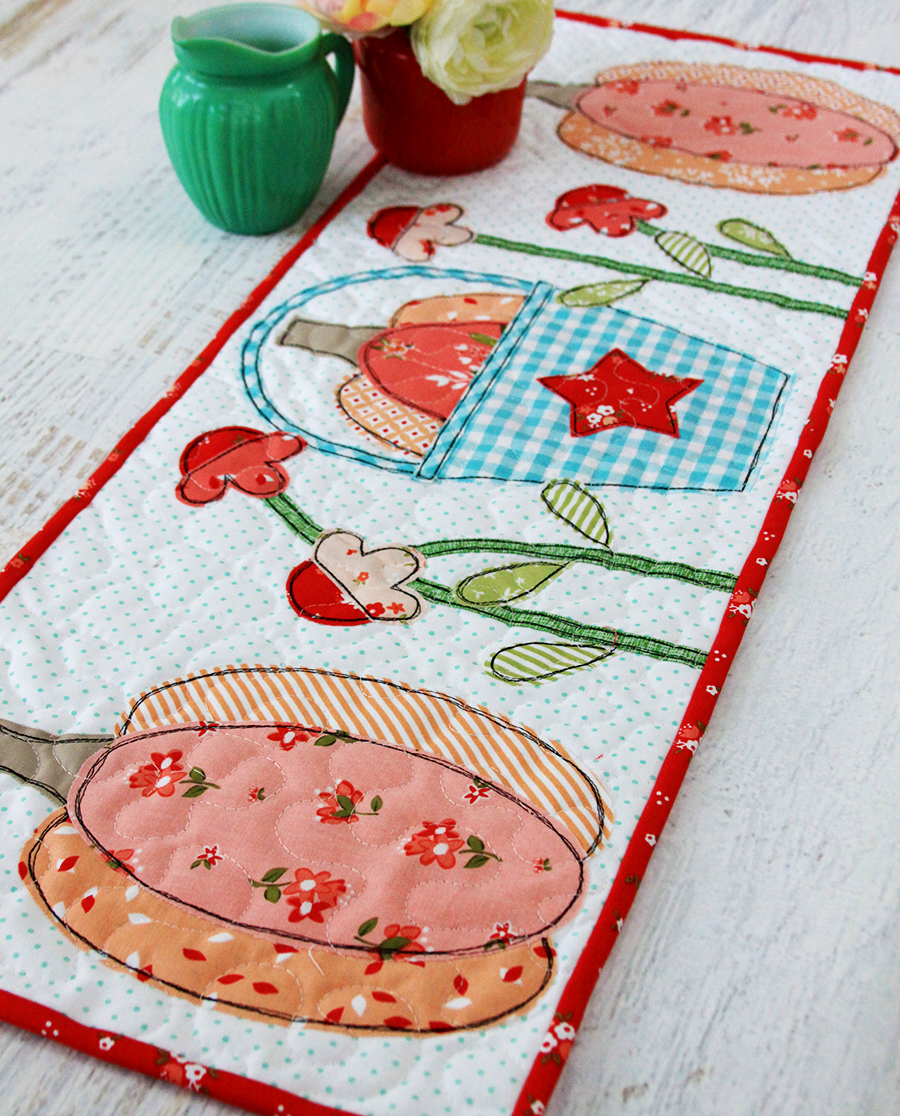 I'm so excited that Fall is here! Or it's almost here and that's good enough for me. So I'm sewing all the fall things and wearing fuzzy socks and cuddling under quilts. I might be warm but I'm determined! So I'm sharing this new Autumn Love Pumpking Table Runner today to celebrate!
If you've ever joined in with a Lori Holt Quilt Sew Along you know they are super cute and so fun to make! This new quilt – designed just for Autumn – is so fun and perfect for Fall!
I'm sewing along with the Week 3 Block – the pumpkin in a bucket with little flowers! Here's Lori's version of the block! Isn't it so cute?!
I turned mine into a mini table runner for my kitchen table. I used a mix of Riley Blake fabrics so it would blend with my kitchen colors and I love that it has a soft, pastel Autumn color to it.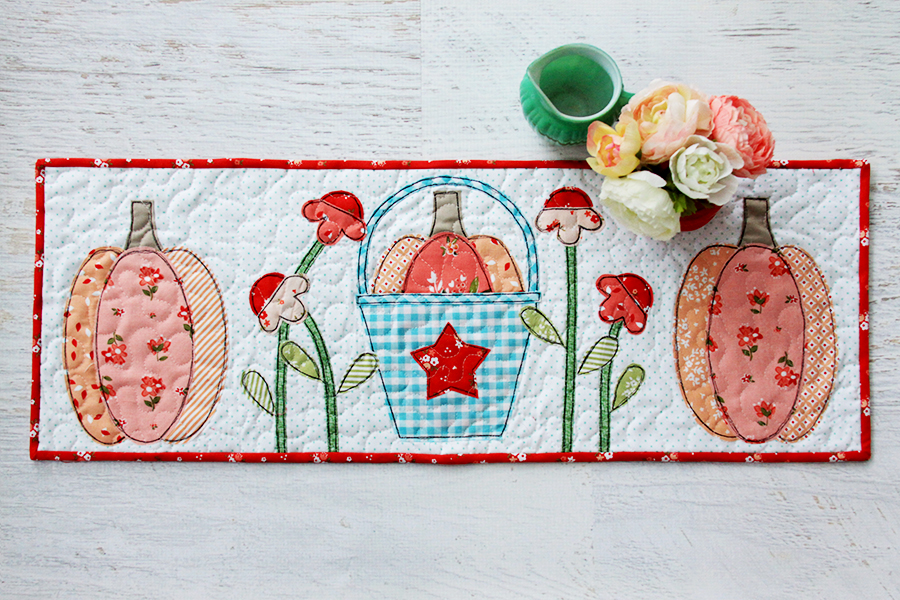 I took the main portions of the block and used them in the center then added another set of flowers on the right side of the bucket. I added some width to the runner with another set of pumpkins, using the same pumpkin templates as are in the bucket. Aren't they sweet?
I used HeatnBond Soft Stretch on the back of the fabrics and then appliqued all my shapes down with a free motion applique stitch using Black Aurifil 50wt. It really sets off the designs I think – almost like outlining them.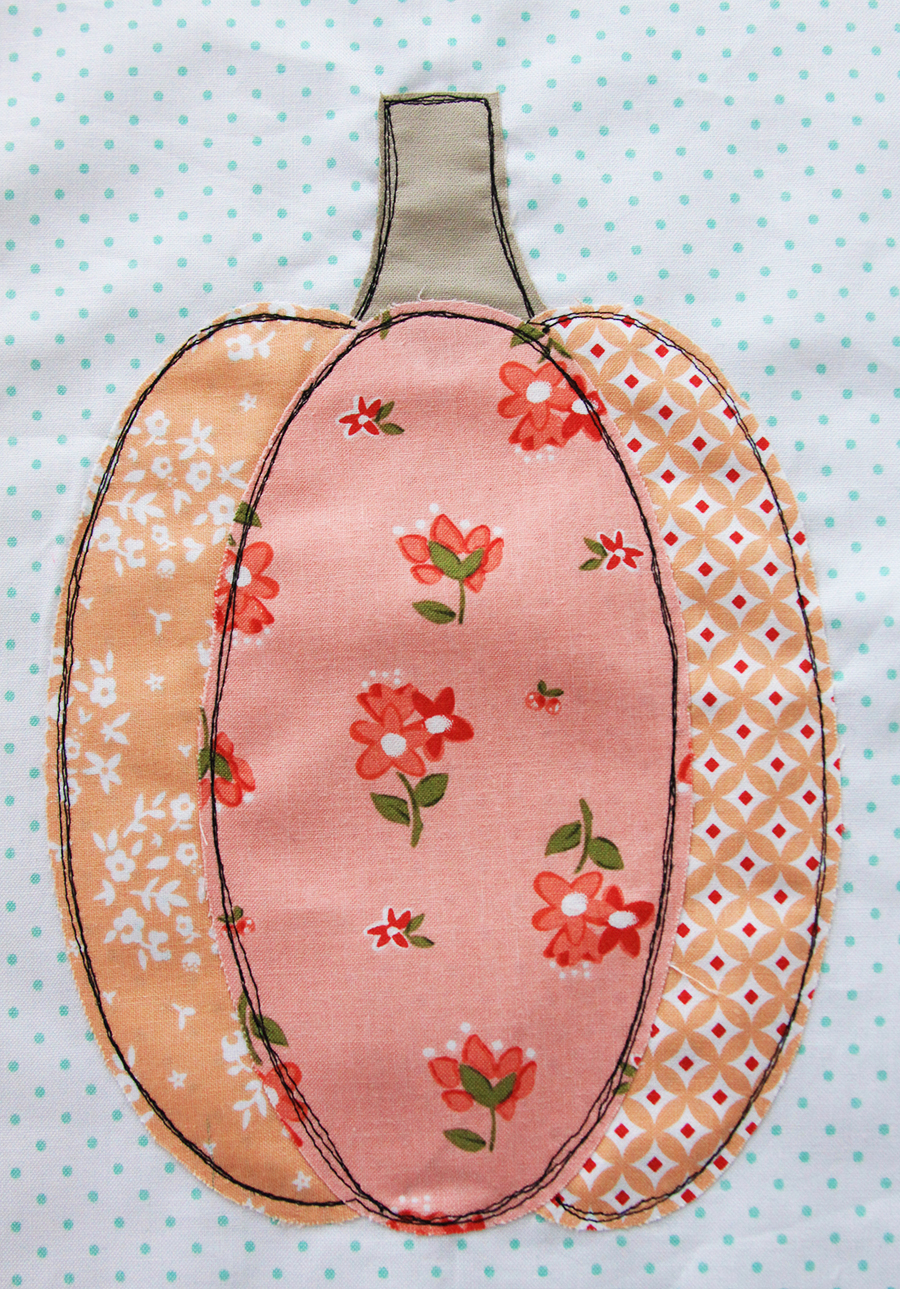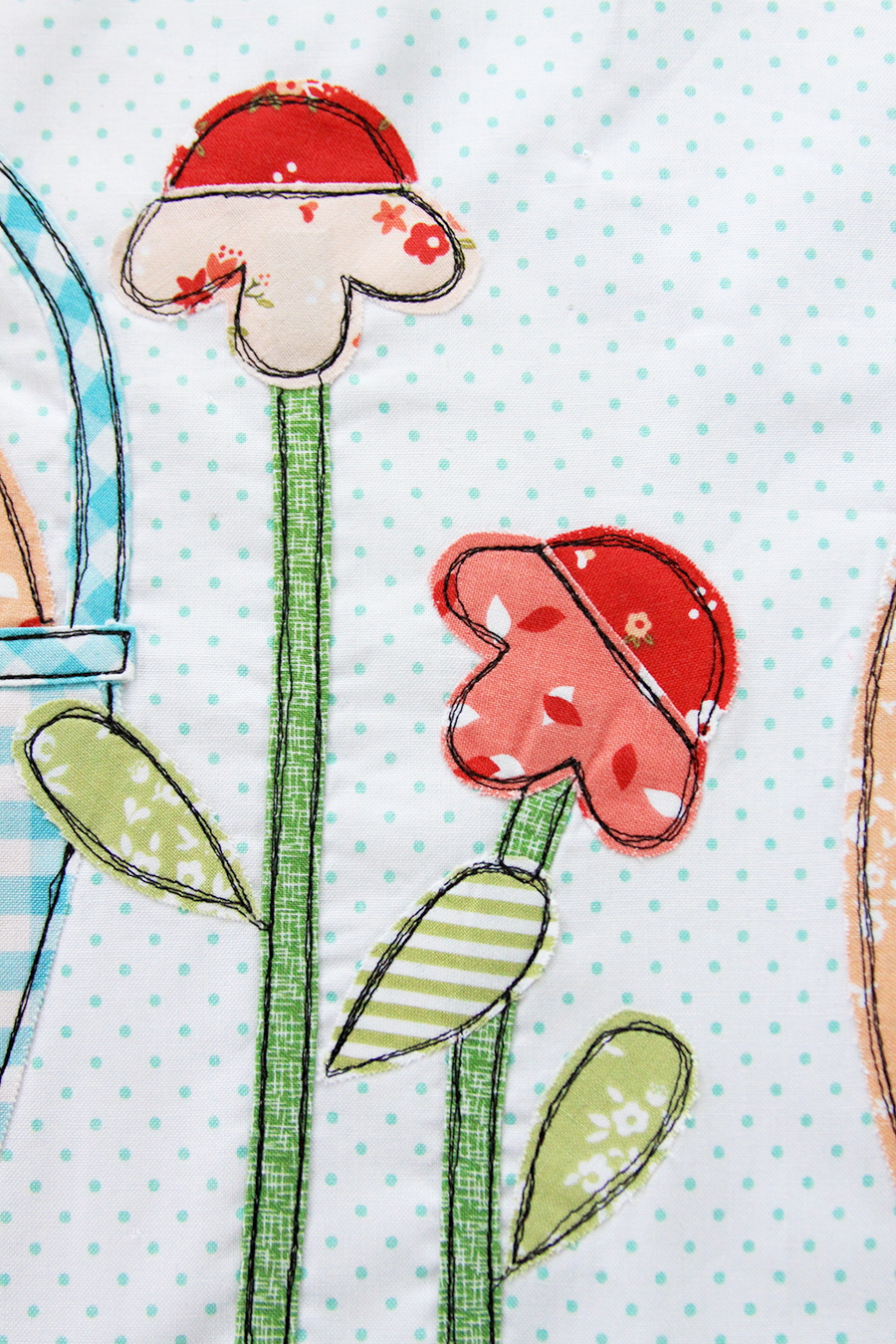 For my fabrics I used Riley Blake Aqua Gingham for the bucket and Hashtag print in a dark green for the stems of the flowers. The background fabric is Riley Swiss Dot in Mint and all the other prints for the pumpkins and flowers are from Summer Blush by Down Grapevine Lane. I stuck to the paler pink and peach colorways in the line to give it an Autumn look.
My runner is sized at 30″ x 11″ so it's perfect for a small table or even as a wall hanging! I quilted it with a free motion meandering stitch and bound it with a red print from Summer Blush.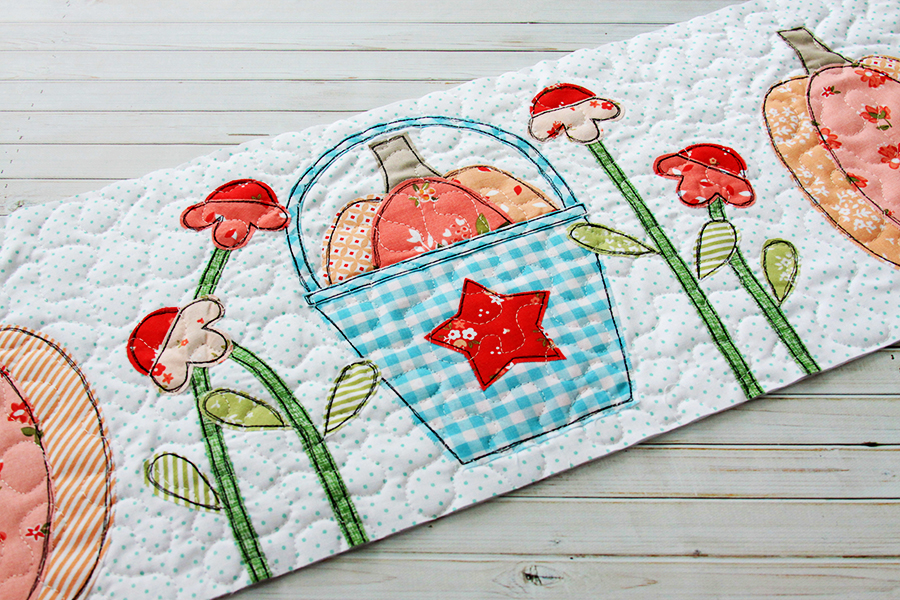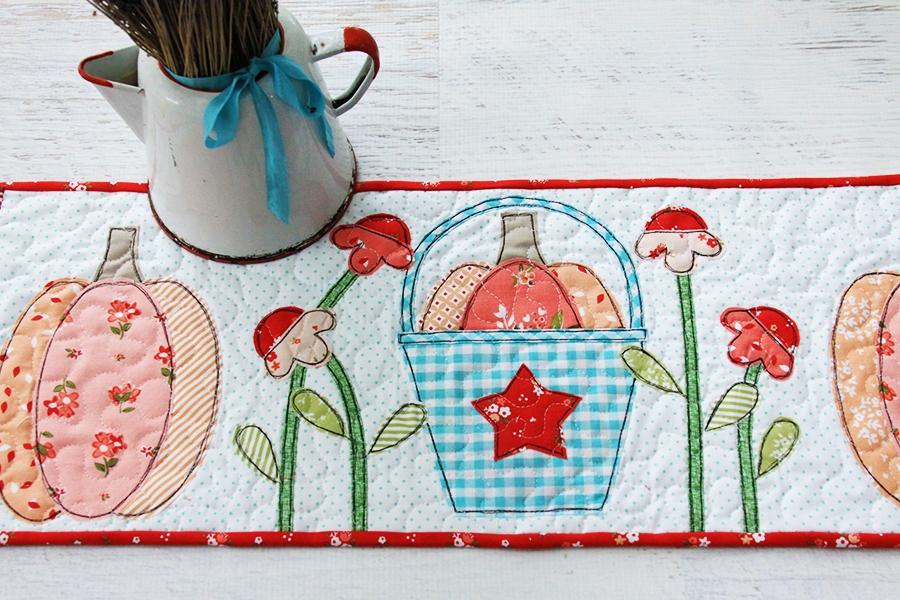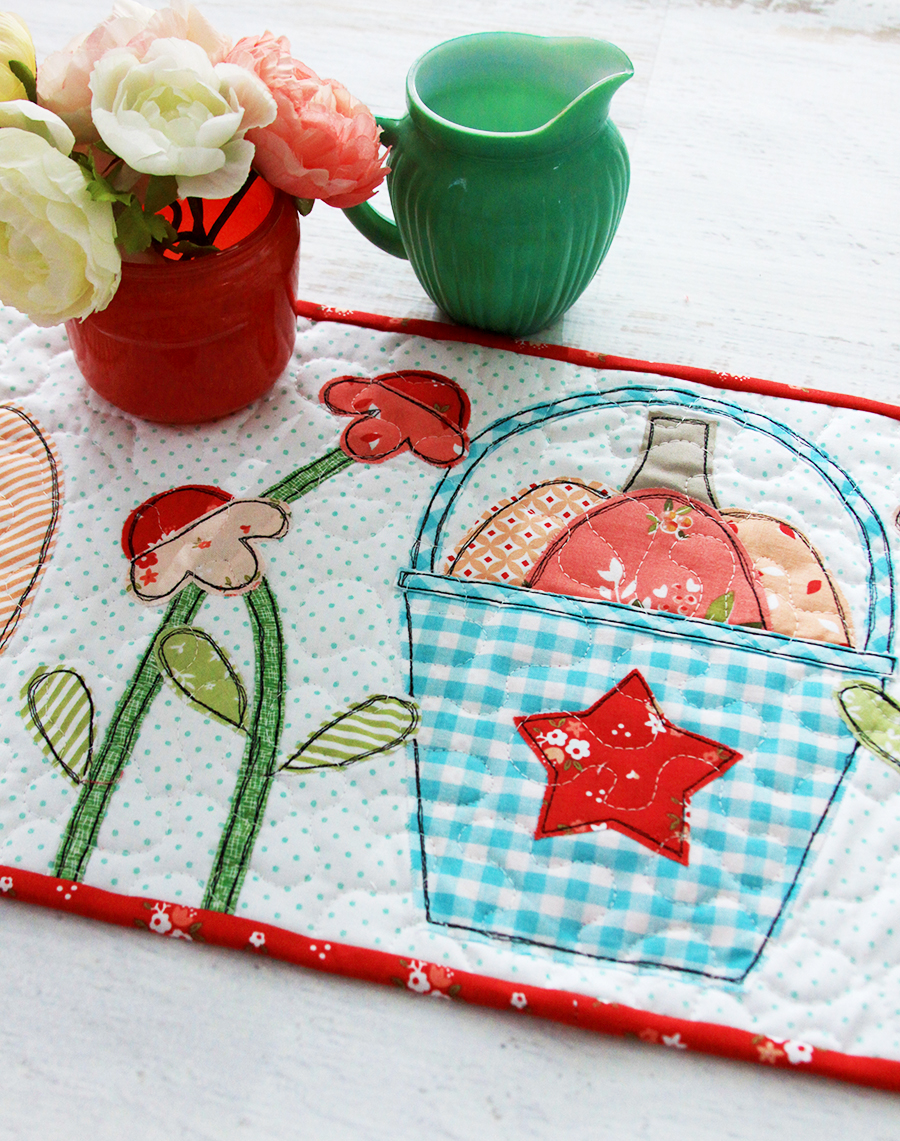 The free motion applique makes the project go together really quickly and I love the hand-drawn look to the shapes.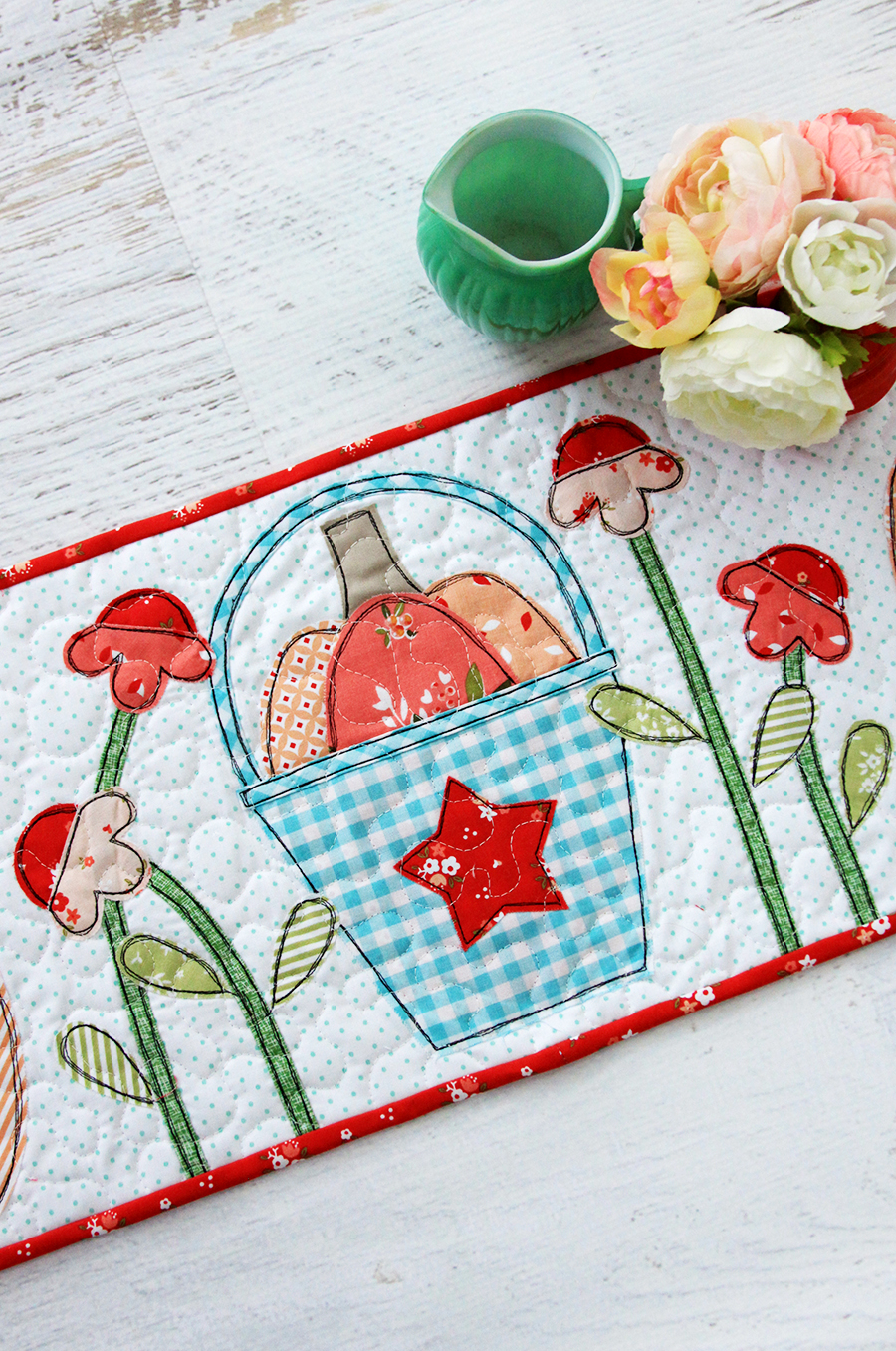 You can follow along with Lori's Autumn Love Quilt Along here and get tutorials on the blocks every week as well! If you've been wanting to try applique for the first time I highly recommend Lori's tutorials – they are super clear and detailed and you will love how your quilt turns out! You can follow along with the Sew Along by following Lori on Instagram too!