In case you haven't heard, sweet Mandy from Mandipidy is having a baby! And guess what??
Today is her Baby Shower!
I am so excited to be able to participate in her virtual Baby Shower!!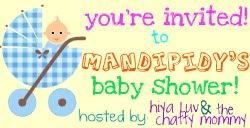 So all of us that are participating are linking up over at Gina's place (Hiya Luv) – feel free to go check out all the links and join the celebration!!
And you can't have a baby shower without sweet stuff right? :)
Here's what I made you Mandy, for your sweet Abigail!
I wanted it to be something fun and bright – and include your love for crochet!
So I came up with these little baby bibs!
And I have a bunch of pictures so you can see what they look like before you get them in person. :)
Both bibs have a sweet little doily piece added as embellisment to the bib. They close at the top with a little white snap.
Here are the backs – they had to have cute fabric too!
I hope you like them!!
I'm so excited for you and your new little one. You'll all be in our prayers as your family grows by one!!
For You created my innermost being; You knit me together in my mother's womb. I praise You because I am fearfully and wonderfully made." –Psalm 139:13-14
Everyone else – thanks so much for visiting this little corner of Mandy's Baby Shower!!
I hope you have a blast at the party!