This post is a partnership with Nancy's Notions. All opinions and ideas are my own.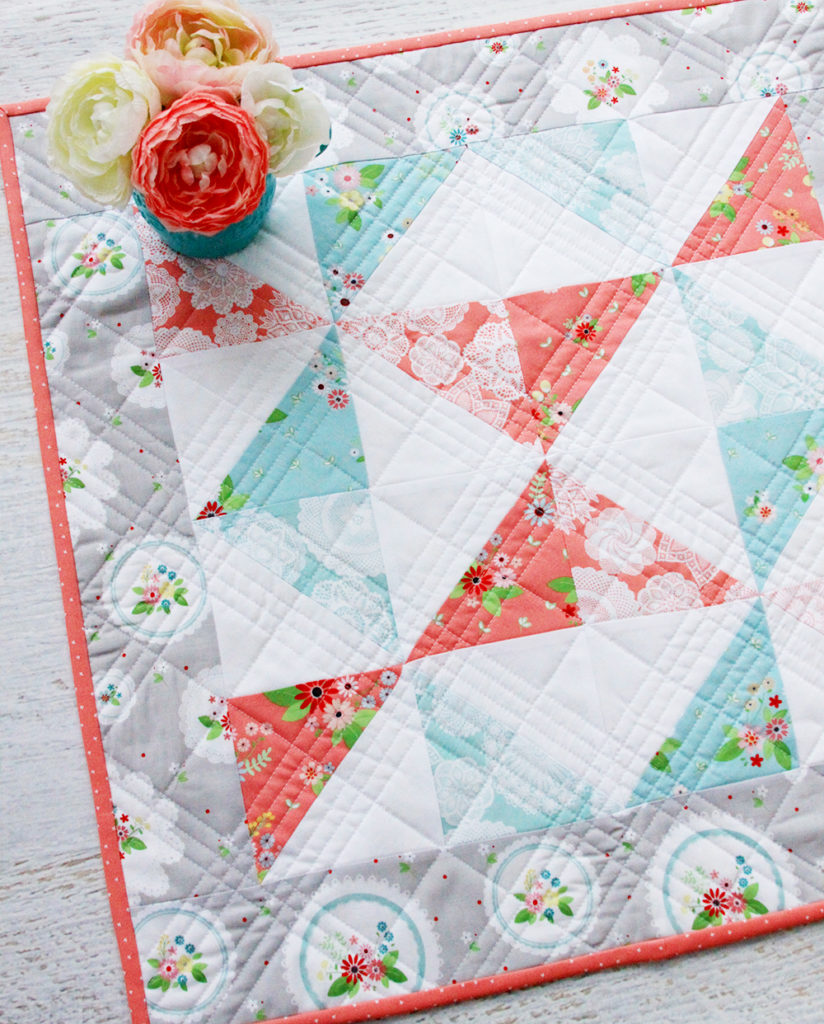 I'm pretty addicted to making mini quilts! They're so quick – you can usually even make one in a day! Plus they're great for so many uses – they look pretty on a wall, as a table topper, or they make the perfect gift too! This Vintage Paths Mini Quilt is a fun take on a pinwheel design and it's super fast to sew up!
I used Vintage Keepsakes for the fabrics – I think they give this such a pretty, vintage look. And I absolutely can't resist those doily prints. I know I'm not supposed to have a favorite in a collection, but there it is. I do.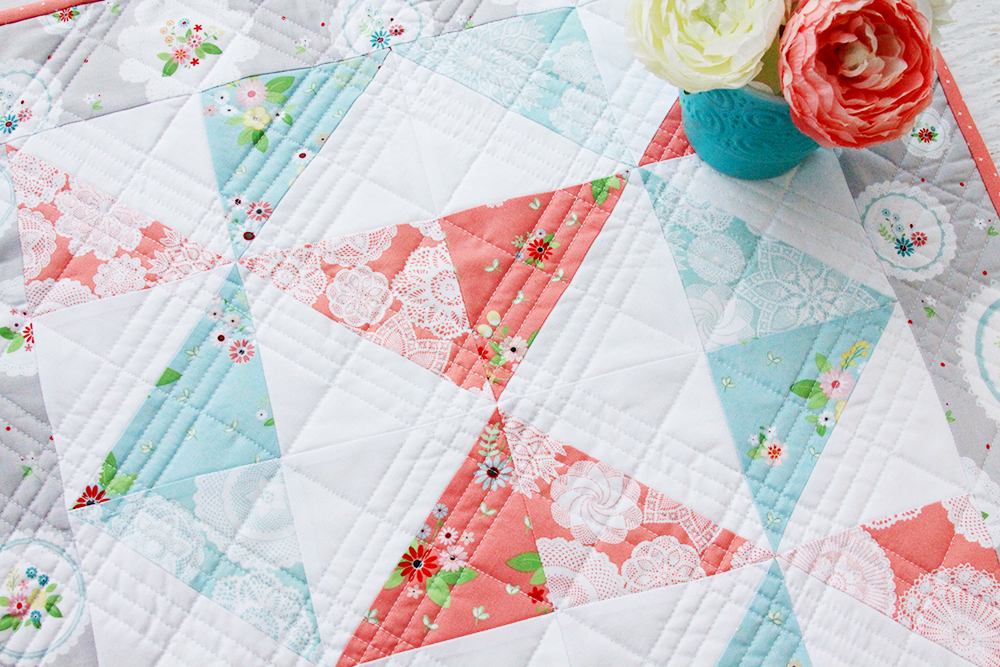 I also did some fun line quilting on this one – I just dived in doing straight lines around the diagonal seams and it jsut sort of happened. I'm a bit obsessed with this now. I think it really highlights the diamond in the center that the pinwheels make. And speaking of pinwheels – you are going to LOVE the method for piecing this quilt together! It's so fast!
I used the Easy Half Square Triangles template from Nancy's Notions. It has a little instruction booklet along with an acrylic template that makes figuring and cutting half square triangles a breeze. It even has layout ideas in the back so you can try out all sorts of different looks with your hst's!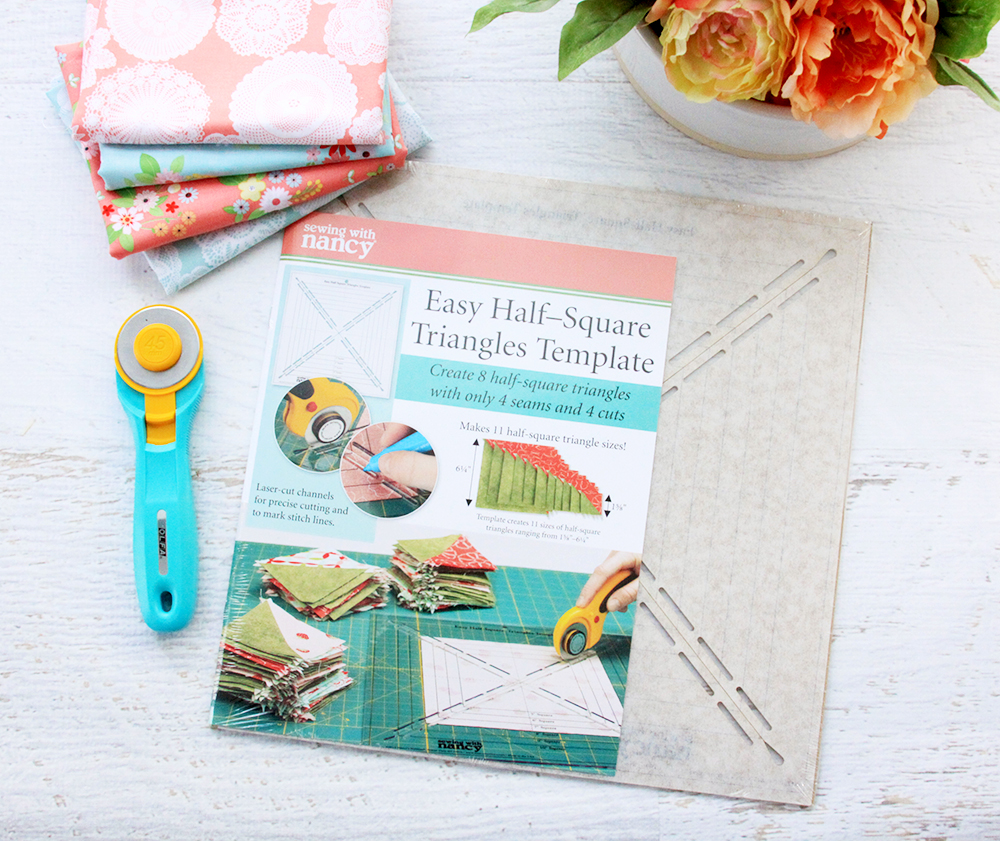 So let's dive in and start sewing!
Vintage Paths Pinwheel Mini Quilt
Materials:
Four different print fabrics cut to 7″ squares – I used Vintage Keepsakes Doily Aqua, Floral Aqua, Doily Pink and Floral Pink
1/4 yard of background fabric  – I used Riley Blake solid white
1/2 yard of border print – I used Vintage Keepsakes Main Doily Gray
3/4 yard backing fabric – I used Vintage Keepsakes Floral Aqua
1/4 yard binding fabric – I used Vintage Keepsakes Cross Stitch Pink
24″ x 24″ piece of batting or fusible fleece
You can also go to Nancy's Notions for a download of this pattern too!
Begin by cutting four background 7″ x 7″ squares. Match each one to a print fabric square.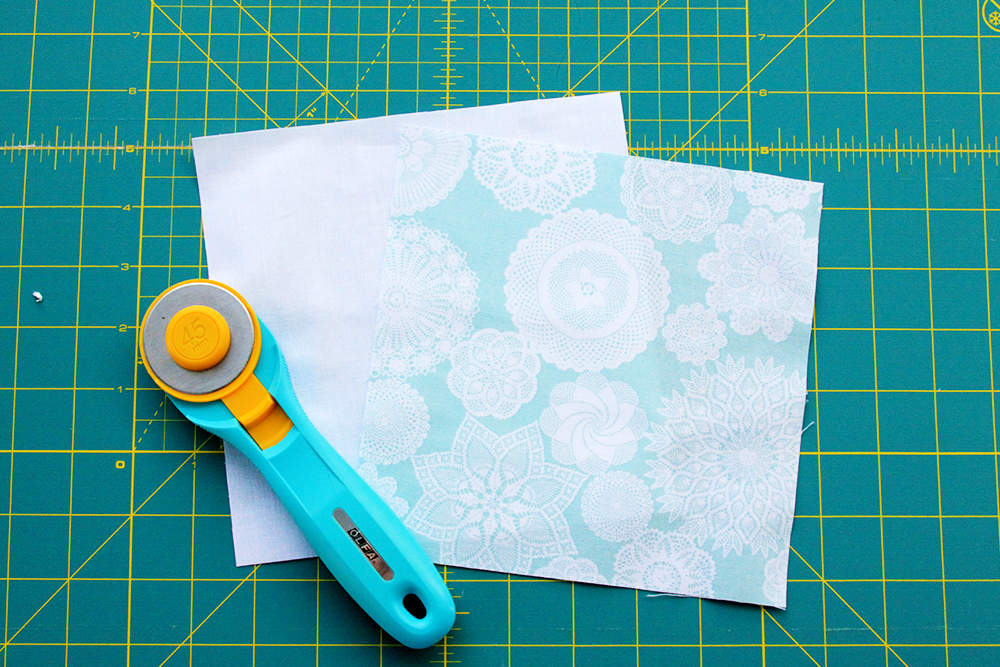 Place the squares (one print and one background) right sides together. Sew a 1/4″ seam around all four edges, sewing the two squares together. Lay the square under the Half Square Triangle Template and center the fabric in the 7″ square in the center.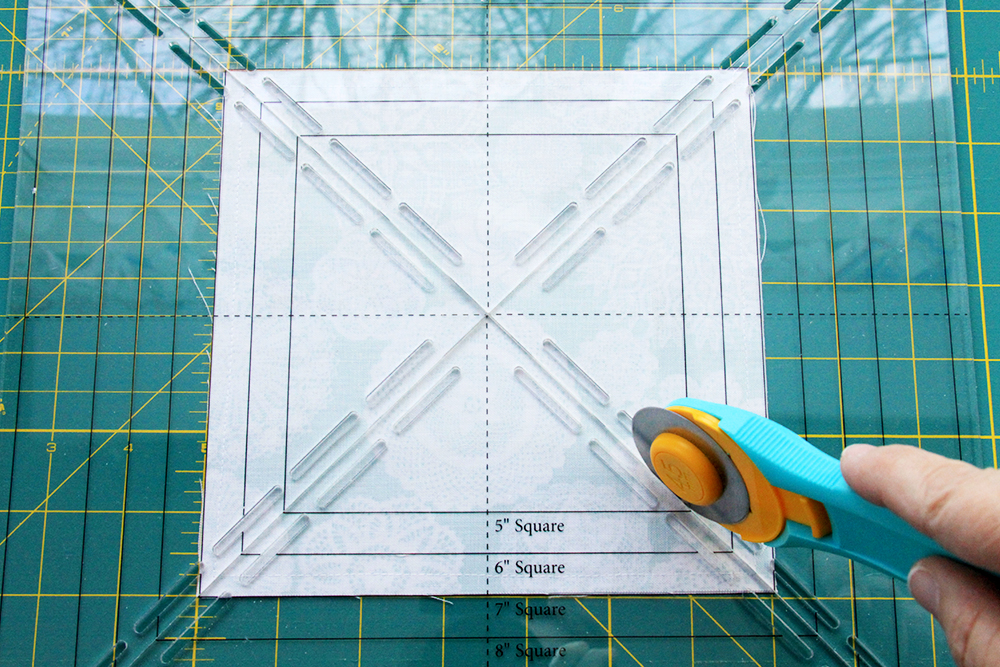 Run the rotary cutter through the cut lines that run diagonally through the template. This will cut your squares into four pieces.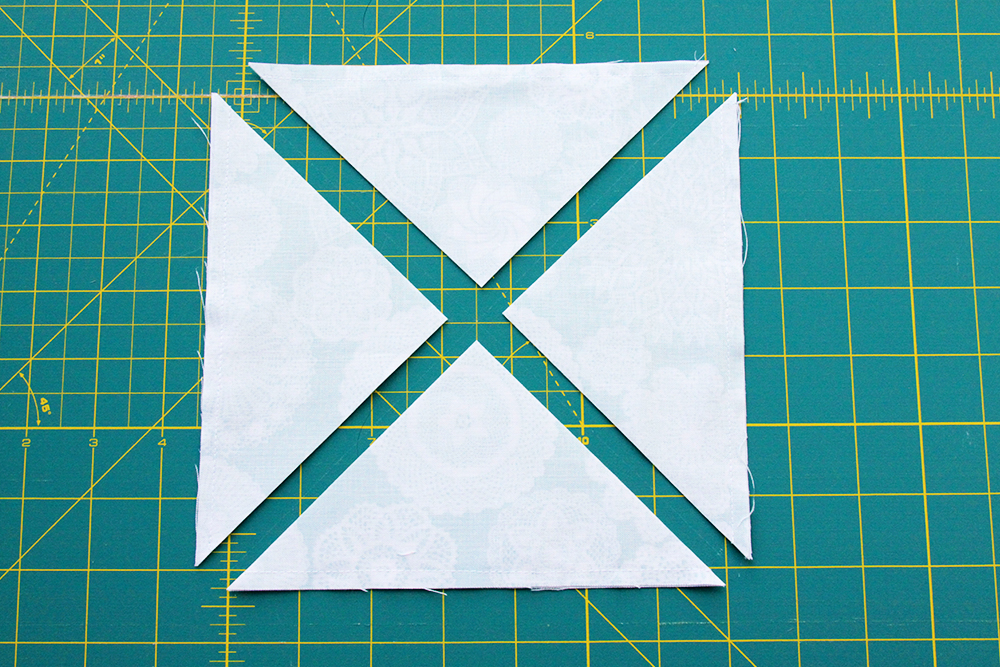 Open up the triangles and you'll have four half square triangles made from each 7″ block!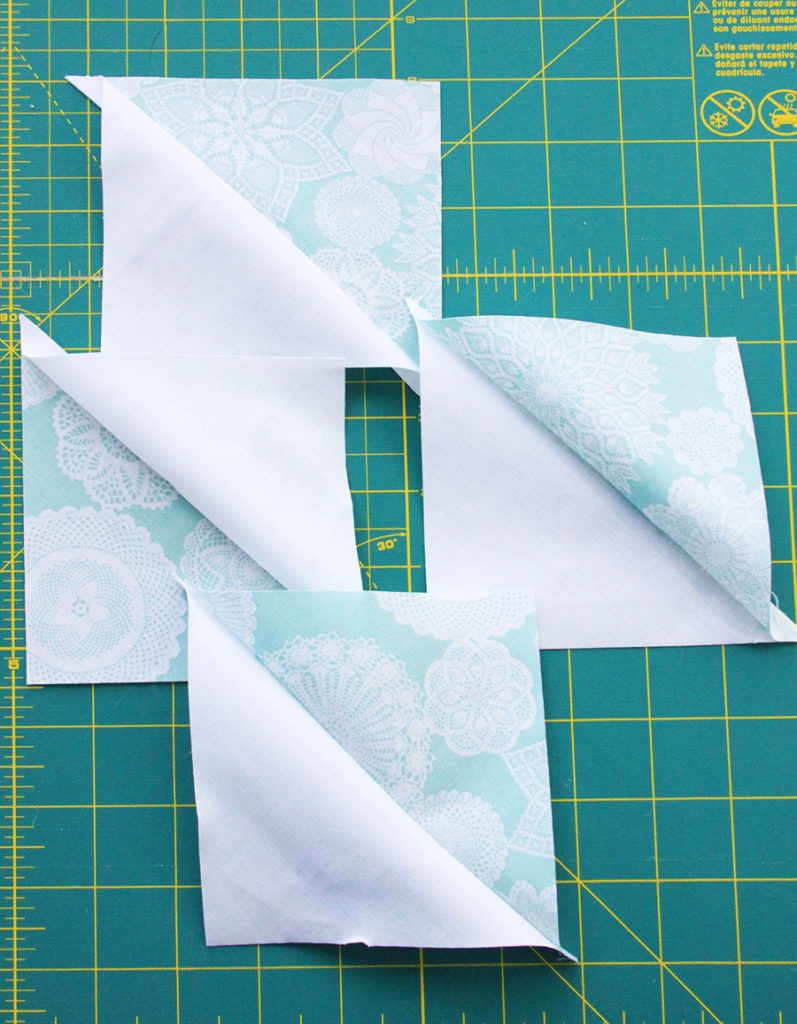 Press your seams towards the darker fabric and trim your squares to 4 1/2″. Repeat for all your blocks, making 16 1/2 square triangle blocks.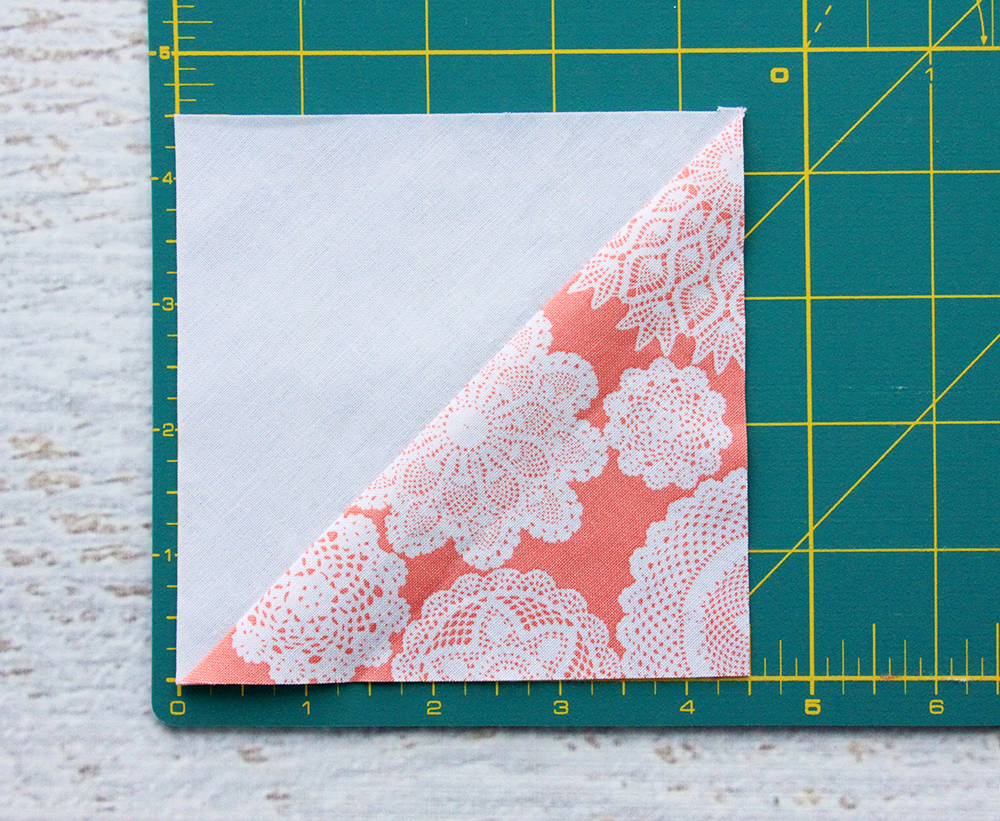 Now comes the fun part! Layout your fabrics into whatever pattern you'd like. I chose to do four pinwheel shapes.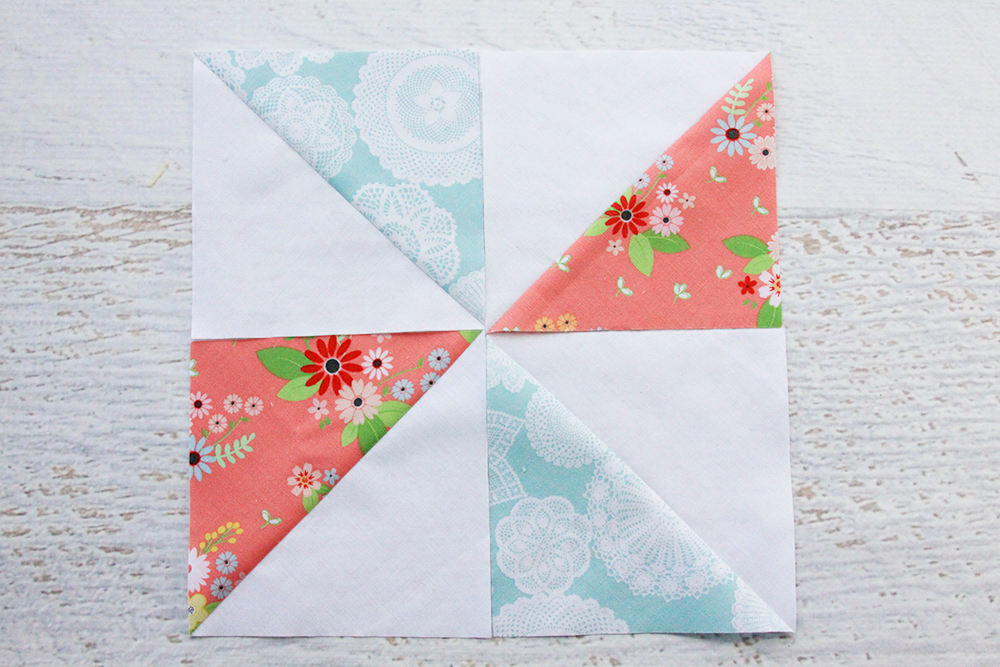 My center section of the mini quilt is made up of four pinwheel blocks. I flipped the fabrics a bit so the pink sections of the pinwheels are in the center and the aqua sections make a sort of diamond shape around them. You can really mix or match these up for a lot of different looks!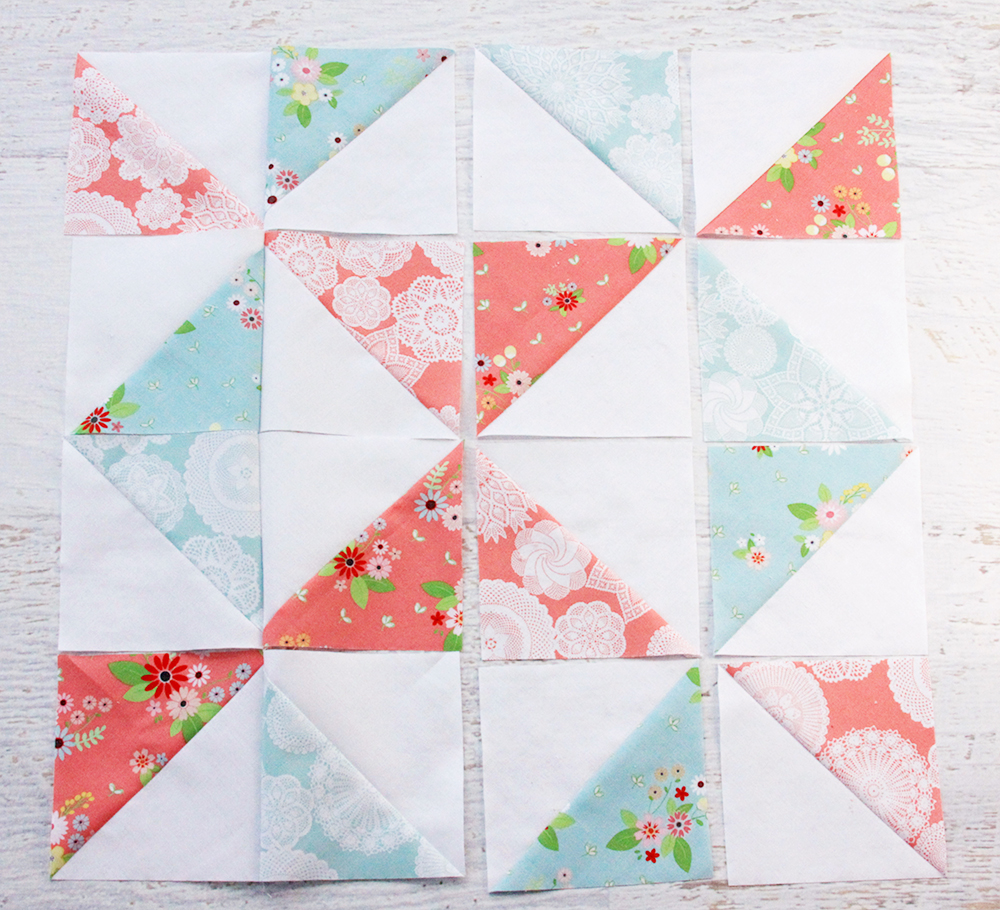 Start chain piecing your squares together. To do this, sew the first two blocks together in each row, one after the other without clipping the thread.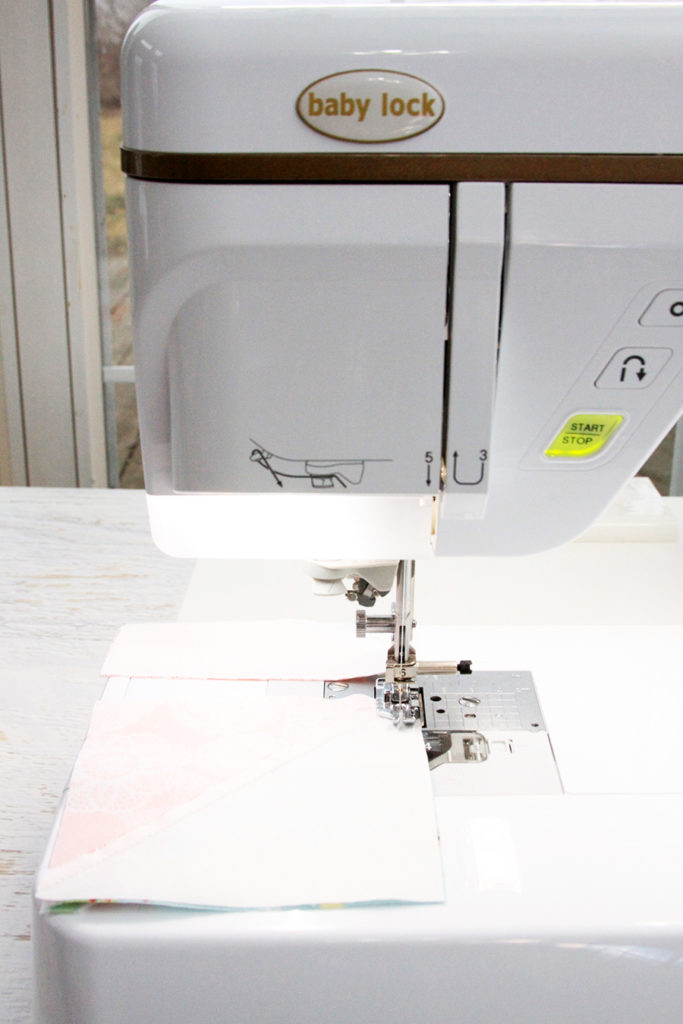 Open these out, then sew the row 3 blocks to the row 2 blocks, all in a row. Repeat with the row 4 blocks. Cut the sections apart, then sew each horizontal row together, matching up corners and seams.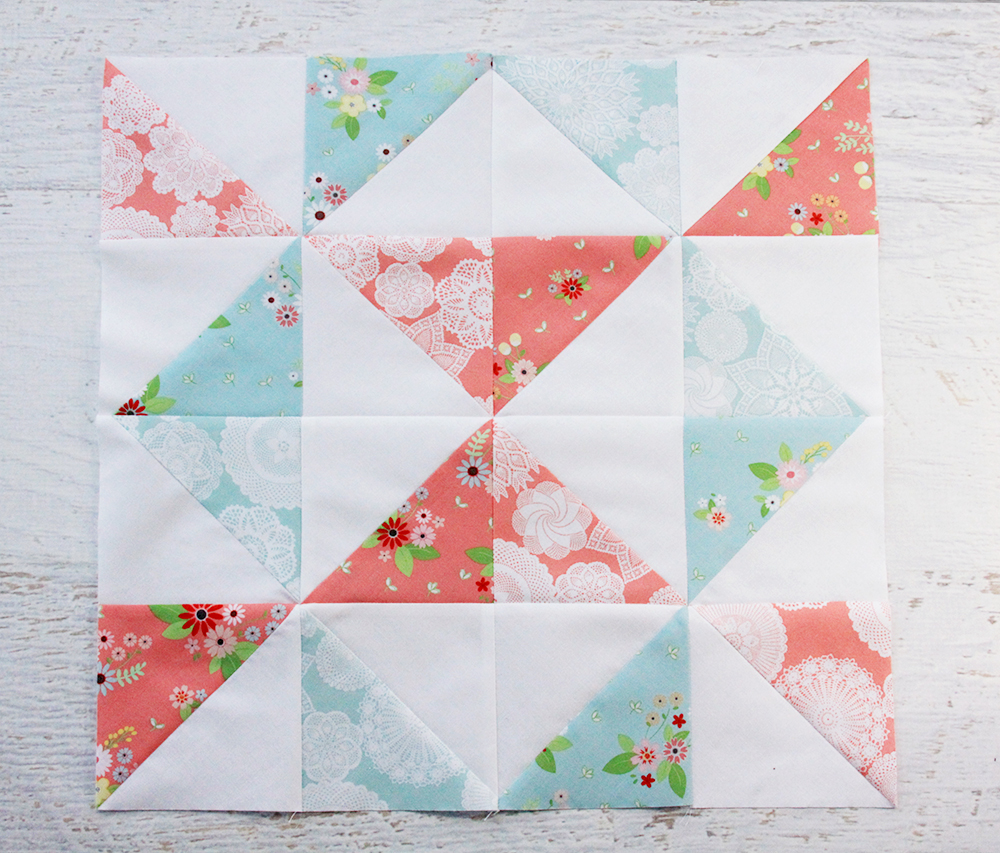 Cut your border fabric into 3 1/2″ strips. If you're using directional fabric, you might want to be careful of fabric direction and cut two of your rows out with the selvedge and two against the selvedge.
Sew the left and right borders to the center section, then the top and bottom borders.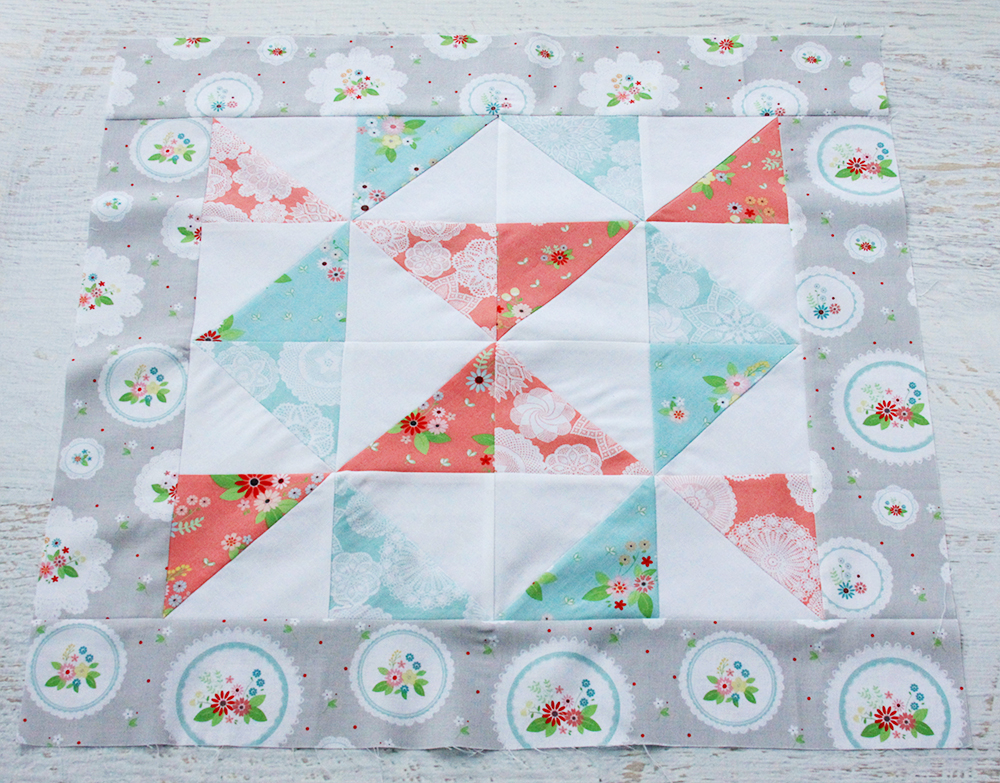 Quilt your mini as desired. I loved sewing straight lines with the diagonal seams but a free motion meandering would look so great too!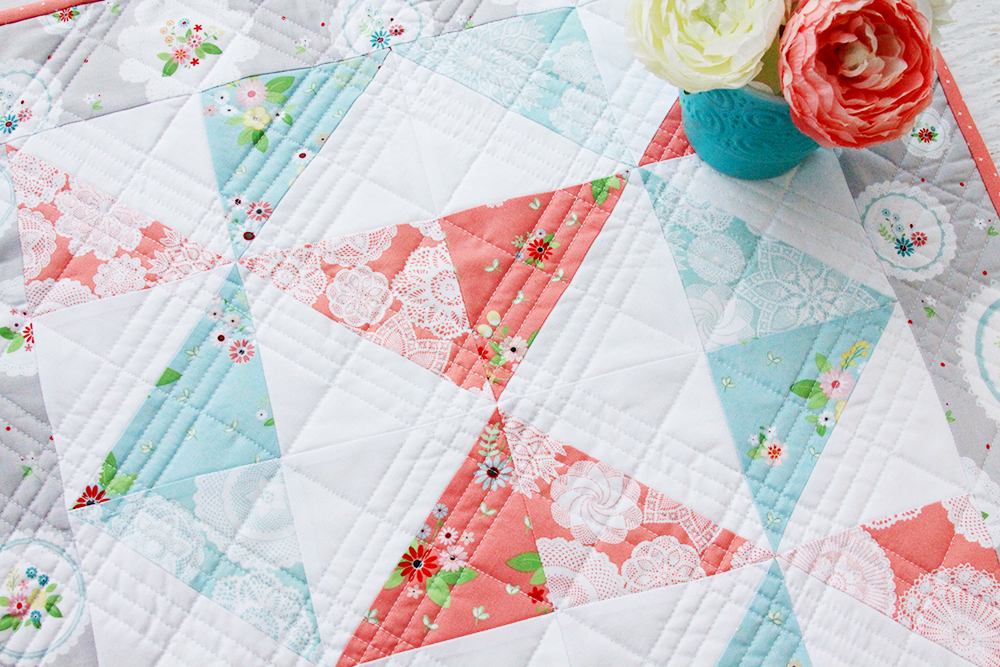 I love how it looks on the back too – the quilting really shows up great on this floral fabric!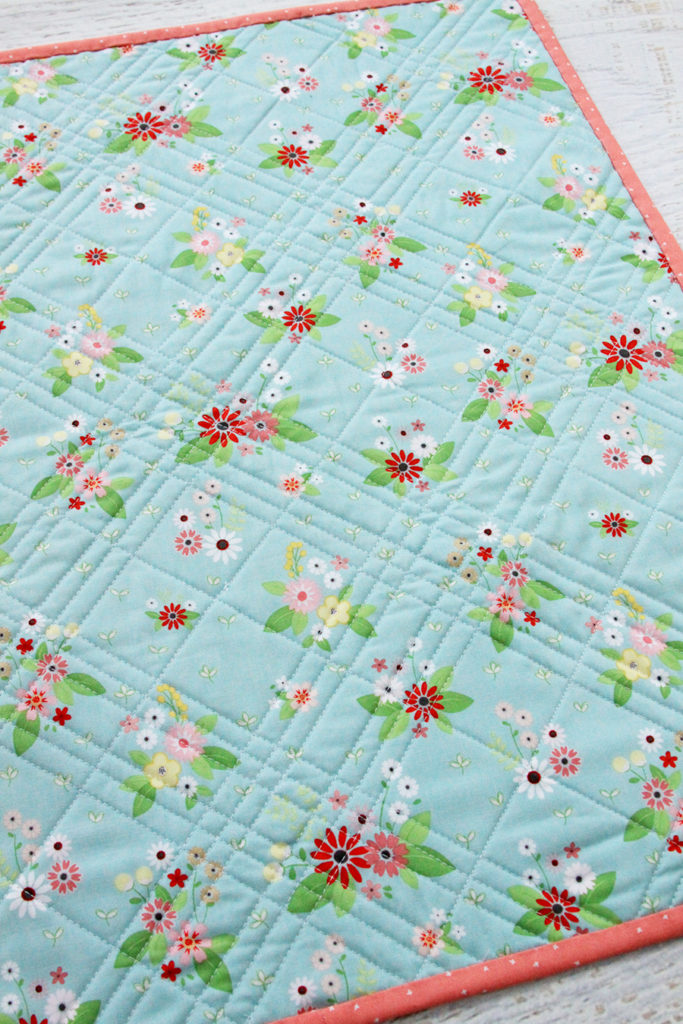 For the binding, I cut three 2 1/4″ x WOF fabric strips and made double fold binding. I love the way the pink binding pulls out the pink in the center of the quilt.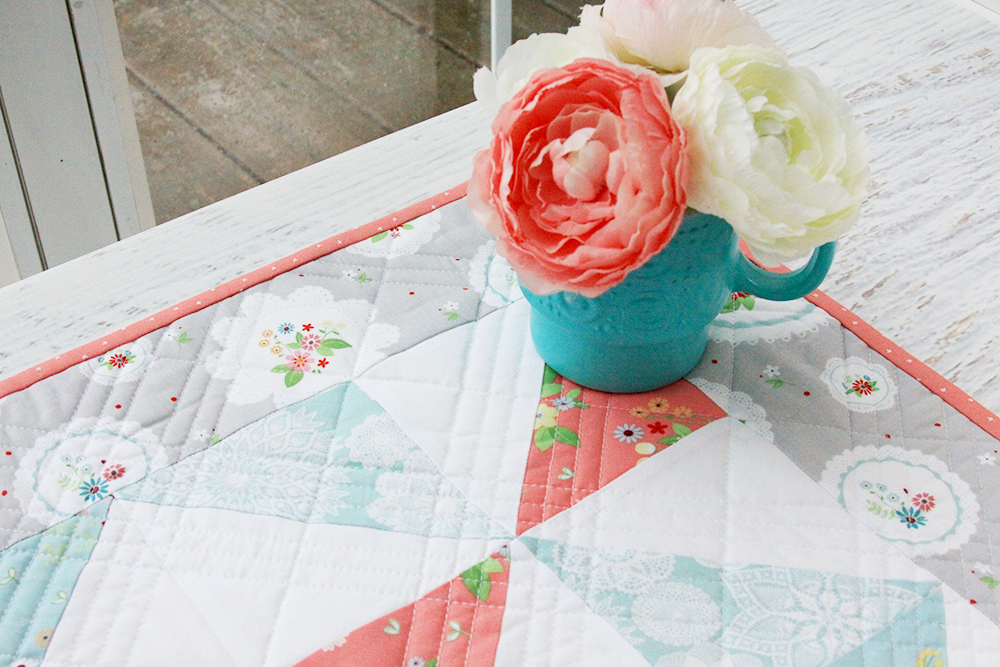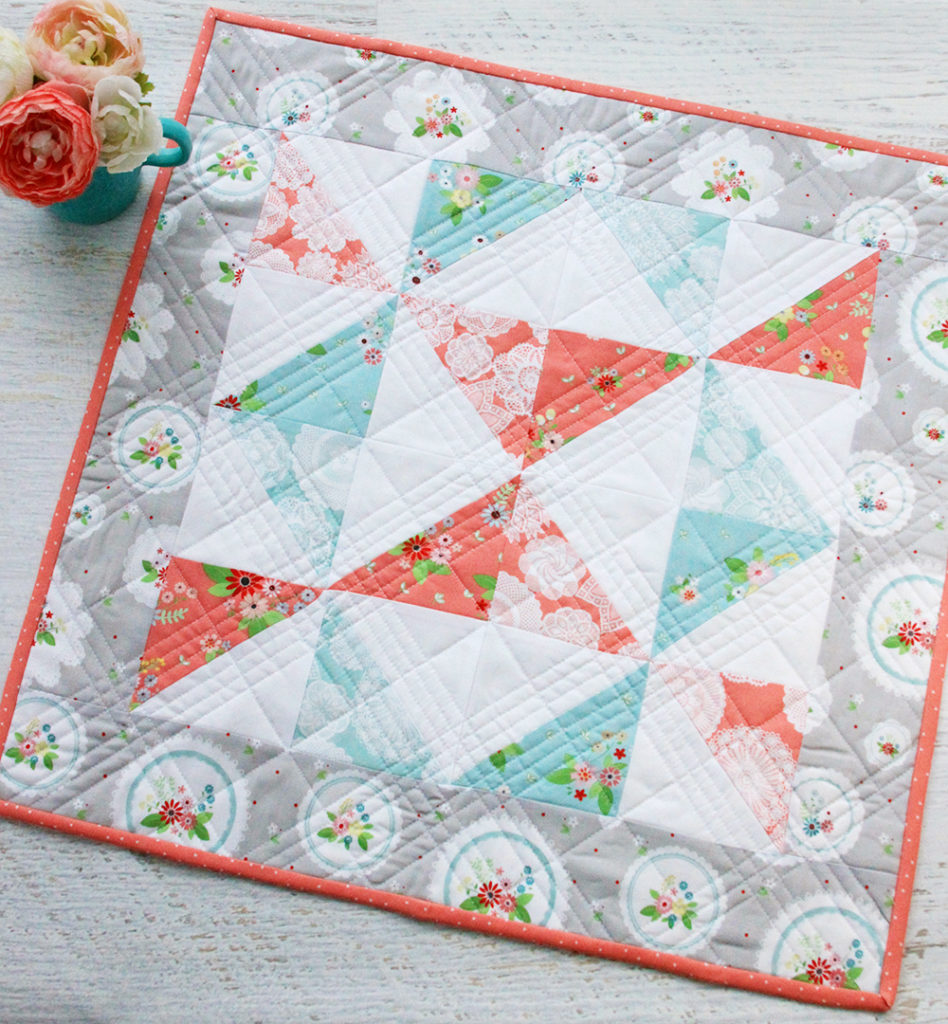 I hope you give it a try!!
I'm partnering with Nancy's Notions to give away a Half Square Triangles Template to one lucky reader! Enter on the rafflecopter box below to win!
They are also offering Free Shipping on any order over $49!! Enter the code 199501-1143 at checkout for the free shipping. Click here to shop!
a Rafflecopter giveaway