Hello friends! I hope you've all had a wonderful holiday season! I've been taking some time to rest and spend time with family and it's been such a great break. I'm super ready to kick off the new year though and boy – do we have some ahhhhmazing things coming up this year! I've been working on some behind the scenes things for the last year and I finally will be able to share some exciting things with you! Before I do some sneak peeks of the fun ahead though, I thought it would be fun to take a quick look back to the top posts of 2017!
I love to take a quick peek at what the most visited posts of the year were! So let's dive in!
10. Coming in at 10 was this cute Flamingo Embroidered Sewing Machine Cover! It would be fun to make up without the embroidery as well – the pockets on the side are great extra storage!
9. Stitch up this Sewing Shelves Applique Quilt for a cute throw in your sewing room!
8. These Nine Patch Scalloped Placemats are quick to sew up and you can really have fun fussy cutting the fabric squares!
7. This Floral Bunny Dishtowel makes a great decoration for Spring!
6. One of my favorite makes from last year was this Charm Square Vintage Sheet Quilt. It is sooooo soft and cozy!
5. I had so much fun sewing up this Pocket Pillowcase this year! Did anyone give these as gifts this Christmas?
4. Dresdens are one of my favorite things to sew and I couldn't resist using them in this Gingham Girls Mini Quilt. I think I need to make another one of these up for Spring!
3. Another Mini that I had fun sewing up this year was this Vintage Daydream Neighborhood Runner. This fabric was so perfect for decorating little houses with!
2. This pretty Floral Embroidered Collar is so fast to stitch up and a fun way to decorate a plain top!
1.  This Flamingo Quilt is such a fun quilt to make and perfect even for beginners!
Wow! We were really about the sewing projects this year!
That ties in really well with my little sneak peek I wanted to share! If you follow me on Facebook or Instagram you probably saw this but in October I attended my first International Quilt Market to share a booth with my debut fabric line – Vintage Adventure with Riley Blake Designs!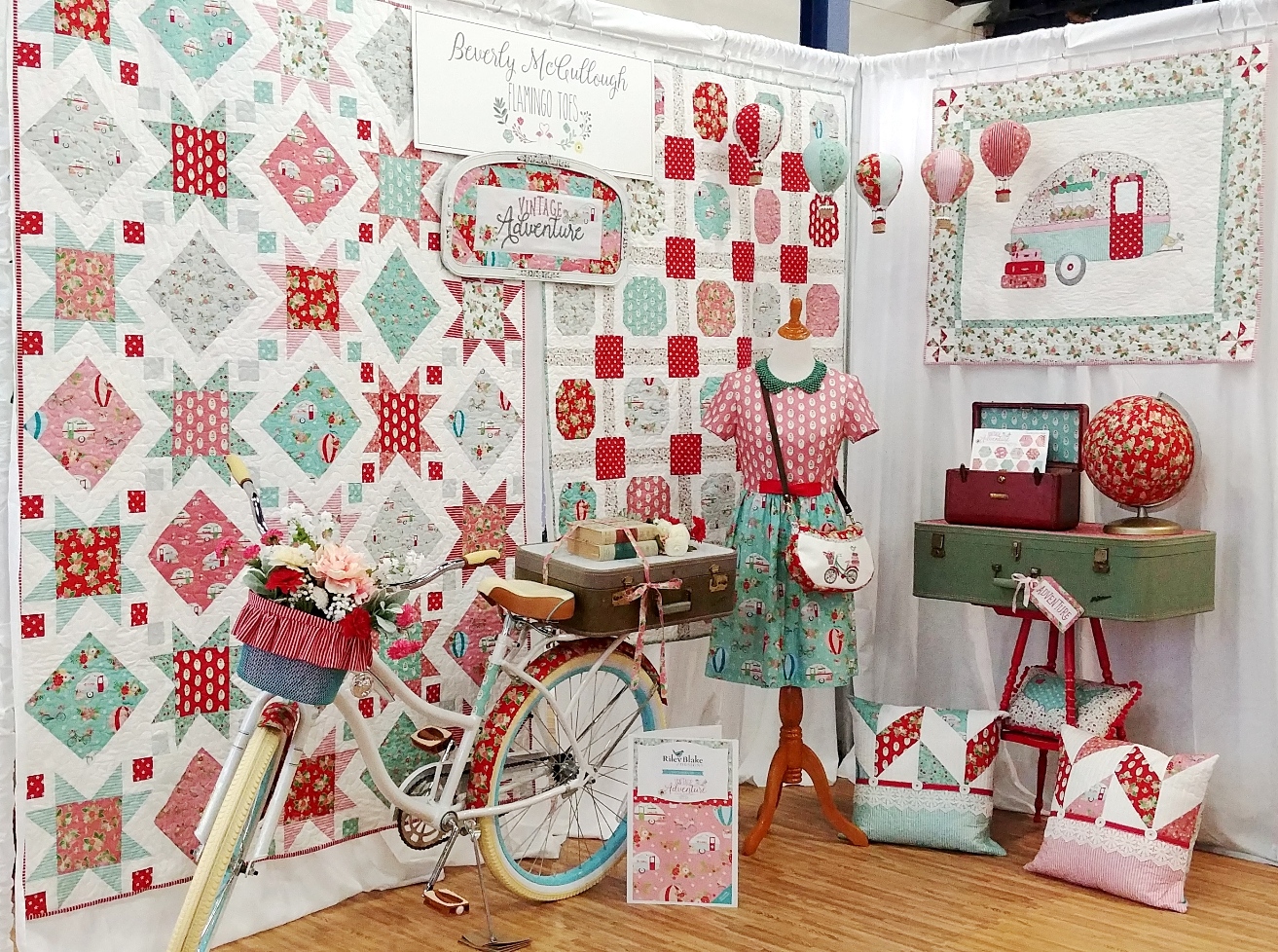 The fabric line will be out this coming May!! I'll be able to share lots more about the process, my inspiration for the line and tons of new projects including most of what you see here in the booth as soon as the line comes out. So exciting!!
This is such a dream come true and I can't wait for you to see it!
We have lots more coming up this year – new quilt and embroidery patterns, lots of fun sewing projects and hoop art of course, and fun crafty projects too! Plus some more exciting things that I can't share yet – but wow – it's going to be such a fun and busy year! Thank you so much for following along – your comments and support mean the world to me!
Here's to a fabulous 2018!