I just adore making little hoop ornaments! These Sweet Quilt Star Ornaments are quick and fun to put together – they also make a great gift!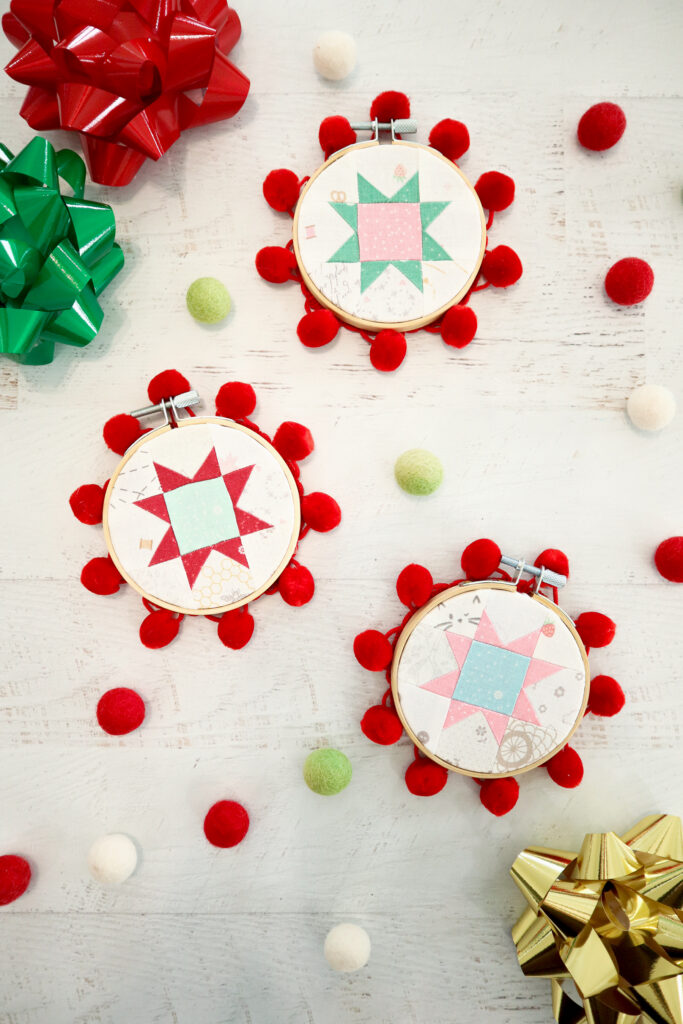 These little stars are so cute made up in Riley Blake Designs' new low volume collection, Hush Hush. I paired the Hush Hush prints with my Dainty Daisy basic, and I love how you can really mix and match them all for these stars.
Hush Hush 2 is RBD's new low volume collection, with 21 different sweet and subtle prints, designed by 21 different designers. It's arriving in stores now!
The print I designed is called Sweet Spools! It's made up of tiny multicolor spools and I love it. :)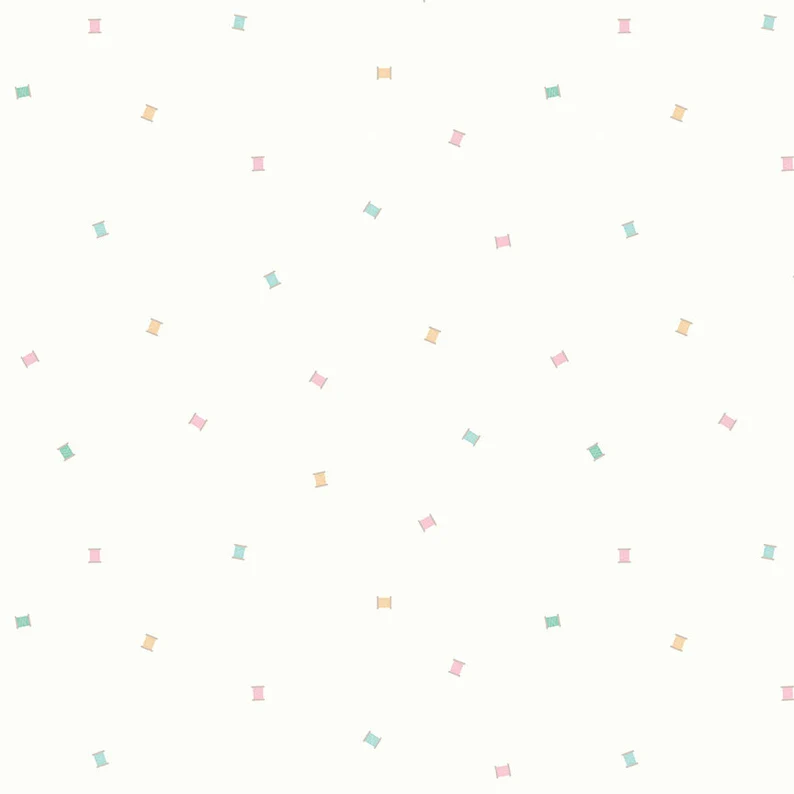 I think these little Star Ornaments would be fun to make for a quilty friend or as an ornament exchange gift!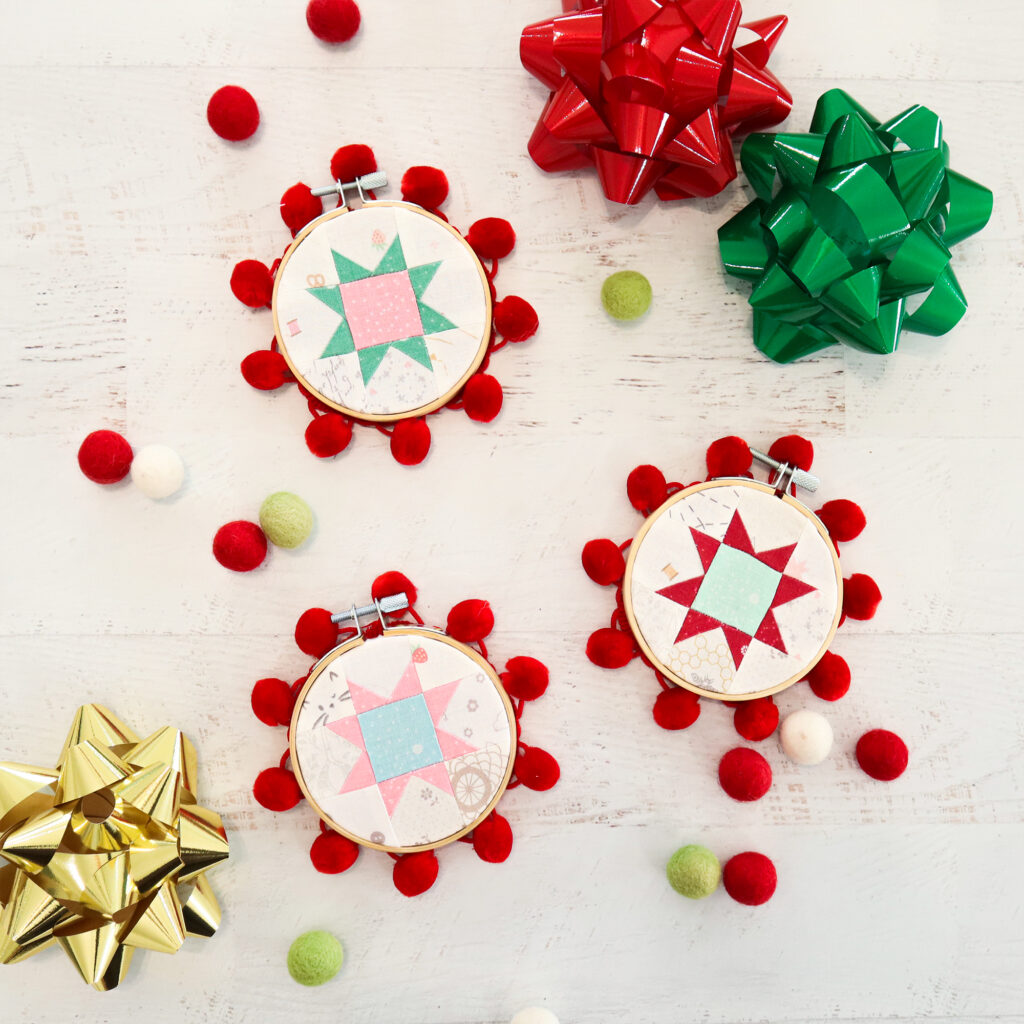 Sweet Quilt Star Ornaments
Here are the quick instructions to put these together!
Materials:
8 Assorted pieces of Hush Hush 2 – cut to:

4 pieces 2″ x 2″
4 pieces 1 1/2″ x 2″

1 7″ x 7″ piece of Dainty Daisy for star points – cut to:
1 piece of Dainty Daisy for the center of the star – cut to: 1 1/2″ x 1 1/2″
1 – 3″ embroidery hoop
Hot Glue
10″ piece of pom pom trim
Instructions:
Draw a diagonal line on the wrong side of the 1″ x 1″ star point pieces. Place one on the bottom left corner of one of the 1 1/2″ x 2″ Hush Hush 2 pieces. Sew on the marked line, trim 1/4″ away from the seam, and press. Repeat with another star point piece on the bottom right side of the Hush Hush piece. Make a total of four.
Assemble the star with the points on each side of the center of the star and the 2″ x 2″ Hush Hush 2 pieces at each corner. Press well.
Center the star in the hoop. Trim the fabric outside of the hoop 1/2″ outside of the hoop. Glue the raw edge to the inside of the hoop.
Glue the pom pom trim to the back side of the hoop so the pom poms extend outside of the hoop.
You can hang a ribbon through the screw of the hoop and hang it on your Christmas Tree!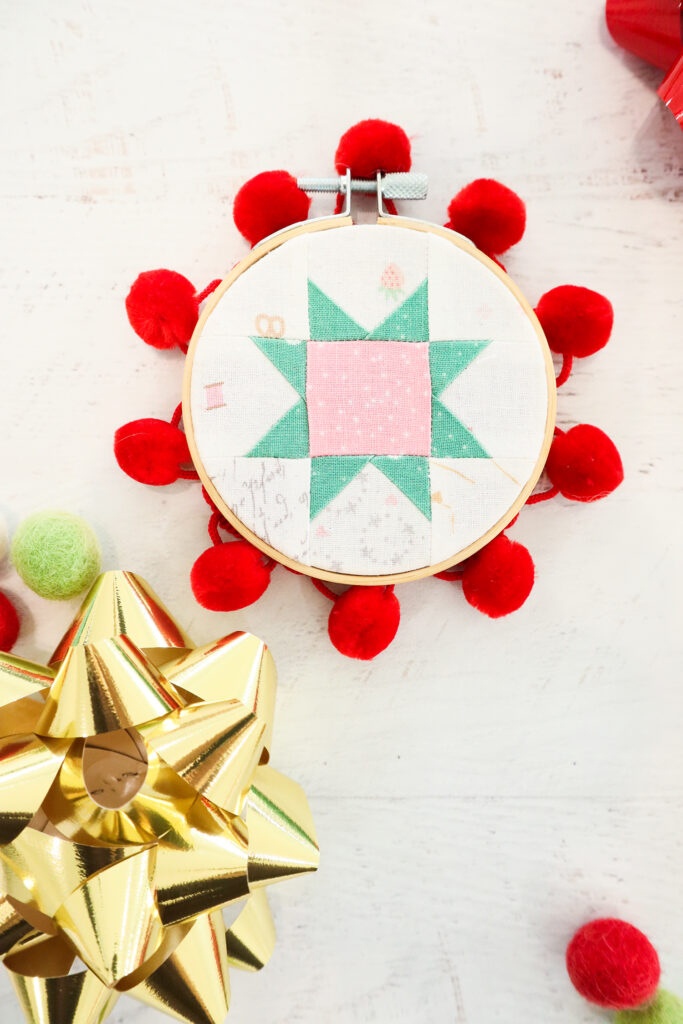 The Dainty Daisy fabrics make such a fun pairing with the Hush Hush prints! I used Alpine Green, Mint Green, Peony Pink, Waterfall Blue, and Jazzberry Red. You could pick up a 5″ stacker of Hush Hush 2 and have plenty to make lots of star ornaments!