Get ready for Halloween with these DIY Spooky Crystal Ball Halloween Candlesticks! They are so fun and easy to make!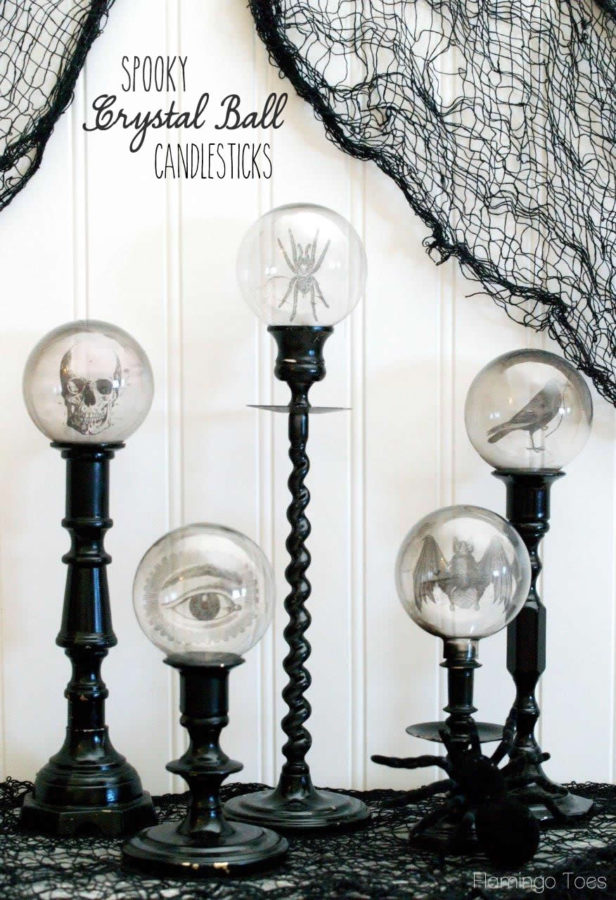 I have always been a huge fan of the Haunted Mansion at Disneyland. It is definitely one of my favorite rides there! I think it has inspired a lot of my Halloween décor too. I just love that spooky Victorian look!
One of my favorite rooms in the Haunted Mansion is the Crystal Ball room and I've always wanted to recreate something similar! Well today I am showing off my new Spooky Crystal Ball Halloween Candlesticks!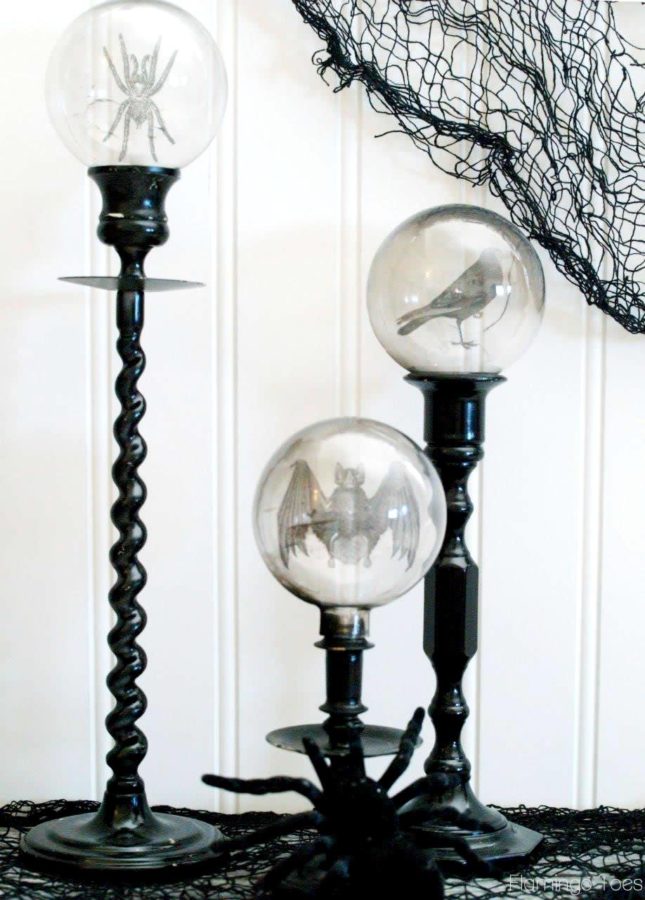 They are super easy to do too! I love the floating images inside these Halloween candlesticks. So creepy!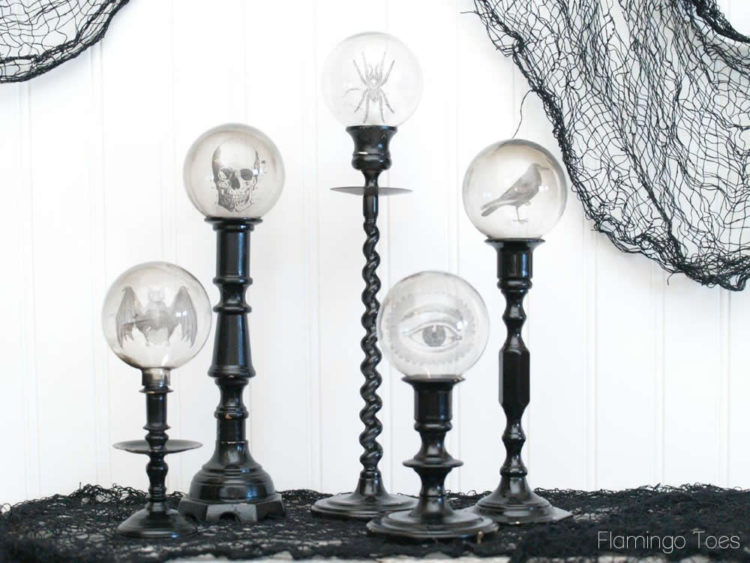 All the images I used are from The Graphics Fairy. She has a fabulous resource of creepy old Halloween images!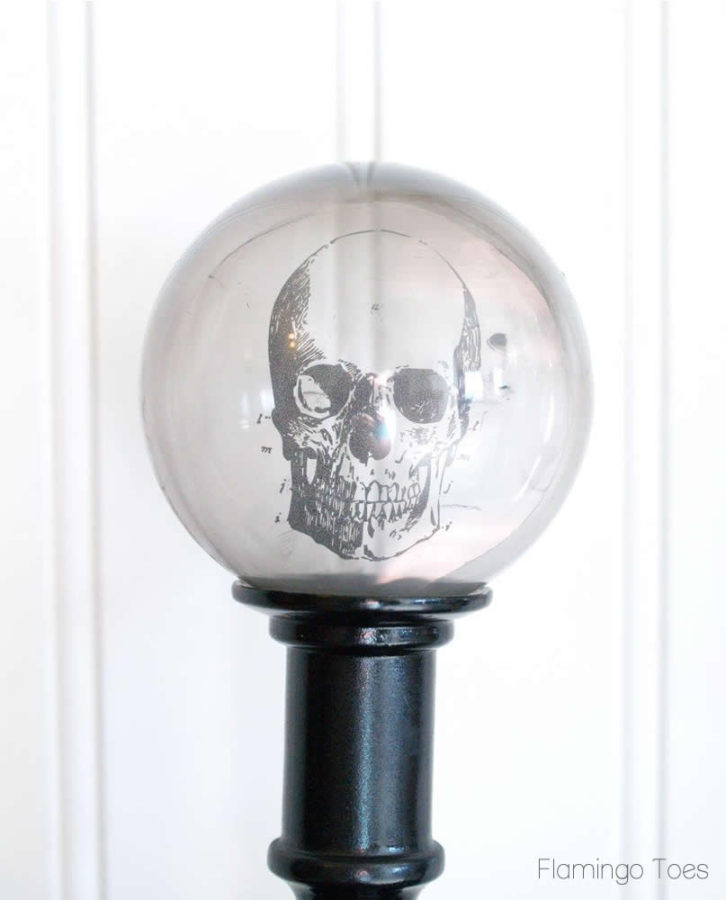 So are you ready for a fast tutorial?
Spooky Crystal Ball Halloween Candlesticks
Here's what you'll need for your Halloween Candlesticks:
(this post contains affiliate links)
Update #1: The amazing Karen from The Graphics Fairy and I have worked together to bring you the printable for the crystal ball shapes, along with the images in place! You can head over to The Graphics Fairy to download the Printable! Woohoo!
Update #2: Some readers have had trouble using the PDF printable without the images. You can download a .jpeg version of the blank pattern here – if you paste this into Word and then paste your images on top of it, that should work too! Hope that helps!
Start by deciding on your images for the crystal balls. I've provided a blank pattern for the shape for you, you'll need to paste in the images you want to use. As I said earlier, I found mine at The Graphics Fairy –  but you can use any image you'd like for a spooky effect.
Once you have your images in place, print them out on the Inkjet Transparency Film.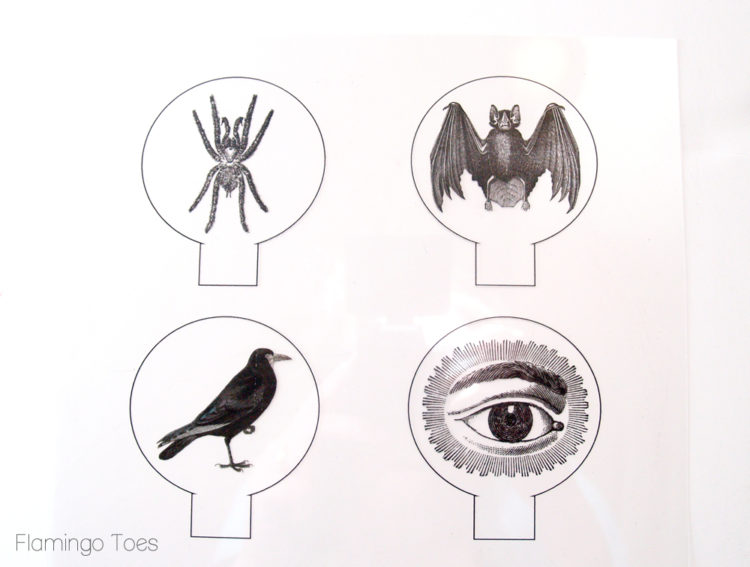 Cut out all the shapes, inside the black line. You will now have a clear image for your crystal ball.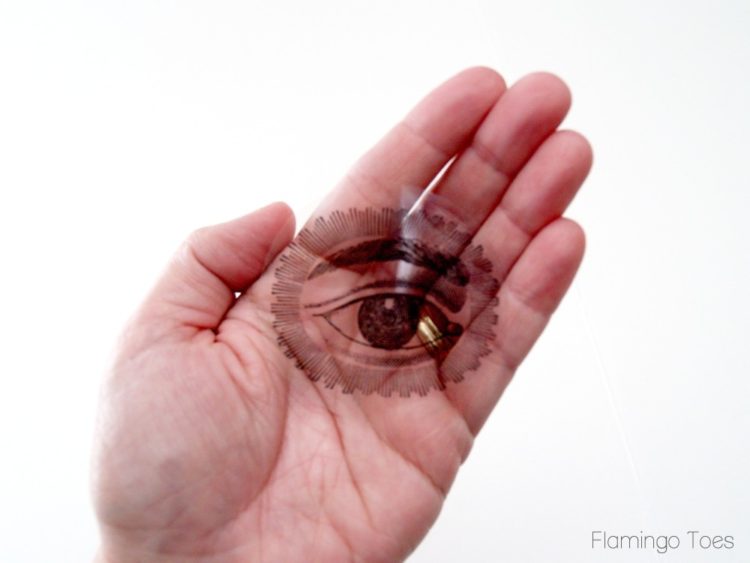 Since crystal ball's tend to be a bit cloudy, we're going to add some smoke to ours to make them creepier, and to hide the transparency a bit.
I have some safety tips for you – seeing as you are going to be playing with glass and fire.
DIY Spooky Crystal Ball Halloween Candlesticks
This is not a kids craft. (fire + glass + kiddos = not awesome)
Use a candle, not a lighter or other open flame. Candles smoke more and won't get quite as hot as a lighter.
Light a candle and hold the opening of the ball just over the top of the flame. You'll start to see the flame smoke and fill the ball.
This will get hot. Add a little smoke, take a break and let the ball cool off, then add a little more.
Don't touch the bottom edge of the opening to see if it's hot. Trust me. It is. (not that I would have experience with that or anything.)
Do not hold me liable for anything that happens to you, your house, or your cats while you are playing with fire. K?
Fill your ball with smoke until it is as dark as you'd like. Here's a regular ball, and one that I've smokified.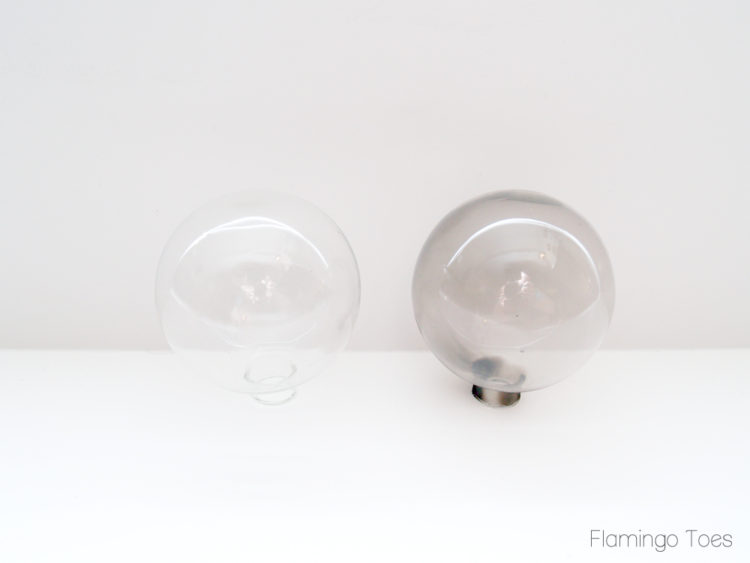 Once your crystal ball is completely cool, roll up your transparency image tight enough to slip inside the ball. Do your best not to touch the inside of the opening, it's full of black stuff. If it does though, it's not a tragedy. It will just add to the creepiness of the images.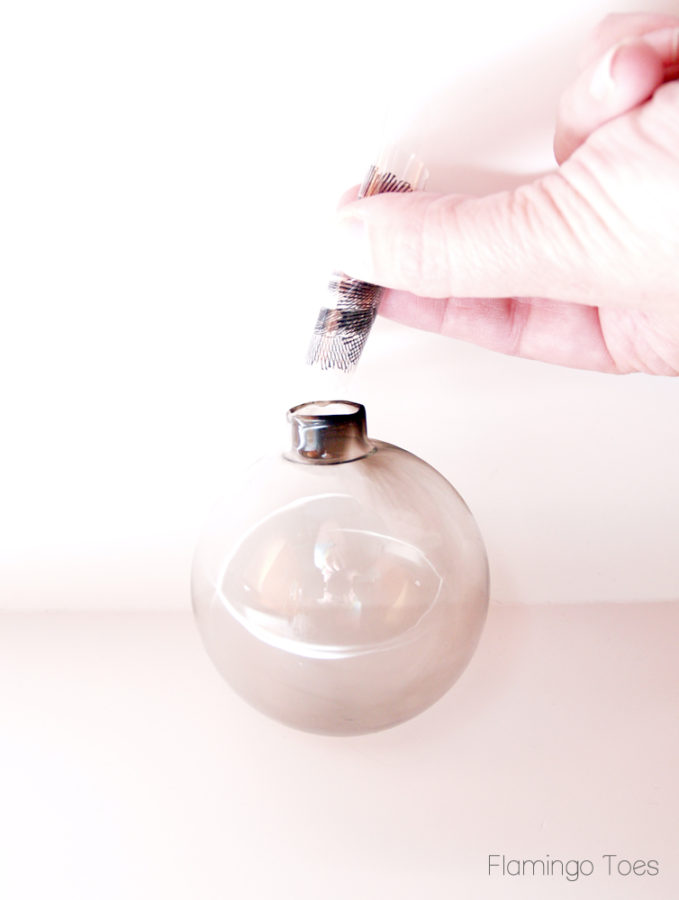 To get the image to stand up straight and look right, add a tiny bead of hot glue to the inside of the front of the ball opening. Press the tab on the transparency that is in the opening onto the glue bead.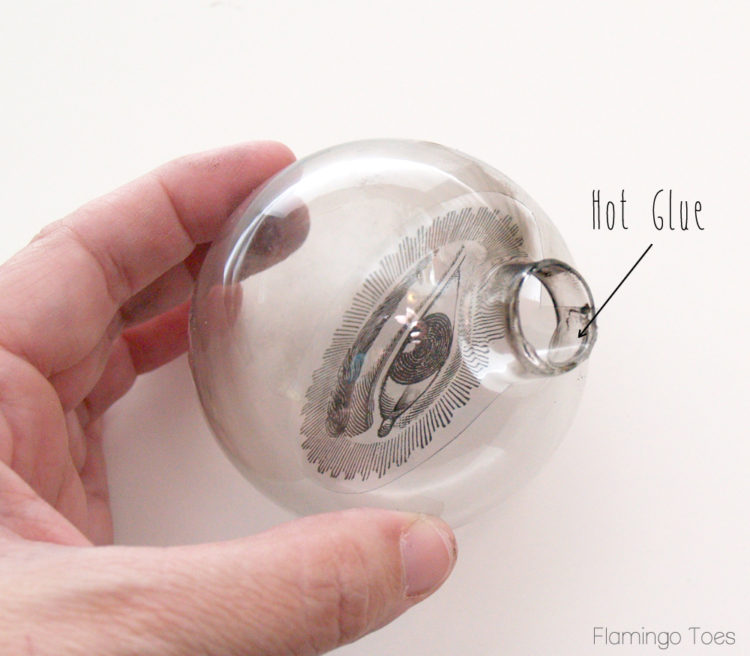 Awesomeness.
Now you can add your crystal balls to your Halloween candlesticks! If you have children, pets or husbands that are likely to bump, pick up or mess with these, I highly recommend gluing them into the candlesticks.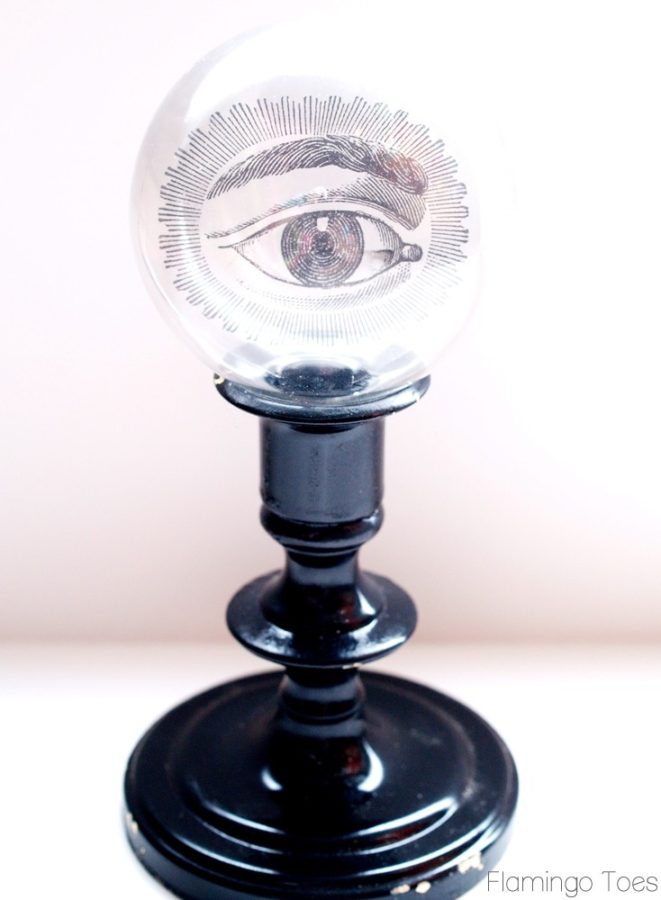 Here's a side view – you can see that the transparency is hardly noticeable.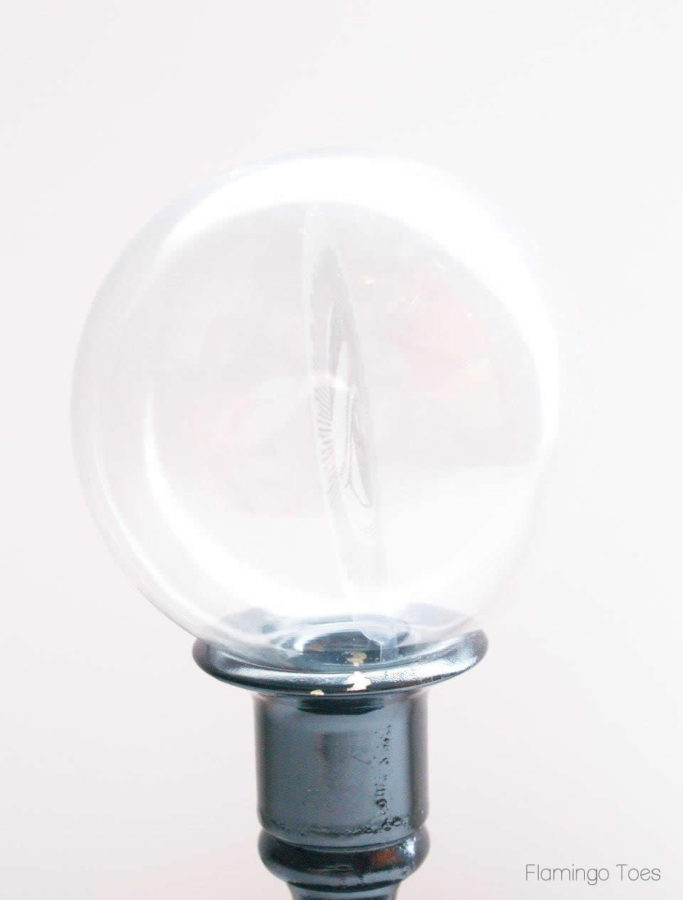 And here's a front view of our spooky Halloween candlesticks! Now you can make as many as you'd like!
You can check out this skull version in my Poisoned Apple Entryway display!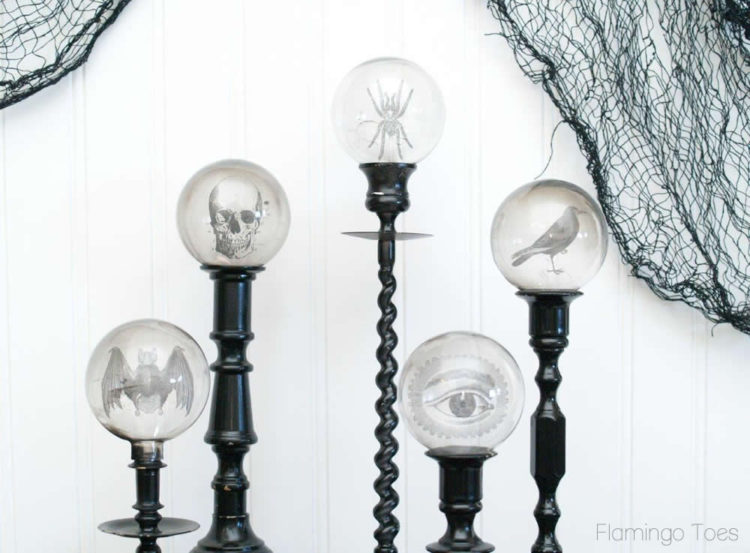 I think crows are super spooky. All it takes is one viewing of The Birds and you'll never be the same again.