Macaroni and Cheese is one of my go-to comfort foods.
Especially this time of year. Even though it's not very cold here, it's technically winter. Which means that I want warm cozy dinners, blankets, and the occasional fire in the fireplace.
Even if it's 70 degrees outside.
I can't usually justify the fire. But I can definitely make up comfort foods and curl up under a cozy blanket with a cup of tea.
I've been playing with recipes and I came up with this Spicy Baked Macaroni and Cheese with Ham  – and we all love it. It's creamy and cheesy and has just the right amount of spice without being super hot. Though you could always ramp up the heat with some jalapenos if you like things super spicy.
It's great with macaroni but I really love using Cavatappi most of the time. If you haven't had it before, it's like macaroni, but longer and a little curly, with these yummy little ridges in the pasta that seem to hold the sauce a little better. They're my favorite.
I added ham so it makes the perfect main dish – though you could change it up with chicken, sausage, or beef. All you need to add is a salad and you have a super easy meal.
Spicy Baked Macaroni and Cheese with Ham

Print recipe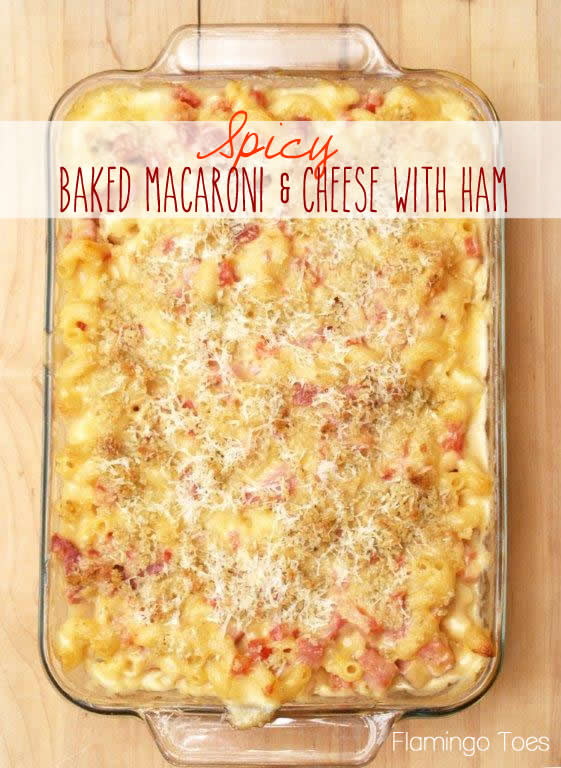 Ingredients
16oz pasta (I used Cavatappi but macaroni is great too)
1 onion (diced)
6 tablespoons Butter
6 tablespoons flour
2 3/4 cups Milk
1 teaspoon cumin
1/2 teaspoon garlic powder
1 teaspoon salt
1 can diced tomatoes & green chilis ((like Rotel) - well drained)
1 1/2 cup ham (chopped)
1 1/2 cup cheddar cheese (grated)
2 tablespoons butter (melted)
1/2 cup bread crumbs
1/4 cup parmesean cheese (grated)
Directions
Preheat oven to 350 degrees.
Cook pasta according to directions, making sure pasta is al dente.
While pasta is cooking, melt butter in saucepan. Add onions to butter and cook until soft.
Add flour to butter and onions and cook for 2 minutes, stirring constantly.
Add milk, salt, cumin and garlic powder to flour mixture, stirring until sauce begins to thicken.
Add drained tomatoes to sauce, stirring until combined.
When pasta is cooked, drain. Add sauce mixture and ham to pasta, stirring to combine.
Add grated cheese and stir until melted. Pour into 9 x 13 pan.
Melt remaining butter in microwave. Stir in breadcrumbs and parmesan cheese.
Sprinkle bread crumb mixture over pasta. Add additional parmesan cheese if you'd like.
Bake for 30 minutes until bubbly and top is beginning to brown.
Let sit for 5 minutes, then enjoy!
I hope you give it a try!
Linking up at Met Monday, Tutorials & Tips Tuesday, Sugar Bee Crafts, 504 Main, Block Party, Snap, The Party Bunch, & Tip Junkie. Make sure you check them out!