Today's guest is such a doll! For our Scrap Busting Extravaganza today we have the fabulous Marissa from Rae Gun Ramblings!
Marissa is a great seamstress – you have to check out all her cute clothes and of course her Etsy Shop where you can find the most amazing little outfits and bookish things! And speaking of books – she is also my go to source when I'm looking for something new to read! Marissa reviews books every month and she also does really fun book related projects. You're going to love her!!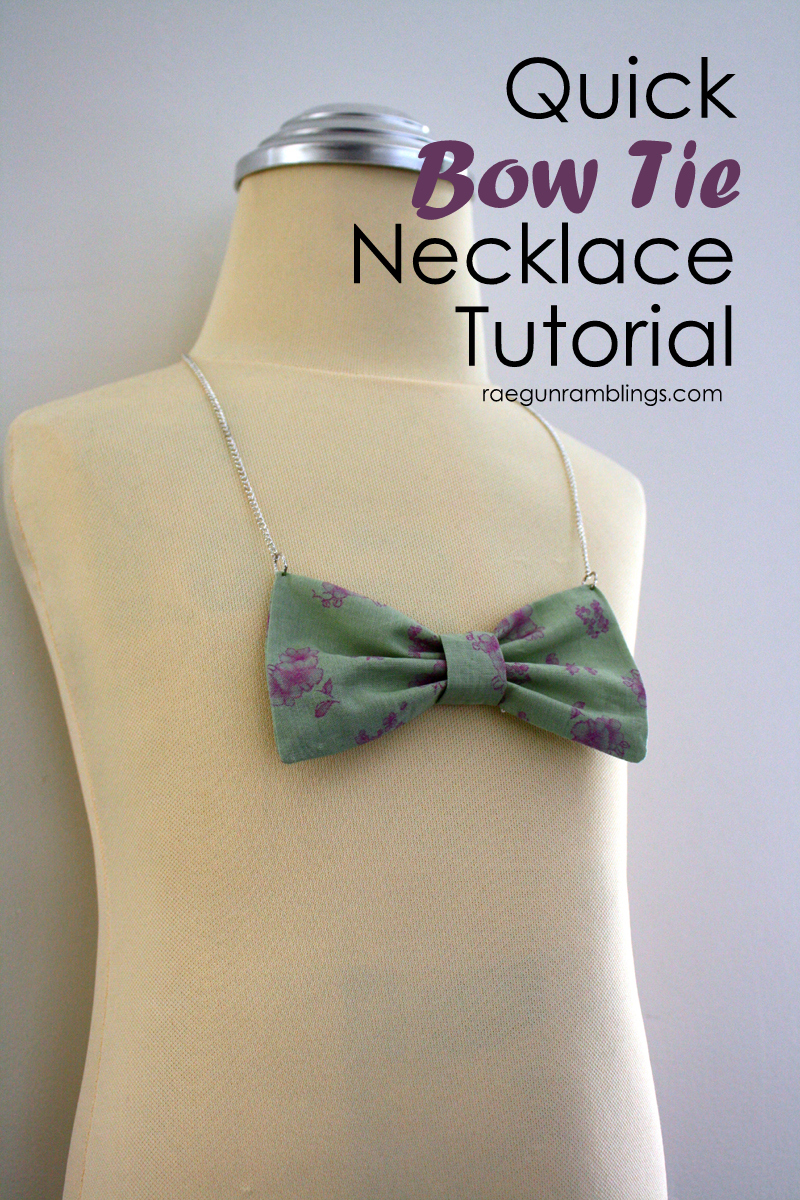 Hi, I'm Marissa from Rae Gun Ramblings where I blog about all things crafty, delicious and bookish. I am a fabric addict. Not only do I have a yardage buying problem but I have the hardest time getting rid of scraps because as this series has already demonstrated, there are SO many great things that they can become. Today I'm excited to share a super fast and fun bow tie necklace tutorial.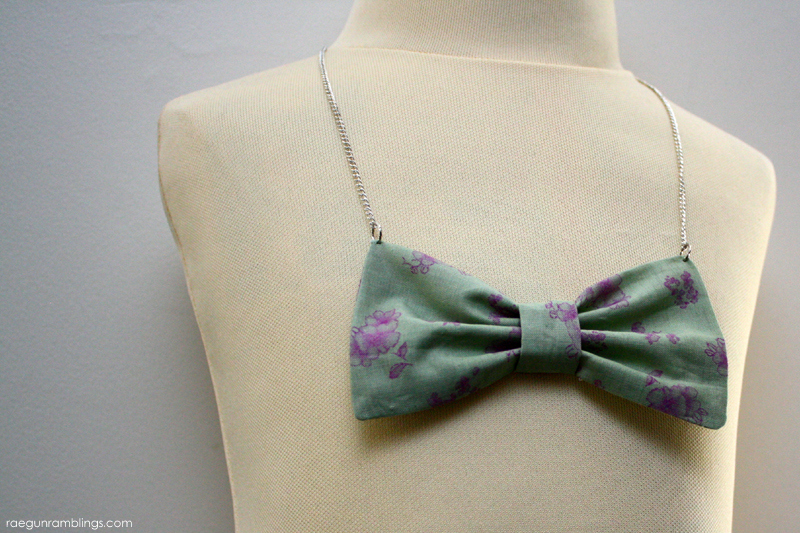 This bow tie necklace is great because you can make it kind of big like I made mine and wear it with a simple top to dress it up like a statement necklace or you can make a teeny tiny bow to wear as a super sweet charm sort of piece.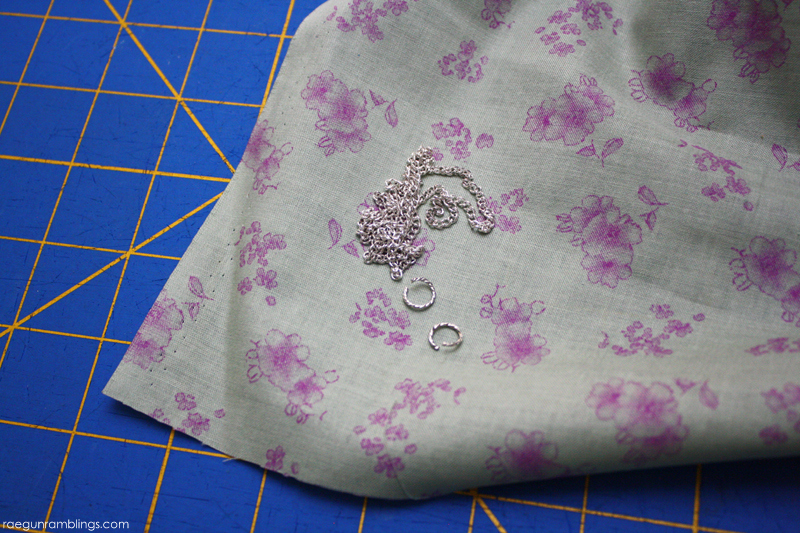 If you want one exactly like mine you'll need a 8×6 inch piece of fabric, 2 jump rings, and a chain long enough to go around your head (plus any more length if you want a longer necklace or if you want a short necklace you can just add a clasp in the back).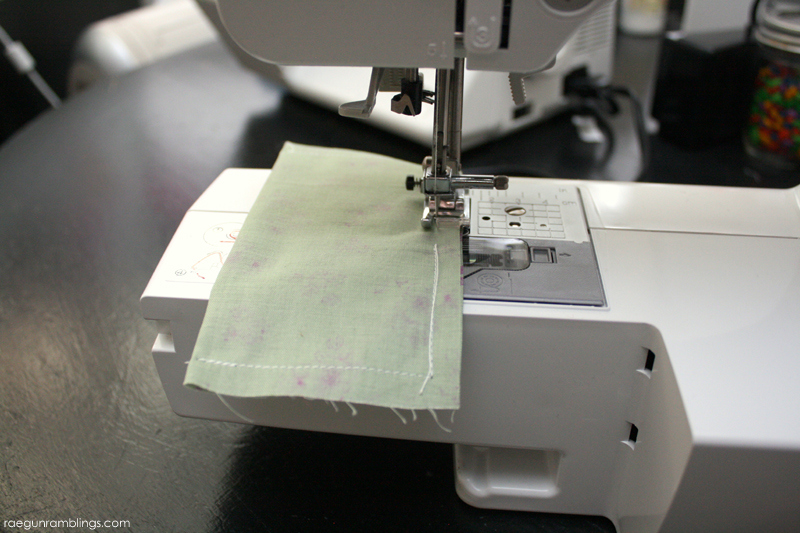 Start by cutting your fabric to a 6×6 piece (for the bow) and a 2×6 piece (for the middle part of the bow). With right sides together, iron both in half. The smaller piece you want in half hot dog style (you know long and skinny). Then on the big piece sew around the long edge and the short edges leaving a small gap in the middle of the long edge so you can turn it right side out.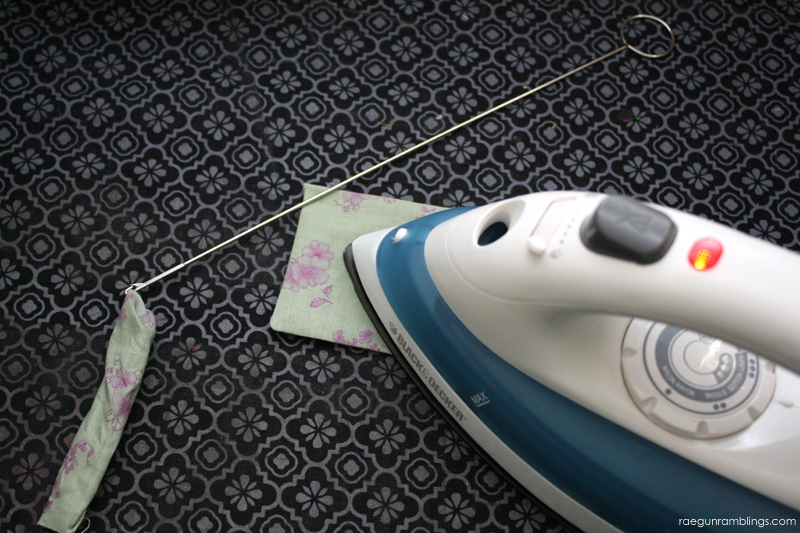 Sew the skinny piece down the long edge. Turn both pieces right side out and press.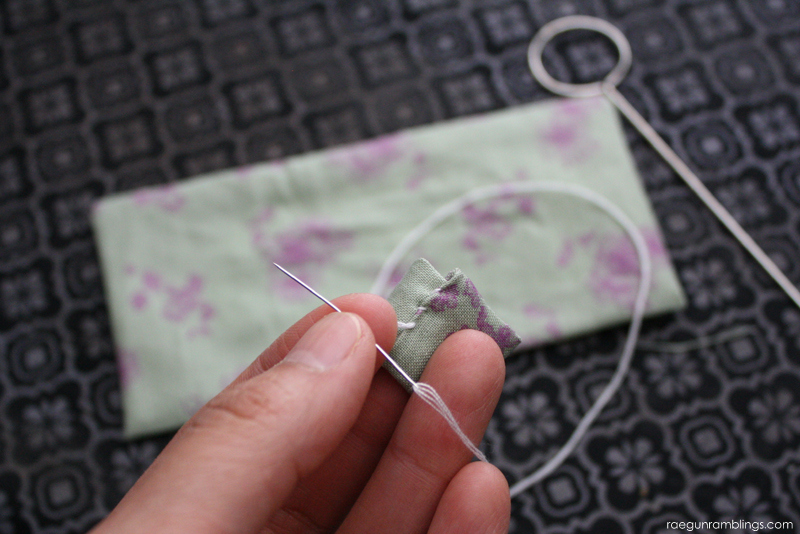 Tuck one edge of the skinny piece under and then tuck raw end into the hole to form a tube. You might find it easier if you cut this piece down a bit before you start stuffing. You want it to be about a inch tall. Sew together. Also sew closed the hole in the big piece that you used to turn the bow right side out.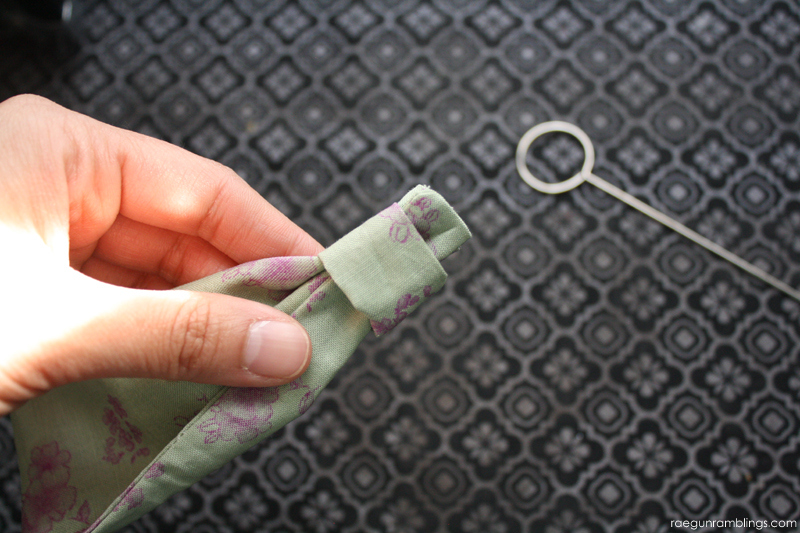 Tread the bow piece through the tube.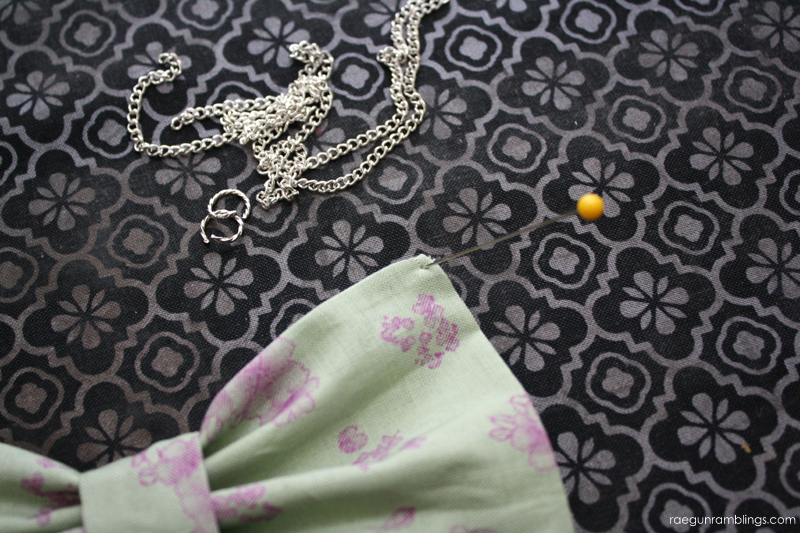 With a pin make a small hole in the upper corner of both sides of the bow.
Thread a jump ring into both holes and attach your chain to both ends. If you want a shorter necklace you may want to add a clasp to the back but I like this stile with the longer chain that can fit over my head.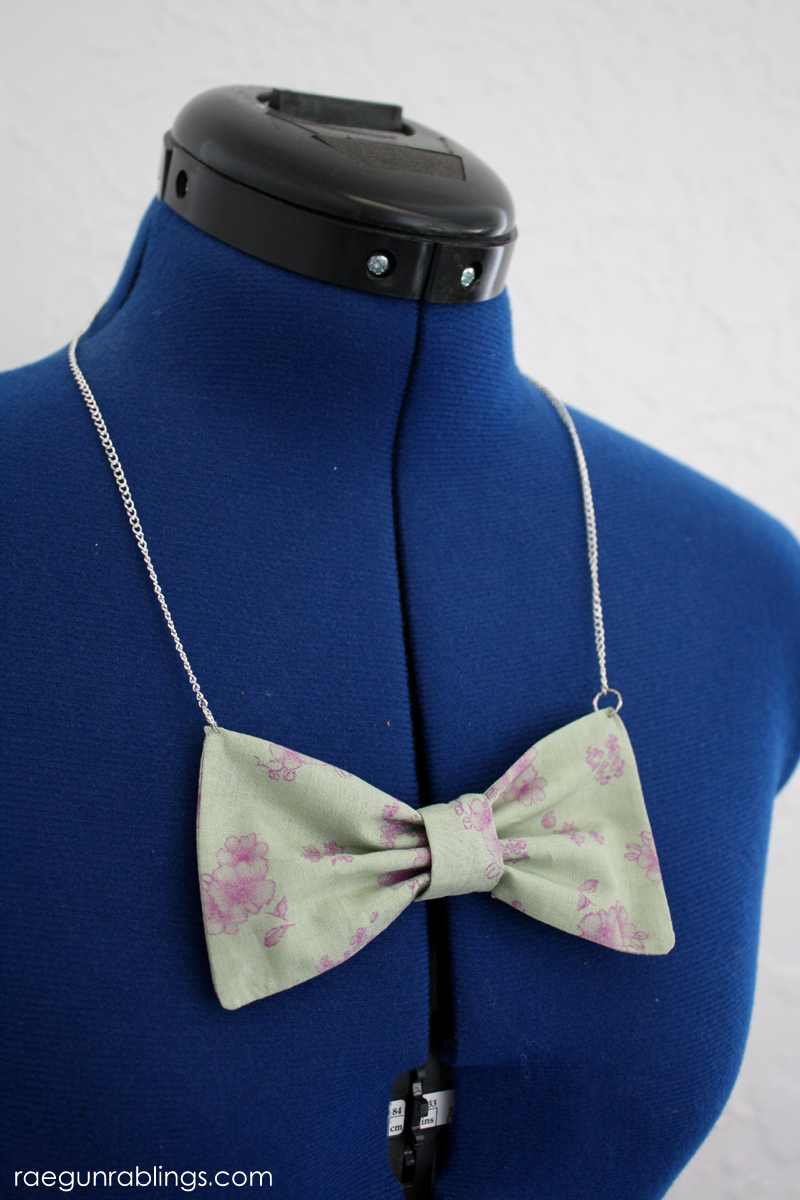 Slide over your dressform's neck, errr I mean over your pretty little head. Wear with pride.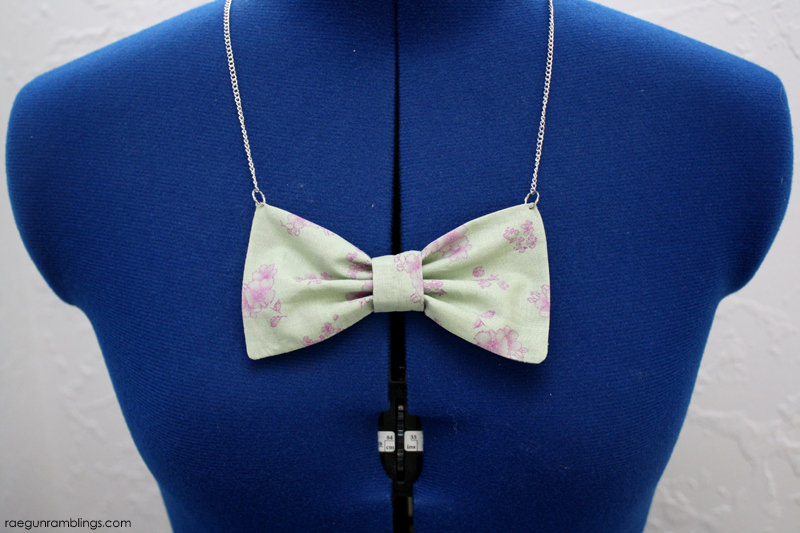 So fun right!? And the possibilities are endless. Seriously how awesome would a crazy glittery fabric be? Okay I know this is supposed to be scrap busting but now I must find some awesome glittery fabric. See addict, I told you.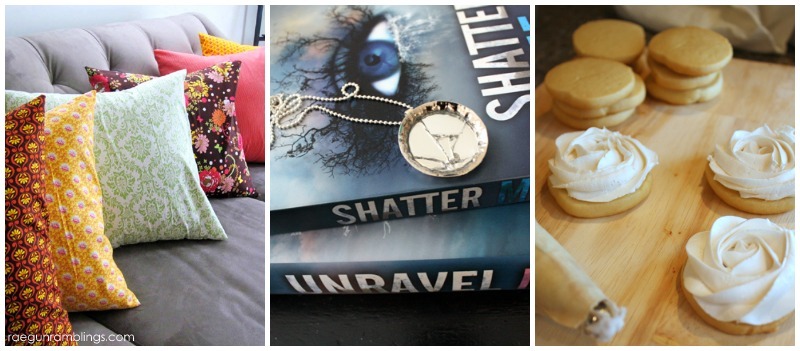 15 Minute Pillow Case Tutorial | Broken Mirror Necklace | Hunger Games President Snow Rose Cookies
I hope you liked my simple bow tie necklace tutorial. I hope you'll swing by my blog Rae Gun Ramblings and say hi! To lure you in here are some of my favorite projects.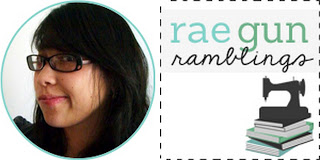 Let's connect! You can also find me hanging out here.
Thank you so much for joining in the Scrap Busting Extravaganza Marissa!!