I was taking down my Valentine's Day decorations this weekend and realized I had a serious lack of St. Patrick's Day décor to replace them with. Namely a wreath! I decided I better fix something up and quick – so I made up this new Lucky Shamrocks St. Patrick's Day Wreath!
One of my favorite things about my Sweetheart Wreath was the little pearls in the jute and so I added some snazzy gold beads around the wreath, to go with the gold glittery burlap. I added a sweet little rainbow pennant too – because you really need a rainbow over your field of shamrocks don't you think?
It's so fun and colorful – perfect for adding a little Irish to your front door this month!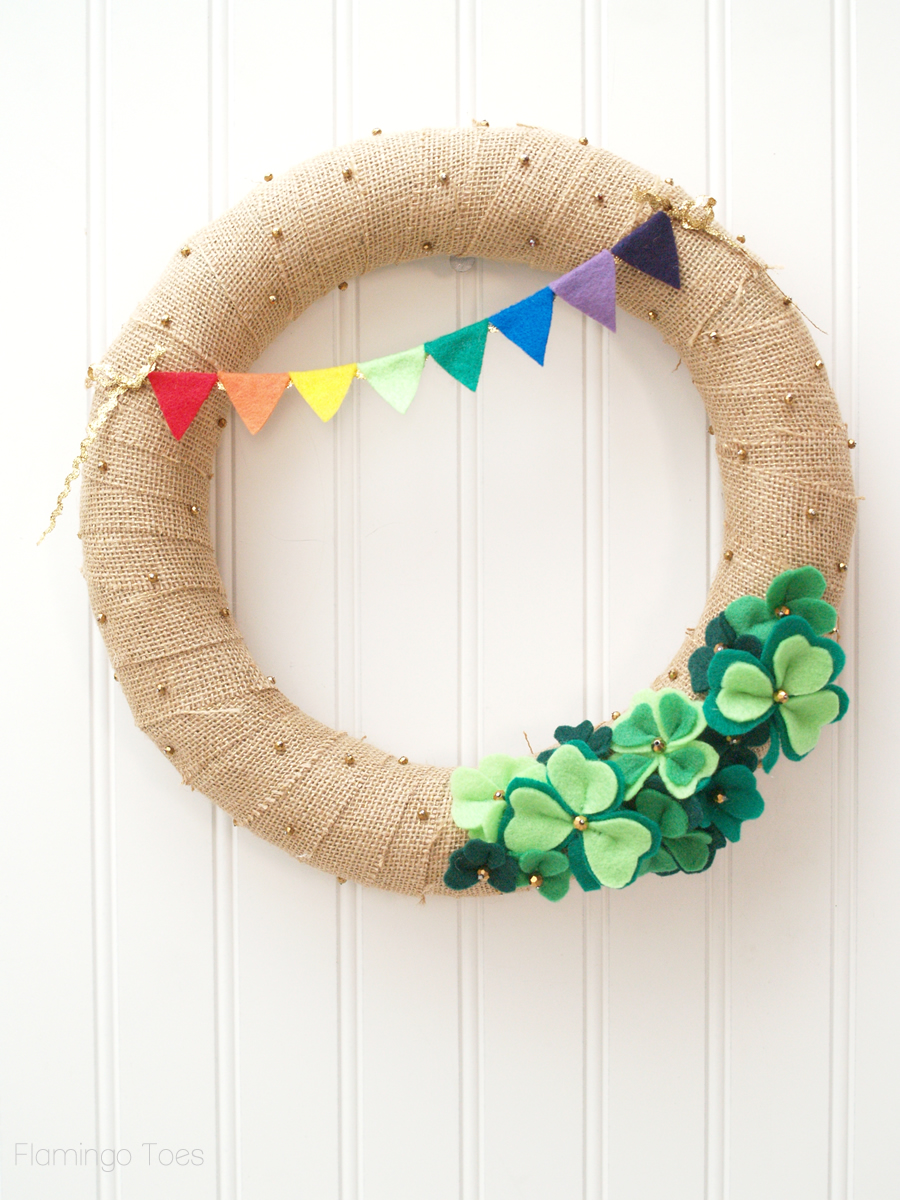 So here's how to make your St. Patrick's Day wreath!
Materials:
12″ foam wreath
burlap – mine is gold glittered but any neutral will work – about 1/2 yard
green felt in four shades – about 1 square of each color
rainbow colors of felt or fabric – small scraps
gold ric rac
small pins
gold beads – two sizes
glue for burlap
thread to match felt
Cut your burlap into 3″ strips. Glue the end of the burlap to the back side of the wreath and begin wrapping.
Continue wrapping the wreath with burlap. Make sure the strips start and end on the back of the wreath.
To make your felt shamrocks, cut out small heart shapes from felt. You'll want to have an open "V" in the bottom of each leaf. For the larger shamrocks, cut out two sizes of leafs in two different colors for each leaf.
To make the leaf, layer the smaller leaf on top of the larger, lining up the opening at the bottom. Fold the leaf in half and sew the opening closed with little tiny stitches. You can glue this too if you'd like.
Make three or four leafs per shamrock. Most of mine have three leafs but I had to add in couple four leaf clovers for luck too!
On a couple of my shamrocks, I added a little stem. I glued the stem to a small circle of felt for the base. For the center of your shamrock, you'll be using a small straight pin and a gold bead.
Glue or sew the three shamrock petals to the base and stem.
Finish the center of the shamrock with the little gold bead. This will make it super easy to add your shamrocks to your wreath, and also make it easy to change out if you ever want to!
Make up a bunch more shamrocks in different sizes and colors. Some of my smaller ones have just one layer.
Pin all the shamrocks on the bottom side section of your wreath, with gold beads in all the centers.
For the pennant, cut out several triangles of felt in rainbow colors.
Glue the triangles to a length of gold ric rac or something similar and tie a little bow on each end.
Pin the pennant to the top of the wreath, opposite the shamrocks.
To finish off the wreath, add pins to your smaller gold beads. Pin them into the wreath.
Add more pins until you have as many as you'd like. These add such a fun sparkle to the wreath!
That finishes it off!
I just love the way the gold beads look with the shamrocks! So cute.
I hope you'll give it a try!
Linking up at Met Monday, Tutorials & Tips Tuesday, Sugar Bee Crafts, 504 Main, Block Party, Snap, The Party Bunch, & Tip Junkie. Make sure you check them out!