Yay!!
It's time for the June Follower Giveaway!
If you're new here to Flamingo Toes – every month we have a Follower Giveaway! It's my way of saying "Thanks" to those of you who follow along here. I know there are TONS of blogs out there – and I appreciate you spending a little time here!
I also soooo love your sweet comments and encouragement. It makes this blogging adventure even more fun!
This month we have two giveaways!! Which means two Winners! ;)
Giveaway Number 1 is – a Summer Ruffled Set!
The winner of Giveaway Number 1 will receive this Summer Ruffled Apron and the matching dishtowel!
Doesn't that make you want to have a cookout?
This fun half apron is ruffled up in vintage patriotic prints. The matching dishtowel has a sweet little Ice Cream Parlor applique – and more ruffles of course!
Giveaway Number 2 is a Custom Anthro Necklace!
The winner of this giveaway will be allowed to choose from the necklaces Anthro currently has for sale – and I will make you a custom knockoff of it!
(Disclaimer: It will need to be a necklace that I can knockoff – so we'll discuss that when you win.)
I'll make a tutorial too – so even if you don't win – you'll be able to see what the winner chose and how to make it!
What would you choose?? Decisions decisions. ;)
Here's a few to give you some ideas. . .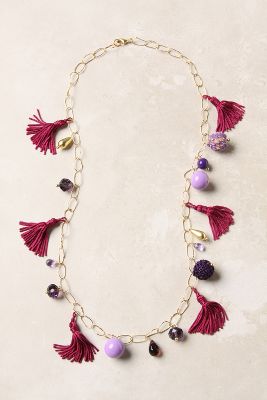 Fun right? :)
Ready to Enter??
This giveaway is open only to Flamingo Toes Followers. Cause hey. Follower Giveaway. ;)
If you'd like to become a follower – that's great too! Feel free to check out the Tutorial page– that'll give you an idea of some of the things that go on here.
Entry No. 1 – MANDATORY
~Leave a comment letting me know how you follow AND include in the comment if you would like to be entered for Giveaway 1, Giveaway 2, or both!
Example – "I follow in my Google Reader and I want to be entered for Giveaways 1 & 2!"
(You won't hurt my feelings if you don't say both. I know some of you have no interest in a dishtowel and apron – or maybe necklaces aren't your thing. ;) That's ok.)
Entry No. 2 –
~Leave a comment if you are a public Google Friend Connect follower. Bonus!!
Entry No. 3 –
~Leave a comment if you follow on Twitter. And I have a cool new Twitter button on the sidebar there – just above the FB section.
Click "Follow" and a handy dandy pop up window will open so you can follow. Super easy!!
Entry No. 4 –
~ Leave a comment if you follow on Facebook!
I'll announce the winner on the 15th, like always! Good Luck!!
Oh – and LOVE you guys!! :)
This giveaway is now closed. Winners posted here!