Does it feel like the holidays to you yet?? It does to me. We are visiting with family in Flagstaff, Arizona and it semi-snowed here yesterday. Which for us Californians, is fun and just enough cold to last us awhile. (Yes Elizabeth, I am actually wearing socks today. Crazy.)
Along with the holiday fun – comes holiday parties! And we are going to be Guest Post-Partying the next two weeks! (And when I say we, I mean you and me. :)
Today I am over at I heart Naptime for the Crazy Christmas Crafter Event!!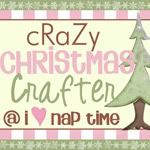 Come on over and check out my sweet Christmas placemat and napkins. I love them. :)
More parties to come later – but here's a sneak peak. . .
Elizabeth at Twelve Crafts is doing 12+ Days of Traditions – and I'm having a ball reading about what everyone does at Christmas time.
Also, today starts off a Week of Handmade Ornaments over at Under the Table and Dreaming.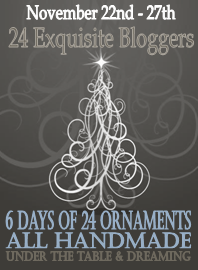 There are 24 Exquisite bloggers (I like that) showing off ornaments over the next 6 days – which if you are math whiz (not me) then you probably figured out that is 4 per day.
And next week on the 28th, Homemade Christmas will kick off at The Scrap Shoppe!!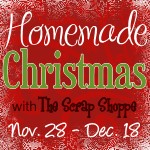 Three weeks of fun and creativity – with gift ideas, Christmas crafts and Tasty treats.
Can you believe all that? So much fun.
I'll leave you with a tiny snippet of my semi-snowy photo shoot yesterday. :)
It's beginning to feel a lot like Christmas!!
***UPDATE – I just found out I was the runner up in the CopyCat Challenge at Sew Much Ado!! Wooohooooo! Thank you all so much for voting!***