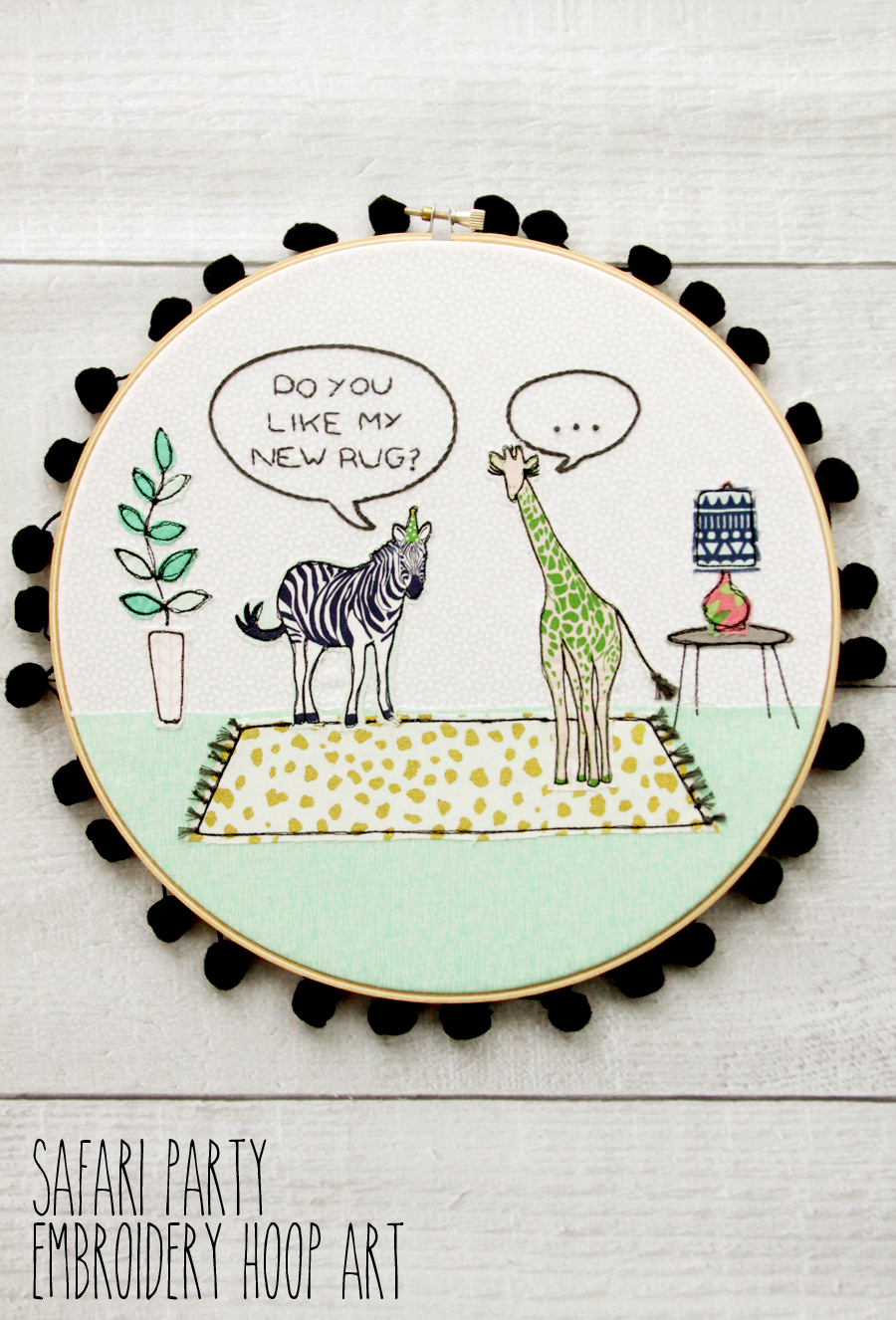 When I saw Melissa Mortensen's latest fabric line, Safari Party, I just knew that it had to be used for some fun hoop art. I mean – great colors and prints along with zebras and giraffes? It was all too fun to resist!
I wanted to give the hoop kind of a mid-century vibe – I thought the prints would be so great with that look. And of course I had to include a zebra and giraffe! Unfortunately, our zebra friend is not too bright. Showing off his new giraffe print rug. Sheesh.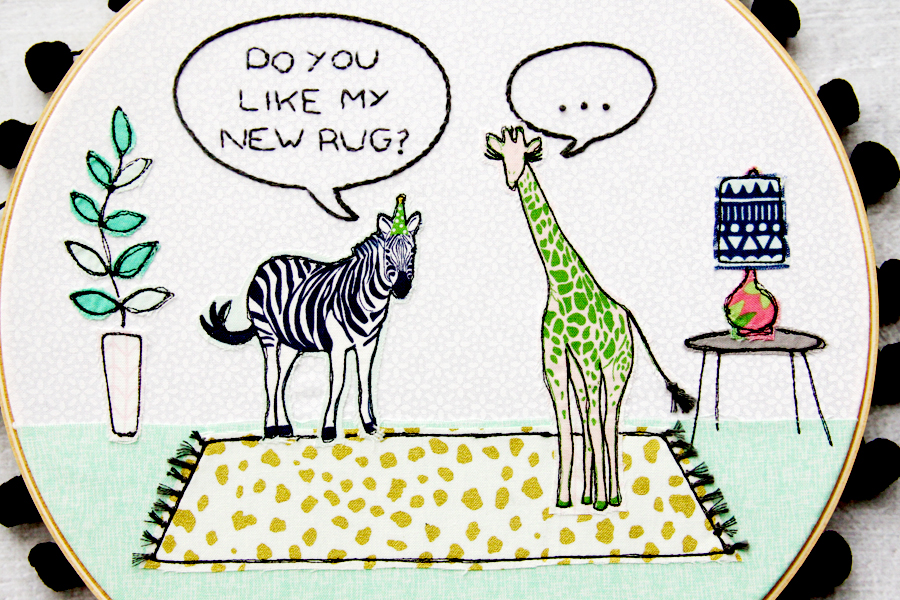 This hoop is a mix of hand and sewing machine stitching. If you don't like doing free motion stitching, you could definitely outline all the details with hand embroidery too.
I think it would be such a fun gift for a friend too!
Safari Party Hoop Materials (contains affiliate links)
Safari Party Prints used: Giraffe Pink, Zebra Mint with Sparkle, Safari Geometric Blue, Floral Pink
Other fabrics used: Riley Blake Daisy on White,

Small scraps of Gray, Greens

DMC Embroidery Floss – Dark Gray
Black pom pom trim
Marking Pen
Begin by tracing the design for the speech bubbles and the words on the fabric. Embroidery the phrases with a back stitch. Outline the word bubbles with a chain stitch and stitch French Knots for the giraffe's phrase.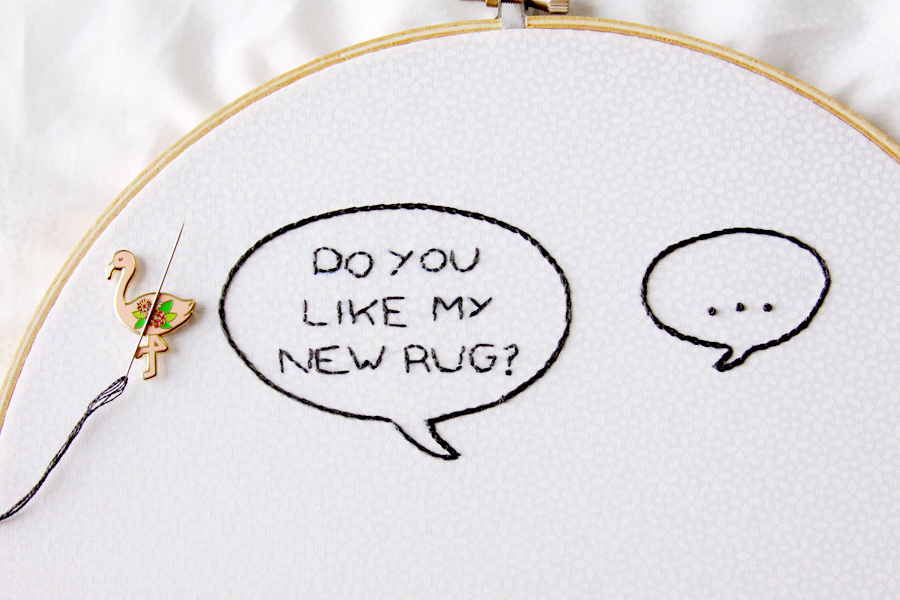 Once you have your embroidery finished, remove the fabric from the hoop. Using the pattern as a guide, cut out the fabric pieces you're using for the rest of the hoop, slightly larger than each pattern piece. Iron the fusible adhesive to the wrong side of the fabrics. Cut out all the shapes, including the large piece of mint green for the floor. Reference the pattern (print another copy out if you need to) and iron the fabrics in place.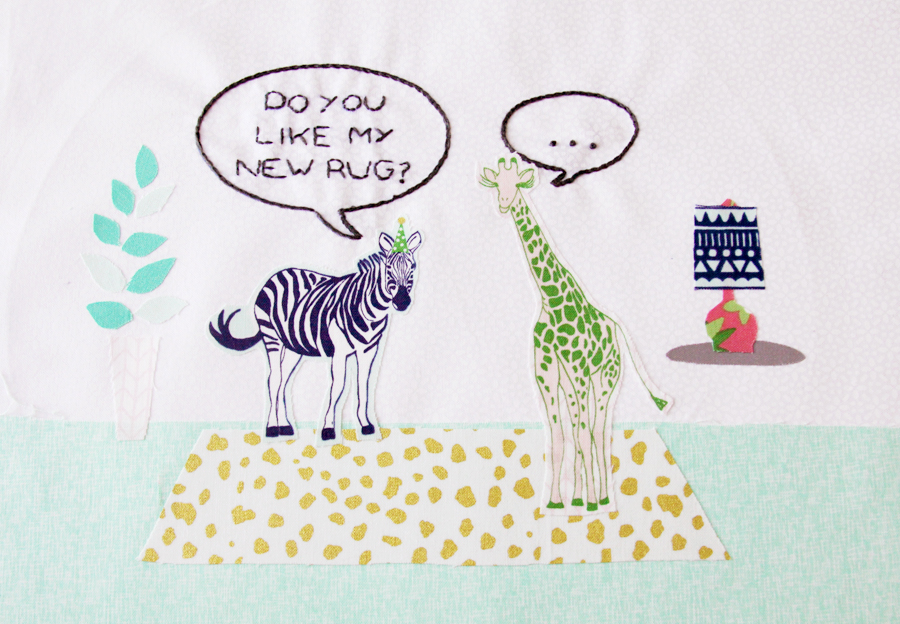 Draw in details for stitching like the stem of the plant and the table legs with a disappearing marking pen.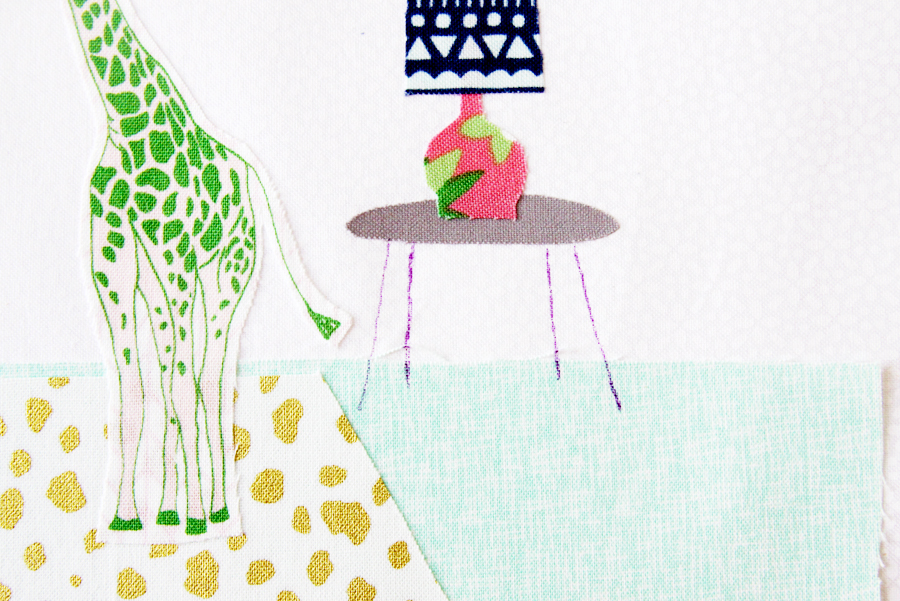 Put a free motion foot on your machine and stitch around all the shapes with contrasting black thread. Stitch around each piece two or three times, depending on how dark you'd like the lines. Be particularly careful going around the giraffe and zebra, staying on the lines Melissa has designed on the fabrics.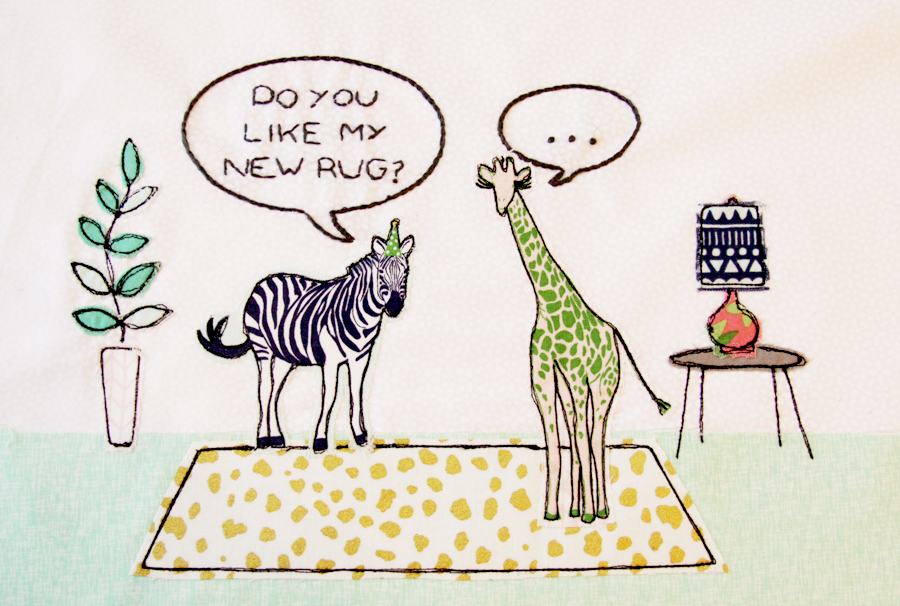 Using 6 strands of floss, knot small ends of thread along the edges of the rug and the giraffe's tail.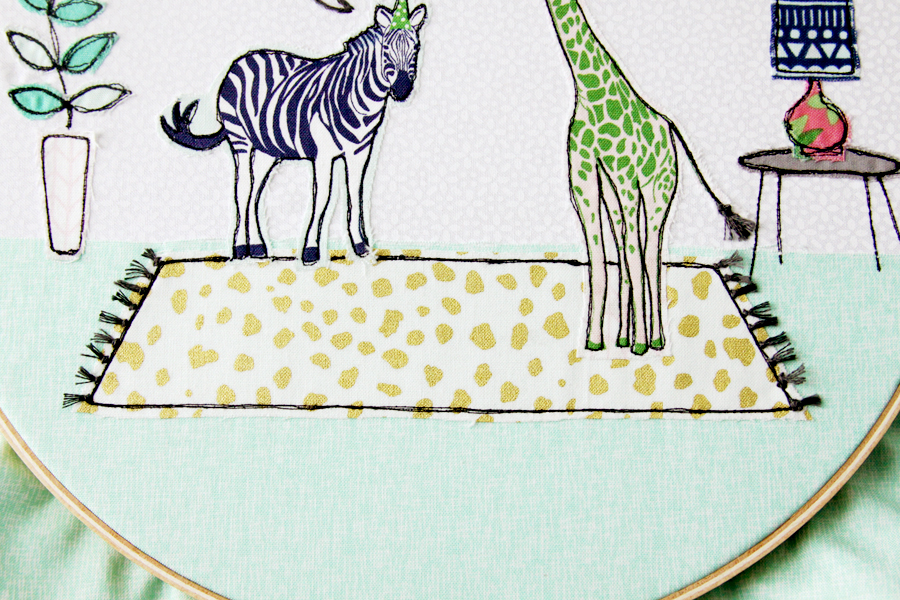 Finish off the edges of teh hoop and add pom pom trim around the edge.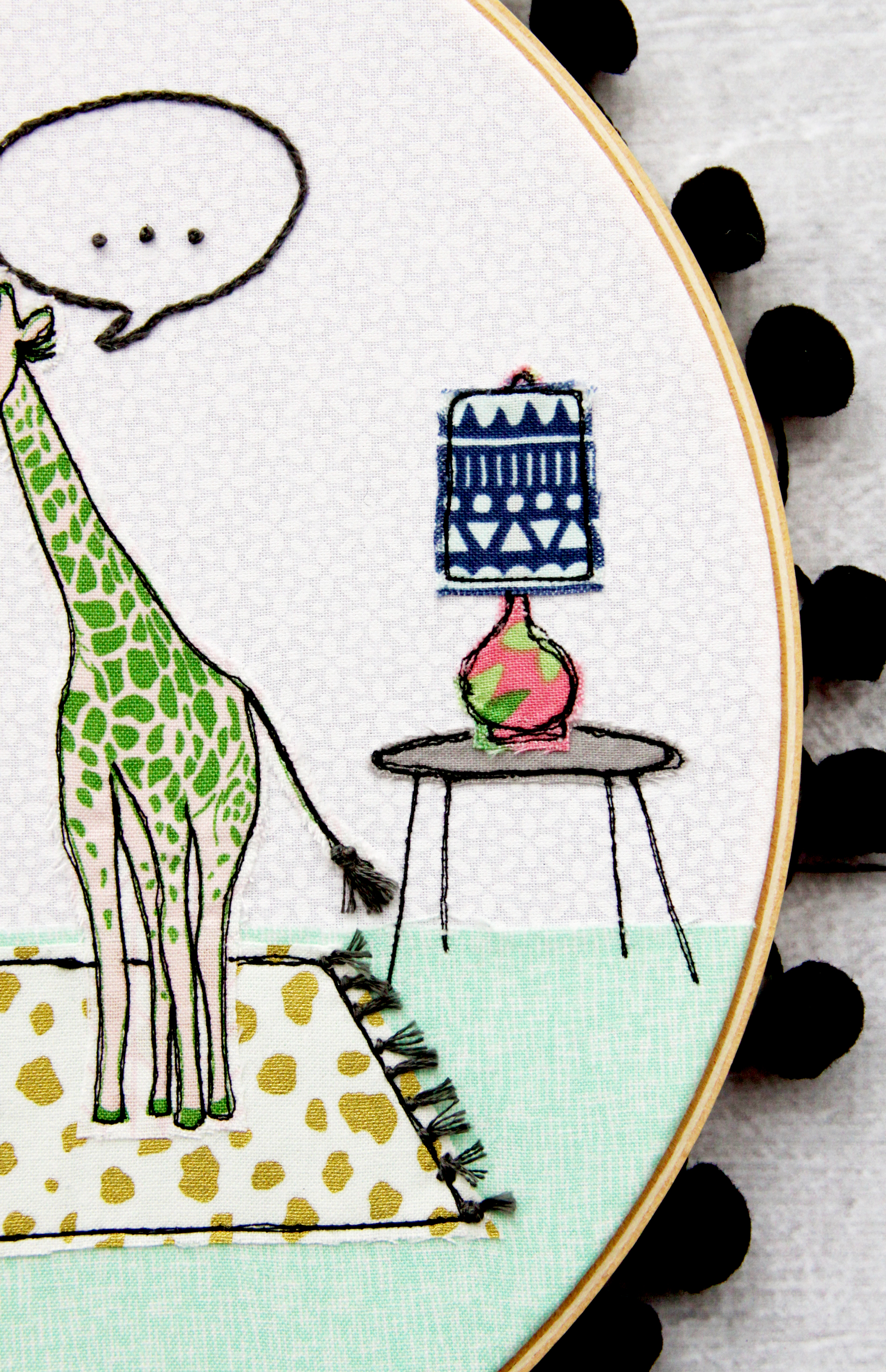 That finishes off your hoop! I think it's so fun – I can't wait to hang it and see if people pick up on the whole giraffe print rug aspect!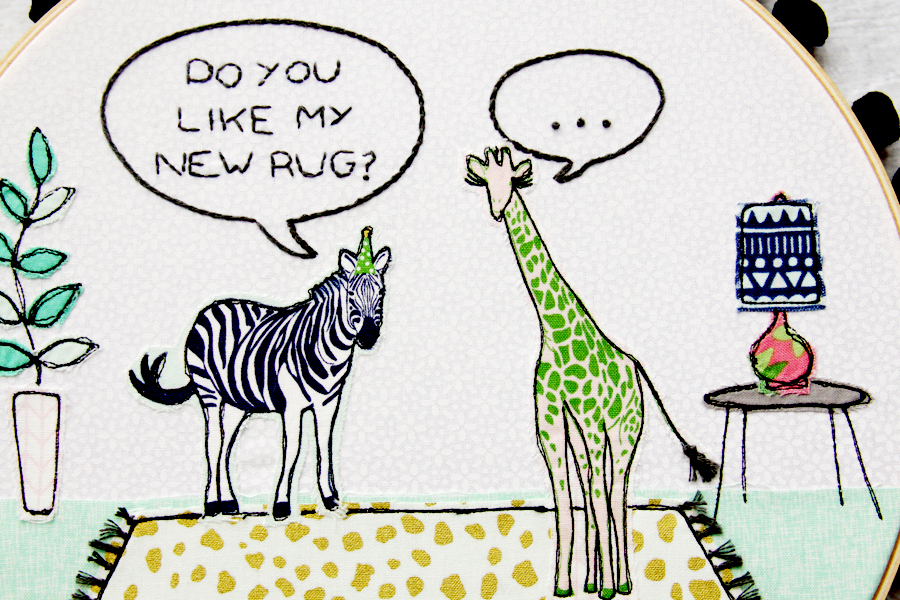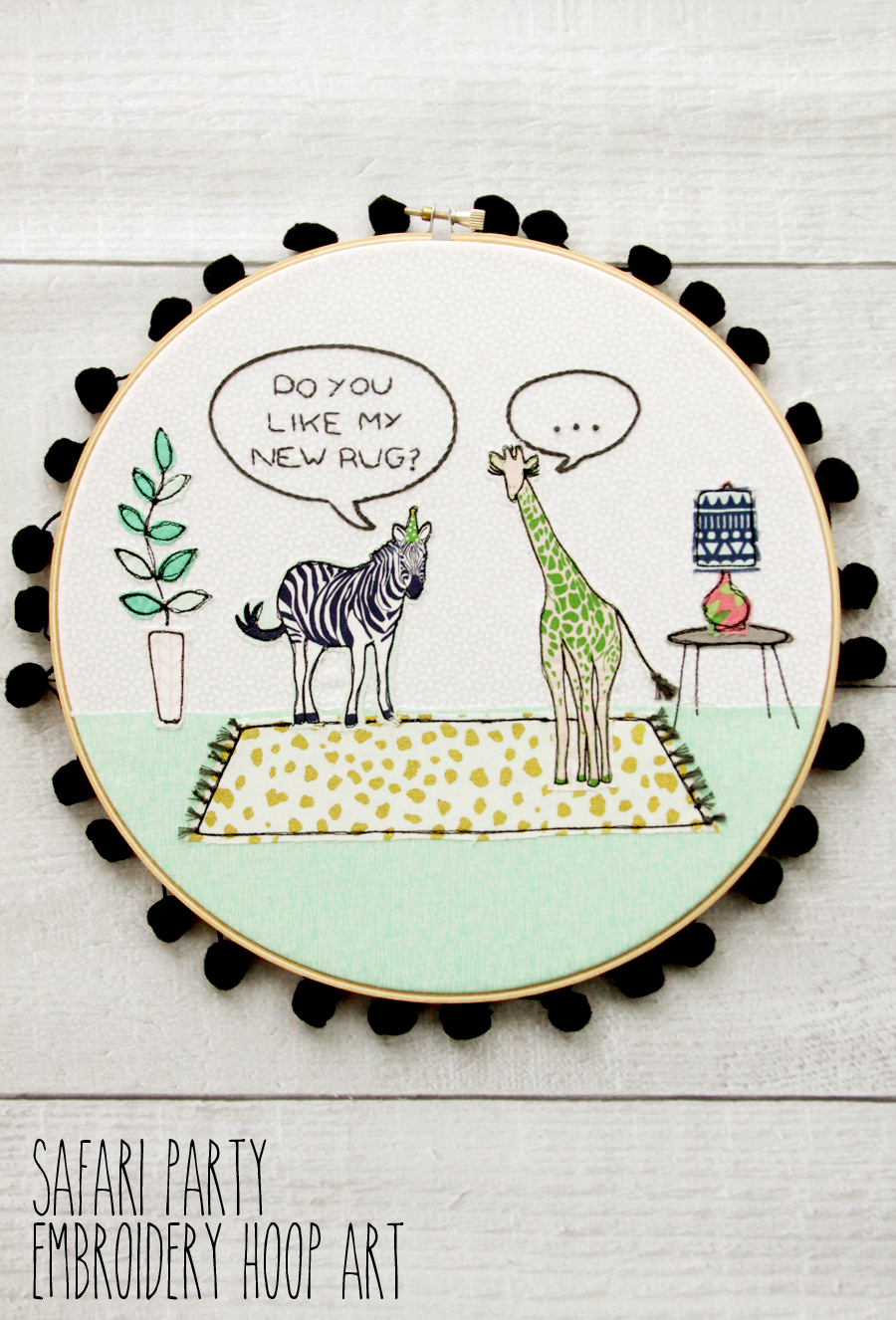 If you love Safari Party but want to make a larger project, check out my Hidden Safari Party lap quilt!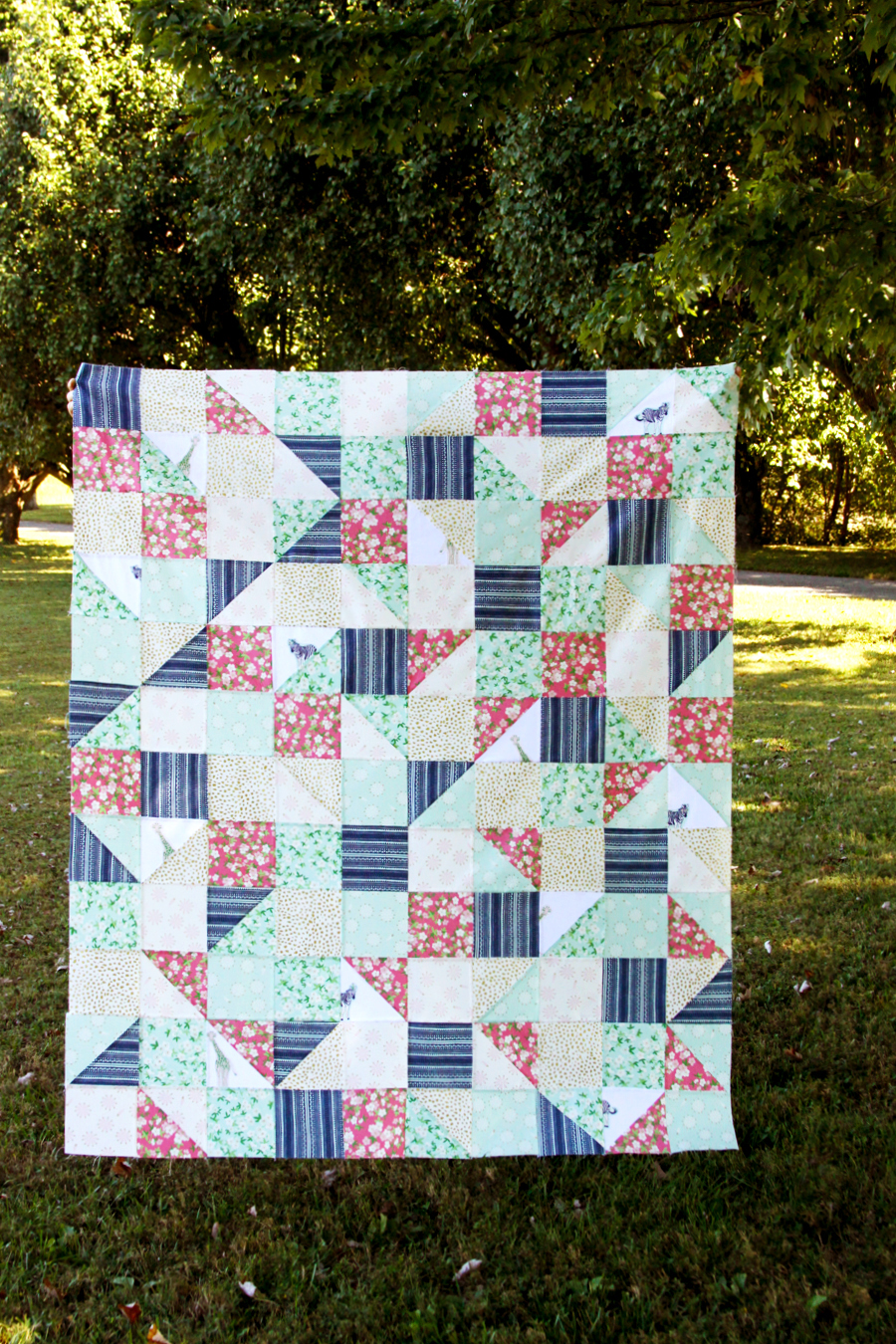 You can find lots more great project at Melissa's blog, Polkadot Chair too!