From November 28 through December 18 Michele from The Scrap Shoppe is hosting a Homemade Christmas Party!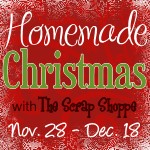 Each week has a different theme – Gifts, Decor, and Recipes!
This week the theme is Homemade Gifts and I'm sharing my Gift today!!
It's a knockoff from The Land of Nod – which sounds like a rather sleepy place but is actually a very cute, very expensive children's store!
And while you're there – check out the other great ideas from this week. :)