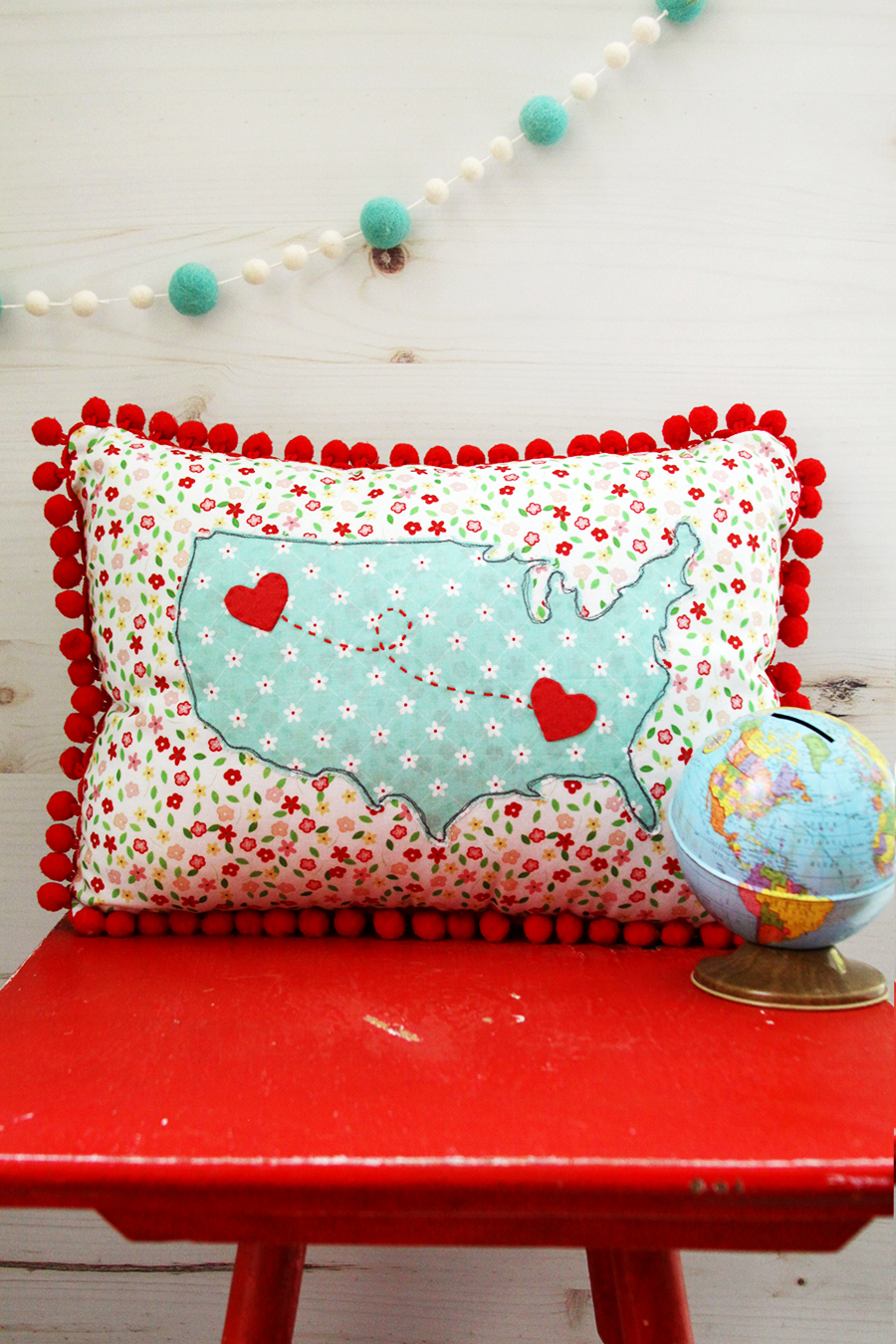 This summer has been all about travel and adventure! This cute DIY US Map Heart Pillow is so perfect for showing a little love for places you've traveled, or where you have family or even places you've lived! It's such a quick and easy project to sew up too.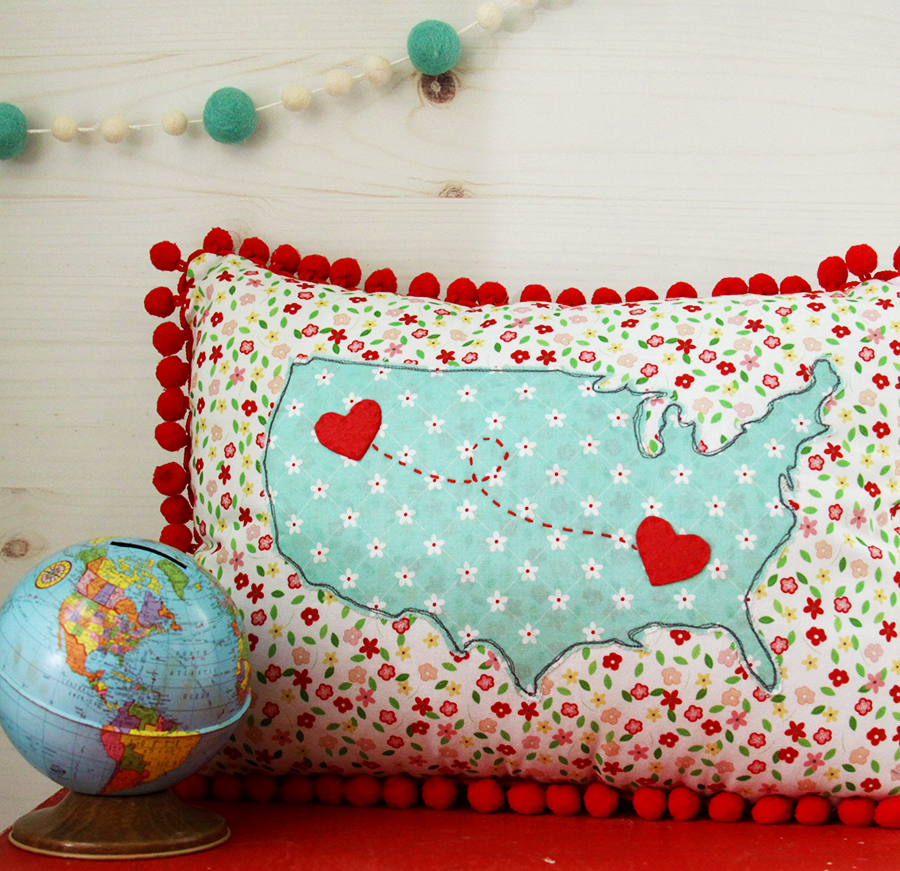 If you've been wanting to try free motion stitching this would be a great project to start with! It takes just a few turns around the map to give it that fun sketched look and there's really no way to mess it up!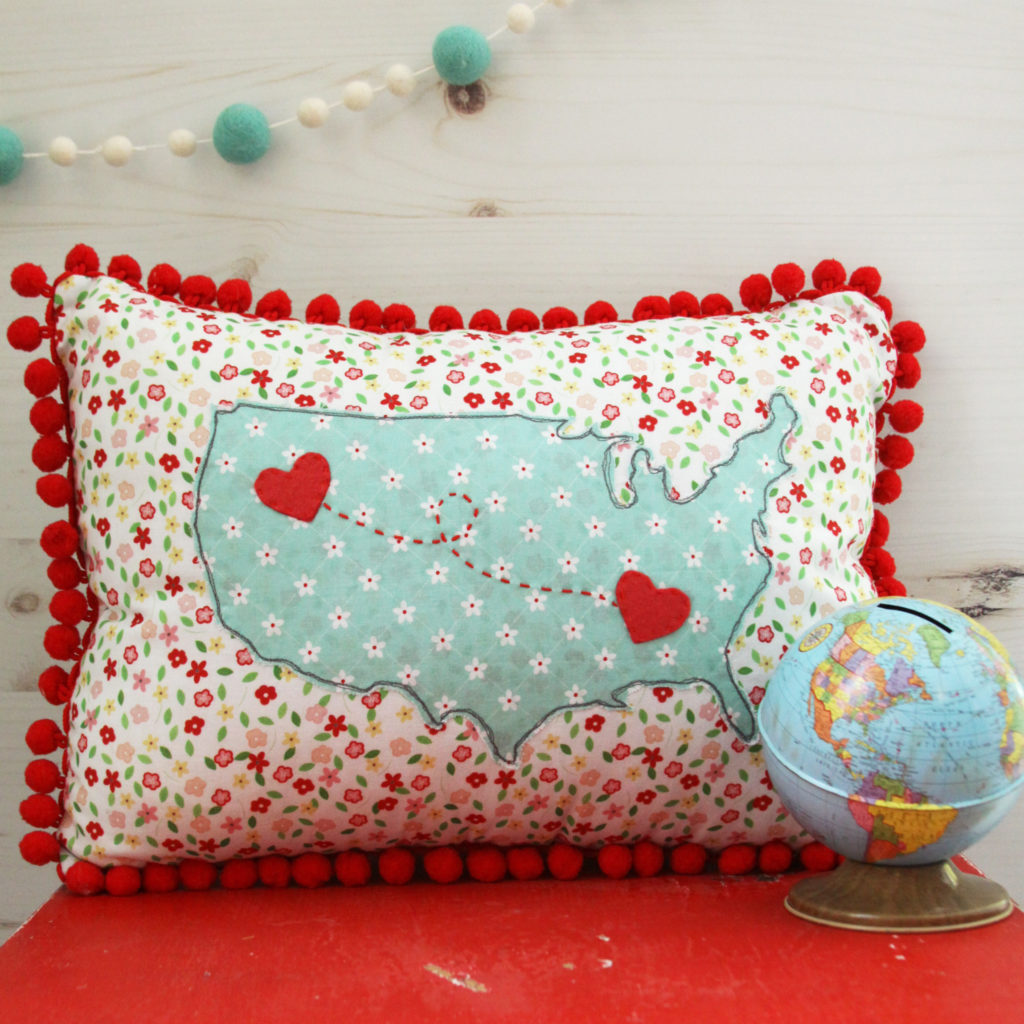 DIY US Map Heart Pillow
1/3 yard Tiny White Vintage Adventure Floral
1/4 yard Aqua Vintage Adventure Trellis
Small amount of red wool felt
Red Embroidery Floss
2 yards pom pom trim
12″ x 16″ pillow form
HeatnBond Lite
Instructions:
Cut out the front and back of the pillow – 2 pieces 12″ x 16″.
Cut out a piece of aqua trellis slightly larger than the map pattern. Iron a piece of HeatnBond to the wrong side of the fabric. Cut out the Map pattern from the trellis fabric.
Remove the paper backing from the HeatnBond and place the map on the pillow front, centering the map on the fabric. Iron the map in place.
Applique the map down any way you'd like. It would look great with a running embroidery stitch, a blanket stitch or you can do a free motion stitch like I did. Using a free motion foot, stitch just inside the edge of the map 3 times.
Iron pieces of HeatnBond to one side of the wool felt. But out as many hearts as you'd like. The hearts I used were about 1″ across but any size will look great! Remove the paper backing and iron the hearts in place on the map.
Stitch the hearts down with a running stitch and embroider a running stitch line between the two hearts.
Place the pom pom trim along the edge of the pillow front, so the pom poms point in towards the center. Sew the trim down 1/4″ from the edge of the pillow. Overlap the trim on the bottom edge of the pillow.
Place the pillow front and back right sides together. Sew around the pillow, leaving an opening of about 8″ in the bottom side. Clip the corners.
Turn the pillow right side out and press. Put the pillow form inside the cover and hand sew the opening closed.
Show off your cute new pillow!
I think this would be such a fun gift for a friend who loves to travel too!