Have you heard of Creative Estates??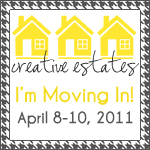 It is a blog conference being held in Chandler, Arizona. . . . and I'm going!!!!
This is a first for me (attending a blog conference) – and I'm excited and nervous all wrapped up together. I'm a dork.
I'm excited to meet some bloggy idols (check out the speaker list here) and I'm afraid when they meet me they'll realize that I'm a dork. I normally try to keep that a secret. ha.
I'm so excited about this conference because the sessions and discussions- they look like they are going to be fabulous.
Topics like "Blog Your Passion", "How to Plan, Perfect, and Post on a Creative Blog", and lots more!!
So I'm all excited (I might have mentioned that) –  I want to meet you!!!
Do you live in the Phoenix area – or are you close?
I know some of you are. There's still time to register!
C'mon! It will be fun!!
We can pretend we aren't dorky together. ;)